Pumpkin Cream Cheese Danishes are desserts, breakfasts, brunch items.. you name it, these little bakery treats are where it's at. We're ready for Thanksgiving now.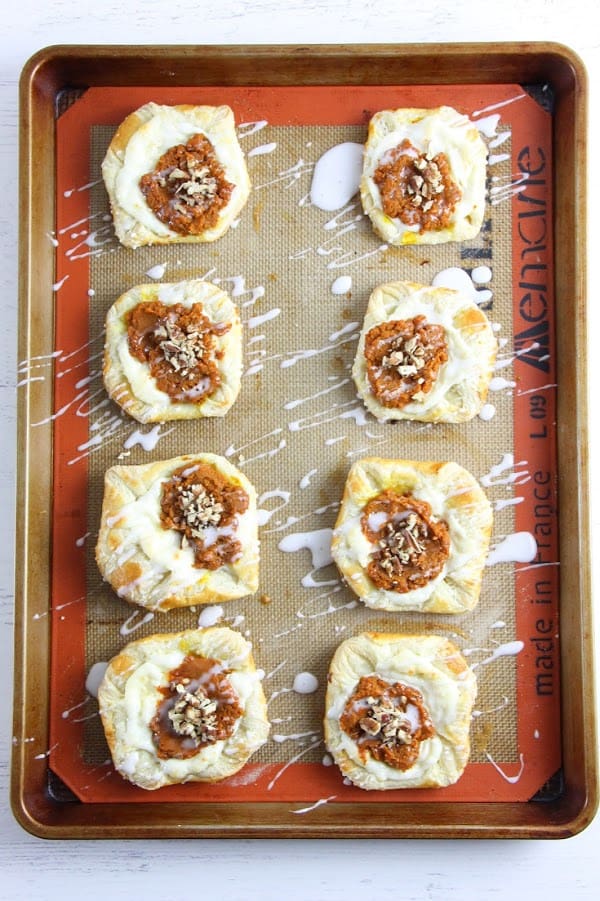 Click here to save this recipe on Pinterest!
Can you believe this is the first pumpkin dessert I've made this season? I don't even know what I am doing with my life right now, but I need to hurry up because peppermint season will be here before we know it!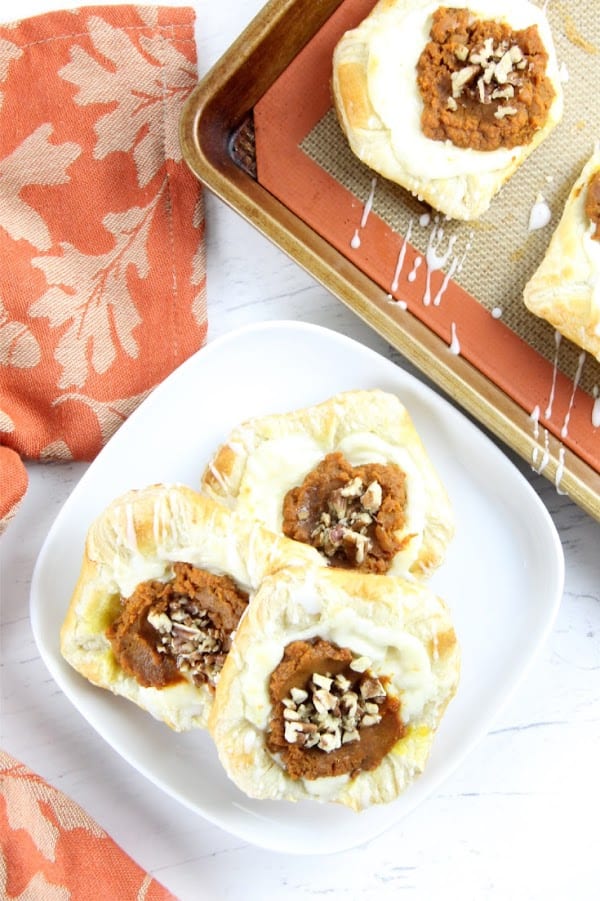 There are so many fabulous desserts right now that I can't think straight – like this chocolate chip pumpkin roll or this pumpkin cream horns. They are seriously the best!
But wait. Are danishes even dessert? I kind of feel like the answer could be yes or no depending on how you look at it.
What is a danish?
A danish is a sweet pastry and because I don't typically eat sweets for breakfast, I will just call this a dessert.
Looking online, it's hard to say why sweet pastries started being categorized as breakfast, maybe to go along the lines with croissants. Which is something I can totally get behind eating for breakfast!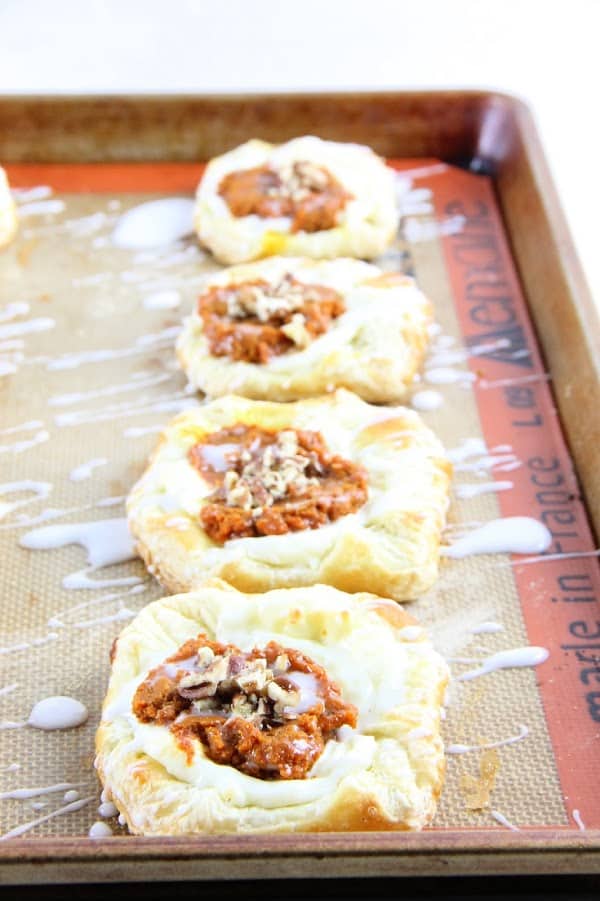 For the pumpkin filling!
To make this pumpkin filling, I used my standard filling recipe that I use to make turnovers and hand pies.
Instead of using pumpkin pie spice, I went with a mixture of cinnamon, nutmeg and ginger. Basically, this was to control the amounts of each spice in the pumpkin mixture.
The first time I made them I added too much cinnamon, then backed it off a little. Cinnamon can be overbearing if you use to much of it.
Next, let's talk about rolling out the puff pastry. Depending on how long you make your rectangle will determine how many pastries you get out of a sheet of puff pastry.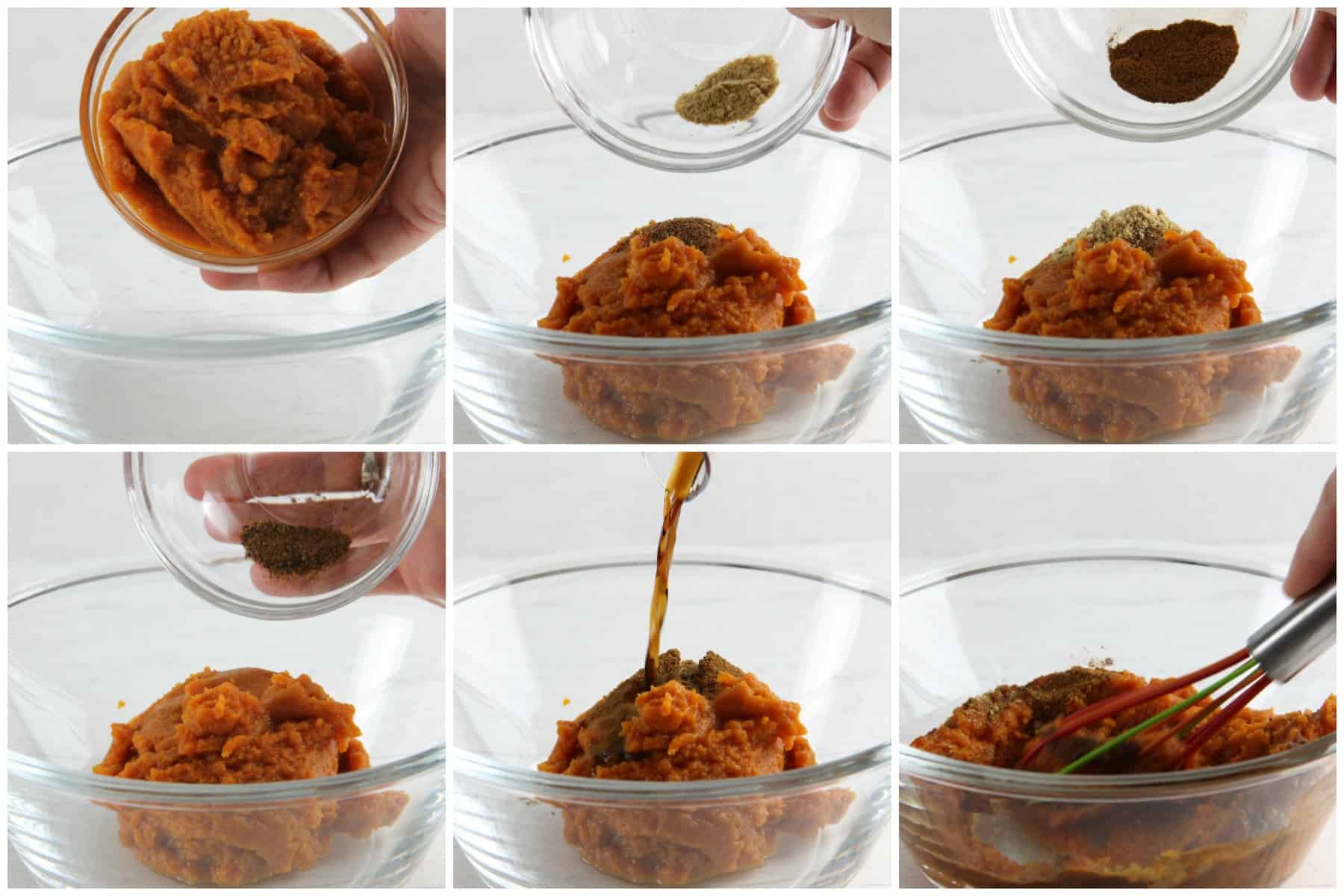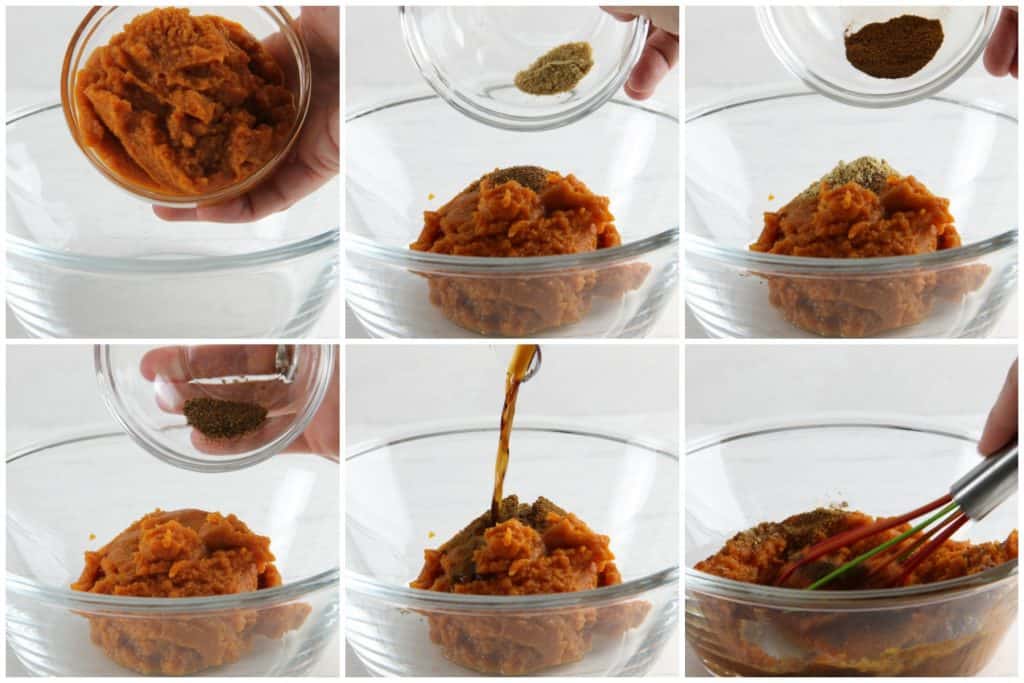 The first time I made this, I only got four pastries. That made for some really big pastries, which was just too much of a portion, so I made sure I rolled the pastry out super long.
After I cut the pastry, I played with the dough a little to make sure I had uniform squares before I added the cream cheese and pumpkin.
To assemble these pumpkin cream cheese danishes!
Now let's assemble the pastries. The egg wash is super important to keep the pastry in its place after you fold in the corners.
Also, make sure to put a good helping of cream cheese on each pastry and press it down some it makes a well for the pumpkin. Next add a good helping of pumpkin mixture.
It's also super important to add egg wash to the remainder of the pastry after the cream cheese and pumpkin are on. This will ensure that your pastry is a nice golden-brown color.
For more pumpkin desserts, how about this easy pumpkin bundt cake or miguelitos with pumpkin.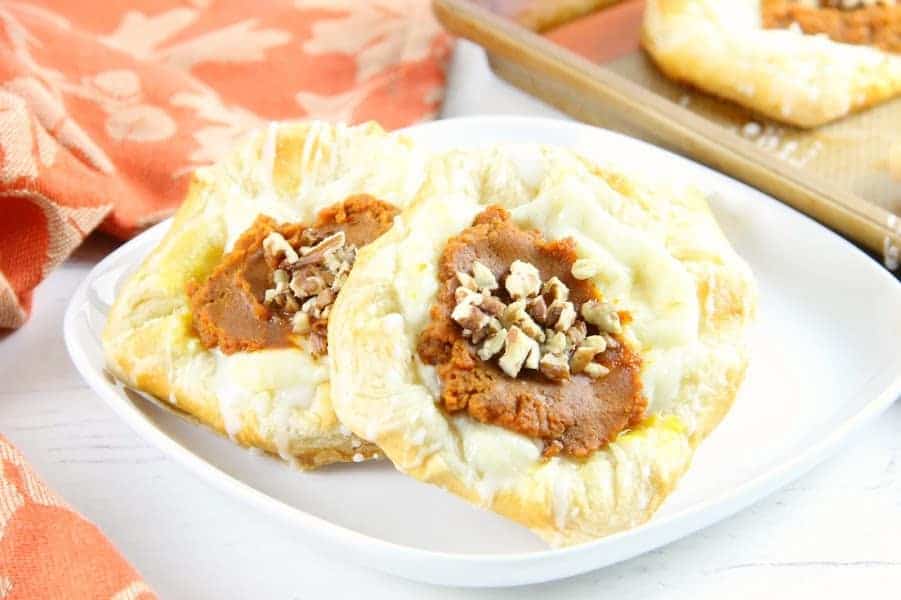 Want to follow along?
If you're on Facebook come check out this fun little group I've got going on. Instagram is a fun resource I'm using right now. If you make any recipes make sure to tag them #bittersideofsweetrecipes so I can see your creations!
Want to connect more with The Bitter Side of Sweet? Follow at:
Facebook | Pinterest | Instagram | Twitter
This Pumpkin Cream Cheese Danish Recipe was originally posted on Food Fanatic!