Creamy Pumpkin Tortellini is the simple supper your fall menu needs. This light, creamy sauce has just the right flavor profile to match up to pumpkin!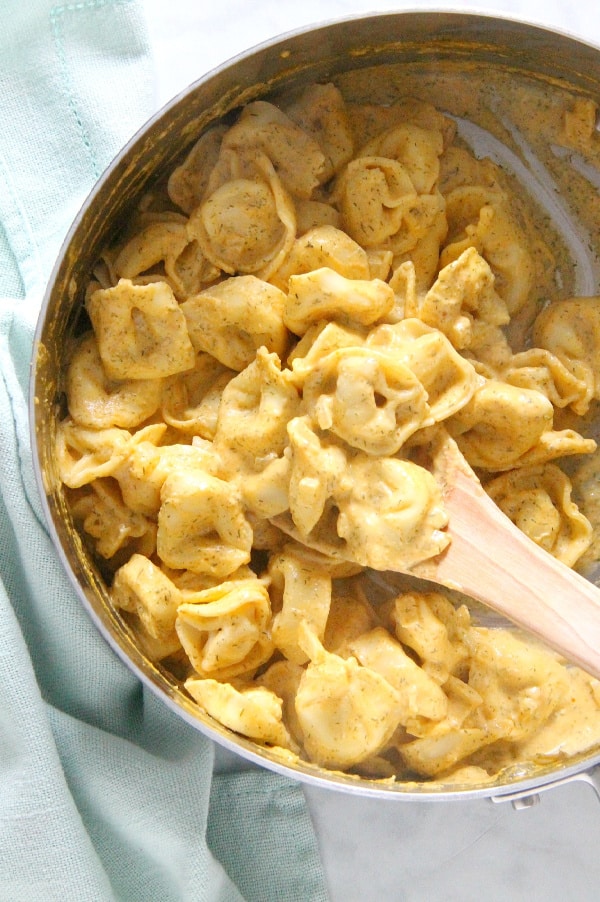 Click here to save this recipe on Pinterest!
I've told you my love for tortellini goes deep. Well, this version is the perfect comfort food for a quick weeknight meal!
Although I do love a good steak gorgonzola pasta or this Italian sausage and artichoke pasta I lean toward tortellini often.
My kids are busy running to and from ballet, church and my older daughter going to work. It can be so hectic, as you probably know.
When it comes to getting dinner on the table, it needs to be fast, with as few dishes as possible but also have great flavor!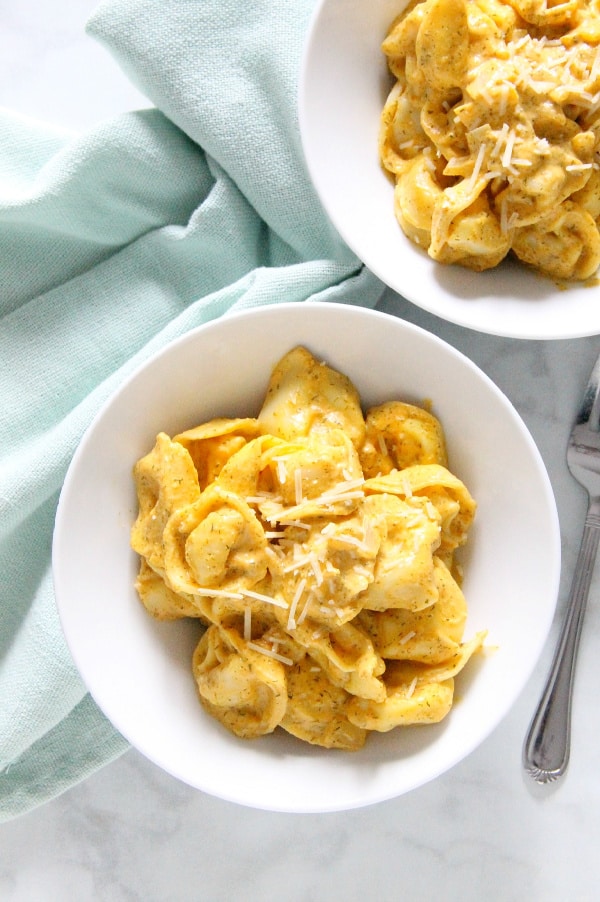 Which tortellini should I use?
So, what is tortellini? Tortellini is a ring-shaped pasta filled with different ingredients. You can find them with just cheese, or you can find them with chicken and cheese or mushrooms.
Does sauce matter?
What kind of sauce did I use? For the sauce I went with something simple such as pumpkin.
You know how you always have just a little pumpkin leftover after baking with the rest of the can? This is the perfect way to use it up!
It only takes three tablespoons if you are feeding just two people. If you want to double the recipe, make sure to double the pumpkin.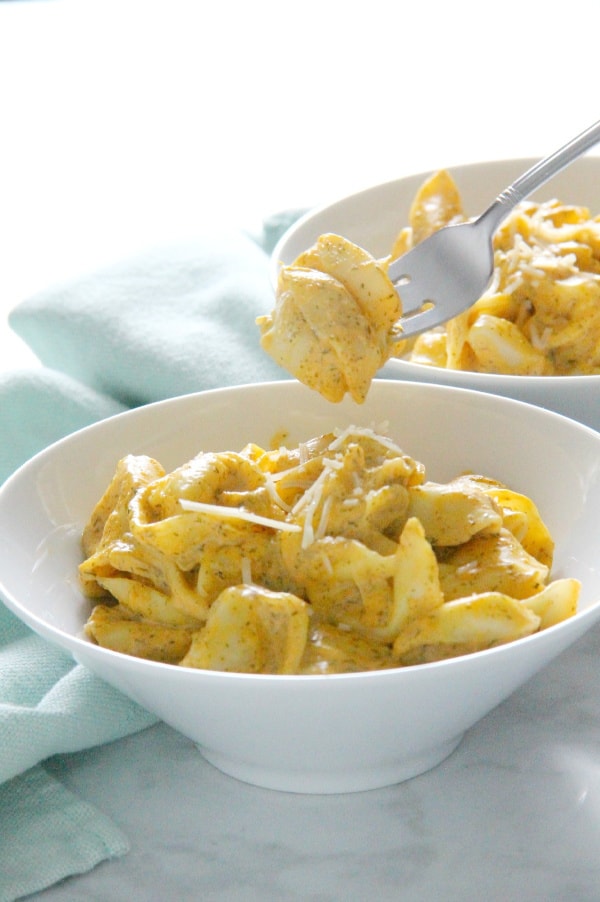 Herbs are important!
What kind of herbs did I use? Well this time around I went with dill weed. I didn't really put too much thought into it.
I simply opened my cupboard and looked for an herb that would go well with pumpkin. Dill can have a strong taste if you add too much so make sure not to double it in the recipe!
If dill is not your thing a good substitute would be thyme or parsley. I don't normally keep thyme in my spice rack, but that sounds amazing!
If you are looking for more pumpkin recipes how about creamy pumpkin pasta or for something sweet these pumpkin cream horns!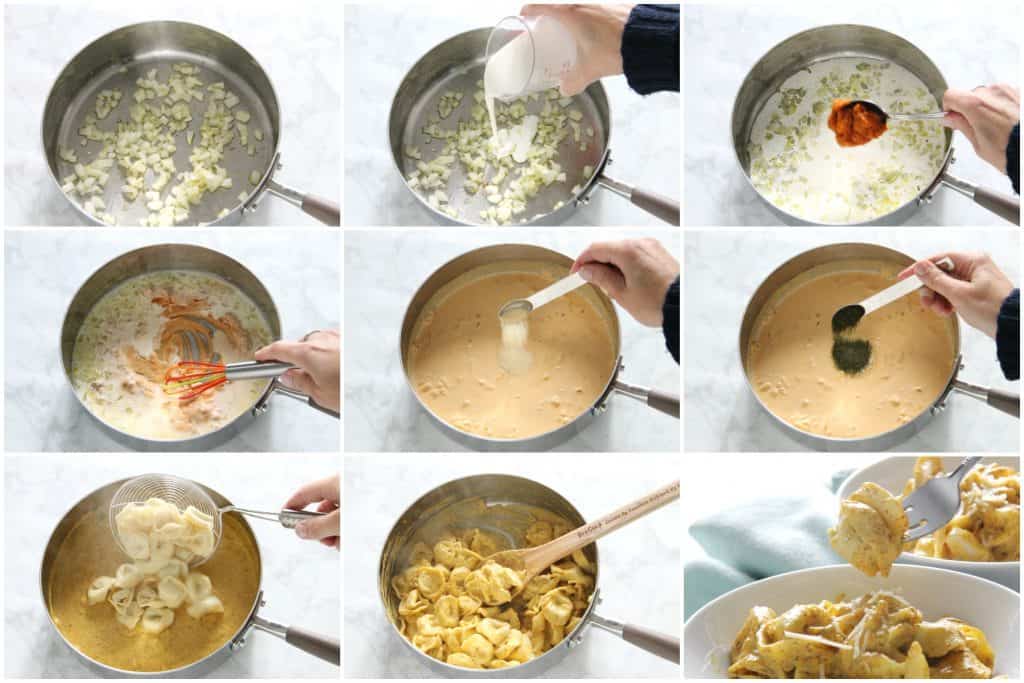 Want to follow along?
If you're on Facebook come check out this fun little group I've got going on. Instagram is a fun resource I'm using right now. If you make any recipes make sure to tag them #bittersideofsweetrecipes so I can see your creations!
Want to connect more with The Bitter Side of Sweet? Follow at:
Facebook | Pinterest | Instagram | Twitter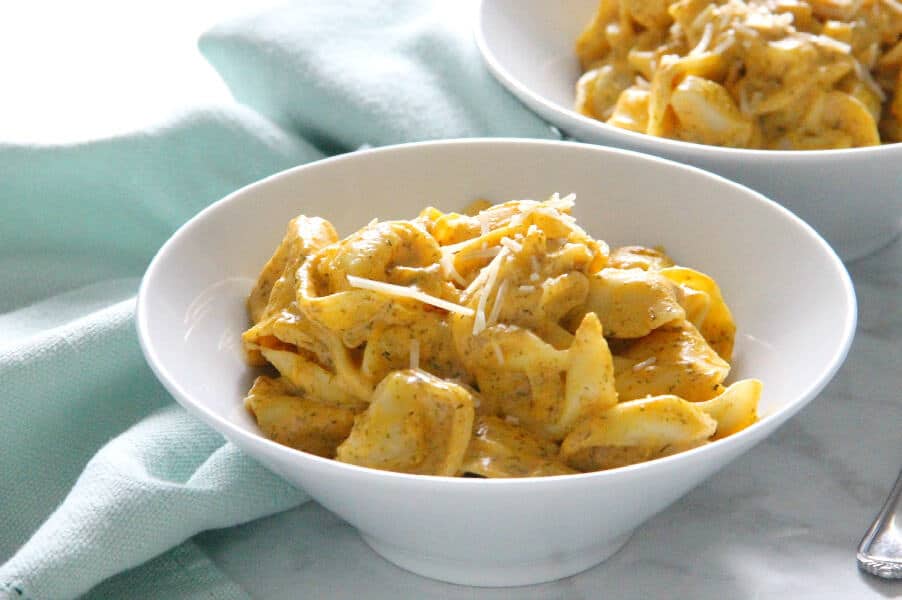 Check out this Creamy Pumpkin Tortellini originally posted on Food Fanatic!
A few recipes from around the web!