Basic Pizza Dough that is easy to put together and makes the perfect base for your pizzas! With just a few ingredients this dough is ready in minutes!
Did you know I make pizza? I make it a lot! Almost every Saturday night I make pizza no matter if we are home or on vacation. The kids really look forward to it so I indulge them and myself! 🙂
Click here to save this recipe on Pinterest!
Yep 4! There are six of us and we love our pizza!
I normally have almost a whole pizza left but it works great for lunches for the kids at school or leftovers or midnight snacks!
So I am super exited because my in-laws and nephews are coming to visit from Italy this week!
I thought it would be fun to do a pizza series and finally get this recipe to family members who have asked for it! Here is a little step by step on the different stages of the process: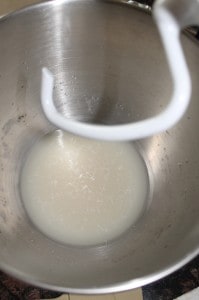 this is after the yeast and the water have been mixed and setting for five minutes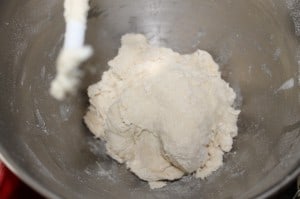 this is after the flour, salt, and oil have been mixed in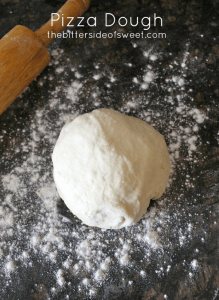 this is after I have kneaded the dough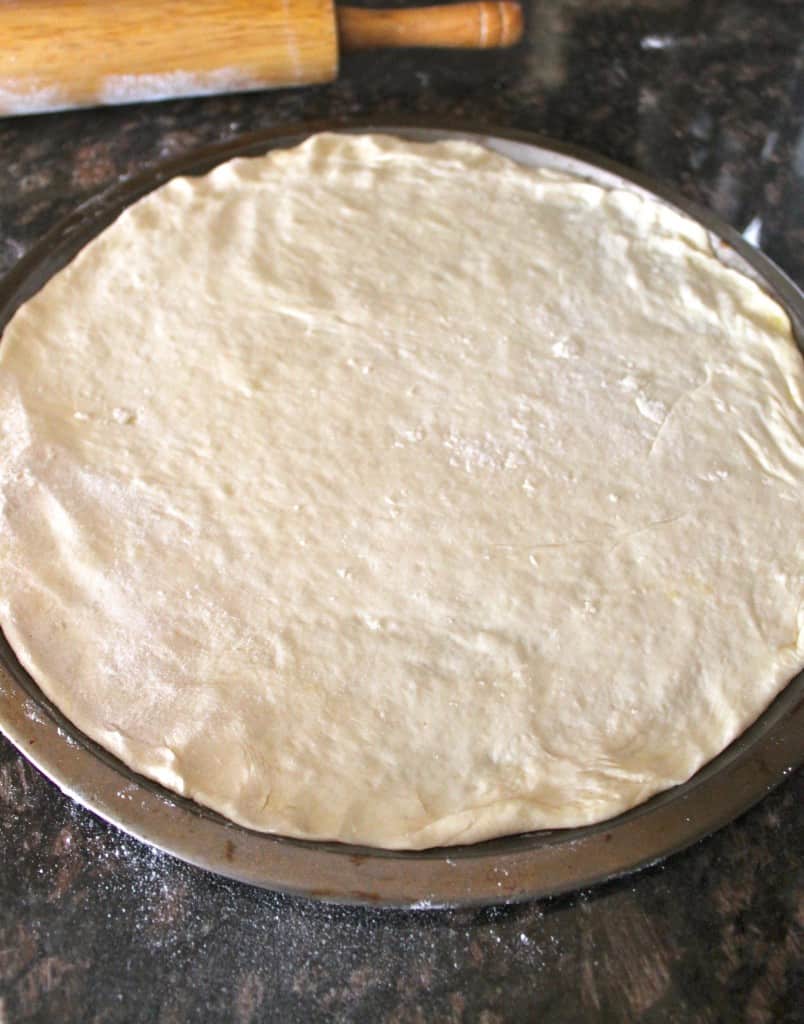 this is after I have rolled it out and it is ready to go!
We love to eat pizza when we are in Italy and I think when I was there in December for two weeks I ate it like 8 times. Can. Not. Get. Enough!
This pizza is called 4 Seasons or Pizza Quattro Stagioni. It is my my favorite pizza to get while I am in Italy. It normally comes with pepperoni, ham, artichokes and mushrooms! YUM!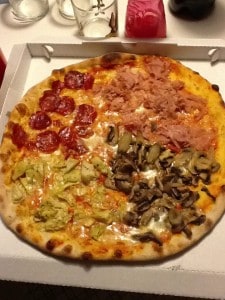 I would have to say about a two years or so ago I started to use this recipe to make my pizzas.
I found it somewhere on the Internet and of course can not find it now, so if you recognize it let me know! I always made the dough the exact same way until recently.
I used to use only active dry yeast. The Red Star has both but I have been using the quick rising yeast so I can have the dough put together and ready to go into the oven in like 10 minutes!
That is essential for me when I have hungry kids all standing at my feet pulling my cloths needing to be feed IMMEDIATELY!
Can you freeze the dough?
Yes you can! I pre-make this dough a lot. I'll divide it up and place it in freezer bags.
The day I want to use it, I'll just pull it out of the freezer and let it come to room temperature, about a few hours!
Next I sprinkle some flour on my countertop and roll out the dough!
Want to follow along?
If you're on Facebook come check out this fun little group I've got going on. Instagram is a fun resource I'm using right now, too. If you make any recipes be sure to tag them with #bittersideofsweetrecipes so I can see your creations!
Want to connect more with The Bitter Side of Sweet? Follow at:
Facebook | Pinterest | Instagram | Twitter
Pizza Dough
5 ingredient dough that is fast rising and quick to make!
Ingredients
1 1/4 oz. packet quick rise yeast,
1 1/4 cup water, warm
3 to 3 1/2 cups all-purpose flour
2 tablespoons extra virgin olive oil
1 tablespoon salt
Instructions
In mixing bowl add yeast and water. Using whisk mix them together. Rest for 5 minutes.
Using your dough hook add 2 cups flour and mix on low.
Add oil and salt and continue to mix.
Add the remaining flour a 1/2 cup at a time till all is incorporated.
Dust counter top with flour and dump ball out of the mixing bowl.
With flour covered hands work the dough till you have a nice smooth ball.
Rest for 5 minutes and ENJOY!!!
Makes 2 9" Pizzas
Notes
Active dry yeast can be substituted for the quick rise yeast. You will need to let your dough rise for 4 to 6 hours.
Nutrition Information:
Yield:

2
Serving Size:

1
Amount Per Serving:
Calories:

300
Total Fat:

21g
Saturated Fat:

3g
Trans Fat:

0g
Unsaturated Fat:

15g
Cholesterol:

0mg
Sodium:

3199mg
Carbohydrates:

507g
Fiber:

22g
Sugar:

2g
Protein:

74g
*Nutrition facts are an estimate and not guaranteed to be accurate. Please see a registered dietitian for special diet advice