This Blue Cheese Prosciutto Pizza has a little tang from the blue cheese but pairs excellent with the prosciutto crudo!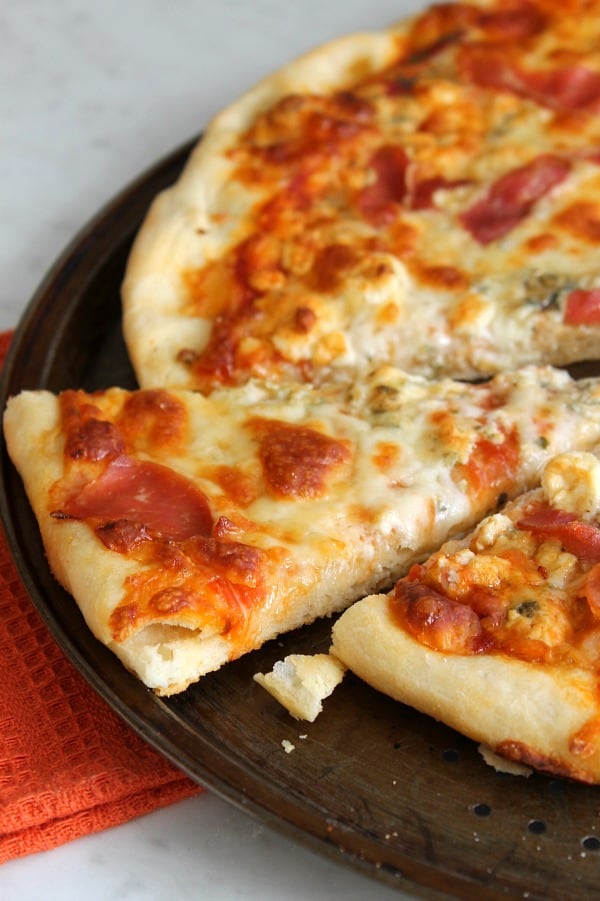 We do pizza A LOT in our household. I am pretty sure I have told you I make it every weekend, from scratch.
Well I have been getting kind of bored with the same old toppings like pepperoni, cheese and tuna.
So when I knew we were having some guest over I decided to kick it up a notch!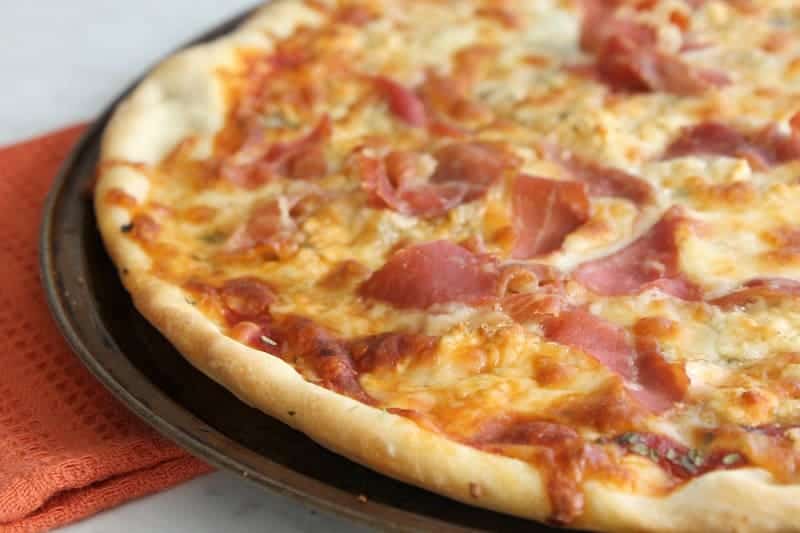 We had a lovely time with a group of people from our church a few weekends ago. It was AMAZING! Even though I stuck to the kitchen most of the night pumping out pizza after pizza it was something to remember.
I ended up making about 12 pizzas that night, fresh and hot out of the oven but I want to say that this one was the one that got the most attention!
I was not in the room when this pizza hit the table but my daughter did quote one of our guest saying "ladies and gentlemen, we have a winner!"
Apparently the blue cheese prosciutto pizza was a hit! So much so that I decided to make it for the next week when we did pizza so I could share it with you guys, and so I could eat a slice hot!
And let me tell you, it is a winner! 🙂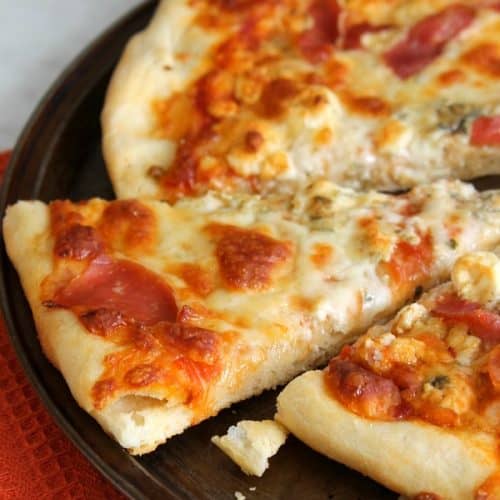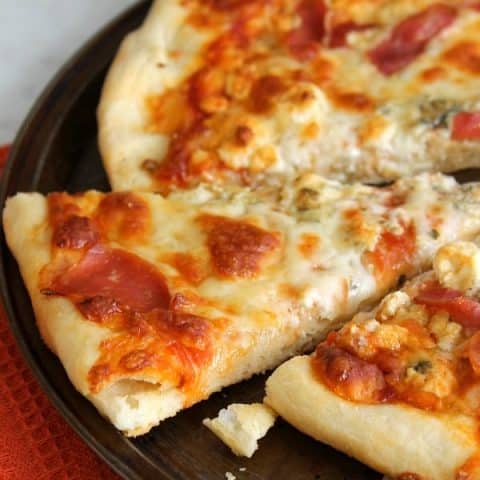 Blue Cheese Prosciutto Pizza
Ingredients
1 pizza dough
1/2 teaspoon dried thyme
2 teaspoon garlic powder
1/4 cup unsalted tomato sauce
1/2 cup mozzarella cheese
4 ounces blue cheese
6 ounces prosciutto crudo
Instructions
Preheat oven to 415°.
Roll out pizza dough on greased round 8 inch pan.
Top with tomato sauce.
Sprinkle with thyme and garlic powder.
Top with mozzarella cheese.
Top with blue cheese.
Top with prosciutto crudo.
Bake for 12 minutes or until crust is puffy and crisp.
Serve and ENJOY!
So when looking for your ingredients I just used blue cheese crumbles that I picked up at my local grocery store. I also want to encourage you to get prosciutto crudo (which means uncooked) verses prosciutto cotto (which means cooked). So no using regular deli ham for this. Get the good stuff!
I make my own pizza dough, so if you are looking for a recipe, check it out! ENJOY!