This homemade Sausage Arugula Pizza is bursting with the bold flavor of arugula and sausage. So much better than take out!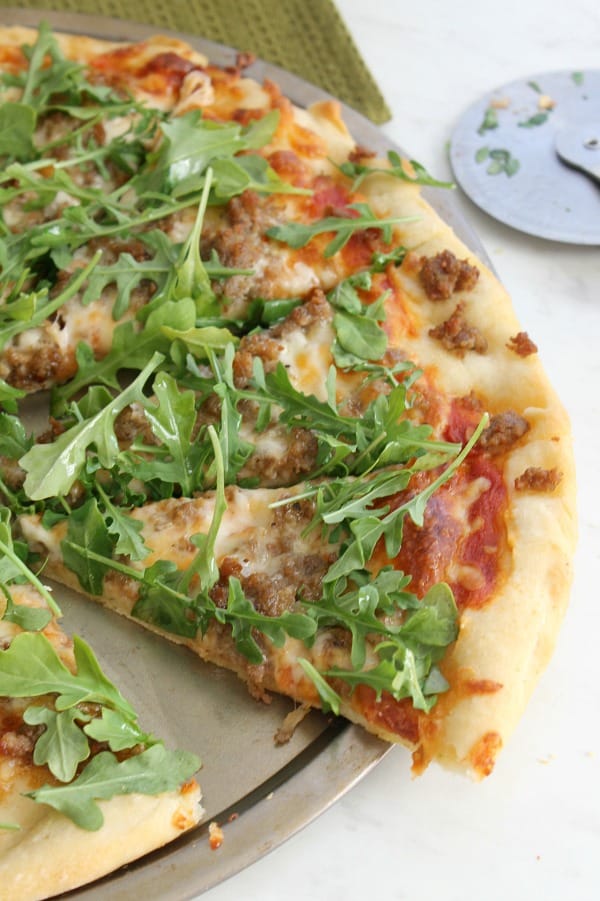 When someone said it was National Pizza Month I wanted to shout from the rooftops! Okay so maybe I was not going to be that dramatic but I do get excited when it comes to pizza!
Whether it is made fresh at home, like this Blue Cheese Prosciutto Pizza or carry out, I am always happy to oblige!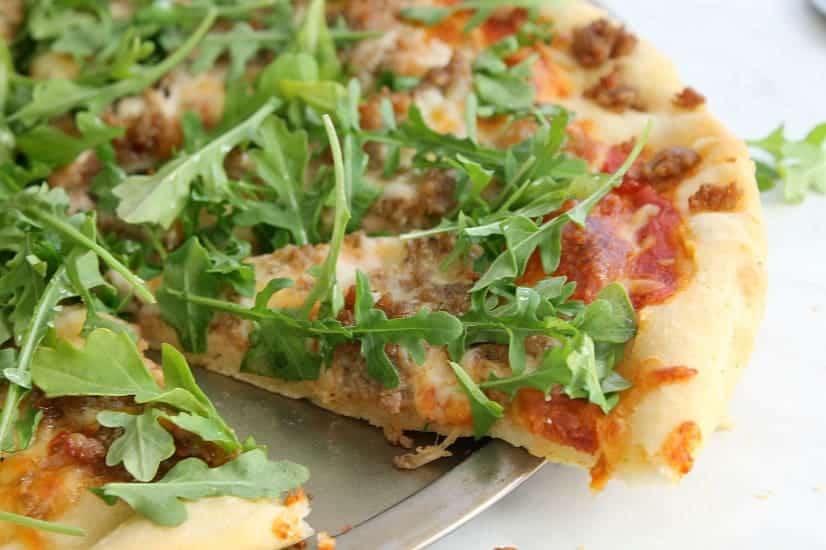 I have had this flavor of pizza several times when we visit Italy I have just never really made it at home. My hubby was glad when I finally did!
The arugula does add a sharp taste to the pizza but it actually helps balance out the flavors from the crust to the garlic and finally the sausage!
If your on Facebook come check out this fun little group I've got going on. Instagram is a fun resource I'm using right now. If you make an recipes make sure to tag them #bittersideofsweetrecipes so I can see your creations!
Want to connect more with The Bitter Side of Sweet? Follow at:
Facebook | Pinterest | Instagram | Twitter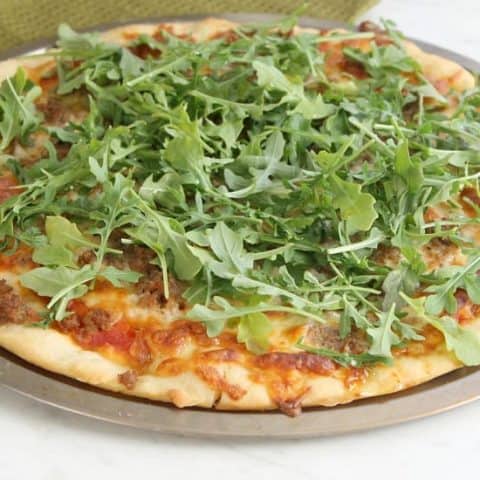 Sausage Arugula Pizza #SundaySupper
Ingredients
1 pizza dough
2 teaspoons garlic powder
1/2 teaspoon dried thyme
¼ cup unsalted tomato sauce
½ cup mozzarella cheese
4 ounces cooked pork sausage
1 cup fresh arugula
olive oil
Instructions
Preheat oven to 415°.
Roll out pizza dough on greased round 8 inch pan.
Top with tomato sauce.
Sprinkle with garlic powder and thyme.
Top with mozzarella cheese.
Top with sausage.
Bake for 12 minutes or until crust is puffy and crisp.
Top with arugula, drizzle with olive oil.
Serve and ENJOY!