Puff Pastry Pepperoni Pizza is the way to get pizza on the table in minutes! You'll never have an excuse for delivery again.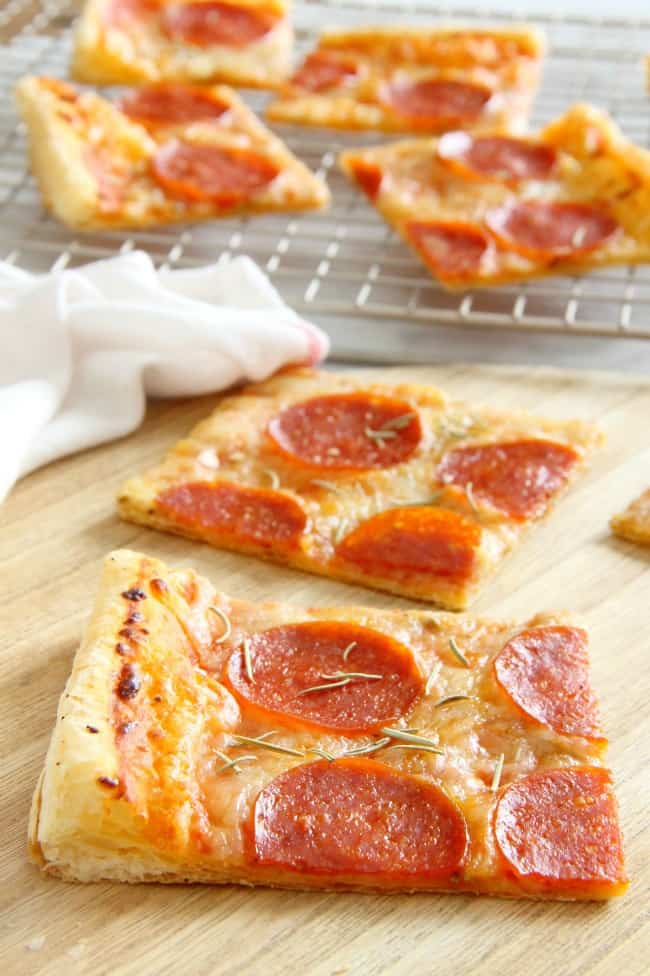 This Puff Pastry Pepperoni Pizza is seriously life changing! Now how could that be? Well you see, I make homemade pizza every single Saturday that we are home and sometimes when we are traveling too.
So when I decided to use puff pastry to make pizza that was a big deal for me because I also make my own pizza dough.
Sometimes I have the pizza dough frozen in the freezer and I just pull it out early Saturday morning so it is ready for the evening but most of the time I am making the dough early afternoon and letting it rest before I make the pizzas in the evening.
When time doesn't permit, it's nice to have pre-made dough around!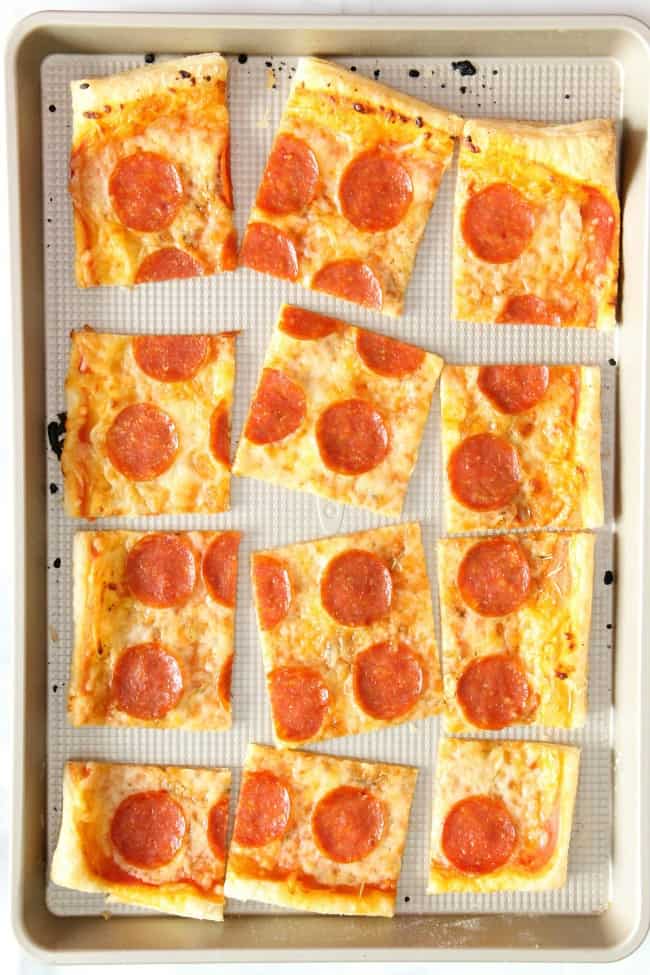 To have a pre-made dough ready to go really was kind of awesome. I first tested it out by making it for myself one day for lunch. It's just me at home and I am not always eating really good for lunch therefore I went out on a limb and made it.
Self control was not my friend that day. I was so tempted to eat the entire pizza, it was that good. Eventually I did save a few slices for the kids so they could eat it for an afternoon snack!
How to use pantry staples or frozen foods?
frozen puff pastry is easy to have on hand when you need it!
I free cheese all of the time, so it's easy to save and conserve!
Canned tomato sauce is a pantry staple of ours. We are never out!
Keeping dried herbs stocked is essential to cooking!
Pepperoni doesn't need to be refrigerated so you can keep plenty in your pantry to use at any given time!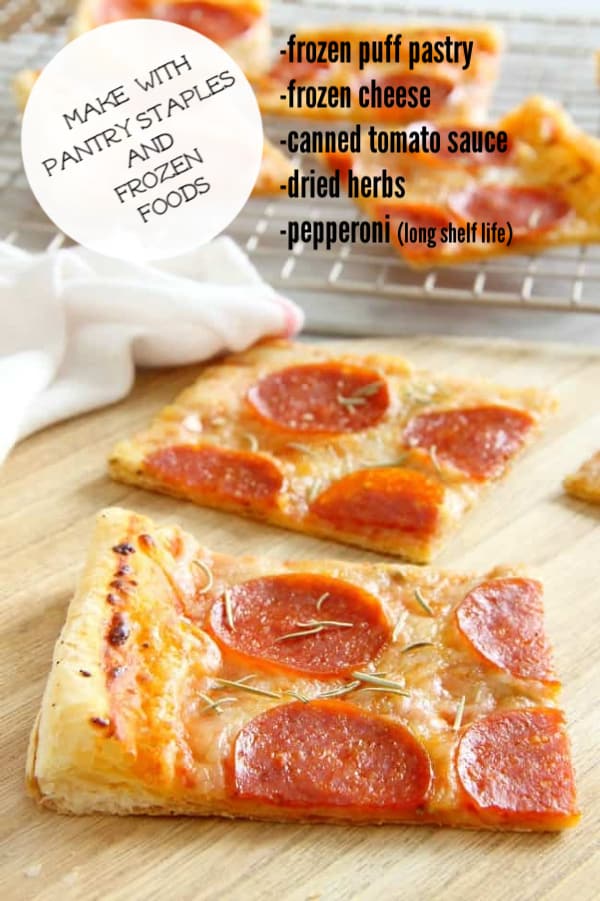 How to make puff pastry pizza!
The best thing about this pizza is that by time your oven has come up to the right temperature your puff pastry is ready to be rolled out. There is really not that much time from start to finish which is always a plus in my books!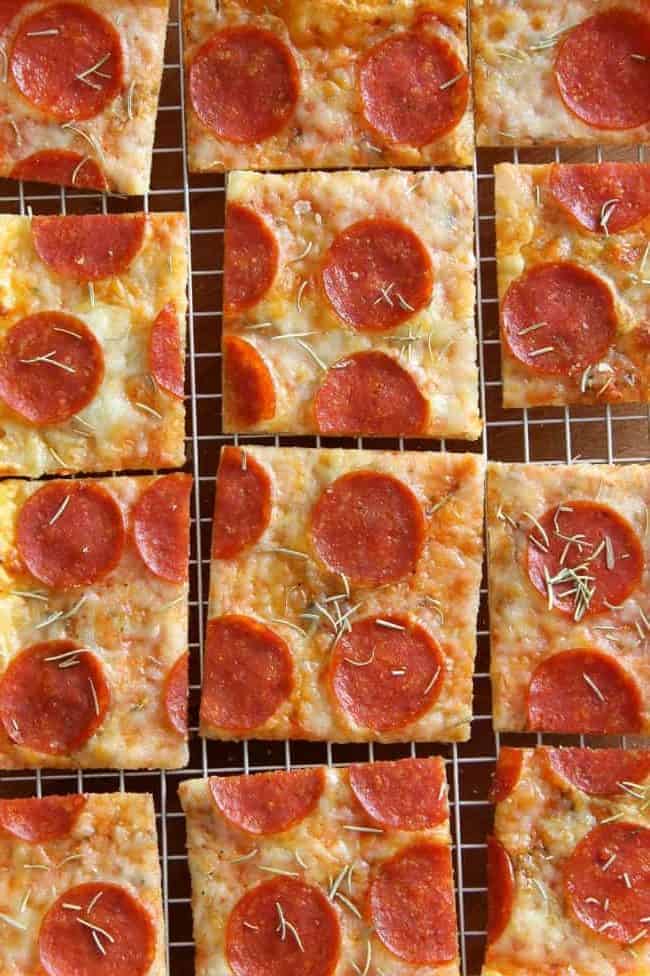 Now how did it go over with the family you ask? It went well, except for my husband. Don't get me wrong he liked it but he didn't love it like me. He thought it was too buttery because you know puff pastry is all about the butter.
I personally didn't taste the butter, I tasted the deliciousness of the sauce, pepperoni and cheese!
If you are looking for more pizza recipes check out this sausage arugula pizza or this blue cheese prosciutto pizza! And as always don't forget to try this Puff Pastry Pepperoni Pizza!
Want to follow along?
If you're on Facebook come check out this fun little group I've got going on. Instagram is a fun resource I'm using right now, too. If you make any recipes be sure to tag them with #bittersideofsweetrecipes so I can see your creations!
Want to connect more with The Bitter Side of Sweet? Follow at:
Facebook | Pinterest | Instagram | Twitter
This Puff Pastry Pepperoni Pizza originally appeared on Food Fanatic!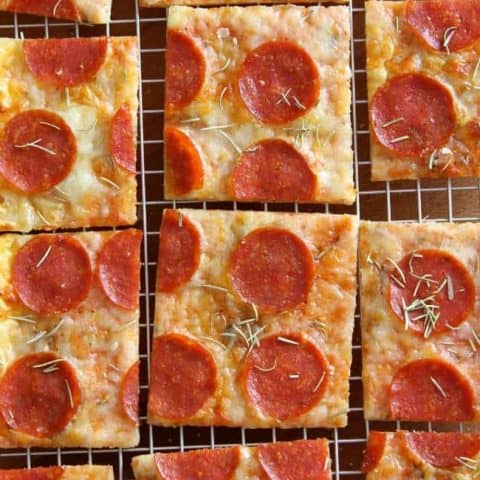 Puff Pastry Pepperoni Pizza
Easy to make Puff Pastry Pepperoni Pizza! Bakes up in just minutes!
Ingredients
1 sheet Puff Pastry, thawed
1/4 cup Tomato Sauce
1/4 teaspoon Oregano
1/2 teaspoon Rosemary
1/8 teaspoon Garlic Powder
1 cup Shredded Cheese
24 slices Pepperoni
Instructions
Preheat oven to 425°F.
Roll out pastry on a lightly floured surface to a large rectangle and place on baking sheet.
Spread tomato sauce evenly on pastry.
Sprinkle with oregano, rosemary and garlic powder.
Top with cheese.
Place on pepperoni
Bake for 8-10 minutes or cheese is melted and crust is golden brown.
Nutrition Information:
Yield:

4
Serving Size:

1
Amount Per Serving:
Calories:

219
Total Fat:

18g
Saturated Fat:

8g
Trans Fat:

0g
Unsaturated Fat:

8g
Cholesterol:

40mg
Sodium:

465mg
Carbohydrates:

5g
Fiber:

0g
Sugar:

1g
Protein:

10g
*Nutrition facts are an estimate and not guaranteed to be accurate. Please see a registered dietitian for special diet advice