Bucatini with Tomatoes is a simple supper you won't be able to resist. Full of fresh tomatoes and pancetta you will love this easy weeknight meal!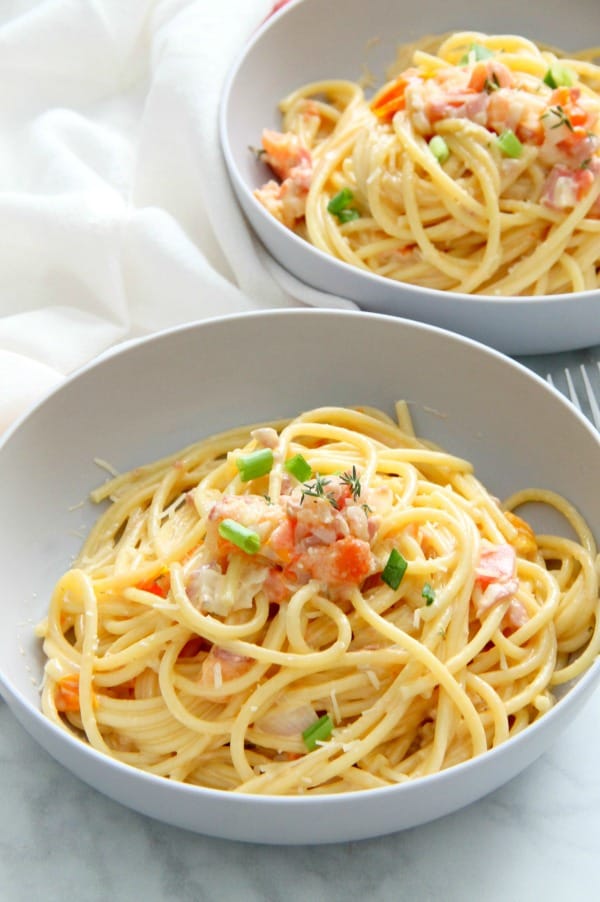 Click here to save this recipe on Pinterest!
Hey guys! I am back with another easy to make, yet fabulous pasta dish!
I am incredibly excited about this one because it is inspired by lots of different types of pasta dishes that I ate while our family was in Italy over the summer.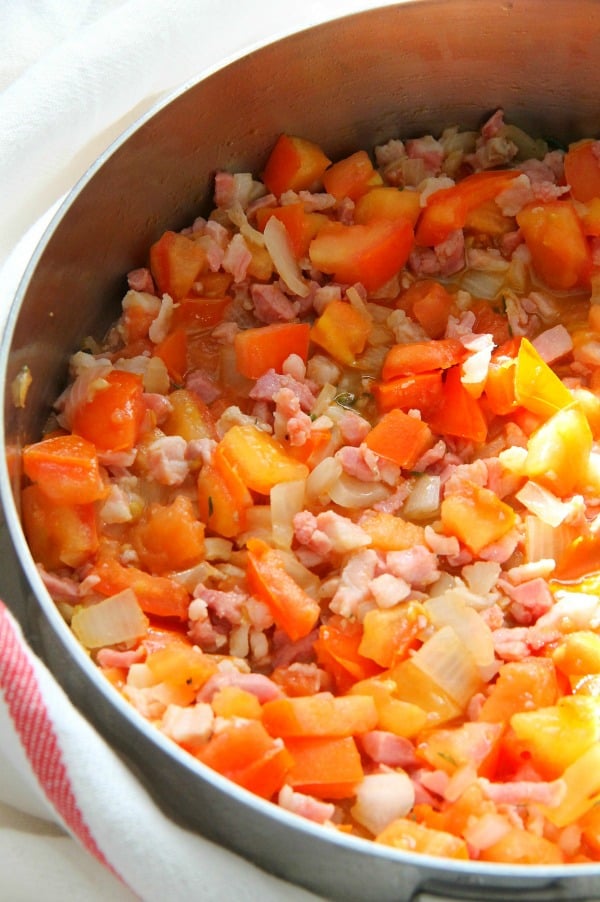 We tend to eat a whole lot of pizza because let's face it, Italian pizza is like no other!
This time around I really wanted to eat some really good pasta dishes and you know what? Italy did not disappoint me with that.
My mother in law, as I've told you before, uses very seasonal produce to make her sauces.
Since tomatoes were in abundance while we were there, I knew I wanted it to be one of my main ingredients in this bucatini with tomatoes dish.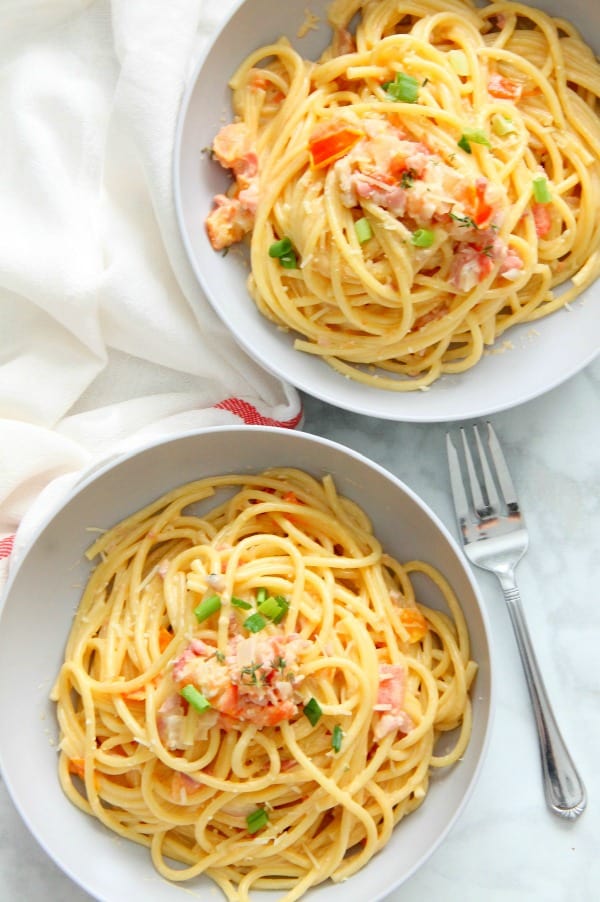 Bucatini is a spaghetti like pasta, similar to bigoli except it has a hole running through the center of it. You can use this type of pasta for any dish that calls for spaghetti.
You typically find bucatini in a very classic dish called bucatini all'Amatriciana. Which when I told my husband that I wanted to add tomatoes and bucatini together he mentioned this dish first.
One tip about trying to find bucatini in the grocery stores.
When looking for bucatini I normally have to purchase it in my local Target.
I have yet to find it in other stores but I only have a few grocery stores to choose from. You can also purchase it off of Amazon.
The price is fairly close to what you will find on the shelf, so it is definitely a good alternative.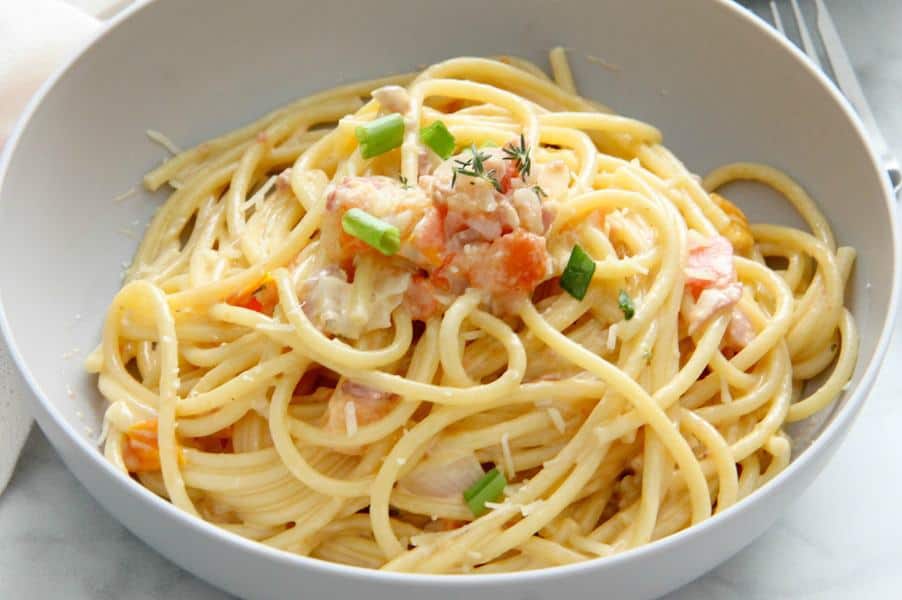 How to make the sauce?
This sauce is super simple! You basically cook everything in one pan and pour it over the pasta when it is done. It has big flavor but is not too heavy.
What is pancetta?
Pancetta is Italian bacon that you can find in grocery stores.
If you can't find it, it is ok to substitute with center cut bacon. The taste will be a little different but will work the same.
If you are looking for more pasta dishes how about trying these out! Creamy Broccoli and Ham Bucatini or Italian Sausage and Artichoke Pasta.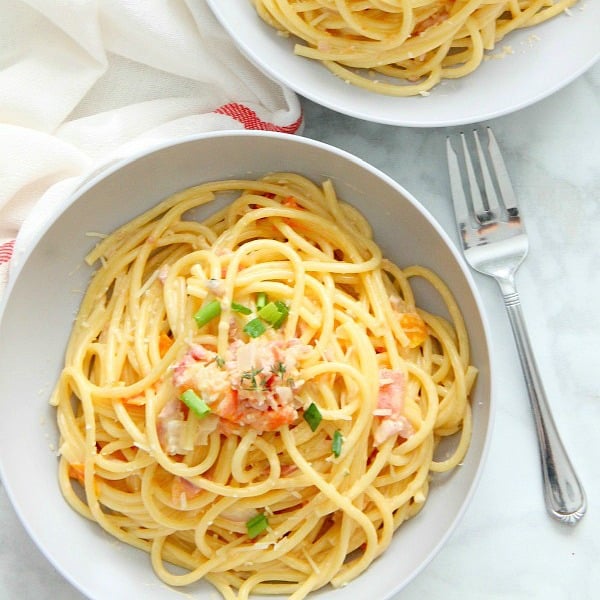 Want to follow along?
If you're on Facebook come check out this fun little group I've got going on. Instagram is a fun resource I'm using right now. If you make any recipes make sure to tag them #bittersideofsweetrecipes so I can see your creations!
Want to connect more with The Bitter Side of Sweet? Follow at:
Facebook | Pinterest | Instagram | Twitter
Don't forget to check out this Bucatini with Tomatoes originally posted on Food Fanatic!
More pasta dishes with pancetta that you might like!