Maple Pumpkin Monkey Bread will be a hit at your next brunch or holiday breakfast! With warm sugary biscuits combined with pumpkin and maple syrup!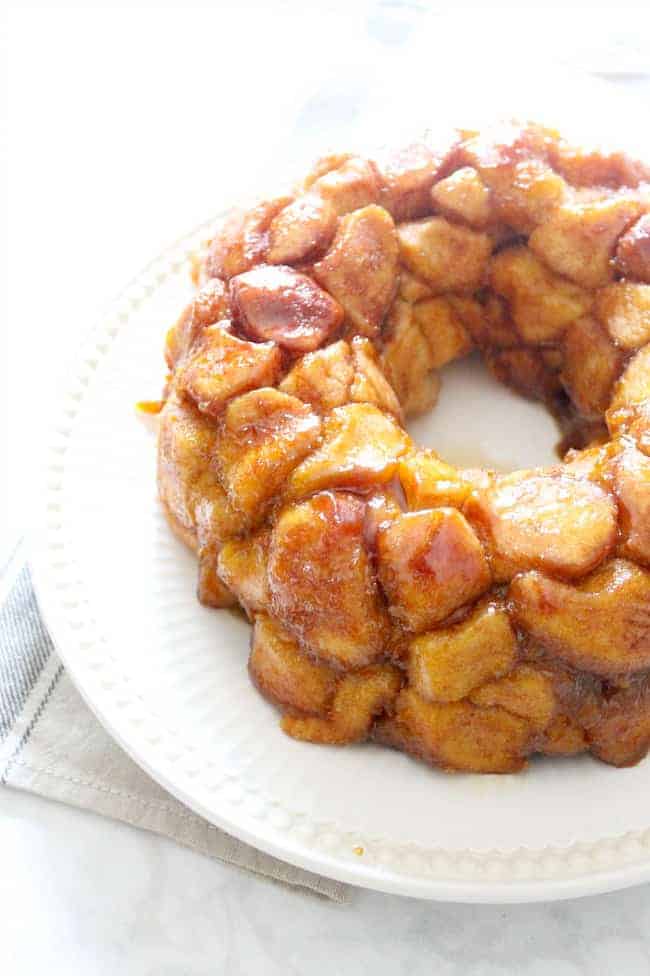 Click here to save this recipe on Pinterest!
Anytime I think of monkey bread I think of a very special friend of mine named Rebecca. When I used to live in Greensboro she came to my house one morning to hang out and I had made monkey bread and coffee.
Do you know we sat there and ate almost the entire ring of bread. In fact, we might of eaten it ALL! It was so good that it is too hard to stop eating once you stop, like this Chocolate Chip Pumpkin Roll!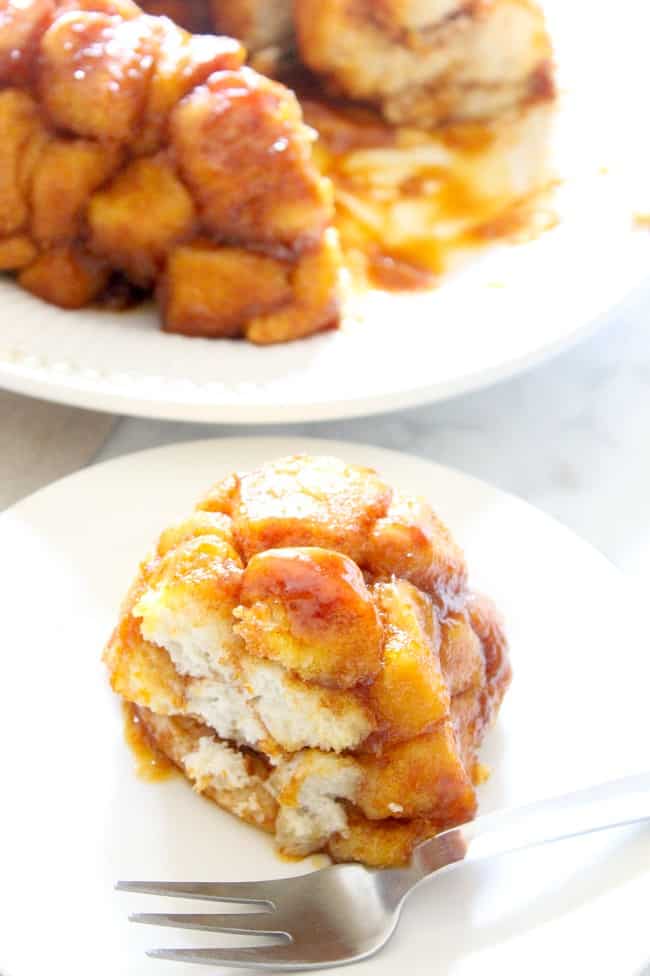 WHAT FLAVOR:
This time around I decided to add pumpkin and maple syrup to my bread! I was such a great combination with the cinnamon, sugar and butter!
It peels apart really well and just melts in your mouth! ENJOY!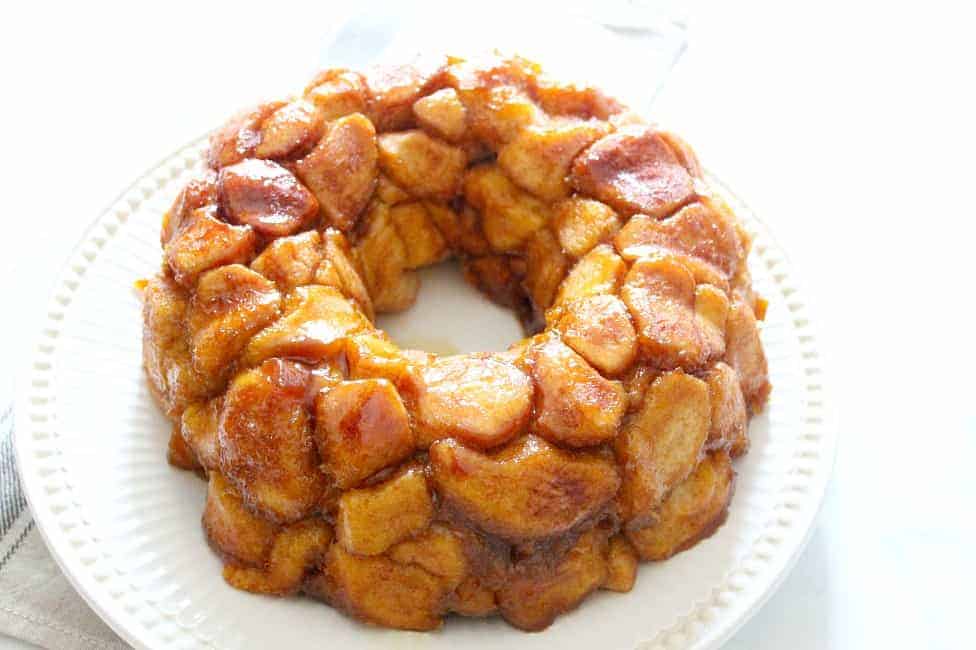 If you're on Facebook come check out this fun little group I've got going on. Instagram is a fun resource I'm using right now. If you make an recipes make sure to tag them #bittersideofsweetrecipes so I can see your creations!
Want to connect more with The Bitter Side of Sweet? Follow at:
Facebook | Pinterest | Instagram | Twitter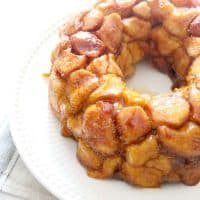 Maple Pumpkin Monkey Bread #PumpkinWeek
Ingredients
3 cans buttermilk biscuits, cut into fourths
1 cup sugar
2 1/2 teaspoon cinnamon
1 cup brown sugar
1 stick butter
1/2 cup pumpkin
1/4 cup maple syrup
Instructions
Preheat oven to 350 degrees F. Spray bundt pan with non stick cooking spray. Set aside.
Place sugar and cinnamon in a large plastic bag, mix well.
Shake 8-10 pieces of biscuits in the sugar until well covered.
Place biscuits in pan. Arrange in even layers.
In a small pot melt butter. Add brown sugar, stir. Add pumpkin, stir.
Pour pumpkin mixture over biscuits.
Place in oven and bake for 15 minutes. Cover with foil and bake for an additional 15 minutes.
When done allow to cool for 5 minutes. Flip into serving platter. Pour maple syrup over the bread. Serve and ENJOY!
Notes
This recipe is the one we've made in our family for years and years.
Here are today's #PumpkinWeek recipes:
Pumpkin Drink Recipes:
Pumpkin Spice Coffee Syrup from The Nifty Foodie.
Savory Pumpkin Recipes:
Pumpkin-Poblano Salsa from Culinary Adventures with Camilla.
Pumpkin Risotto with Garlic and Sage from Making Miracles.
Pumpkin Sausage Mac and Cheese from Daily Dish Recipes.
Pumpkin Sausage Skillet Dinner from Cindy's Recipes and Writings.
Pumpkin Walnut Sage Pierogi from The Crumby Kitchen.
Savory Pumpkin Sage Biscuits from Kudos Kitchen by Renee.
Sweet Pumpkin Recipes: