Italian Butter Cookies are just like what you would find in Italian bakeries! Dipped in chocolate and sprinkles, they're a spectacular treat.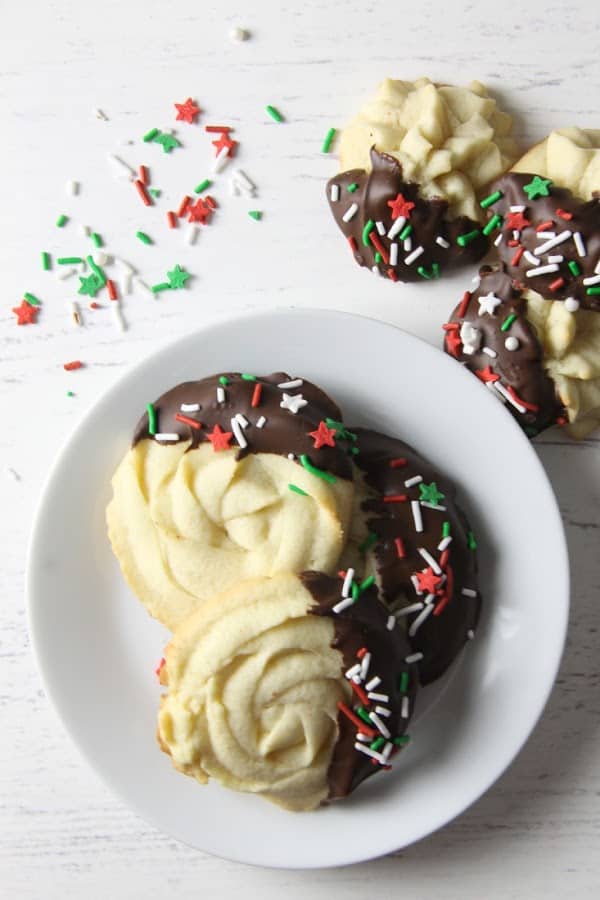 Click here to save this recipe on Pinterest!
It's that time of year where everyone is making all of the cookies! These chocolate crinkle cookies look pretty fabulous to me.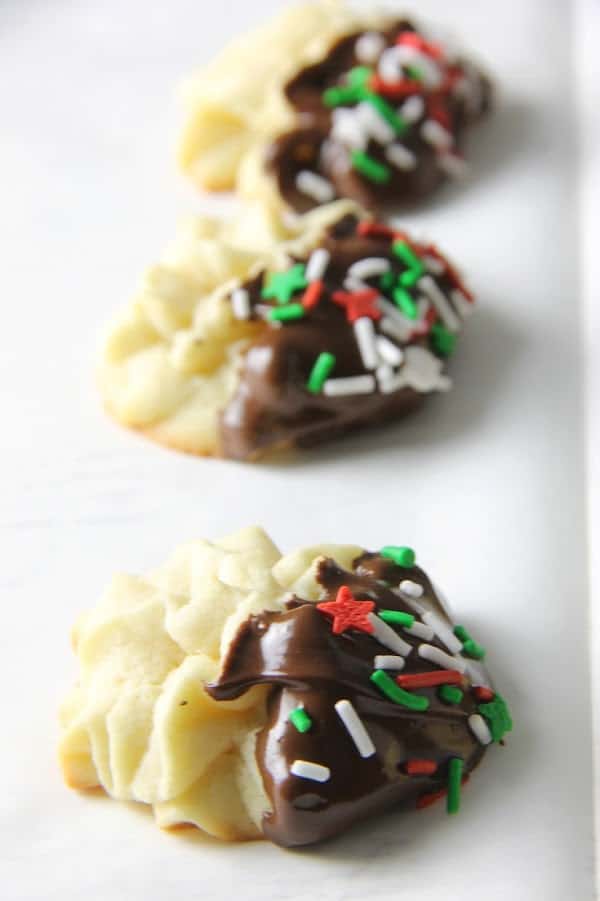 This time around on my cooking making endeavors I decided to make these Italian Butter Cookies or biscotti di burro as they call them in Italy..
I honestly had no idea butter cookies were such a popular cookie to make, especially around the holidays.
My husband is such a fan of almond flavored desserts I thought he would really appreciate them, and he did!
So, what is a butter cookie? Traditionally it is an unleavened cookie that is made with butter, flour and sugar.
Well, after doing some extensive research I found that lots of Italian recipes include baking powder and powdered sugar.
I decided to stick with using plain white sugar, but definitely thought I needed to keep the baking powder in the dough.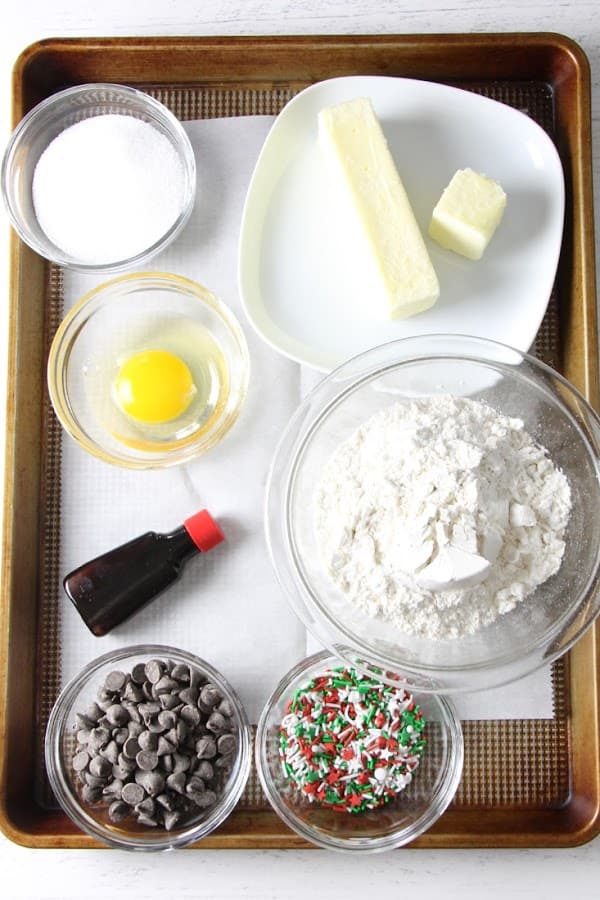 How do you make these Italian Butter Cookies?
I want to tell you I didn't have an easy time with these, at first. Basically, they kept losing shape and melting pretty rapidly in the oven.
I use a gas oven, so it tends to get really hot and cook things really fast. I spent some time adjusting the temperature and the baking time to get these to come out right.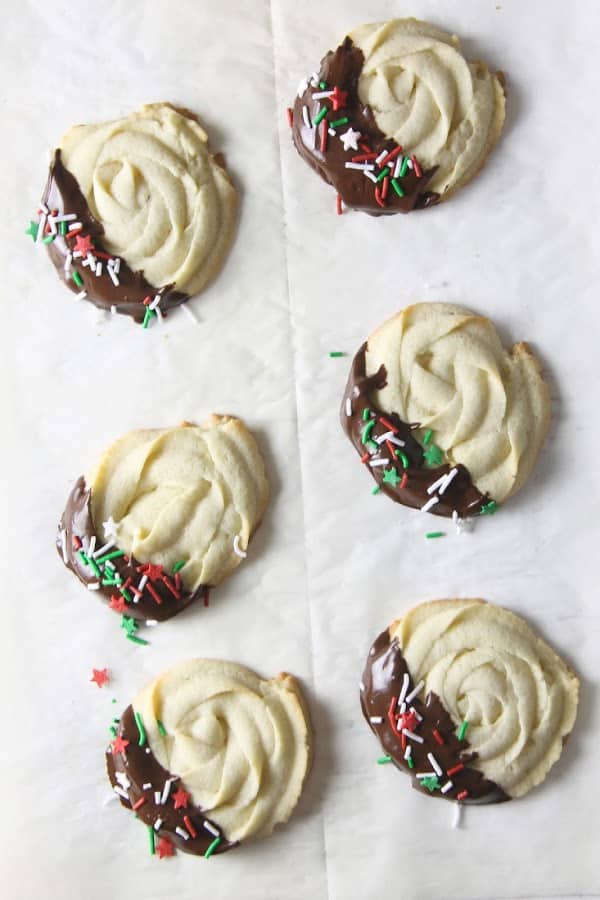 Do I have to chill the dough?
Short answer, no. There is no chilling of the dough in this recipe. You do have to know that I did test it out to see if it was needed.
After I started adding the baking powder to the mix, I didn't feel like chilling the dough changed the outcome at all. So, you can definitely skip it.
Adding the chocolate and sprinkles are definitely not necessary, but if you happen to be in Italy and you are in a pastry shop and see some cute cookies with chocolate and sprinkles, you can bet they are probably going to be biscotti di burro, or as I call them Italian Butter Cookies!
If you are looking for more cookie recipes how about these toffee chocolate chip cookies or these cookie butter blossom cookies? I think you will love them!
This recipe was first posted on Food Fanatic.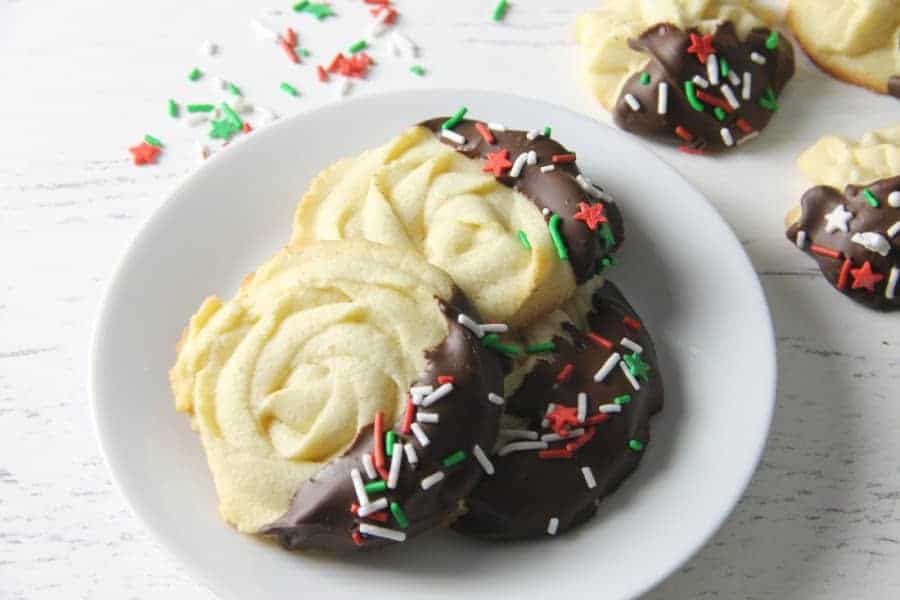 Want to follow along?
If you're on Facebook come check out this fun little group I've got going on. Instagram is a fun resource I'm using right now. If you make any recipes make sure to tag them #bittersideofsweetrecipes so I can see your creations!
Want to connect more with The Bitter Side of Sweet? Follow at:
Facebook | Pinterest | Instagram | Twitter