Easy fudge like Chocolate Crinkle Cookies that are rolled in powdered sugar and taste like a brownie!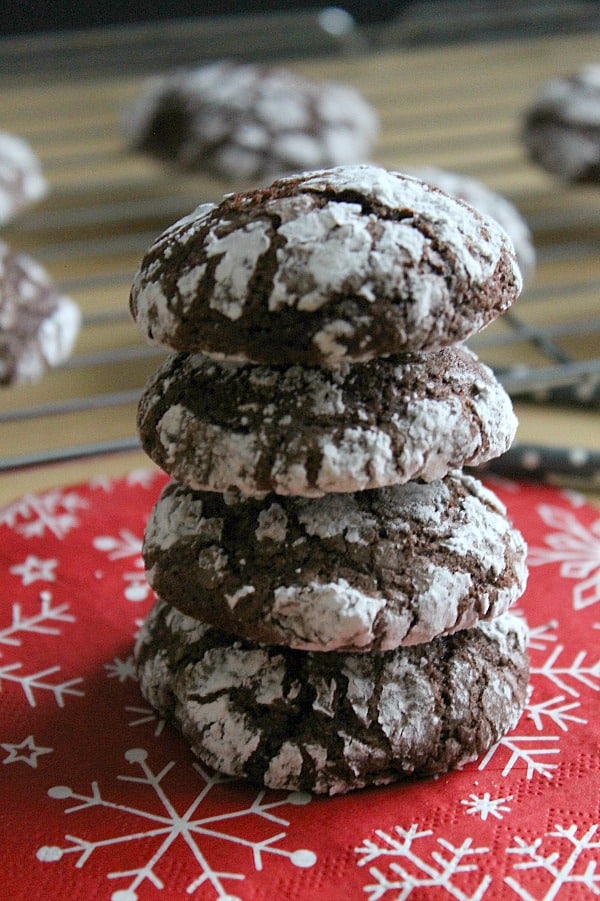 I hope you guys had a wonderful Thanksgiving!! I have been up to my ears in packing boxes and cleaning our new house so we can get moved in!
Before the moment gets away from me, I just wanted to say Thank You! Yesterday I celebrated 3 years of blogging. My first year I made this sea foam salad, which happens to be one of my most popular recipes on here. Last year  I did a giveaway, but this year has just kind of slipped by because of our move.
I just can't believe I have been doing this for three year you guys! The one thing that keeps me coming back is knowing that you keep coming back! And for that I so appreciate YOU!
So today I am joining the Sunday Supper Movement in their #Cookielicious Exchange Party and I am bringing these cookies! I have never made crinkle cookies and did a lot of research on how to make them before I dived into the recipe. But you guys they are supper easy and now I can't stop thinking of all the flavor possibilities that I can make with this simple mix!
Don't be discouraged when your mix is like a brownie mix, it is supposed to be that way. Also, be careful the mix is also very, very sticky so patience and floured fingers will get you through this in no time! ENJOY!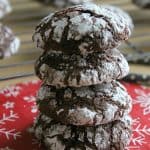 Chocolate Crinkle Cookies #Cookielicious
Ingredients
1

cup

flour

1/3

cup

unsweetened cocoa powder

1/2

tablespoons

baking powder

2/3

cup

sugar

2

eggs

room temperature

1

teaspoon

vanilla

1

cup

powdered sugar
Instructions
Preheat oven to 375 degrees.

Line 2 cookie sheets with parchment paper or baking mat, set aside.

In small bowl whisk together flour, cocoa powder and baking powder.

In mixer whisk together sugar and eggs. Add vanilla.

Slowly add flour mixture and continue to mix till incorporated.

Refrigerate dough for 15 minutes.

Place powdered sugar in a small bowl.

Scoop out 1 tablespoon cookie dough and roll into powdered sugar.

Place on prepared cookie sheet 2 inches apart from each other.

Bake for 8 minutes. Allow to cool for 2 minutes then remove from sheet and continue to cool completely on cooling rack. ENJOY!
Recipe Notes
Recipe adapted from Blahnik Baker http://blahnikbaker.com/double-chocolate-crinkle-cookies/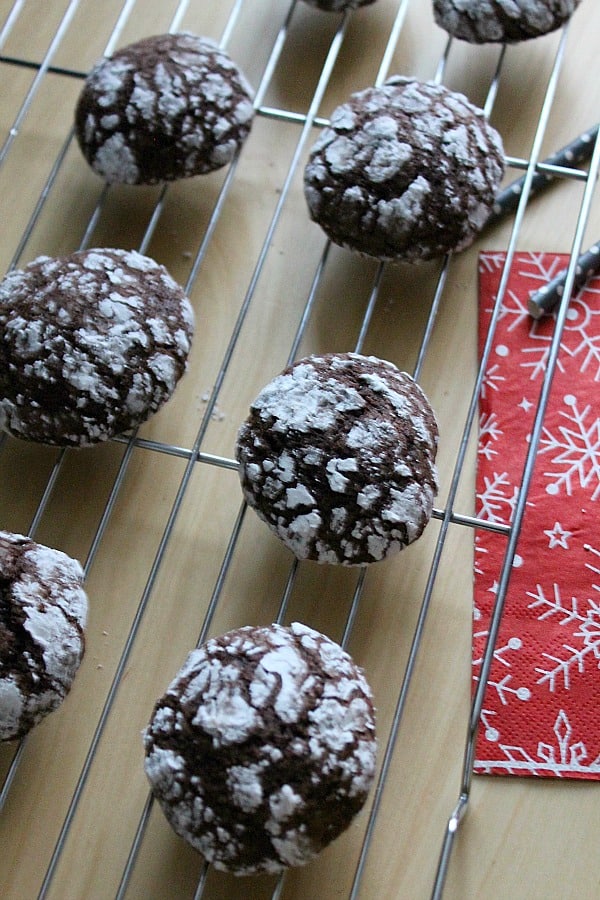 Don't forget you can check out all of the other recipes at the cookie exchange right here!!
Also I would love for you to join us for a #Cookielicious chat at 7 p.m. ET Tuesday, Dec. 1, on Twitter. We will be sharing tips for cooking baking along with stories about our favorite family recipes. Follow the #Cookielicious hashtag and remember to include it in your tweets to join in the chat. To get more great cookies recipes, check out our Cookie Jar Pinterest board.
Plus, 20 Cookie Baking Tips and Holiday Cookie recipes from Sunday Supper