Adding pumpkin to your basic cookie recipe makes them moist and soft. That's what I did with these Chocolate Chip Pumpkin Cookies!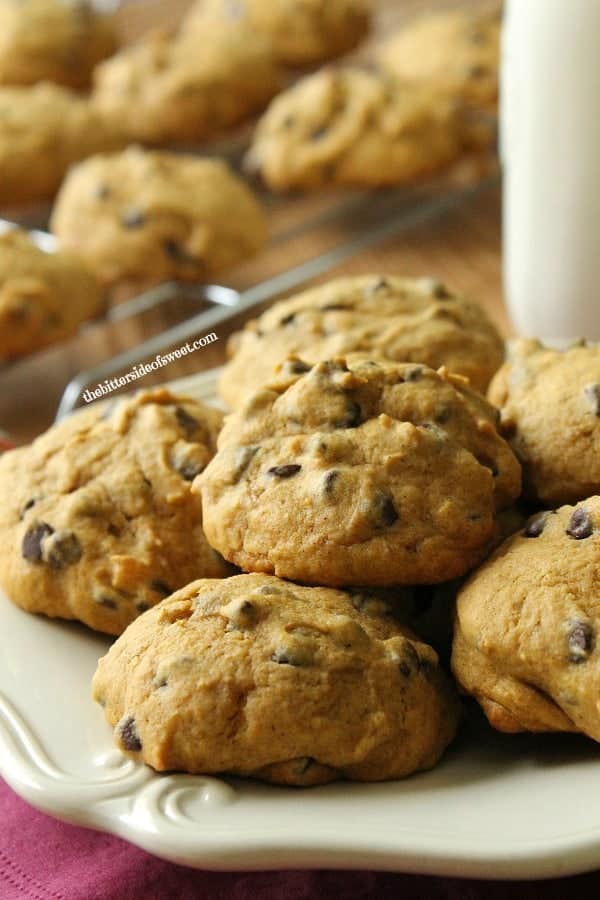 Once every couple of weeks I like to make cookies. I always make them thinking I will save them and freeze them for a later but let's face it, that never happens.
So on Saturday I set out to make these cookies with my daughters. I have been thinking about them for weeks because you guys are seriously loving the chocolate chip pumpkin roll I made for you last year.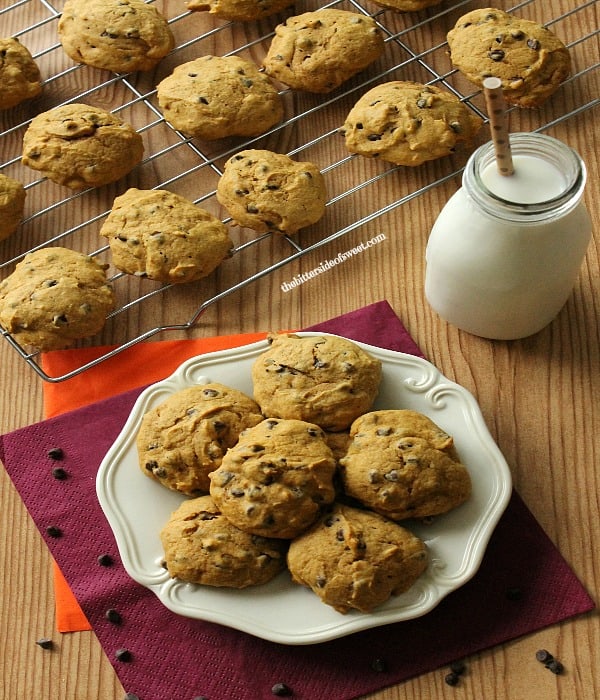 When you mix pumpkin and chocolate you really can't go wrong, right? So I was in the kitchen debating if I wanted to let the girls help me. They are 5 and 2 and when they help me especially the 2 year old it can get messy. And because I am such a control freak in the kitchen it can sometimes be challenging to let them help. But I took a deep breath and let them. It actually went well. There were no messes no spills and no broken eggs to clean up!
We made these on Saturday and by Sunday night they were gone. I made them again on Tuesday morning and by the evening they were gone. In my defense, though, I sent most of them to my husbands work. I do believe this is definitely going to be a fall favorite type cookie that I will be making over and over! Hope you ENJOY!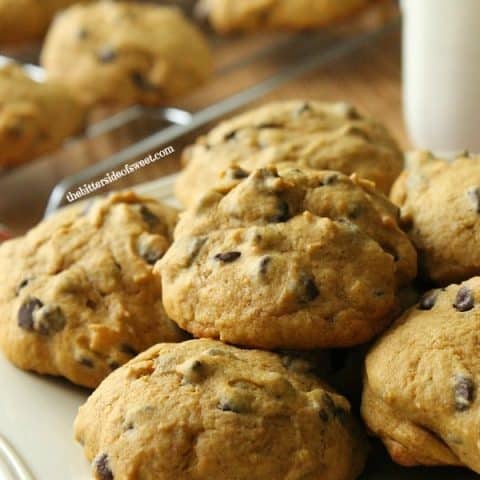 Chocolate Chip Pumpkin Cookies
Deliciously soft cookie full of pumpkin and chocolate chips that melt in your mouth.
Ingredients
1 1/2 sticks butter, softened
1/3 cup brown sugar
1/3 cup sugar
1 egg
2/3 cup pumpkin
1/2 teaspoon vanilla
2 cups flour
1/2 teaspoon baking soda
1 teaspoon cinnamon
1 cup mini chocolate chips
Instructions
Preheat oven to 375º. Prepare two cookies sheets by lining with parchment paper or a silpat.
In a large bowl add flour, baking soda, salt, cinnamon and ginger. Whisk together and set aside.
In mixing bowl combined butter, brown sugar and sugar. Mix on medium speed till creamy.
Add egg, vanilla and pumpkin. Continue to mix until all ingredient are incorporated.
Slowly add flour mixture and continue to mix until you have a nice creamy, smooth consistency.
Add chocolate chips.
Spoon onto cookies sheets and bake for 11 to 13 minutes.
When done, cool for two minutes, remove from cookie sheet and ENJOY!
Notes
You can refrigerate batter for 30 minutes. If you do, return any unused batter to refrigerator until ready to cook.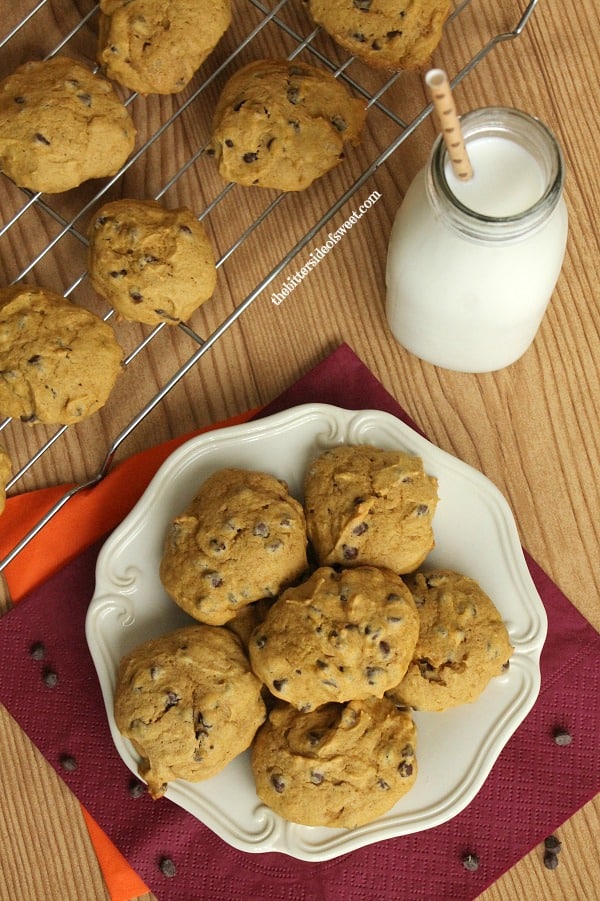 If you are looking for more pumpkin maybe you would like to try these recipes out?
Chocolate Chip Pumpkin Roll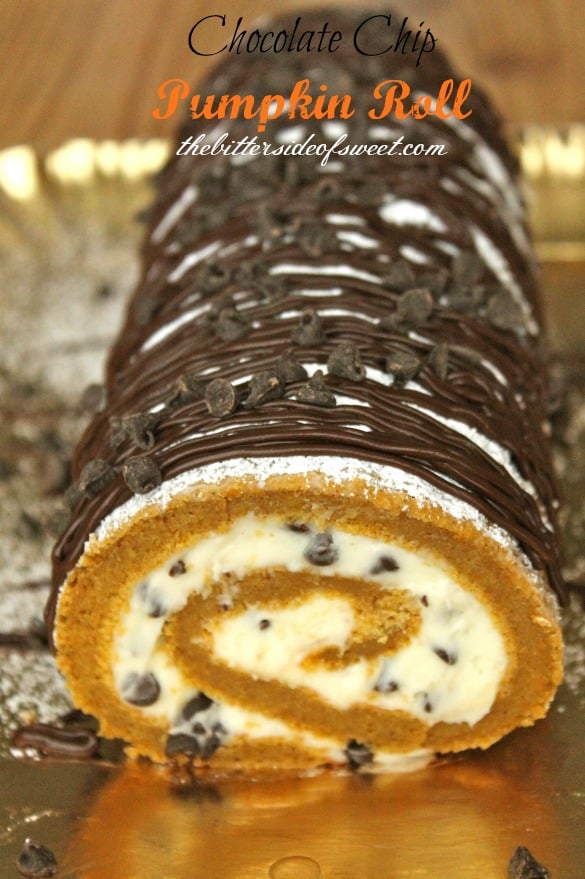 Pumpkin Roll Whoopie Pies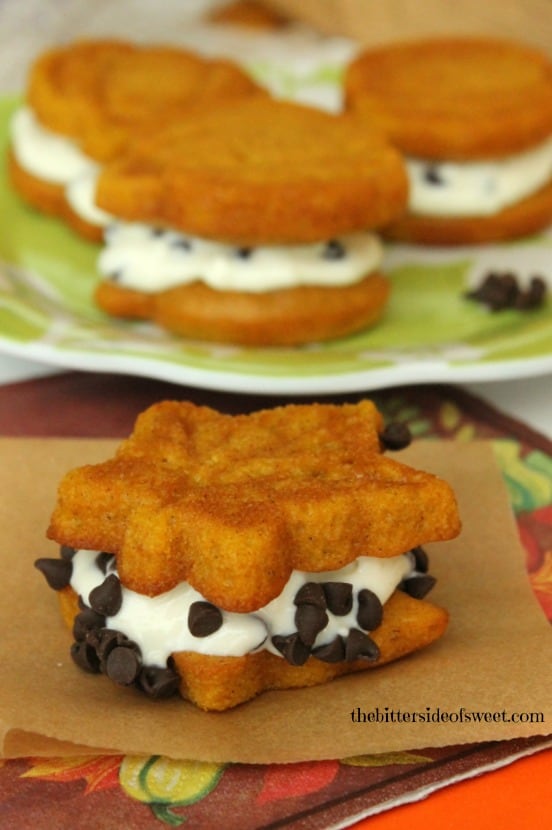 Pumpkin Pancakes