Have told you that I big puffy heart cheesecake? Well I do! These Chocolate Chip Pumpkin Cheesecake Bites is my newest obsession!
This post may contain affiliate links.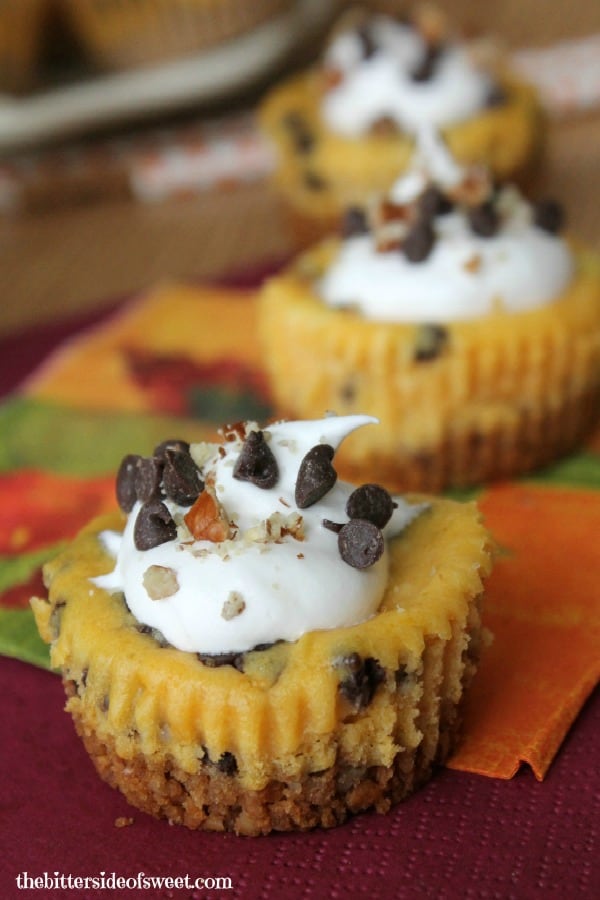 So I shared with you what we did for my daughters birthday party last week. This week I wanted to share with you what I made for her on her actual birthday. She was able to chose any kind of dessert and dinner she wanted. For dinner she chose polish sausage with peppers, homemade macaroni and cheese and for dessert these cheesecake bites! I was kind of surprised about the dinner part. But she just loves those sausages, you never would of thought that she only turned 6 with the menu she planned! She is already a foodie for sure!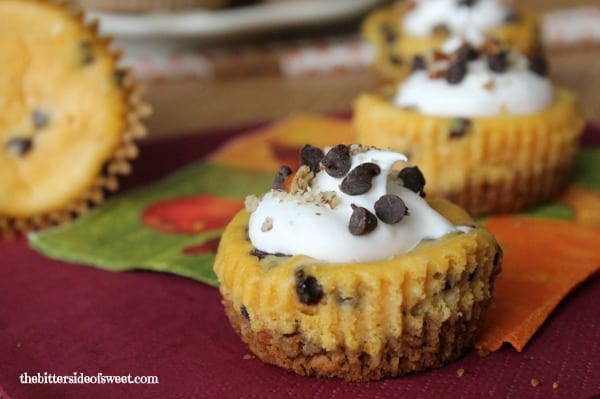 I was super ecstatic when she said cheesecake. I'm the one who pushed the pumpkin and chocolate chips but once I suggested it she was totally on board. Now let me tell you, these are addicting guys. We ate them all! Like all of them. Shared them with no one, we saved them for ourselves. What my family doesn't know and probably won't know unless they read this post (HI FAMILY) is that I am taking these to Thanksgiving dinner. Because I MUST make them again but I can't eat them ALL again. I mean really I could but moderation people, moderation.
So these are not too complicated. I followed my cheesecake recipe and made a few adjustment because I made them into bites and used pumpkin. I found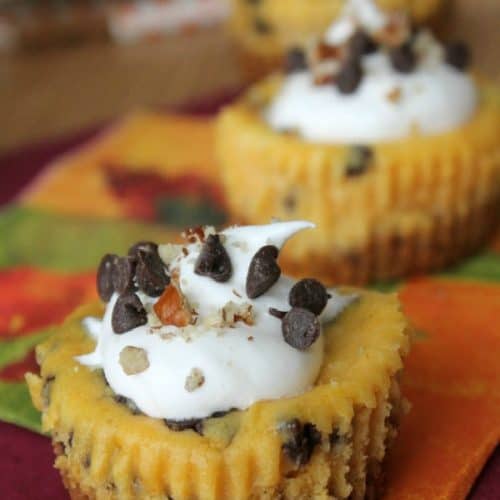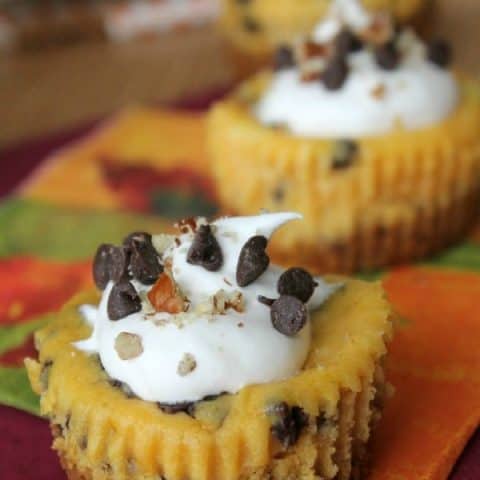 Chocolate Chip Pumpkin Cheesecake Bites
Prep Time: 20 minutes

Cook Time: 45 minutes

Total Time: 1 hour 5 minutes

Single serving cheesecakes, with a pecan graham cracker crust full of pumpkin and chocolate chips!
Ingredients
FOR THE CRUST:
1 1/2 cups graham cracker crumbs, 12 graham crackers
6 ounces butter, melted
1/2 cup chopped pecans
FOR THE FILLING
2 8 ounce blocks cream cheese, room temperature
1 cup sugar
2 eggs
1/4 cup pumpkin
1/2 cup mini chocolate chips, I used Nestle Toll House
Instructions
Preheat oven 325 degrees
Prepare 2 12 cup muffin tins by lining them with cupcake liners.
Combine graham cracker crumbs, pecans and butter. Press 1 tablespoon of mixture into the bottom of your cupcake liners.
In large mixing bowl combine cream cheese and sugar. Mix till sugar is incorporated well.
Add one egg at a time and mix till smooth.
Add pumpkin and continue to mix for 1 minute.
Stir in chocolate chips.
Pour mixture evenly on top of crust.
Bake for 45 minutes or until cheesecake has set.
Remove from oven and allow to cool before removing from pans.
Place in refrigerator and allow to chill for 2 hours.
Keep in refrigerator for up to 1 week. ENJOY!