Whole Wheat Strawberry Galette has simple ingredients and taste great and no added sugar! Perfect for those summer berries!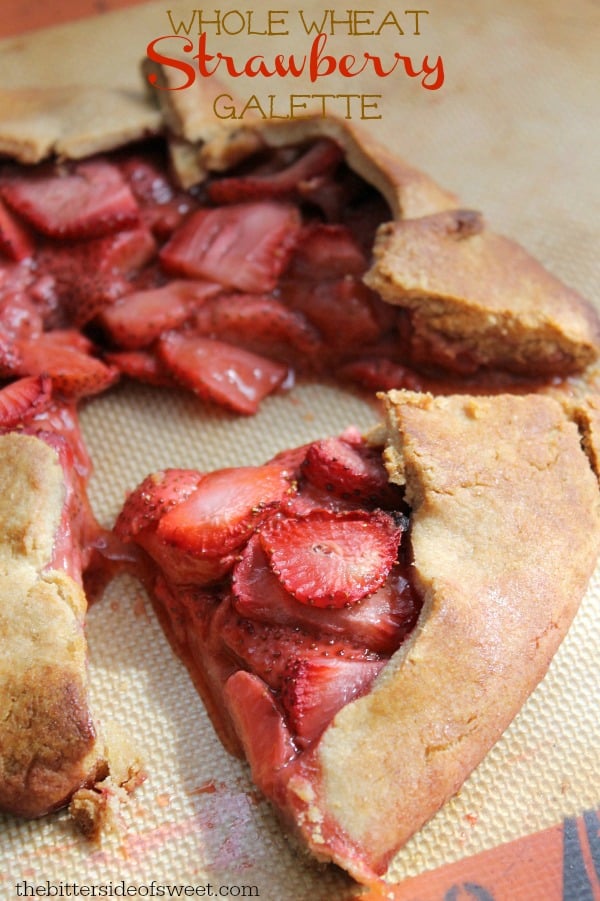 Click here to save this recipe on Pinterest!
Happy Sunday all! It has been awhile since I posted on a Sunday but I couldn't wait to share this with you!
Have you ever heard of a galette before?
At first I thought it was an Italian dessert but after talking about it with my hubby and then looking online I found out it is French.
In Italy the word for rice cakes is gallette di riso, which is why I was confused at first.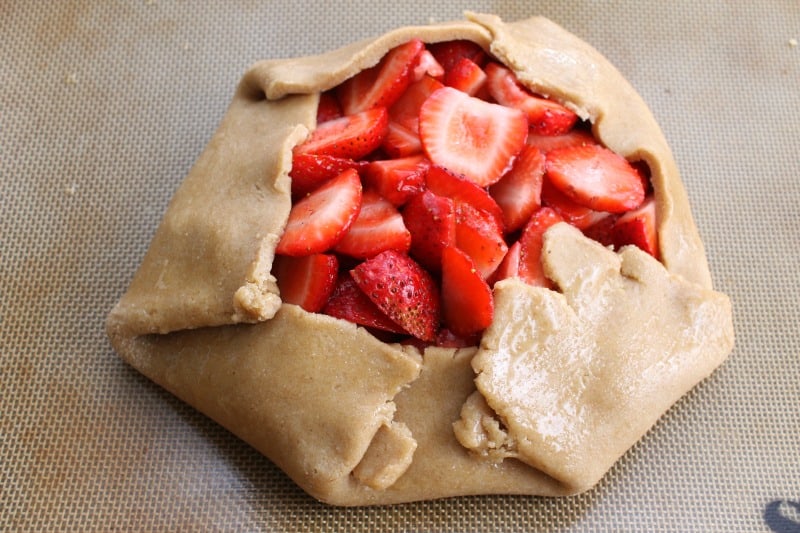 This dessert kind of reminds of an opened face sandwich, except this is an opened faced pie!
The reason I went with a whole wheat crust is my hubby has changed up his diet a little and is only eating whole wheat. He has also cut out sugar which for the first week into it I was a little depressed. How could I make desserts without adding sugar?
After I got over that and started doing some research I figured out there is a way. Add natural sugar! It's better for you anyways.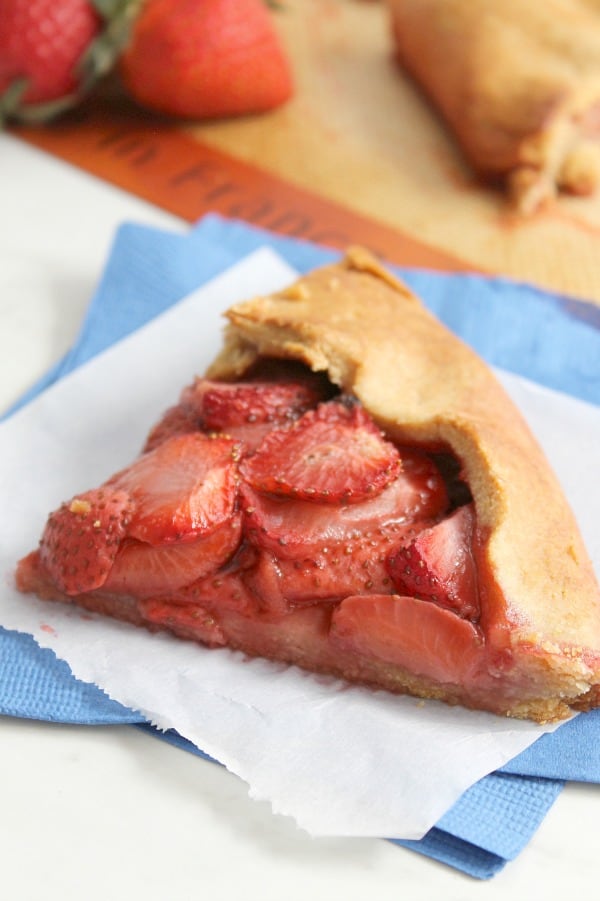 How to make Whole Wheat Strawberry Galette:
So this whole wheat strawberry galette has just whole wheat, butter, strawberries and honey!
Also a little cold water for the crust but we will get to that in the recipe! I hope you enjoy it as much as we did!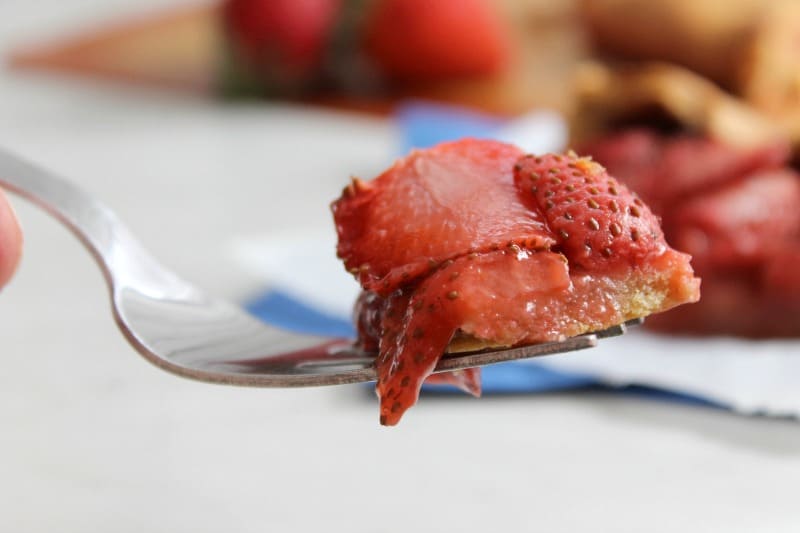 More Galette Options:
-Peach season is right after strawberry season so you don't want to miss out on this Peach Honey Pecan Galette.
-I used puff pastry to make this Puff Pastry Chocolate Strawberry Galette. It took the work out of making the crust!
-If you want to do individual galettes how about these Mini Cherry Almond Galettes! Perfect for a dinner party!
-My favorite, only because they are so pretty is this Apple Blueberry Galette! Perfect for apple or blueberry season if you want to use fresh fruit!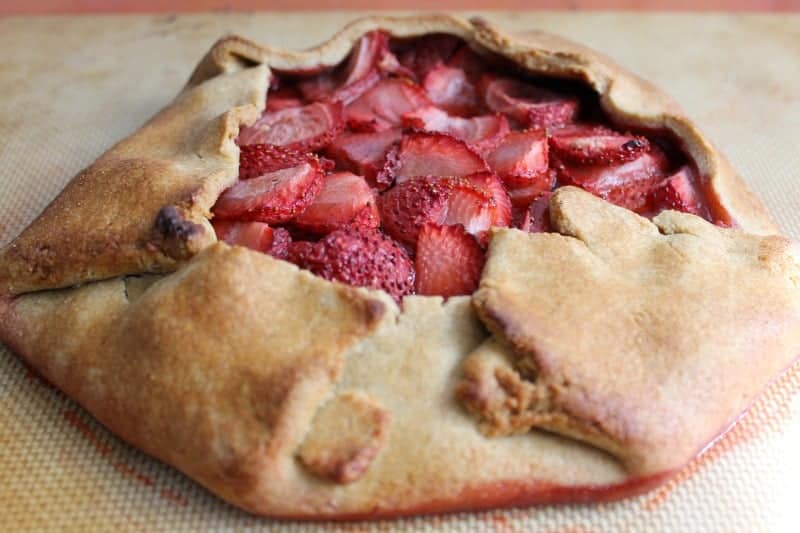 If your on Facebook come check out this fun little group I've got going on. It's quiet right now because of summer but I'd love to hear more from you!
Instagram is a fun resource I'm using right now. If you make an recipes make sure to tag them #bittersideofsweetrecipes so I can see your creations!
Want to connect more with The Bitter Side of Sweet? Follow at:
Facebook | Pinterest | Instagram | Twitter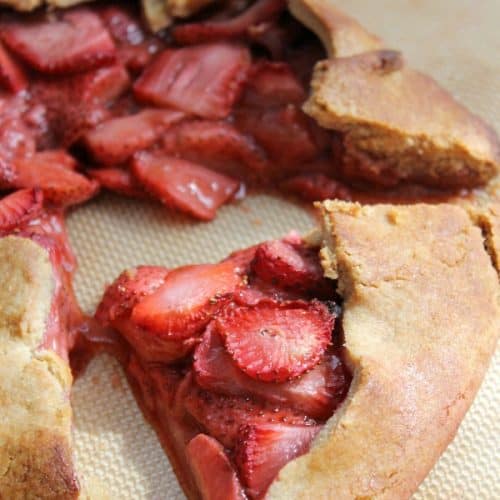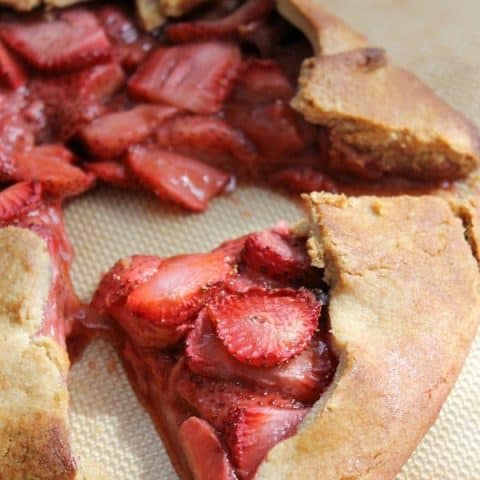 Whole Wheat Strawberry Galette #SundaySupper
Ingredients
For the crust:
1 1/2 cups white whole wheat flour
4 tablespoons cold unsalted butter, cut into cubes
2 tablespoons ice cold water
2 tablespoons honey
For the filling:
1 pound strawberries, hulled and sliced
1/4 cup honey
Instructions
Preheat oven to 400 degrees. Line baking sheet with parchment paper.
For the crust:
In mixer, using the flat blade, add flour and butter. Mix till it is crumbly. Slowly add in water and honey.
Roll in disc and cover in plastic wrap.
Place in refrigerator for 15 mins.
In the meantime mix together strawberries and honey, set aside.
Roll out dough into an 8 inch circle.Place on baking sheet.
Place strawberries in the center and fold up the edges leaving the center free.
Brush crust with honey.
Bake for 35-40 minutes or until crust is golden brown.
Allow to cool, cut and ENJOY!
Click here to save this recipe on Pinterest!


RECIPE FROM SUNDAY SUPPER:
Appetizers
Sides and Salads
The Main
Desserts