My obsession with pizza dough continues with these Stuffed Apple Cinnamon Sticks . Sticks that are filled with apples that have been cooked in butter, cinnamon and brown sugar.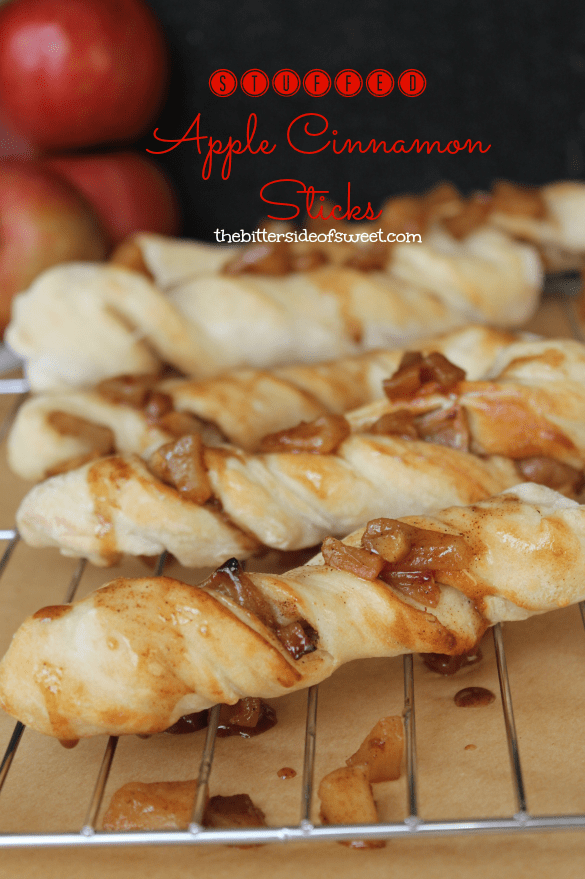 For all of my apple fans this one is for you! #teamapple If you remember a couple of weeks ago I made some simple apple compote. Well since then I have been adding it to every thing. One thing I did want to do was combined it with pizza dough somehow. I know I am obsessed. We do a lot of pizza so I need to mix up some how! Keeps the family on their toes!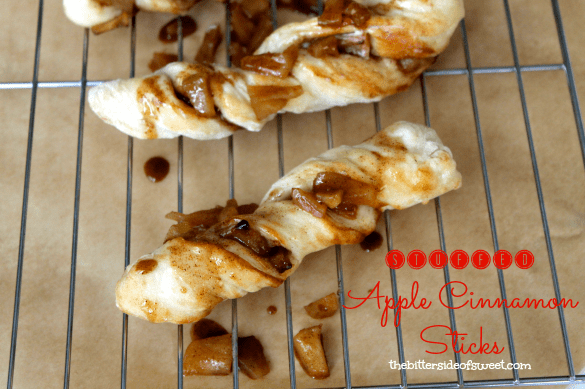 Well I didn't want to do a traditional apple pizza, so I tried to figure out a way to make it a little different. To be sure about how I wanted to present these to you I made these twice. One time without the apple compote stuffed inside and once with it stuffed inside. As you can see, you know which one was the winner, right? I decided to go with the long version on these when it came to the yeast. I used active dry yeast and allowed my dough to rise for 4 hours or more to make sure I got a really nice puffy dough.

It may take a little extra effort but it is so worth it to actually stuff the compote right inside your sticks. Cook them up and you MUST add the compote on top as well. This just takes these over the edge and makes a fabulous dessert. ENJOY!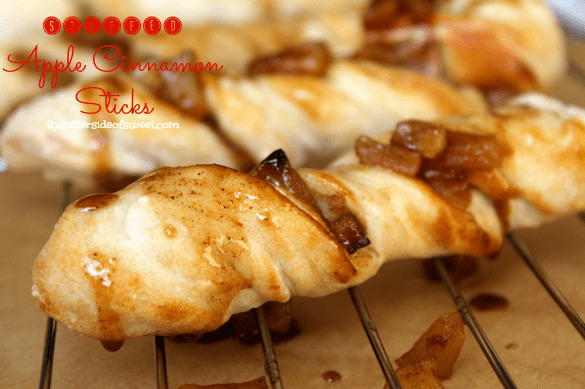 Want to connect more with TheBitterSideofSweet? Follow at:
Facebook | Bloglovin | Pinterest | Instagram | Google+ | Twitter
Stuffed Apple Cinnamon Sticks
Prep Time:
4 hours
15 minutes
Total Time:
4 hours
45 minutes
Apple cinnamon sticks made from pizza dough and stuffed with apple compote!
Ingredients
FOR THE APPLE COMPOTE FILLING:
3 cups apples, peeled and diced
2 teaspoon cinnamon
4 tablespoons brown sugar
4 tablespoons butter
FOR THE DOUGH:
One ¼ oz. packet, 7g or 2+1/4 tsp of active dry yeast (I used Fleischmann's)
1⅓ cup water, warm
3 to 3½ cups all-purpose flour
2 tablespoons extra virgin olive oil
1 tablespoon salt
Instructions
FOR THE APPLE COMPOTE FILLING:
On medium heat, using a medium size pot melt your butter.
Add brown sugar and stir till the sugar has dissolved.
Add cinnamon and apples.
Let the mixture simmer for 15 minutes or until apples are soft.
Set aside and allow to cool while you work on your dough.
FOR THE DOUGH:
In mixing bowl add yeast and water. Using whisk mix them together. Rest for 5 minutes.
Using your dough hook add 2 cups flour and mix on low.
Add oil and salt and continue to mix.
Add the remaining flour a ½ cup at a time till all is incorporated.
Dust counter top with flour and dump ball out of the mixing bowl.
With flour covered hands work the dough till you have a nice smooth ball.
Spray large bowl with cooking spray and add dough. Cover and allow to rise for 4 hours.
Preheat oven to 400 F. Prepare two 16" round pizza pans with parchment paper.
Divide dough in half.
Dust counter top with flour and with one half of your pizza ball roll out into a rectangle 1" thick. Short end running horizontally, long side running vertical.
Using pizza cutter, divide rectangle into 7 even sticks by cutting horizontally.
Distribute evenly 1 tablespoon of the apple compote filling onto each stick. Lightly press the apples into the sticks
Fold each stick over from left side to right side.
With each stick press all sides down so there are no openings.
Starting with your first stick, pick up and twist it a few times to get a nice spiral shape, careful not to lose any filling.
Place on pizza pan. Repeat with the remaining sticks.
With second half of dough, repeat steps.
Bake for 10 to 12 minutes or until golden.
Spoon apple compote filling to the top of each one and serve warm. ENJOY!
Other apple desserts from around the web: