Spicy Sausage Zucchini Pasta is so easy to cook in less than 30 minutes! With a little kick by adding red pepper flakes, the whole family will love it!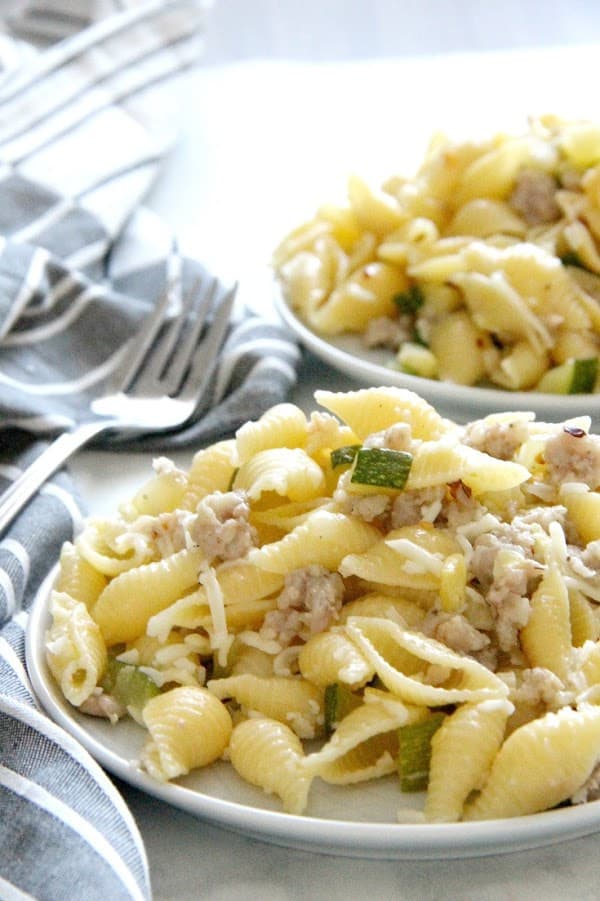 Click here to save this recipe on Pinterest!
Easy weeknight dinners can be quite a hassle if you have little time and didn't really have anything prepared. Okay, this is the typical response you may get from most people. Honestly, I get it, sort of.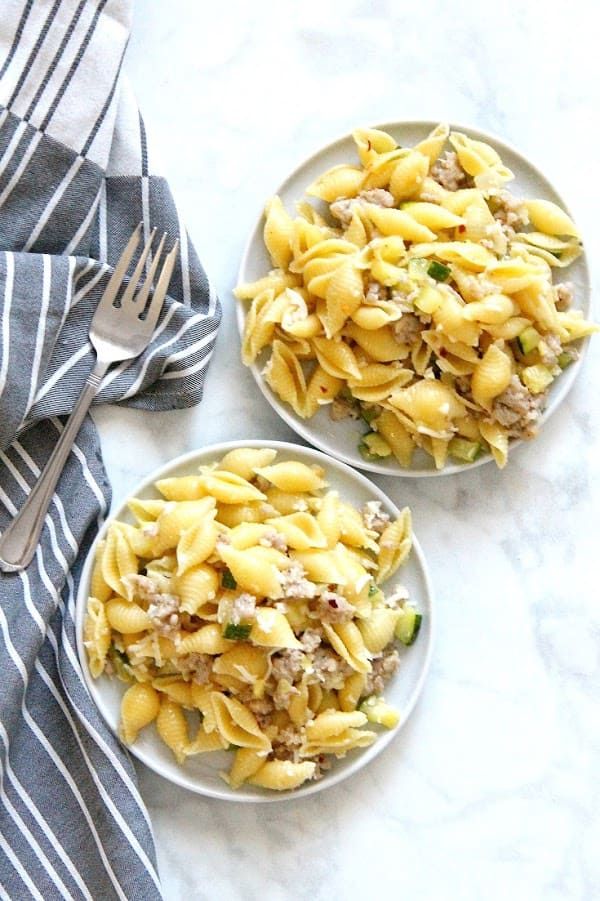 I know I have the privilege to stay at home and think of all of these recipes to share with you, but it is to help you skip the drive-thru lane and make a home cooked meal.
When I was testing this Spicy Sausage Zucchini Pasta out, I texted my hubby right before I started cooking.
When I sat down at the table, I looked at my watch again.
Twenty-two minutes is what it took for me to get a piping hot meal on the table for the kids.
Think about that again guys. Twenty-two minutes prior I was getting out of my car.
Twenty-two minutes later I was sitting down with my kids to eat dinner.
The only thing I had prepped ahead of time was an idea of what I wanted to make, and I had my meat defrosted.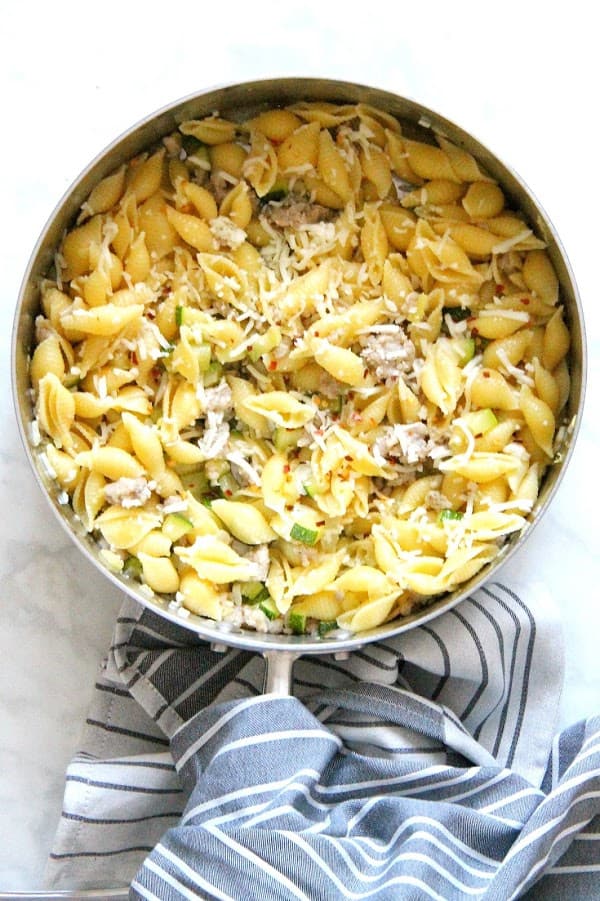 Some tips on quick easy dinners.
The first tip I would say is meal plan. At least just a little bit.
We never stick to the plan. Changing the days, I make something is a common occurrence.
Or I forgot to pick up something from the store when I went grocery shopping
Also, going with the flow of what you have available in the refrigerator frees up time.
We never run to the store to get an item we missed. We improvise and create something amazing with what we have.
Another tip I would say is stock up on pasta and rice. Both are equally quick to prepare.
I would consider those my base ingredients and then I go from there.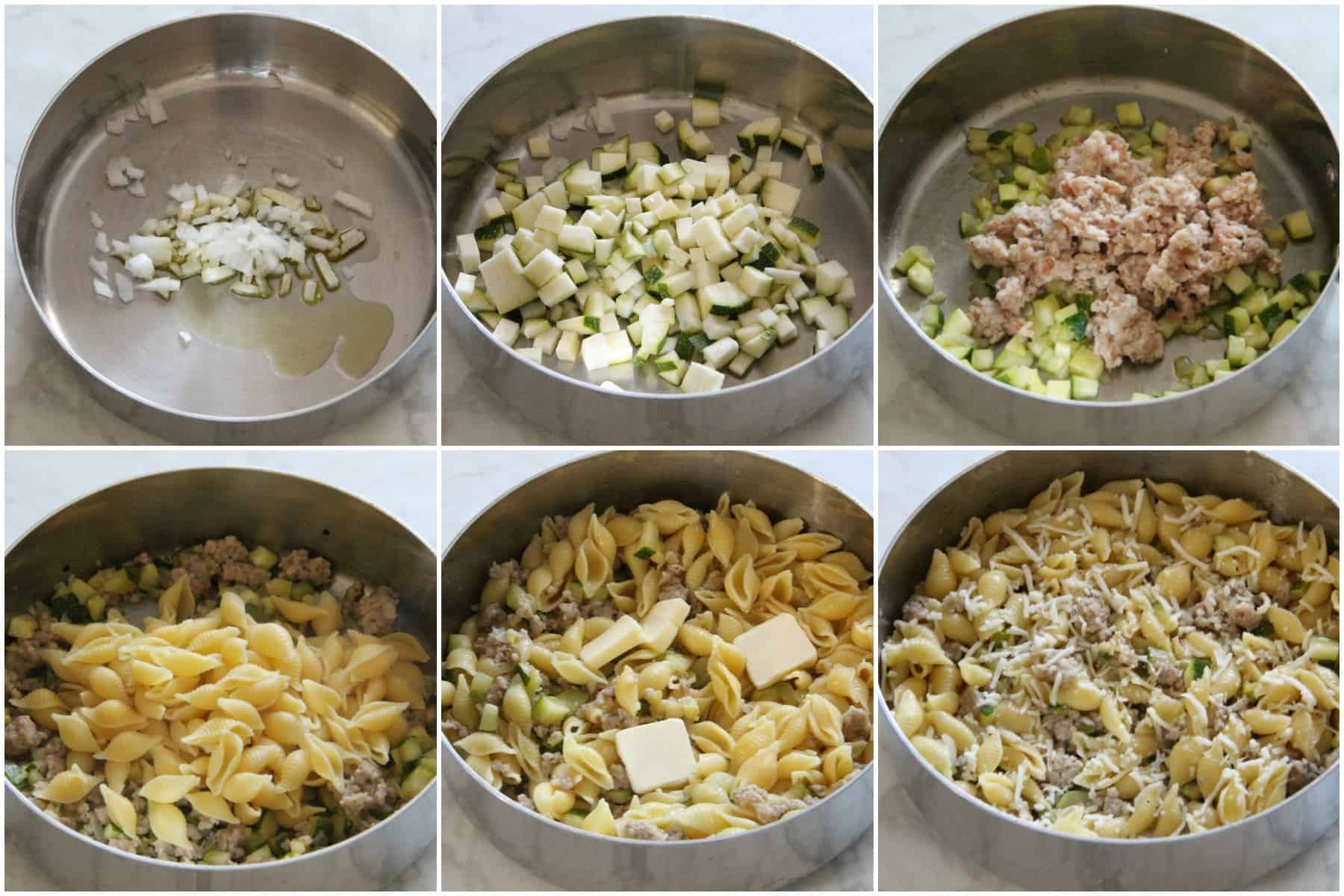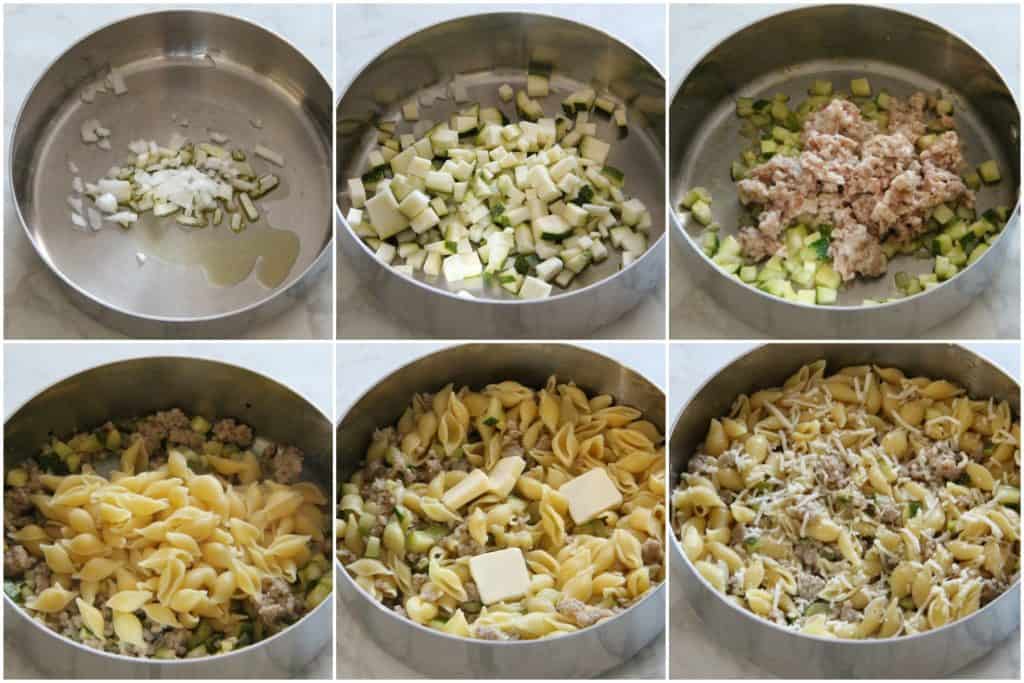 Third tip would be to have a few meats or proteins available. Chicken, beef, pork or any kind of protein.
Just pull one out of the freezer every morning, even if you don't use it that day it's in the refrigerator ready to be used.
Finally, lots of vegetables. We do a mixed of canned vegetables and fresh vegetables.
Try to pre-chop them on the weekends or when you bring them home from the grocery store. It cuts down on prep time.
For this pasta I had nothing chopped, so I did it while my water was heating up, I quickly chopped one onion and zucchini.
If you are looking for more quick meals to make how about this easy homemade spaghettio's recipe or this Italian sausage and artichoke pasta!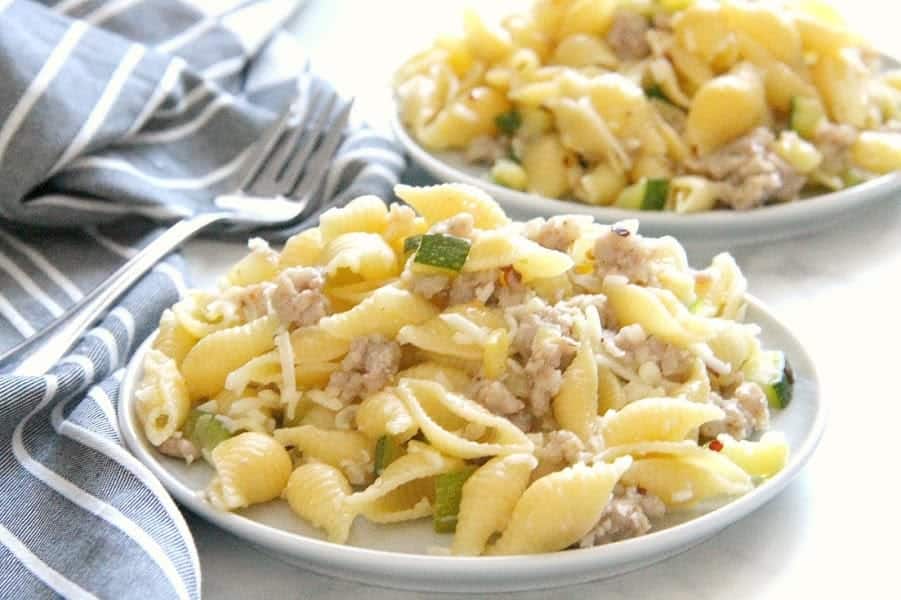 Want to follow along?
If you're on Facebook come check out this fun little group I've got going on. Instagram is a fun resource I'm using right now. If you make any recipes make sure to tag them #bittersideofsweetrecipes so I can see your creations!
Want to connect more with The Bitter Side of Sweet? Follow at:
Facebook | Pinterest | Instagram | Twitter
This Spicy Sausage Zucchini Pasta was originally posted on Food Fanatic!
Recipes with red pepper flakes:
Because I love red pepper flakes added to my food I found a few more recipes that I think you will LOVE!