Pumpkin season is upon us and I could not wait one more minute to give you a recipe. So I made these Pumpkin Roll Whoopie Pies!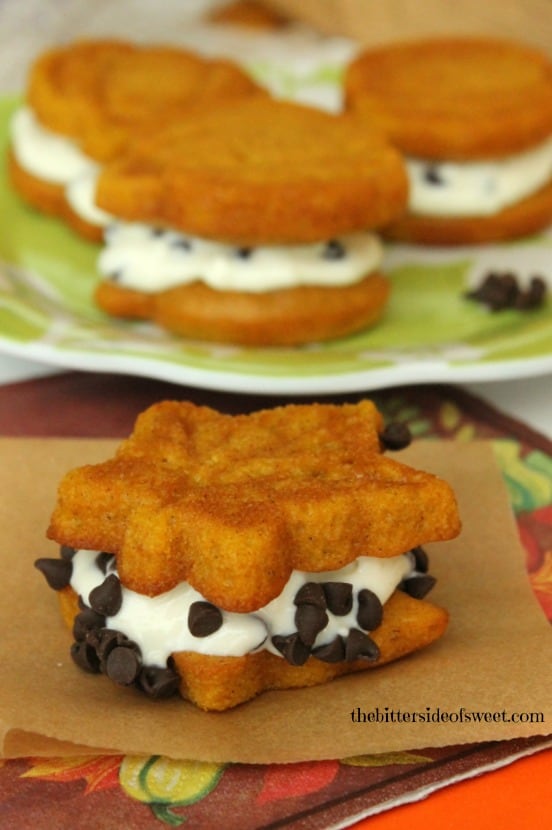 If you follow me on Instagram I posted a picture of winning a Facebook giveaway and this Wilton Harvest Whoopie Pie Pan from my blogging buddy Connie at Urban Bakes. I am so glad too because it pushed me into fall baking which I have been wanting to do but was just procrastinating about.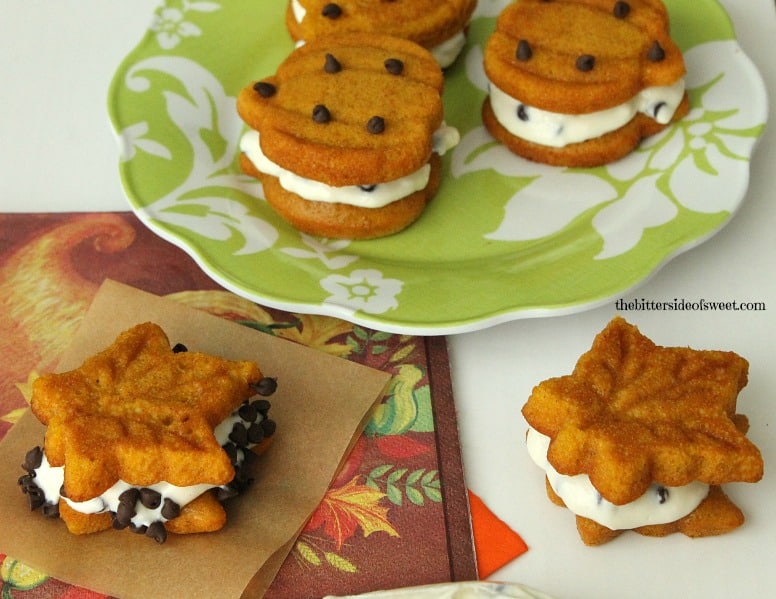 I wanted to go simple with these because it was my first time making them and I thought the pan made them super fancy! I did some research on whoopie pies before I endulged because I really do not want to call a recipe something different than what it is. So I found out that whoopie pies are basically cake with frosting in the middle and can be considered a cookie, pie or cake.
So after discovering that I simple made my pumpkin roll cake and poured it into the molds. It was super simple because it did not require waiting for cake to cool, or rolling it up into a towel full of powdered sugar. So if you are wanting to do a cake roll but avoiding all of the steps involved I think this is the simplest way to go! ENJOY!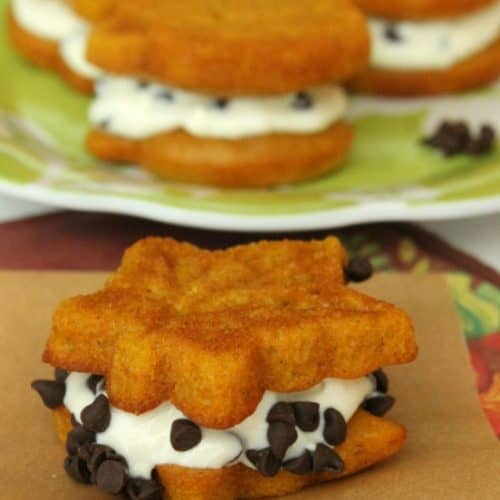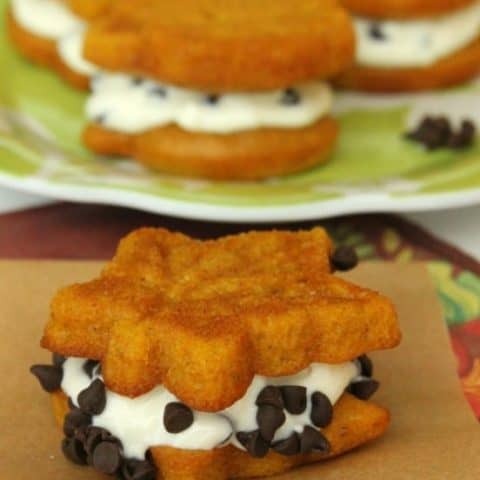 Pumpkin Roll Whoopie Pies
Pumpkin roll cake without all of the steps of a cake roll but still the same delicious flavor!
Ingredients
FOR THE CAKE:
2 eggs
5 oz sour cream
1 cup sugar
2/3 cup pumpkin Puree
1 cup all purpose flour
1 teaspoon baking powder
1/4 teaspoon salt
1 teaspoon ginger
2 teaspoon cinnamon
1/2 tsp nutmeg
FOR THE FILLING:
1 cup powdered sugar
4 teaspoon butter, softened
8 oz cream cheese, room temperature
1 teaspoon vanilla
1/2 cup of mini chocolate chips
Instructions
Preheat oven to 375. Spray whoopie pan.
In mixing bowl, mix the eggs, sour cream, sugar and pumpkin together.
In a separate bowl whisk together flour, baking powder, salt, ginger, cinnamon and nutmeg.
Slowly add to mixing bowl on medium till all incorporated.
Pour into whoopie pan about 2/3rds of the way full (or according to the directions of your whoopie pie pan) and bake for 12-15 minutes or until done.
When done pull out of oven and cool for about 2 minutes before removing from pan.
FOR THE ICING:
Prepare filling by mixing butter, cream cheese, sugar, and vanilla together. Stir in chocolate chips.
Spoon the icing between two pies and ENJOY!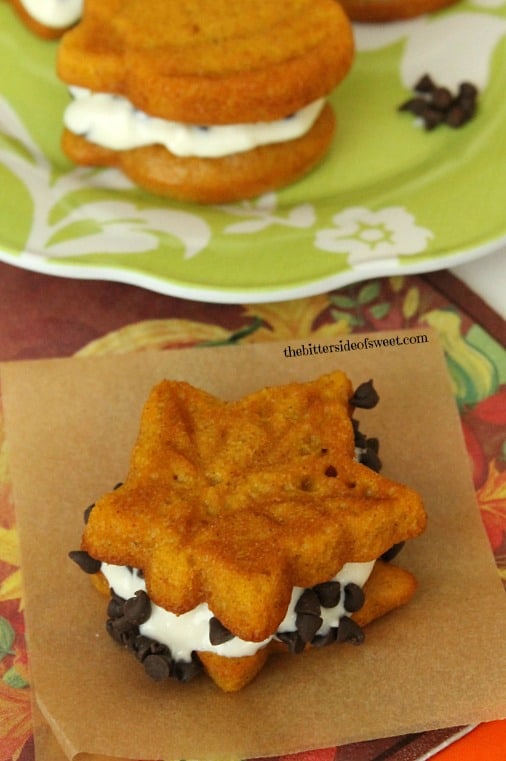 Blogger Disclosure: Posts may include links to my affiliate account at Amazon.com, and The Bitter Side of Sweet earns a few cents on the dollar if readers purchase the items I recommend, so thanks for supporting my blog when you shop at Amazon!
If  you want to see more Pumpkin Treats! Here you go!!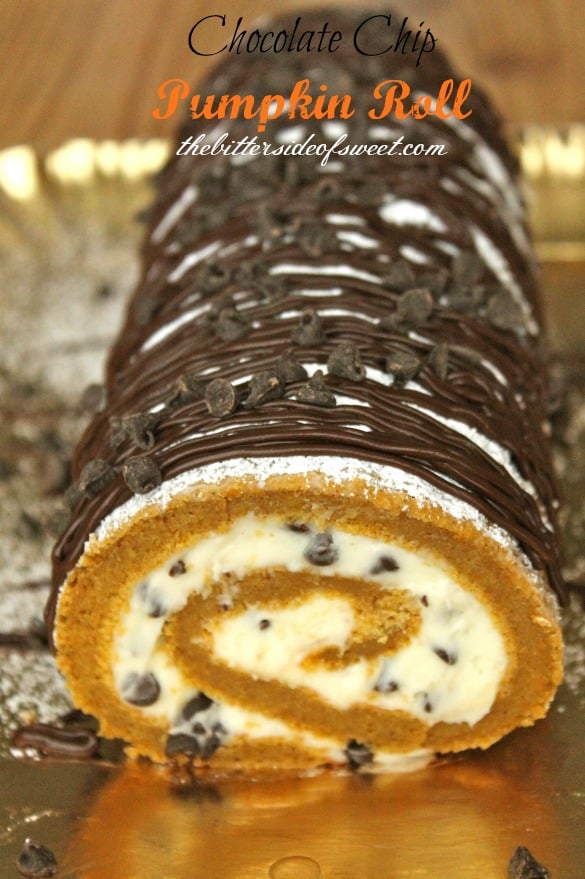 Pumpkin Spice Pecan Pudding Cookies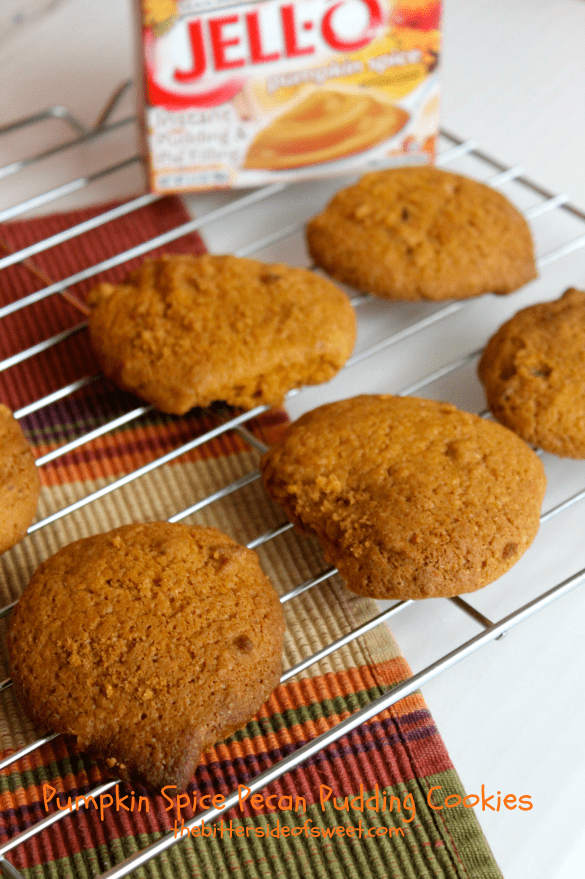 Pumpkin Spice Popcorn Balls