Creamy Pumpkin Cheesecake Bars that taste just like pumpkin pie but in cheesecake form! Perfect alternative to pie for this holiday season!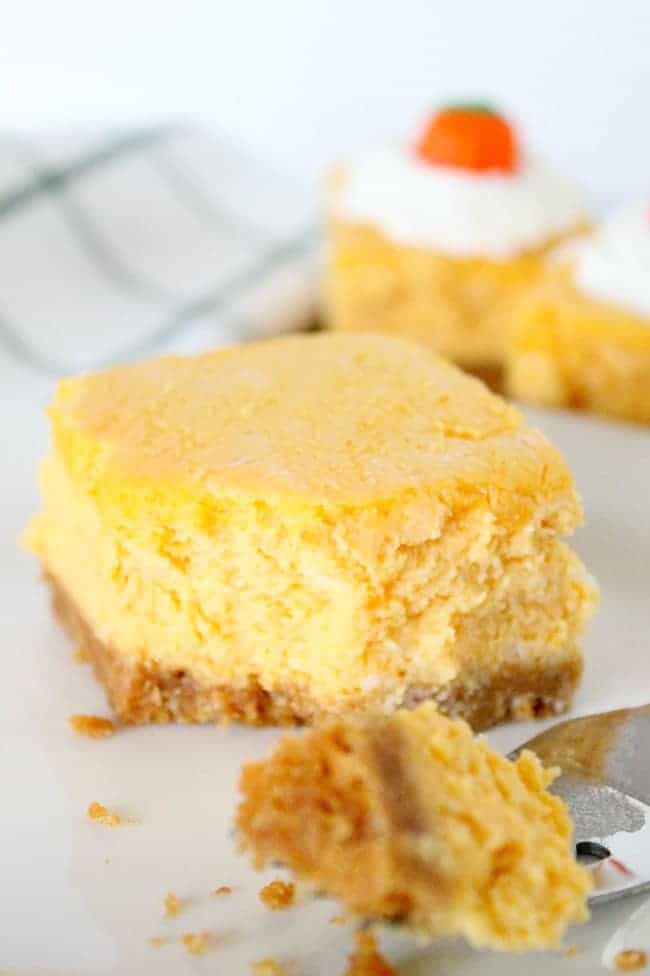 Can we just talk about these bars today? Would that be alright with you? I know blog followers probably read all of the time someone saying "wow these are THE BEST…. you will ever taste".
I get it, you are probably thinking "yeah right".
Can I be stereotypical for a moment and say these Pumpkin Cheesecake Bars are life changing? There I said it. Don't throw stones, k!
I made these last week in kind of a rush. I was doing some work on my computer and my hubby texted to ask if I wanted to have lunch. I never say no to that but I knew I needed to do some baking for pumpkin week (more on that later).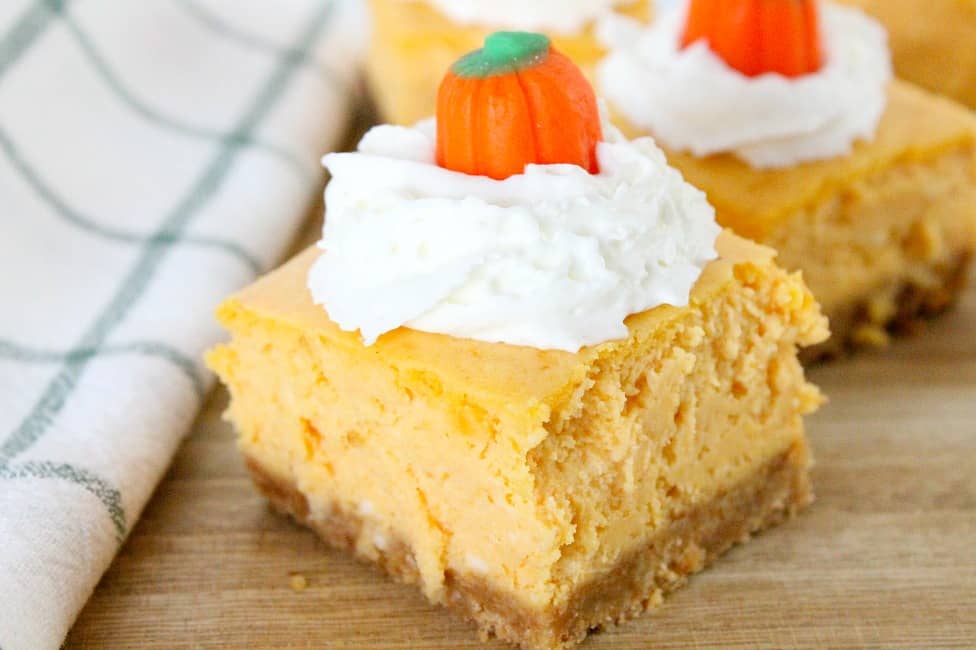 I had already been to the grocery store that morning and picked up all of my items that I needed. I also already had everything laid out, I was just in that waiting period of letting things come to room temperature. Which seems to take forever, btw!
Well I followed my recipe for these Chocolate Chip Pumpkin Cheesecake Bites and made a few adjustments. So it was super simple to pull together!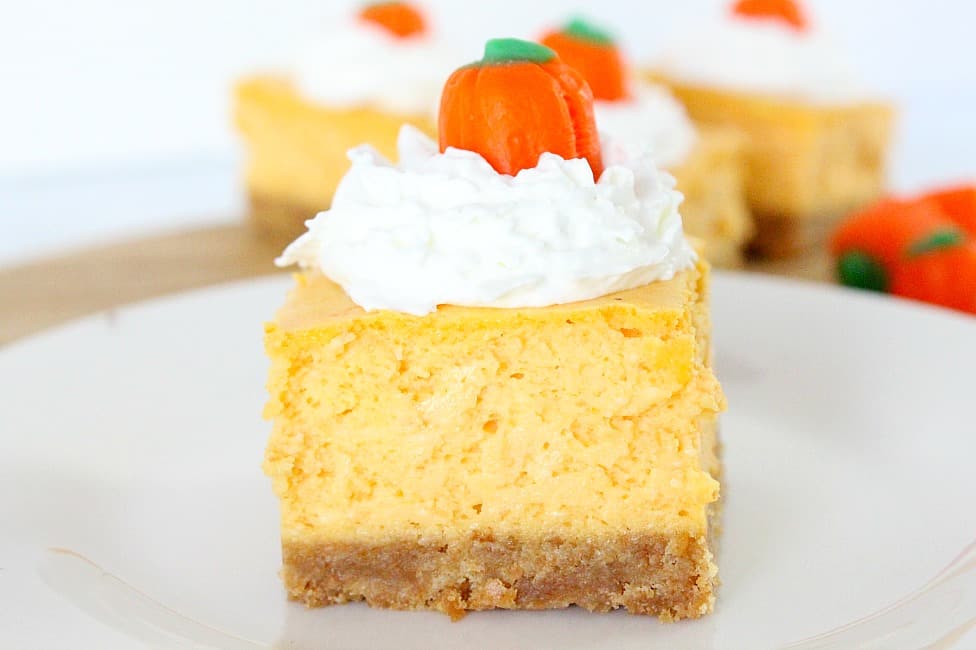 But back to these bars, they tasted like pumpkin pie, kid you not. As you will note there is no pumpkin spice or any kid of spice in these! So I was super impressed about how they did taste! 
So if your looking for something different than pie this coming season, look no further! I've got you covered! Enjoy! Follow down below and find a list of recipes to kick off Pumpkin Week!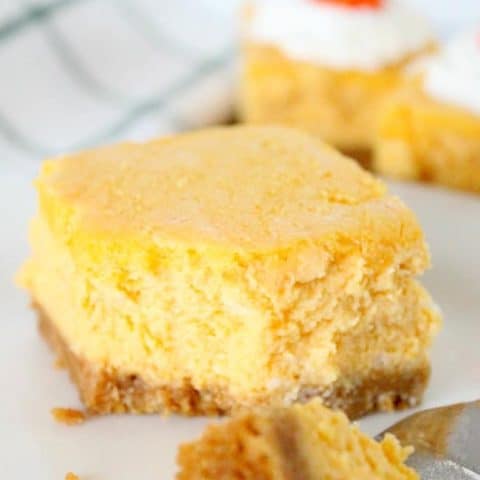 Pumpkin Cheesecake Bars
Ingredients
FOR THE CRUST:
1½ cups graham cracker crumbs, 12 graham crackers
6 ounces butter, melted
FOR THE FILLING
2 8 ounce blocks cream cheese, room temperature
1 cup sugar
2 eggs
¼ cup pumpkin
Instructions
Preheat oven 325 degrees
Spray an 8x8 pan with non stick cooking spray. Set aside.
Combine graham cracker crumbs and butter. Press firmly into the bottom of your pan.
In large mixing bowl combine cream cheese and sugar. Mix till sugar is incorporated well.
Add one egg at a time and mix till smooth.
Add pumpkin and continue to mix for 1 minute.
Pour mixture into pan over crust.
Bake for 45 minutes or until cheesecake has set.
Remove from oven and allow to cool.
Place in refrigerator and allow to chill for 2 hours.
Keep in refrigerator for up to 1 week. ENJOY!
Here are today's #PumpkinWeek recipes:
Pumpkin Drink Recipes:
Pumpkin Pie Moscow Mule from Love and Confections.
Savory Pumpkin Recipes:
Chicken Enchiladas with Pumpkin Sauce from Hardly A Goddess.
Goat Cheese and Sage Pizza with Pumpkin Crust from The Spiffy Cookie.
Kaddo Bowrani (Afghan Pumpkin with Yoghurt Sauce) from Caroline's Cooking.
Pickled Pumpkin with Sage and Autumn Spices from Culinary Adventures with Camilla.
Pumpkin Beer Bread from Forking Up.
Pumpkin Beer Cheese Soup with Herbed Croutons from The Crumby Kitchen.
Pumpkin Chili from A Kitchen Hoor's Adventures.
Pumpkin Corn Chowder with Shrimp from Kudos Kitchen by Renee.
Pumpkin Focaccia Bread from Cookaholic Wife.
Pumpkin Ravioli with Parmesan Sage Cream Sauce from Rants From My Crazy Kitchen.
Pumpkin Rosemary Hummus with Sizzled Garlic from Amy's Cooking Adventures.
Pumpkin Stew with Chicken and Black Beans from Palatable Pastime.
Sweet Pumpkin Recipes:
Brown Butter Pumpkin Oatmeal Cookies from The Redhead Baker.
Cheesecake Stuffed Pumpkin Bundt Cake from Cooking with Carlee.
Easy Pumpkin Pie Cheesecake from Daily Dish Recipes.
Jumbo Pumpkin Spice Muffins with Pecan Streusel Topping from Family Around The Table.
Pumpkin Blondies from It Bakes Me Happy.
Pumpkin Cheesecake Bars from The Bitter Side of Sweet.
Pumpkin Coffee Cake from The Chef Next Door.
Pumpkin Madeleines from Mildly Meandering.
Pumpkin Pie Energy Bites from Making Miracles.
Pumpkin Pie Oatmeal from Seduction in the Kitchen.
Pumpkin Pie Tassies from Cindy's Recipes and Writings.
Pumpkin Scones from The Freshman Cook.
Pumpkin Spice Donuts from A Day in the Life on the Farm.
Pumpkin Spice Donuts from Hezzi-D's Books and Cooks.
Pumpkin Zucchini Streusel Bread from An Affair from the Heart.
Ridiculously Good Dark Chocolate Pumpkin Cake from Bacon Fatte.