This Pancetta Mushroom Fettuccine can make an easy weeknight dinner, or a date night dinner. It comes together quickly, but feels fancy!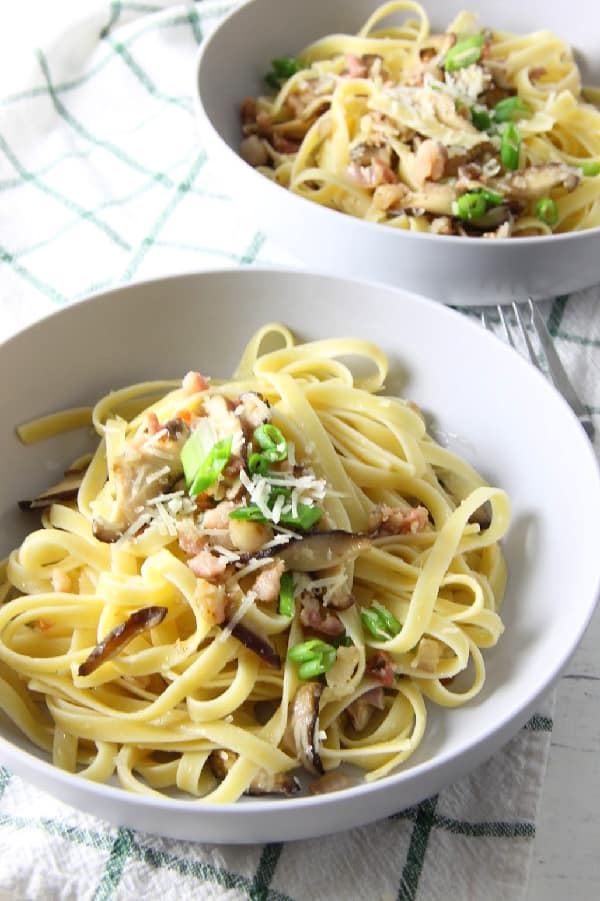 I'm going to lay it out to you. I will never be one of those people who give up pasta. Just can't do it!
There are way too many pasta dishes to try! What I will say is that everything should happen in moderation.
With my husband being Italian, he literally could eat pasta twice a day and while we almost used to eat it every single night, we decided we needed to back off a little.
Click here to save this recipe on Pinterest!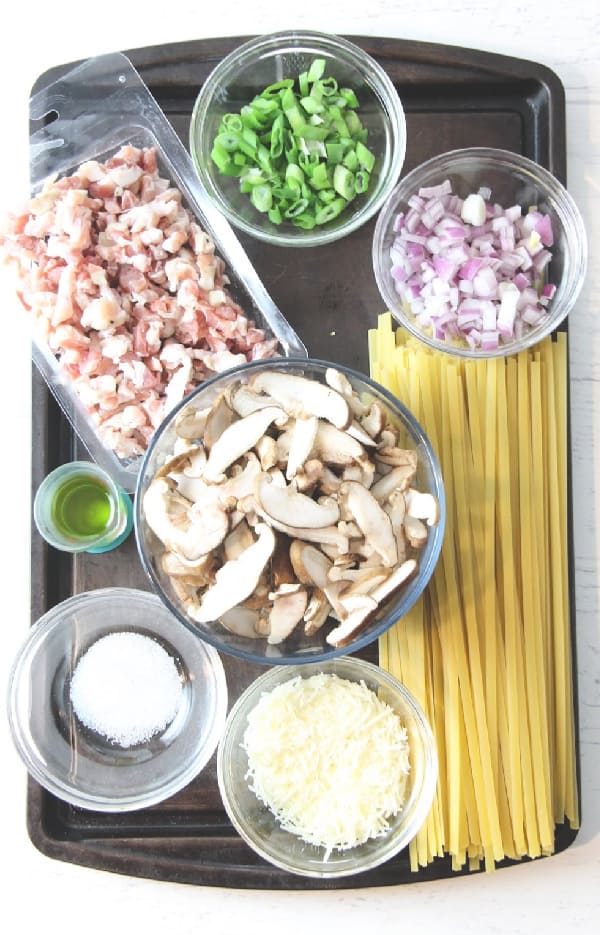 Now we have it no more than 3-4 times a week.
When trying to think of a pasta dish to share with you I asked my hubby for some ideas. He has a long list of ingredients that goes great in any basic sauce.
I figured it was time I tapped into that knowledge a little!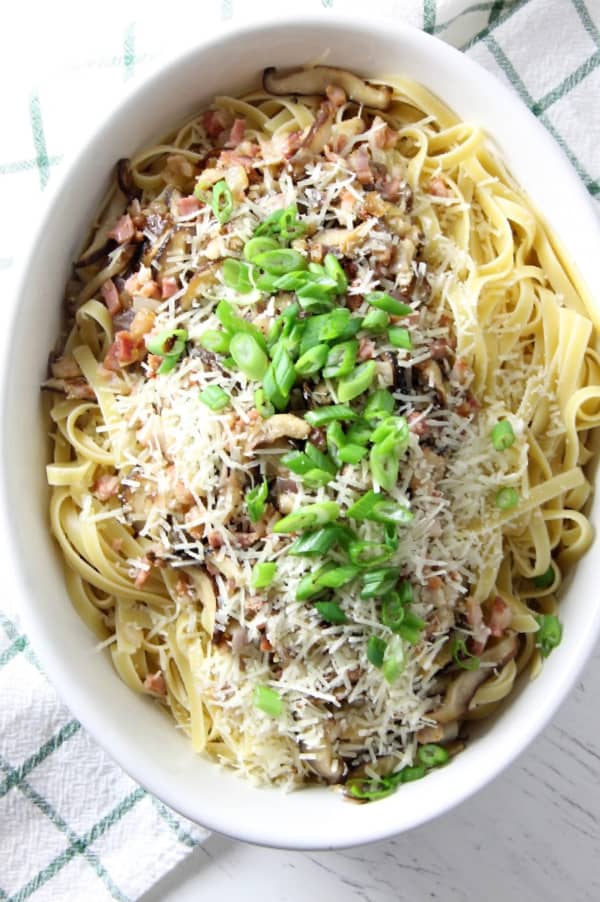 What type of noodle should I use?
With this sauce, any type of noodle would work, but we went with fettuccine. Typically, fettuccine is paired with a creamy sauce and simple proteins.
But fettuccine can handle way more than a simple alfredo, so pairing it with bacon (or pancetta) and mushrooms was easy enough to do.
What is pancetta?
Pancetta is very similar to bacon it's just cured different. Usually you will find pancetta in cubes or slices.
Usually, I like using the cubes because it cuts down on me having the cut up the slices. I will say, pancetta can be pricey in some stores, so shop around.
I have used bacon a lot of times in recipes that calls for pancetta because it is more common here in the States and you can buy it for cheaper.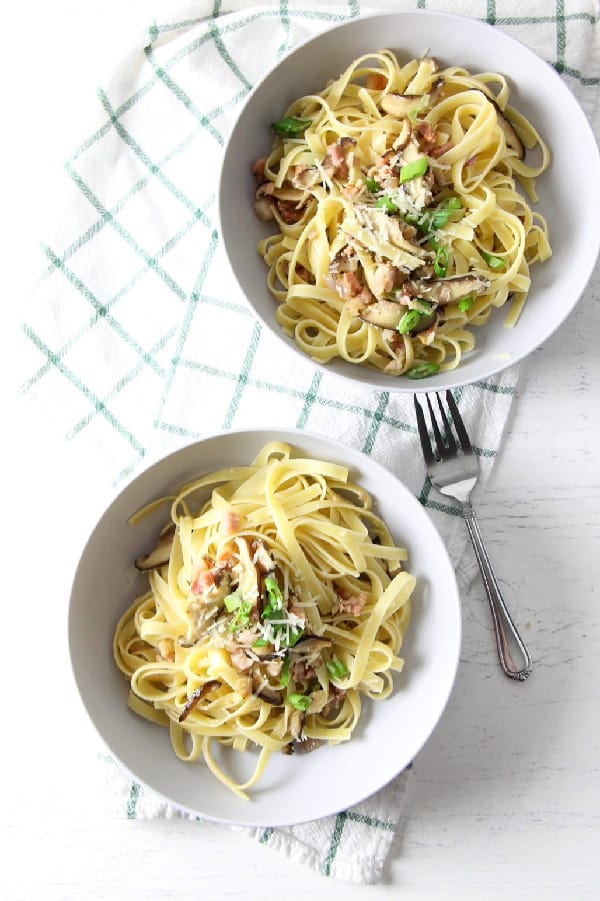 What about the mushrooms?
Mushrooms are an important flavor in this dish. For this particular recipe, I would not recommend using white button mushrooms.
They have a lot of water and can mess with the sauce. My shiitake mushrooms, surprisingly enough, had very little water, which is why I decided to add more olive oil in the end.
Italians will use porcini mushrooms in this dish. Porcini mushrooms are wild mushrooms and shiitake mushrooms are cultivated.
Both are equally delicious, but shiitake mushrooms were cheaper and in larger quantities in my grocery store so I went with them.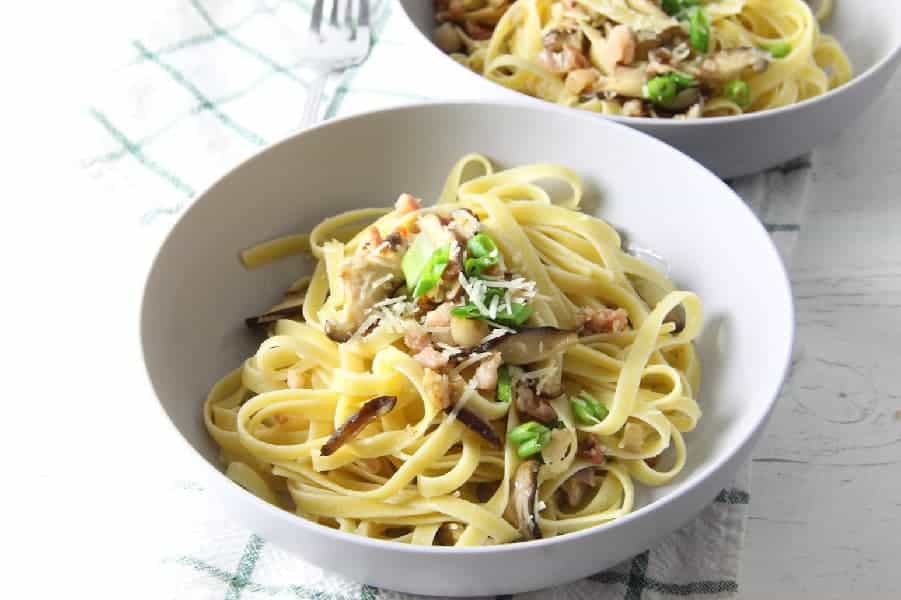 One tip to remember about cooking the pasta! I would stay with it and continue to stir.
Fettuccine is known for sticking together during the cooking process and nobody wants that to happen, so just give it a stir while it cooks.
Also, when you drain it, don't shake all of the water off the pasta. This keeps it from drying out. A little water is a good thing, so leave it there!
Looking for more pasta dishes? How about this bucatini with tomatoes or easy homemade spaghetti-o's!
Want to follow along?
If you're on Facebook come check out this fun little group I've got going on. Instagram is a fun resource I'm using right now. If you make any recipes make sure to tag them #bittersideofsweetrecipes so I can see your creations!
Want to connect more with The Bitter Side of Sweet? Follow at:
Facebook | Pinterest | Instagram | Twitter
This Pancetta Mushroom Fettuccine was original posted on Food Fanatic!
More pancetta!
Because I love pancetta here are some favorite recipes for you to try!