Easy Puff Pastry Blueberry Knots can actually be made with any summer berry. You'll love how quickly these come together – just in time for brunch!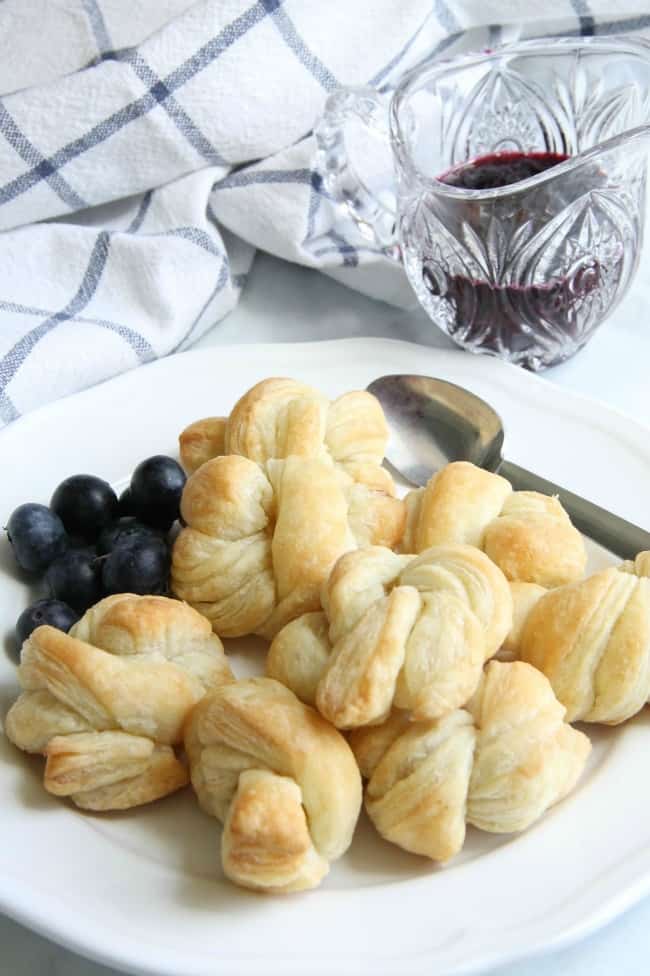 These little knots are perfect for using up those summer berries! I decided to use blueberries because we have an abundance of them in our house!
My hubby will eat blueberries every night with almonds, so I snagged some to make these Easy Puff Pastry Blueberry Knots!
Do you remember when I made these puff pastry lemon knots? Those were definitely a lot sweeter than these, because they had powdered sugar drizzled on top of them.
With these blueberry knots I went with a kind of compote on top of the knots. Just to change things up a bit.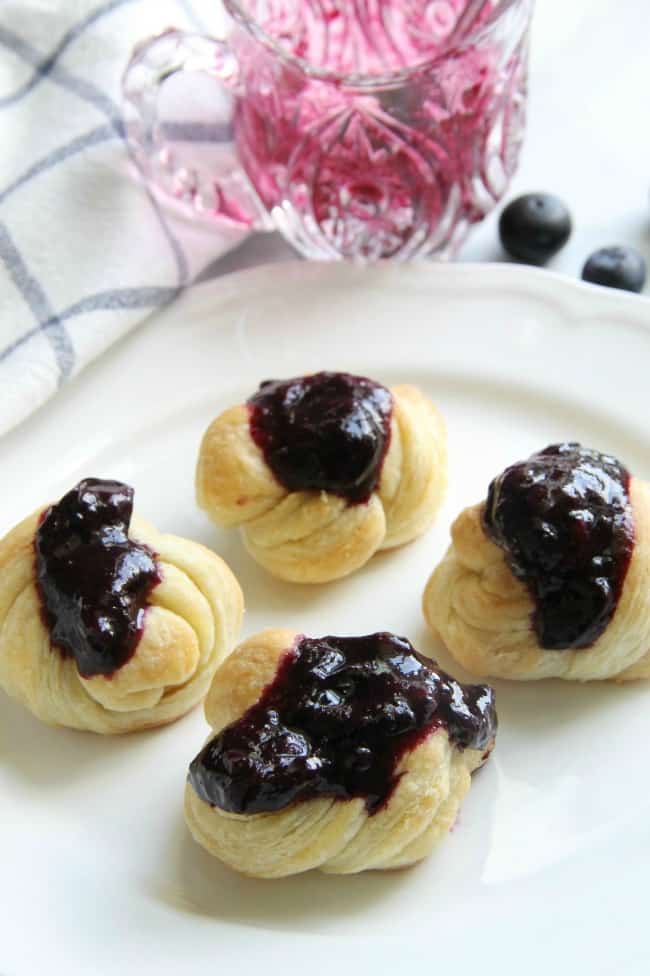 I love these in the summer because I do not have to keep my oven on for too long. Just for the heating up time and baking time!
I have a gas stove now in my new house, so I am lucky that it comes to temperature a lot quicker than my old stove!
For these knots you only need a few ingredients. Puff pastry, fresh blueberries and water! It's so easy!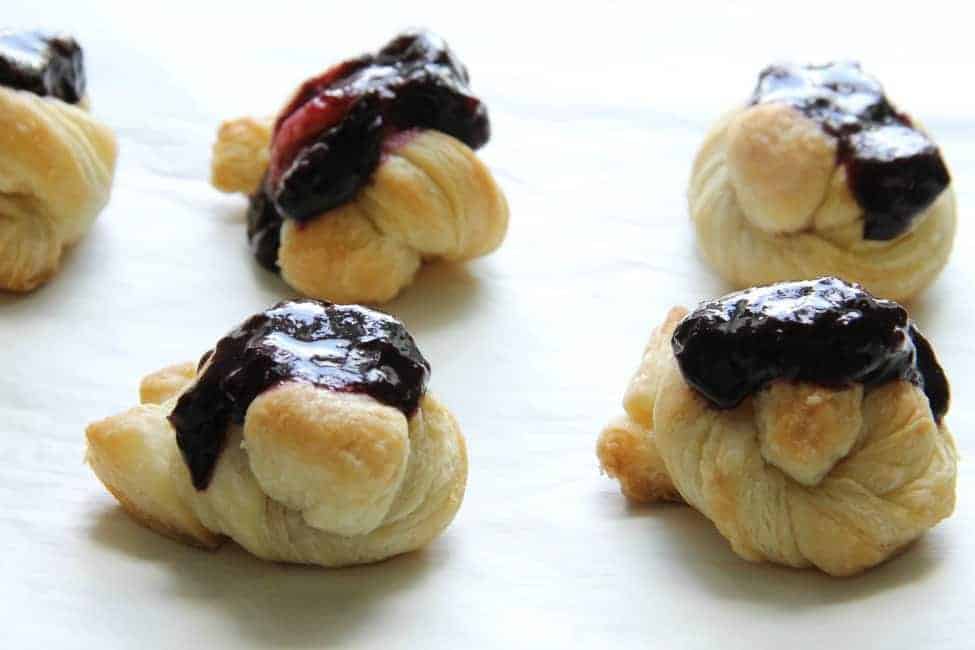 To form your knot, you need to just cut your puff pastry into strips and fold each strip in half. Then you grab each end and tie almost like you are tying a shoe string. And that's pretty much it!
You can definitely play around with it some. I have noticed that when I stretch my puff pastry out while I am tying the knot it looks a little messy. I would recommend not stretching it out.
Also, this time around as you notice in the directions I did not roll my pastry out before I cut it. I thought that helped to keep my pastry at a shorter length, so I could have a tighter looking knot. I hope you enjoy these Easy Puff Pastry Blueberry Knots!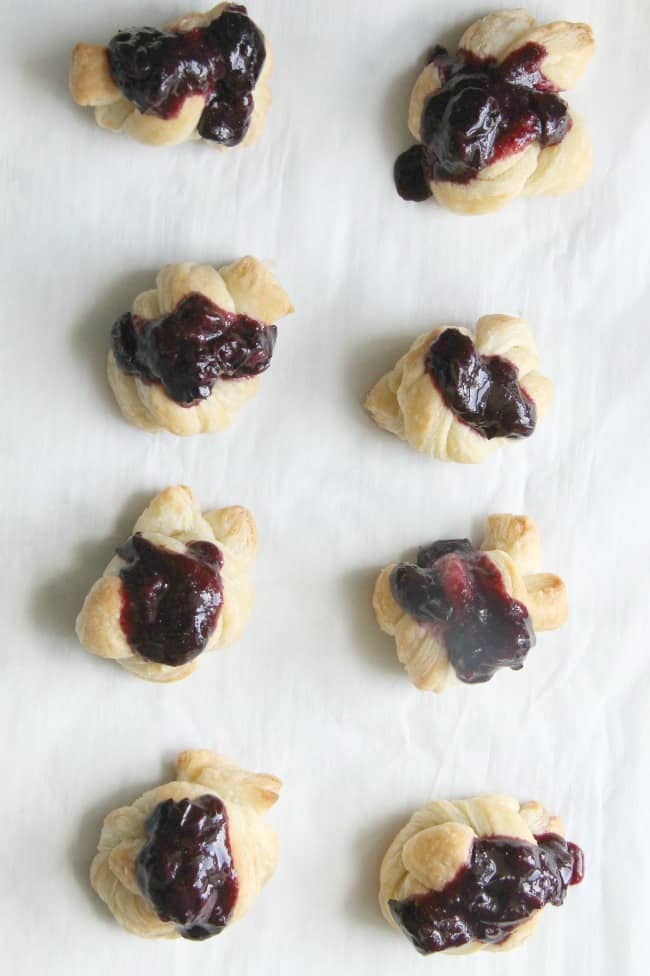 A little update on how the house is going. We finally have a refrigerator so now we can move into the house!
We've had dressers and bed frames in the new house for weeks now but no refrigerator. It finally came last week, so we are hoping for good weather so we can get mattresses moved over!
Send me all the good weather vibes!
Interested in more desserts with blueberries? How about this Blueberry Lemon Angel Food Cake or Apple Blueberry Galette!
WANT TO CONNECT MORE WITH THEBITTERSIDEOFSWEET? FOLLOW AT:
Facebook | Pinterest | Instagram | Twitter