Easy Cinnamon Apple Cake Roll made with fresh apples, cinnamon and cream cheese icing.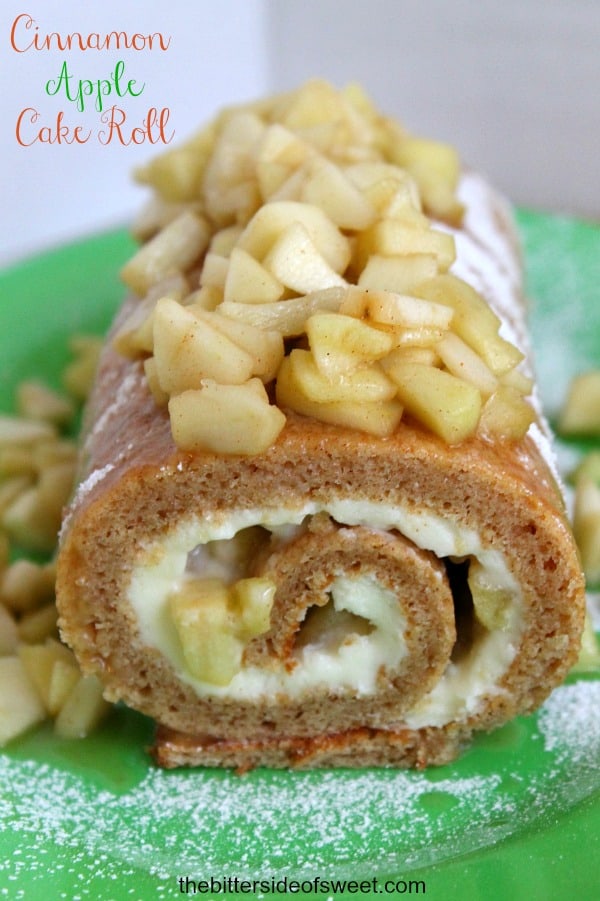 So glad you are back for the final day of Apple Week! If you missed the last two days, don't forget to check out these tarts and chips!
It has been fun making all of these new apple recipes that I now can add to my recipe box for the next time I am in the mood for apples.
As I was eating this cake I thought what a great alternative this could be for apple pie! It has the same flavors but with icing! Sounds even better to me!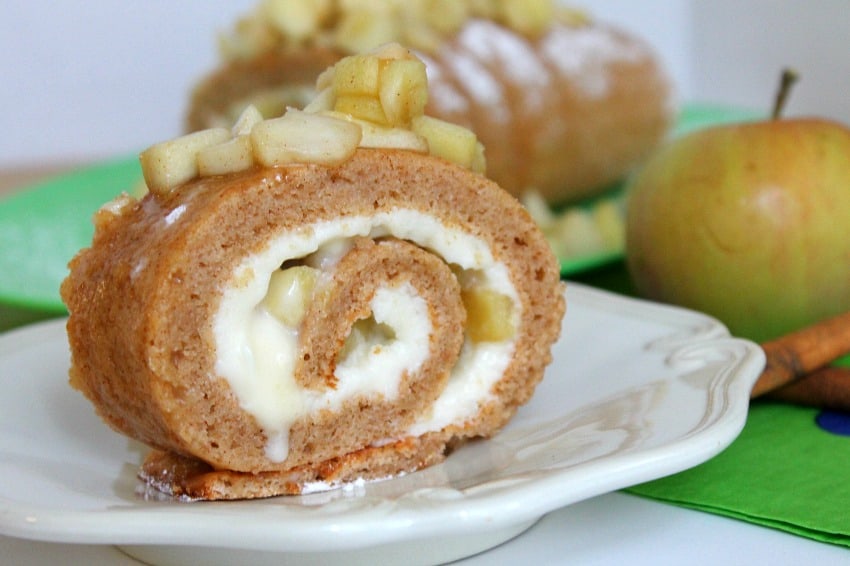 This cake roll is your standard type of roll. It takes some patience and waiting around but it is worth it in the end so don't give up.
I knew last year after we apple picked I wanted to replicate my pumpkin roll and make an apple roll. Well it took me a whole other year before I actually did it and let me tell you, it didn't last long in my house!
I think the family would of finished it off in a day if I had let them! ENJOY!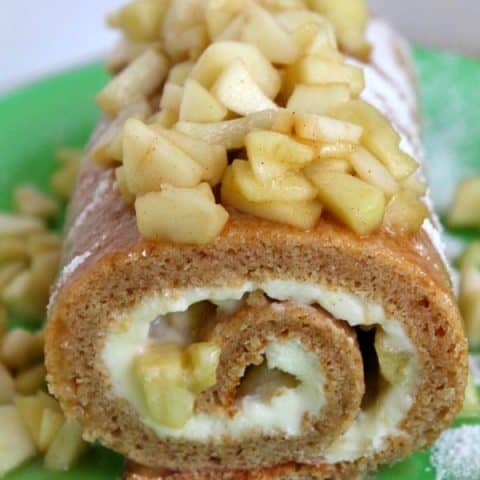 Cinnamon Apple Cake Roll
Total Time:
2 hours
30 minutes
Ingredients
FOR THE CAKE:
2 eggs
5 oz sour cream
1 cup sugar
4 ounces cinnamon applesauce
1 cup all purpose flour
1½ teaspoon baking powder
2 teaspoon cinnamon
½ cup powdered sugar
FOR THE ICING FILLING:
1 1/2 cup powdered sugar
3 teaspoon butter, softened
8 oz cream cheese, room temperature
2 tablespoons milk
FOR THE APPLE FILLING:
3 cups apples, diced (about 3 apples)
1 teaspoon cinnamon
4 tablespoons brown sugar
4 tablespoons butter
Instructions
Preheat oven to 375. Line cookie sheet with parchment paper.
In mixing bowl, mix the eggs, sour cream, sugar and applesauce together.
In a separate bowl whisk together flour, baking powder and cinnamon.
Slowly add to mixing bowl on medium till all incorporated.
Pour into prepared cookie sheet, spread out and bake for 15 minutes.
Take a dish towel that is the size of the cake. Cover with ½ cup powdered sugar.
When cake is done and cooled for about 2 minutes. Remove from pan lay cake onto the dish towel. Starting at one end, roll the cake into the dish towel.
Place in refrigerator to cool for an hour.
FOR THE APPLE FILLING:
On medium heat, using a medium size pot melt your butter.
Add brown sugar and stir till the sugar has dissolved.
Add cinnamon and apples.
Let the mixture simmer for 15 minutes or until apples are soft.
Drain and set aside.
FOR THE ICING FILLING:
Prepare filling by mixing butter and cream cheese together. Add powdered sugar and milk.
When ready, take roll out of refrigerator, unroll. Spread icing onto cake.
Top with half the apple filling. Roll the cake back up without the dish towel and refrigerator for 1 hour or until ready to serve.
When ready to serve top with remaining apple filling. Sprinkle with powdered sugar and ENJOY!