This Cheesy Tomato Pasta Bake is an irresistible casserole the whole family will nosh! It's vegetarian-friendly, and oh so good. Look at that bubbly cheese.
My mother in law will tell you that pasta bakes or pasta al forno is the perfect way to use up leftovers. I couldn't agree more!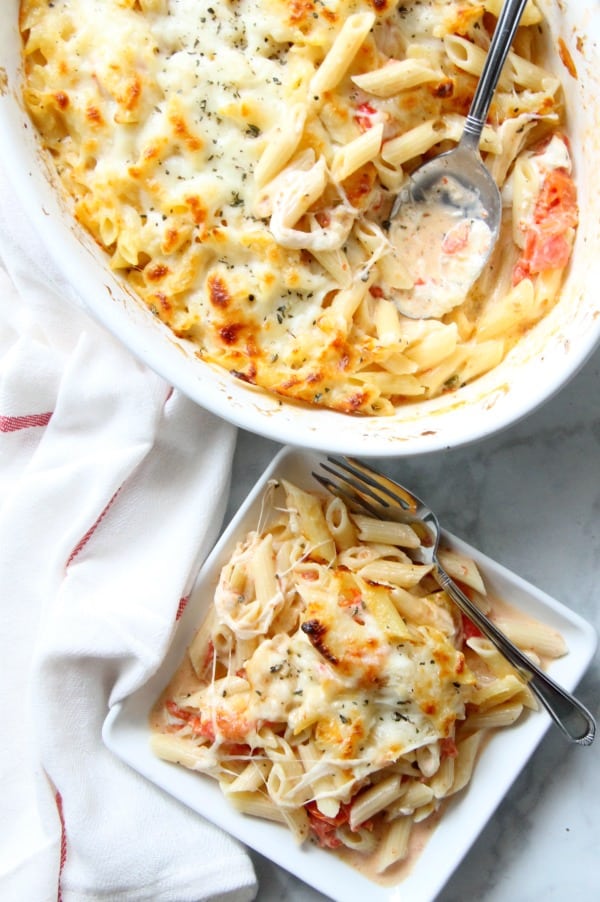 Click here to save this recipe on Pinterest!
We like to repurpose leftover pasta, top it with cheese and you have a brand new dish and an easy dinner!
Lasagna is about the only baked pasta I ever had growing up, but I try to show my kids that you can basically take any ingredients and turn it into a pasta bake.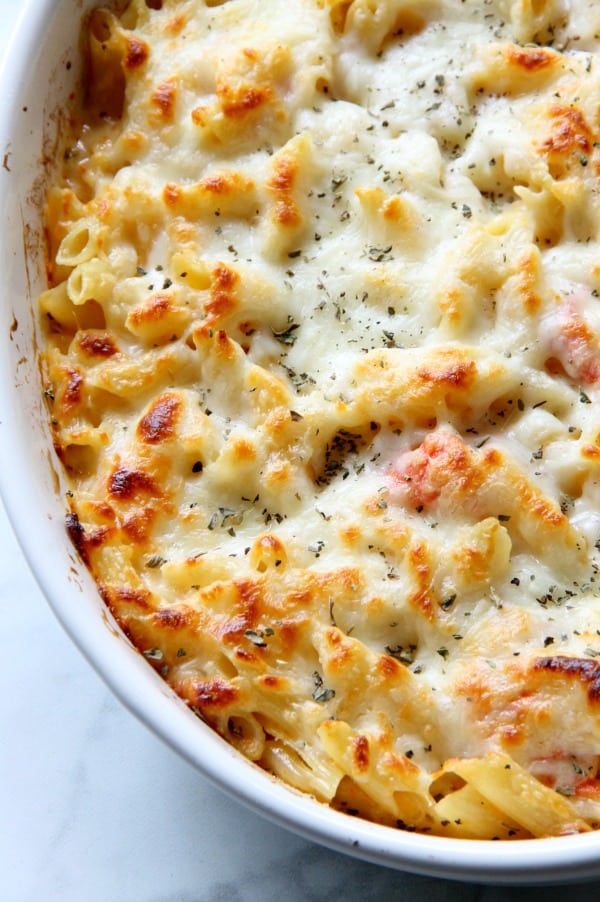 What kind of noodles could you use?
This is pretty simple.
Any type of noodle is acceptable, but I honestly do not like to use spaghetti. I prefer a short noodle like penne, macaroni or rigatoni. For my girls and myself I cook one pound of pasta.
I leave half of it in the refrigerator to use throughout the week and we eat half at dinner. You can also pre cook your noodles and freeze them! These two tips really save me on busy weeknights when I am looking for something fast to make.
For the frozen noodles.
Simply boil a pot of water, add the noodles and allow them to warm up before using in your pasta bake.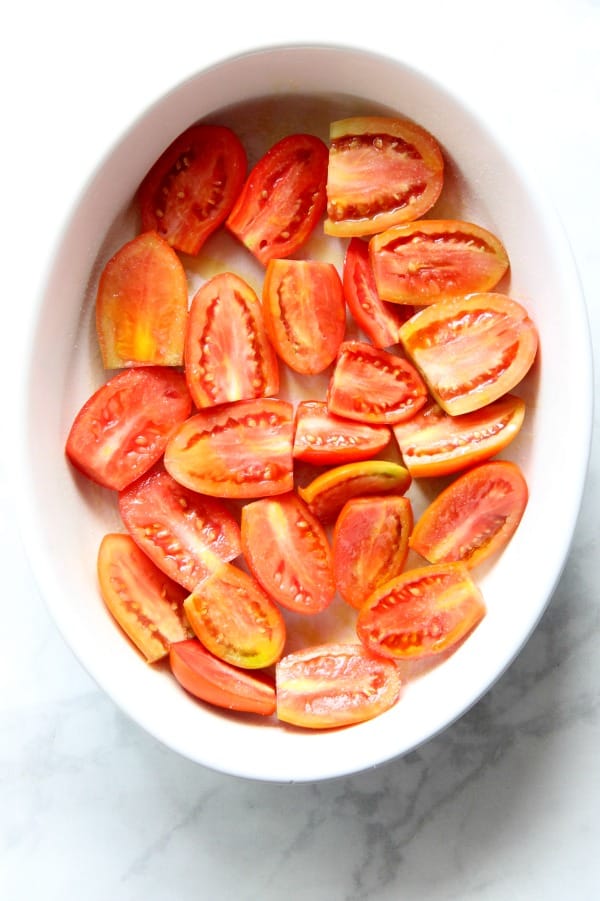 What kind of sauce to use?
At this point anything would do. You could use sauce from a jar or whip up something quick yourself. I had and still have an abundance of tomatoes coming off the vine so I was trying to find a way to use them up. In Minnesota our tomatoes really aren't producing till July so we enjoy a late season of fresh tomatoes.
In this cheesy tomato pasta bake I decided to add the flavors of mozzarella and basil because it reminds me of a caprese, which I love!
You want to get a fresh mozzarella ball, dice it evenly into twenty-four cubes and place on top of your roasted tomatoes. For my dish I also decided to make it a little creamy by adding some heavy cream. It works great and adds great depth and richness to the recipe!
If you are looking for more pasta bake recipes how about this spinach ricotta pasta bake or this gluten free pesto pasta bake!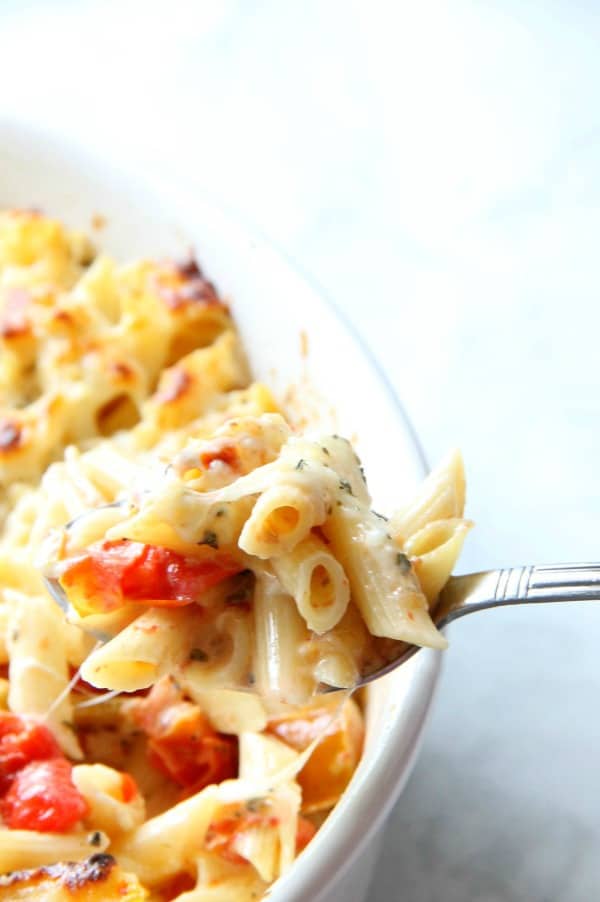 Want to follow along?
If you're on Facebook come check out this fun little group I've got going on. Instagram is a fun resource I'm using right now. If you make any recipes make sure to tag them #bittersideofsweetrecipes so I can see your creations!
Want to connect more with The Bitter Side of Sweet? Follow at:
Facebook | Pinterest | Instagram | Twitter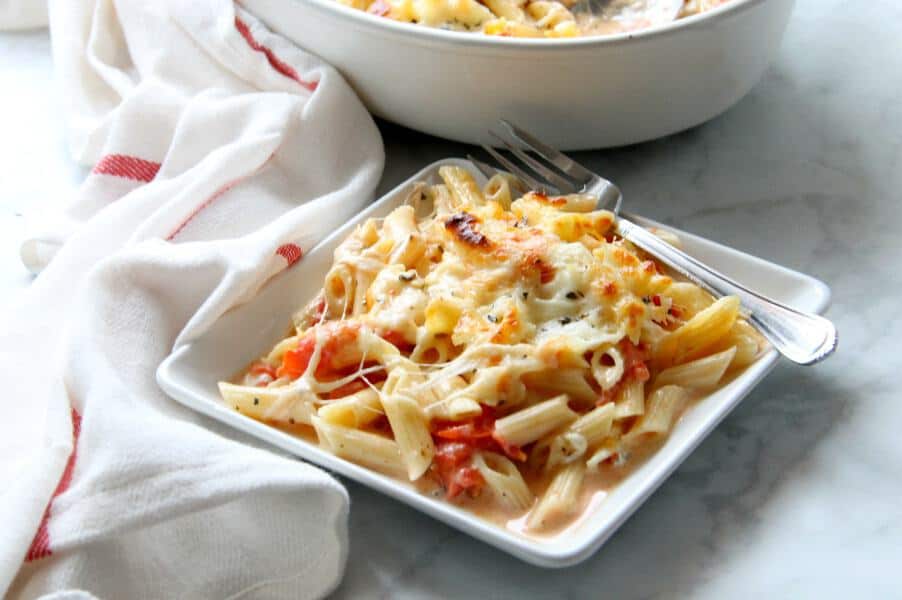 Other pasta recipes you'd like!