So you finally want to get around to eating some kind of pumpkin flavored dessert but without all of the hassle. Well how about these no bake Pumpkin Spice Pudding Parfaits!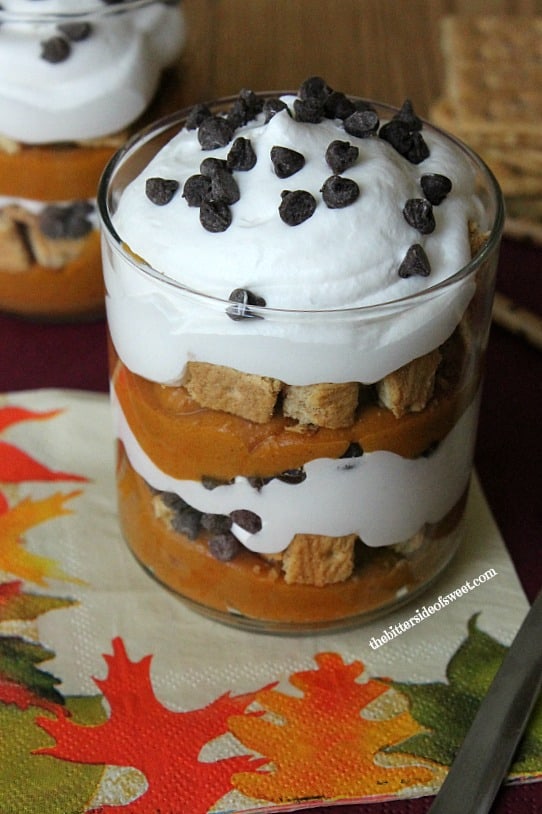 I really did have all of these plans to do a LOT of baking with pumpkin. But what has happened? Time was not on my side. I love love love to cook and bake seasonally. It gets me so excited about fall, winter, spring or summer. I will probably use a lot of pumpkin, but most folks do not want to see it after about the middle of November because everyone is just about ready to move on to peppermint and that kind of stuff. Not me, I will keep the pumpkin coming even if you don't see it here. Come follow me on Instagram, I tend to like to share lots of pictures from dishes and goodies that come out of my kitchen that may not end up on here.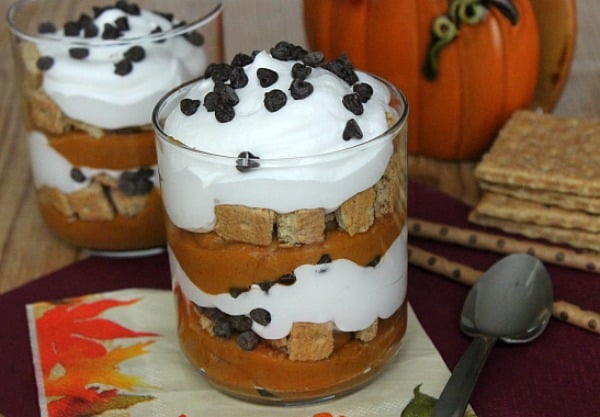 So these pumpkin spice pudding parfaits are a breeze to make and I am so glad I saw the pudding mix when I was walking through my grocery store. The kids really enjoyed these for their afternoon snack when they came home last Tuesday from school. My hubby waited about two days before he plunged into his, and guess what it was better two days later than the first day! The cookies and chocolate chips soften and the pumpkin pudding flavored intensified, so I do recommend that you at least make these a day in advance. If not, they are still "really good" according to my kiddos, the same day! ENJOY!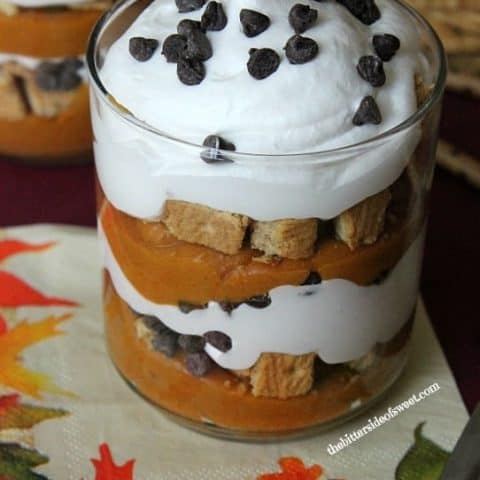 Pumpkin Spice Pudding Parfaits
No bake pumpkin dessert that can be made in 20 minutes.
Ingredients
3.4 ounce box Jello Pumpkin Spice Instant Pudding
1 3/4 cups whole milk
2 cinnamon graham crackers, diced
2 tablespoons mini chocolate chips
1 cup cool whip
Instructions
In large bowl whisk instant pudding and milk together. Set aside for 5 minutes.
To Assemble (for 2 servings in 8 ounce glasses):
Begin by adding 3 tablespoons of pudding to the bottom of each glass.
On the next layer add equal parts of the diced graham crackers (about 2 tablespoons).
The next layer add 1/4 cup cool whip.
The next layer add 1/2 tablespoon mini chocolate chips.
Repeat this process by adding a second layer of pudding, graham crackers, cool whip and chocolate chips to your glass.
When finished repeat steps in second 8 ounce glass.
Cover and refrigerate until ready to serve.