Pumpkin Spice Affogato is a coffee-based dessert that espresso poured over pumpkin ice cream topped with whipped cream and cinnamon!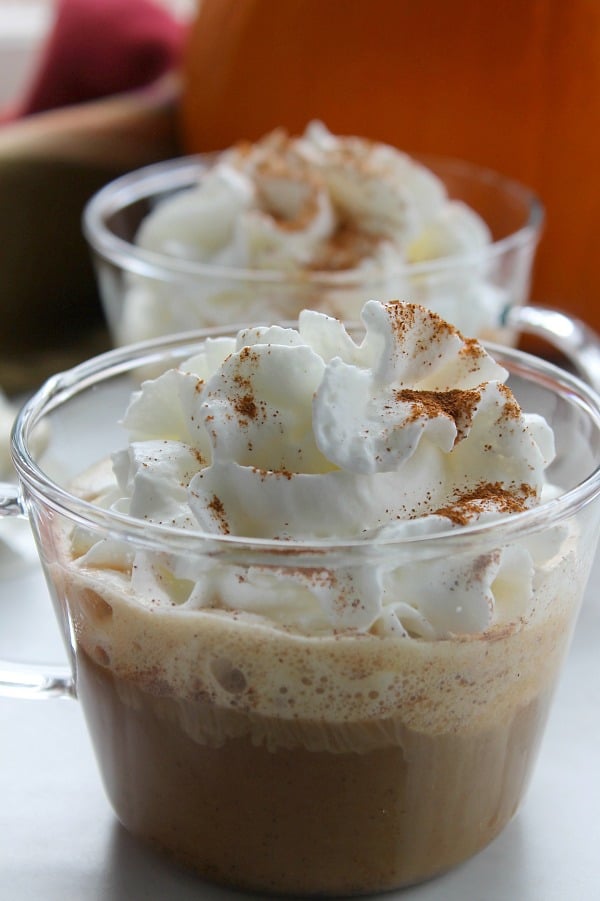 I now dread going to the grocery store. Isn't that terrible! I almost feel guilty that I am having this feeling because duh my family has to eat, you know things like these Pork Sliders for one and Blueberry Cookies for another!
I used to love to go so what has changed?
Working outside the home is what happened. I now work a few hours a day at my kids school and stand on my feet the entire time, so by the time I get off I want to do nothing else for the rest of the day.
Obviously this is not possible but that is how I feel.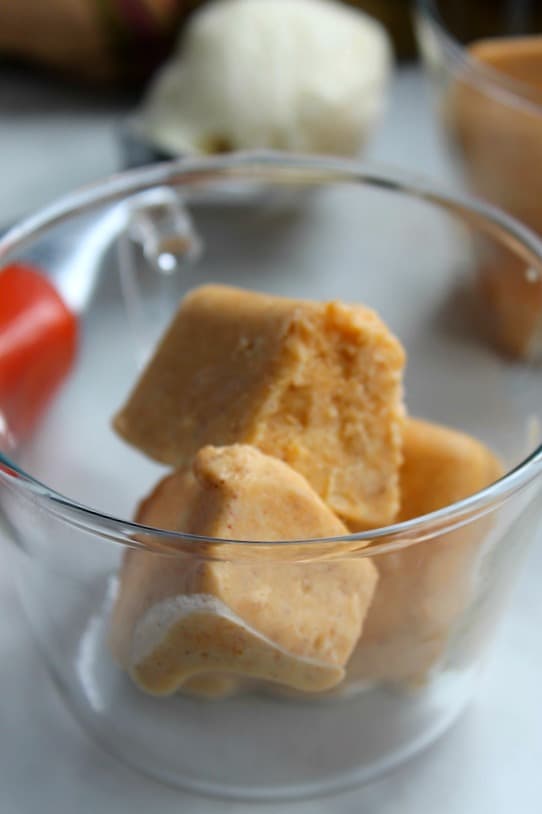 Another thing against me is that I am a homebody. I am content on just staying in the house all day. I know it is weird but true.
So because I went outside my comfort zone and am out of the house on a daily basis I think by the time work is done I have reached my limit for the day and the thought of me going out again is just too much for me.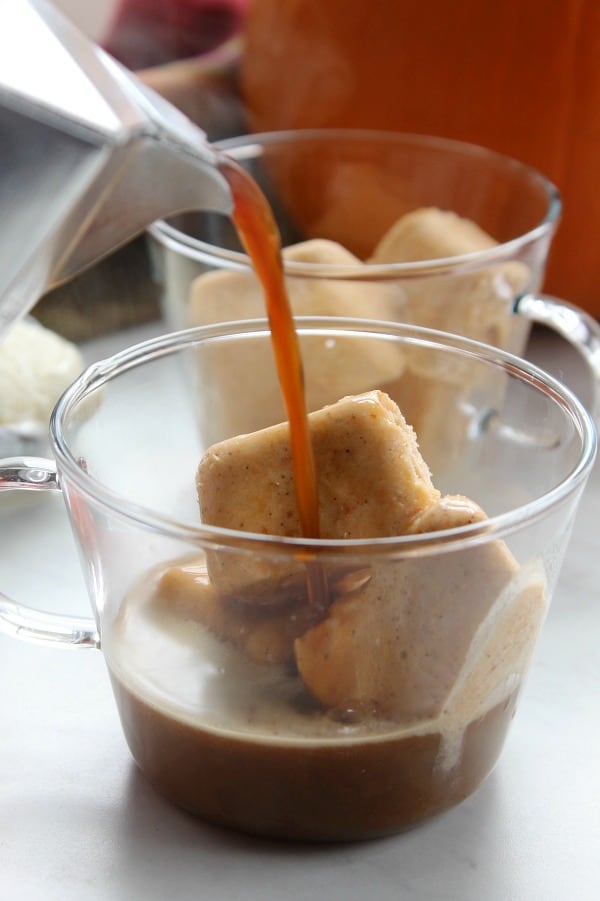 My very sweet hubby wants to take over the grocery shopping for me because he has Mondays off but this would mean giving up control of my grocery list.
Do you want to just scream from my madness? I do!!
Anyways I am glad I went out because I was able to get everything I need for Pumpkin Week!
That's right, this week is pumpkin week, although you will see some fun stuff in the middle of the week that is not pumpkin I am giving two pretty fabulous treats, starting off with this Pumpkin Spice Affogato!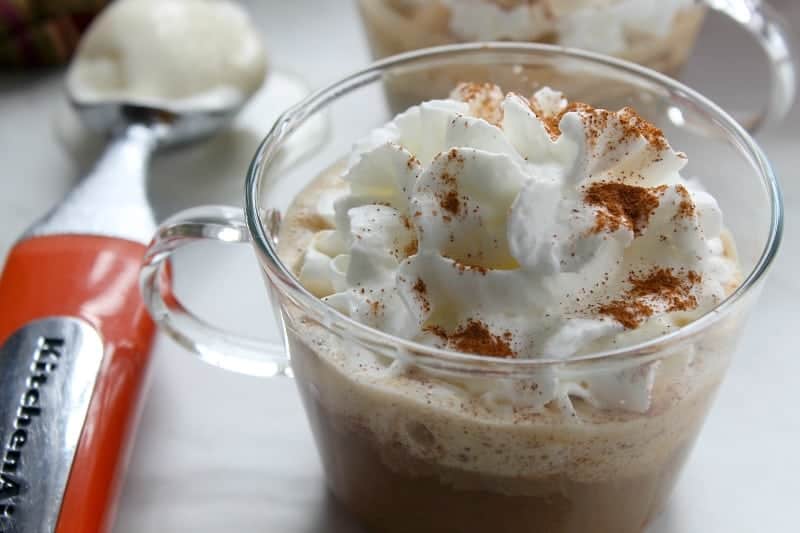 Awhile ago I made Mint Chocolate Chip Affogato and even though you would not normally find these flavors in Italy I decided I need to make a fall version.
I am so glad I did because it is just fabulous! And I can do it all in my home, without having to go to a coffee shop!
Don't forget to get your big dose of pumpkin below. There are lots of wonderful recipes to try! ENJOY!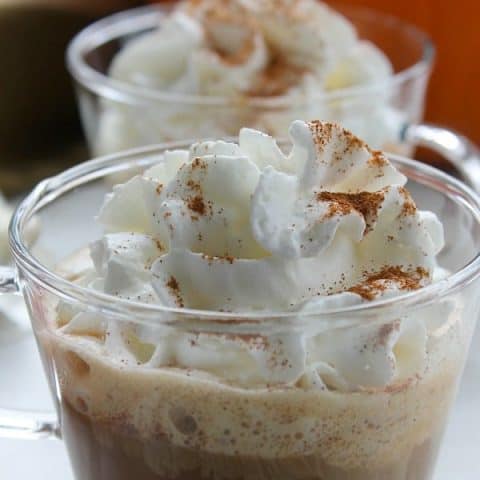 Pumpkin Spice Affogato #PumpkinWeek
Prep Time:
3 hours
3 minutes
Total Time:
3 hours
3 minutes
Ingredients
4 scoops vanilla ice cream
2 tablespoons pumpkin puree
1 teaspoon cinnamon
8 ounces espresso, hot
whipped cream, optional
cinnamon on top, optional
Instructions
Place four scoops of ice cream in mixing bowl and allow to sit at room temperature for 20 minutes.
Whisk in pumpkin and cinnamon.
Pour into ice cube tray and freeze for 3 hours.
When frozen place 4 cubes in 2 coffee cups.
Pour 4 ounces espresso over cubes in each cup.
Top with whipped cream and cinnamon. ENJOY!
Recipes for #PumpkinWeek
Adorable Turkey Crust Pumpkin Pie from Kudos Kitchen by Renee
Amish Pumpkin Roll from Palatable Pastime
Double Pumpkin Gnocchi from Caroline's Cooking
Gigi's Spiced Pumpkin Pecan Bread from Family Around The Table
Healthy Pumpkin Oatmeal in the slow cooker from Feeding Big
Lisa's Pumpkin Soup from Cooking With Carlee
Mini Pumpkin Pecan Cheesecakes from The Crumby Cupcake
Pecan Pumpkin Cobbler from Hezzi-D's Books and Cooks
Pumpkin Bread from The Freshman Cook
Pumpkin Bread with Maple Glaze from Making Miracles
Pumpkin Brulee Tart from The Redhead Baker
Pumpkin Cookies with Butter Rum Icing from Grumpy's Honeybunch
Pumpkin Creme Brulee from Love and Confections
Pumpkin Glazed Bacon from Rants From My Crazy Kitchen
Pumpkin Laksa from Culinary Adventures with Camilla
Pumpkin Milkshake from A Day in the Life on the Farm
Pumpkin Muffins from Cindy's Recipes and Writings
Pumpkin Pretzel Bites from A Kitchen Hoor's Adventures
Pumpkin Spice Granola from The Chef Next Door
Spiced Pumpkin Cider from Gluten Free Crumbley