This Pumpkin Brownie Ice Cream Cake is a basic recipe for an ice cream cake with a brownie crust and added flavors of pumpkin and coffee!
This shop has been compensated by Collective Bias, Inc. and its advertiser. All opinions are mine alone. #FoundMyDelight #CollectiveBias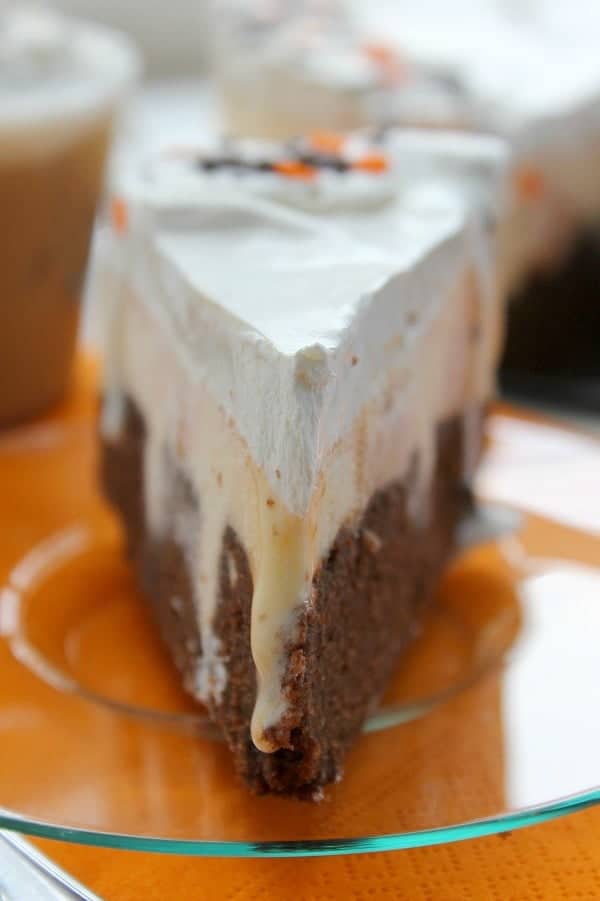 Click here to save this recipe on Pinterest!
Although it is the first day of Autumn, which is totally hard to believe, here in Indiana we still have signs of summer hanging around.
The temperature here has been high 80's to low 90's and in some parts of the US there are still lots of areas in the high 90's, so it seems like summer doesn't want to end.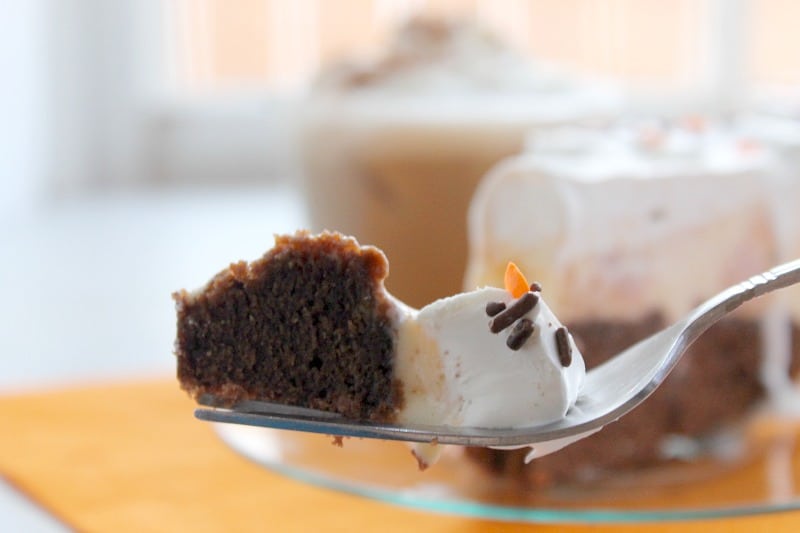 In one way I am ok with this because I love summer and the sunshine and the warm weather but then Autumn comes and you have everything that encompasses this, such as the leaves changing, the humidity gone and the flavors of apples and pumpkin!
Last year I made an ice cream cake for my son's birthday and it was a huge hit in our house. I have been itching ever since to make it again but then I thought why not combined my favorite fall flavor with my favorite summer dessert and now I have this Pumpkin Brownie Ice Cream Cake!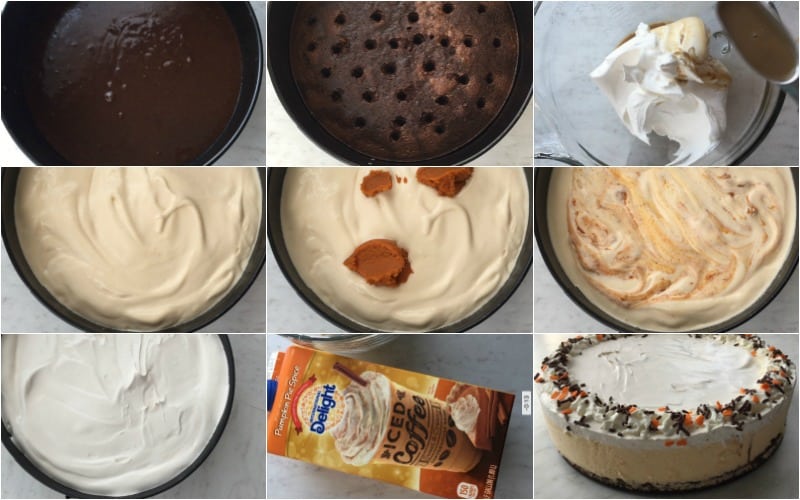 To make this ice cream cake take a few steps but is not hard AT ALL! When I went to Walmart I found this Pumpkin Pie Spice Coffee and Caramel Macchiato that I thought would be a great addition to the cake. I have been drinking the caramel flavor coffee instead of going out and buying a cup of coffee. It is perfect! I top it with some whipped cream and sprinkle some cinnamon and it is just perfect! I can sit on porch and enjoy the last few days of summer temperatures! Perfection!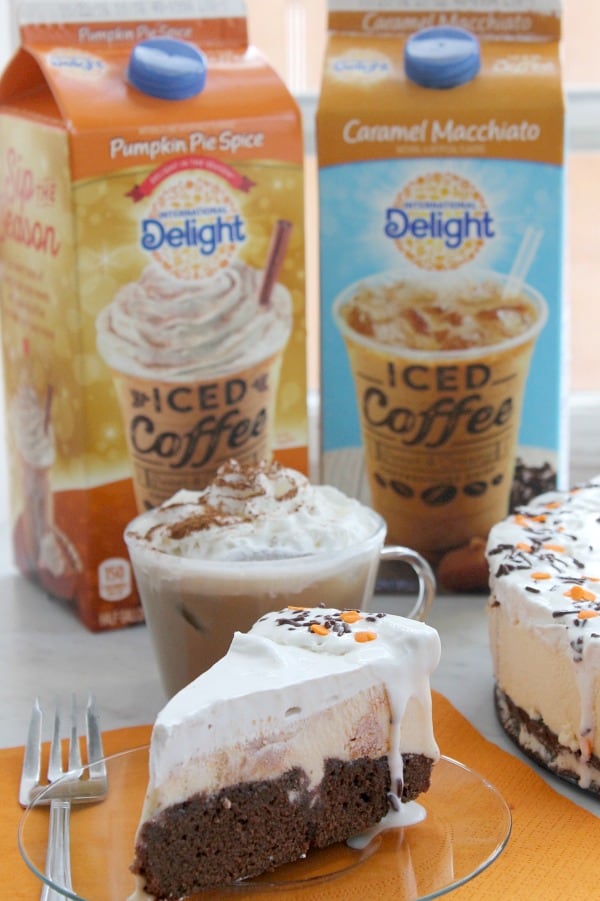 When adding the Pumpkin Pie Spice Coffee to the cake, I did it in two different ways. First after the brownie was done, I poked holes in it and poured the coffee right over it. Best thing EVER! It helped the brownie stay moist and gave it a rich coffee flavor, with a hint of pumpkin spice!
The second way I added it was in the cool whipped topping. I just whisked it right in. So when you take that magical bite the flavors surround it from top to bottom!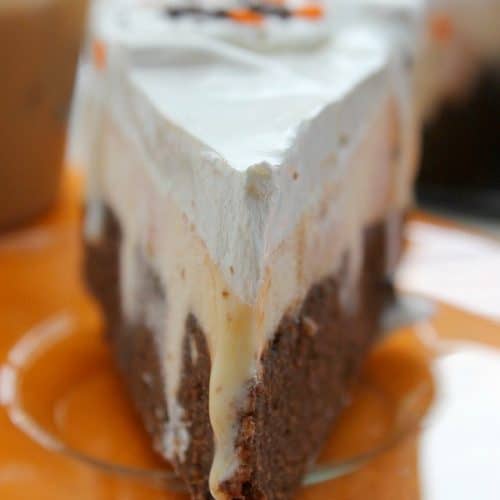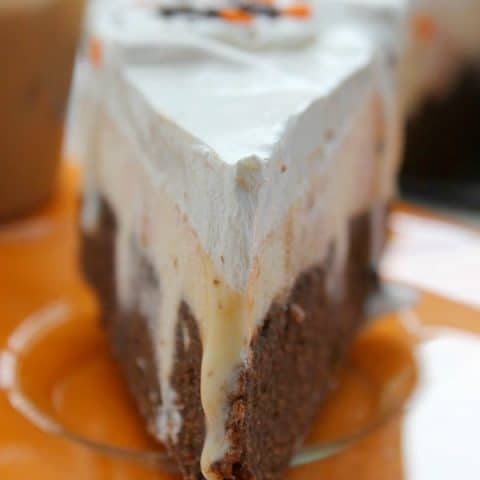 Pumpkin Brownie Ice Cream Cake
Prep Time:
2 hours
20 minutes
Ingredients
For the brownie layer:
1 box brownie mix
2 eggs
2/3 cup oil
1/3 cup water
1/2 cup pumpkin puree
1/4 cup Pumpkin Pie Spice flavor International Delight Iced Coffee
For the ice cream layer:
48 ounces vanilla ice cream
3 tablespoons pumpkin puree
For the whipped topping layer:
8 ounces whipped topping
4 tablespoons Pumpkin Pie Spice flavor International Delight Iced Coffee
orange and black sprinkles, optional
whipping cream, optional
Instructions
Preheat oven 325°F.Spray 9-inch springform pan with non stick cooking spray. Set aside.
In mixer add brownie mix, eggs, oil and water. Mix for one minute or until smooth. Mix in pumpkin puree. Spoon into prepared pan.
Bake for 35-40 minutes or until took pick inserted comes out clean. Set aside to cool about 30 minutes.
In the meantime allow ice cream to soften.
Once brownie layer has cooled, poke holes in the top. Pour over the top 1/4 cup Pumpkin Pie Spice flavor International Delight Iced Coffee.
Spread ice cream over the brownie layer. Drop 3 tablespoon pumpkin puree over the ice cream and swirl into it ice cream layer. Freeze for 30 minutes.
In the mean time whisk together whipped topping and 4 tablespoons Pumpkin Pie Spice flavor International Delight Iced Coffee. Spoon over the top of the ice cream layer. Freeze for 1 hour or overnight.
Before serving add whipping cream for decoration and sprinkles.
Serve and ENJOY!
When heading to Walmart check the refrigerated tea/juice section, that is where you will find the coffees. I almost missed them because I headed straight for the creamers section!
So tell me, which flavor are you more excited in trying out?