Make your weekend complete with these Peanut Butter Chocolate Pancakes!
This post was originally posted on Princess Pinky Girl. You can find the post here!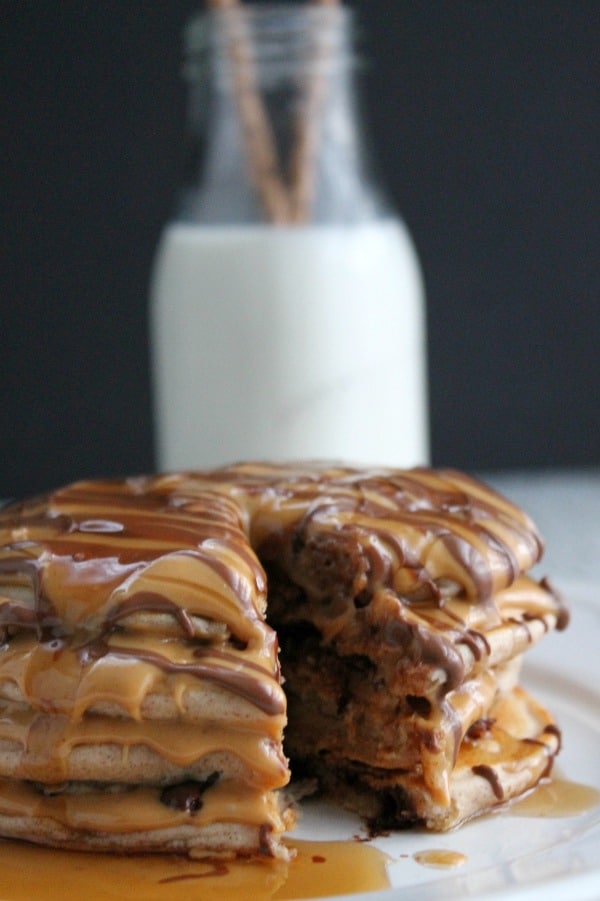 Hey hey my peeps! I hope you are ready for the weekend! The kids have had Spring Break this week so everyday has been the weekend for us! I can't wait to share with you what we have been up too.
Until then, how about these pancakes? Don't they look amazing? I love everything about making pancakes. They are easy and simple and extra special when you add peanut butter and chocolate to them!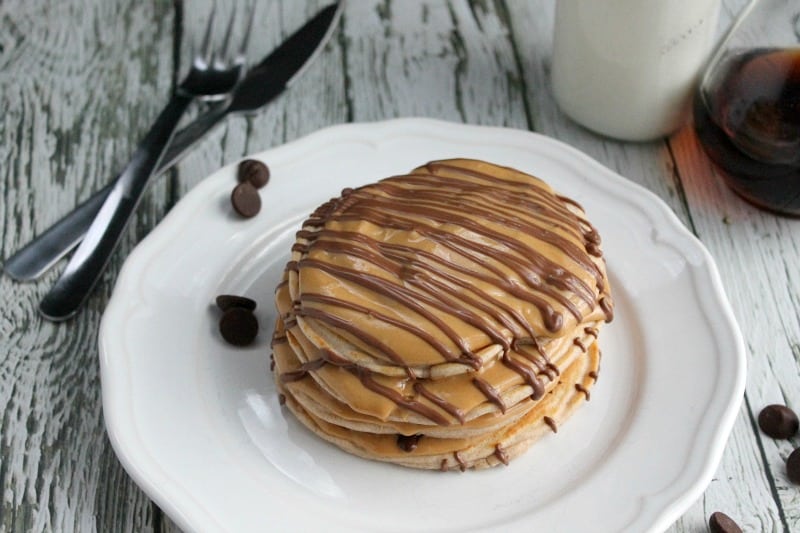 The first time I ate pancakes like this was when I was living in Italy and I had a friend introduce me to them. I seriously thought she had problems. When I was growing up pancakes consisted of the pancake and syrup. Maybe some chocolate chips. Other than that we were easy going.
My world changed when I tasted them. They were divine! When I finally introduced these to the kids, they absolutely loved them! Hope you do too! ENJOY!
Peanut Butter Chocolate Pancakes
Ingredients
1 1/2 cup all purpose flour
2 teaspoons baking powder
1 tablespoon sugar
1 teaspoon salt
1 1/4 cup milk
1 egg
2 tablespoons unsalted butter, melted
1 teaspoon vanilla
1/2 cup dark chocolate chips
1 cup peanut butter, melted
Instructions
In a large bowl whisk together flour, baking soda, sugar and salt. Set aside.
In a medium bowl add milk.
Whisk in egg. Then whisk in butter and vanilla.
Add wet ingredients to dry ingredients and stir till incorporated.
Stir in chocolate chips.
Cook on griddle or in non stick pan till bubbles form and break about 3 minutes.
Then flip and cook for 2 minutes more or until brown.
When pancakes are done place one tablespoon of peanut butter between each layer.
Drizzle with chocolate and syrup (optional but a must in my book!) ENJOY!
Want to connect more with TheBitterSideofSweet? Follow at:
Facebook | Bloglovin | Pinterest | Instagram | Twitter