This easy Mixed Berry Tart makes for one spectacular summer dessert. It couldn't be easier and easily adapted to any berry you wanted to use!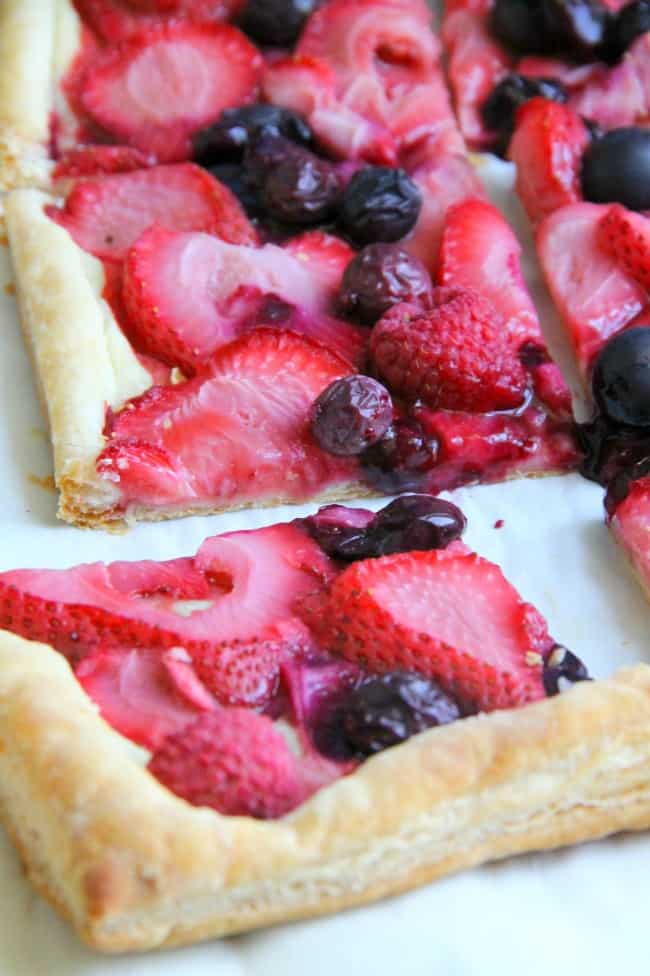 Click here to save this recipe on Pinterest!
I love making puff pastry tarts! They are super easy and do not require a lot of work, like when you make this everything bagel breakfast tarts!
What is a tart?
A tart is usually made with a shortbread-type crust that resembles a pie, but has no pastry on the top. A lot of times you will see tarts with a custard-like filling, but since we are using puff pastry, I like to just use fresh ingredients to top it with.
These types of puff pastry tarts are perfect during the summertime because you can use your fresh summer ingredients like strawberries, and simply top them on your pastry before you bake it!
You only need to have your oven on for about half an hour, which is not too bad for baking a dessert. There is also little prep work involved when making this Mixed Berry Tart. All I had to do was slice some strawberries, measure out the rest of my berries and top them onto my pastry.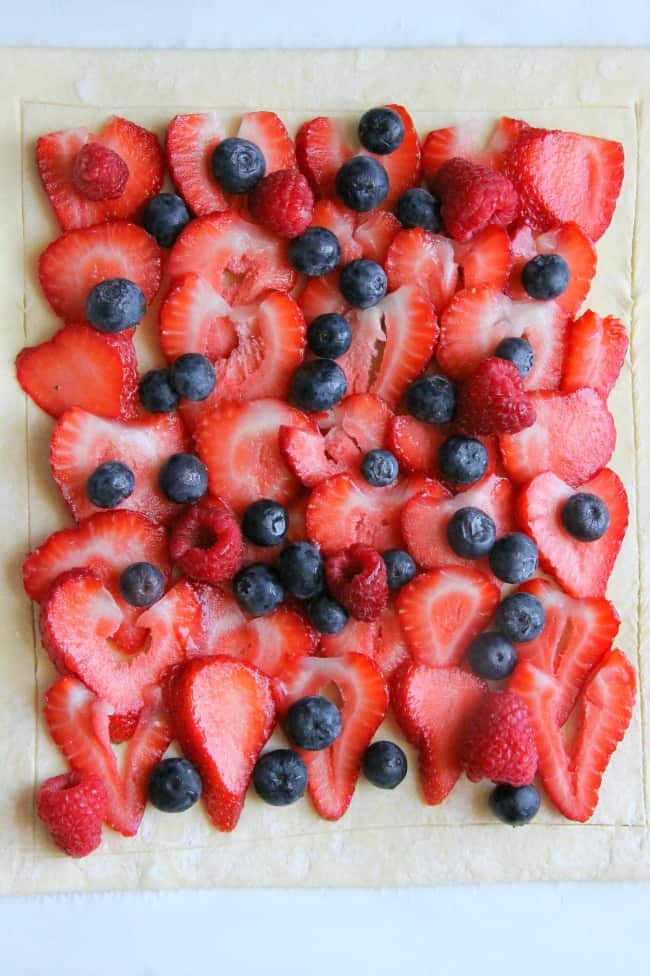 Using seasonal ingredients is always a good idea. I know here in Minnesota we have an abundance of berries in the grocery stores. So, I take every chance I get to buy them up and use them in recipes.
My girls keep asking for apples, but I tell them we can eat plenty of apples in the fall and winter seasons. Right now, I want all of the raspberries, blueberries and strawberries that I can get!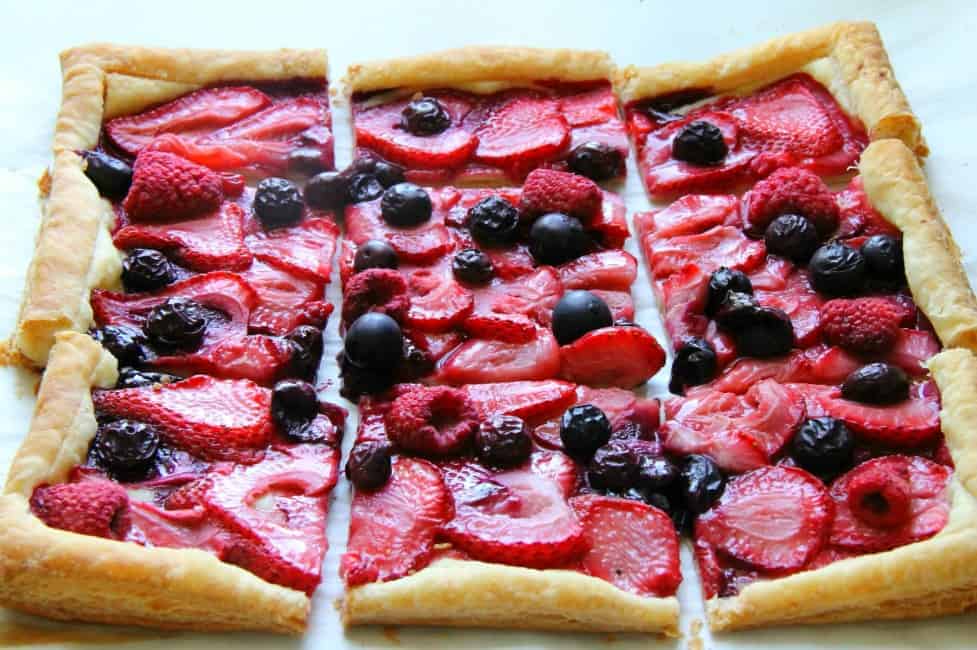 How to make this mixed berry tart?
To make this tart all you need to do is allow your puff pastry to come to room temperature. That only takes about 15 minutes.
Then you cut a line around the edge of your pastry and place the berries inside. I do this so I can have a nice pretty border when it bakes up.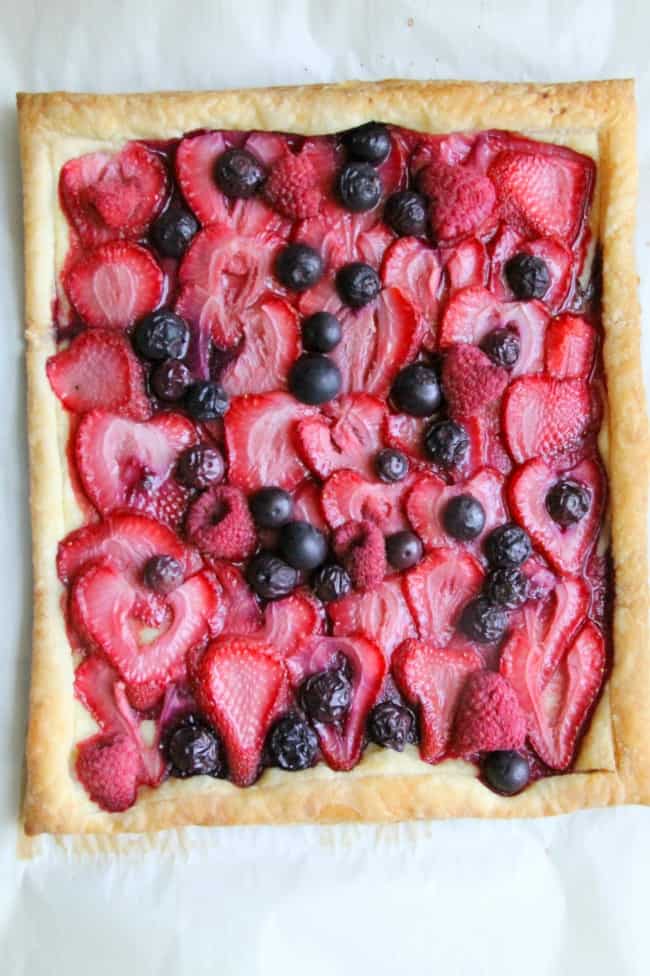 A little house update! We did finally get moved in and out of boxes within a few days after that.
We still need to get the basement finished by making it livable space, but it isn't a big deal right now because we are traveling around this summer and won't be home much!
If you are looking for more summer berry desserts with puff pastry how about this Puff Pastry Chocolate Strawberry Galette or these Strawberry Cream Puff Pastry Cups!
Want to follow along?
If you're on Facebook come check out this fun little group I've got going on. Instagram is a fun resource I'm using right now. If you make any recipes make sure to tag them #bittersideofsweetrecipes so I can see your creations!
Want to connect more with The Bitter Side of Sweet? Follow at:
Facebook | Pinterest | Instagram | Twitter
Recipes that included mixed berries!