Your Labor Day Menu should include this Mixed Berry Smore's Skillet Dip! All you need are berries, chocolate and marshmallows to get perfection.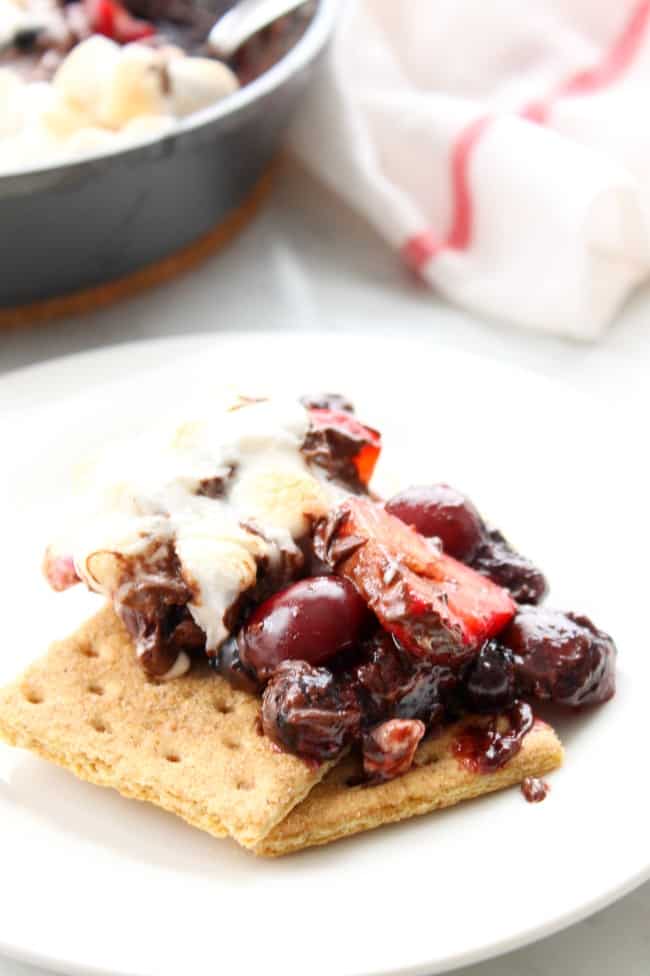 Labor day is here and I wonder, where did the summer go? It just seems like yesterday I was wading my feet in the ocean thinking I had all summer to enjoy this!
Now my family and I are in the middle of a move and the kids are just about to start school! Sometimes I wish time would slow down just a little!
So I am wondering, do you spend much time deciding what you would like to include on your Labor Day Menu? I know I do. But sometimes things do not work out as planned!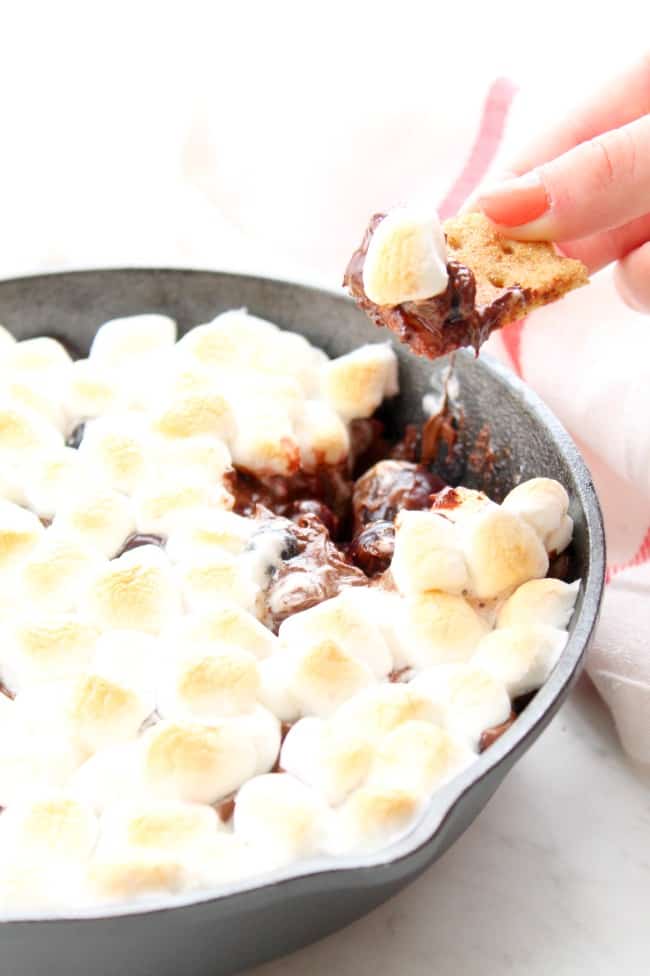 One year we ended up inviting a bunch of friends over so celebrate together! I told them do not worry about bringing anything just themselves. My daughter and I spent all day preparing food. We even cut up a watermelon and used a star cookie cutter to make cute watermelon pieces.
Well low and behold some friends thought it would be rude to show up without anything and they brought an entire watermelon.
Needless to say I kept mine in the refrigerator and served theirs because again I thought it would be rude not to serve what they had brought to share with all of the other guest.
No harm, no fowl we ended up enjoying this watermelon smoothie for at least a week after that! 🙂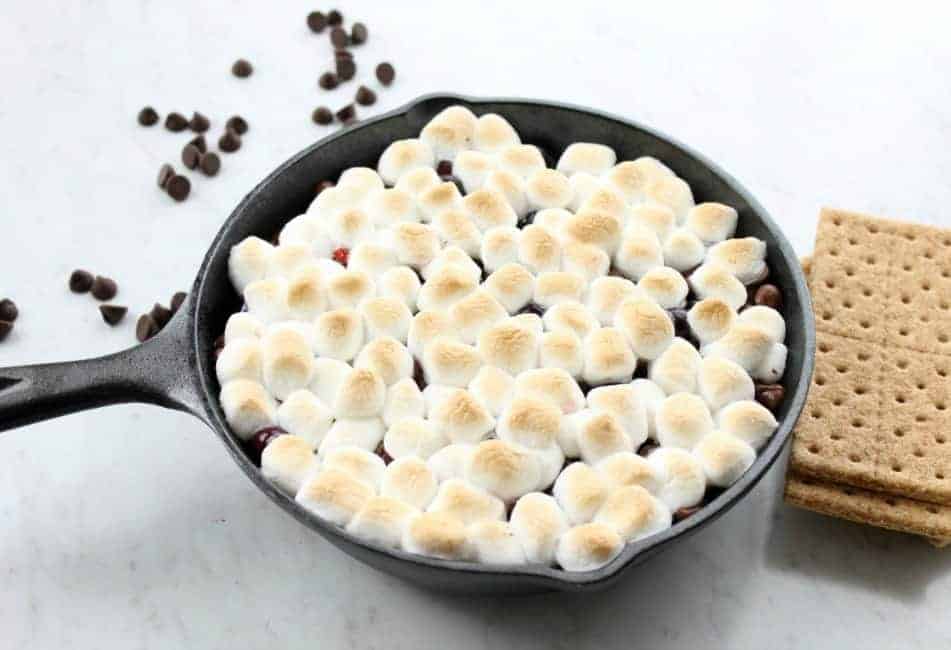 This year I am planning ahead and thinking about this Mixed Berry S'mores Skillet Dip! It was the first time I had made it but it was SO delicious! I used a very small skillet because in this dip it goes a long way!
We were able to eat off of it for a few days but if you are serving it to a crowd it would feed six adults easily! You could also adapt this and make it in a bigger skillet!
A few tips about this:
You can use what ever berries you would like but I enjoyed cherries, blueberries and strawberries!
Make sure when you place your skillet under the broiler that you watch it closely because you do not want your marshmallows burst, unless you like them that way!
After that, ENJOY!
Need more s'mores recipes? Try these s'mores pancakes and these mint chocolate frozen yogurt s'mores.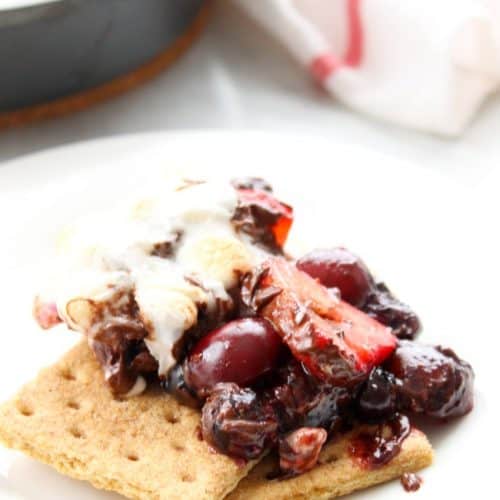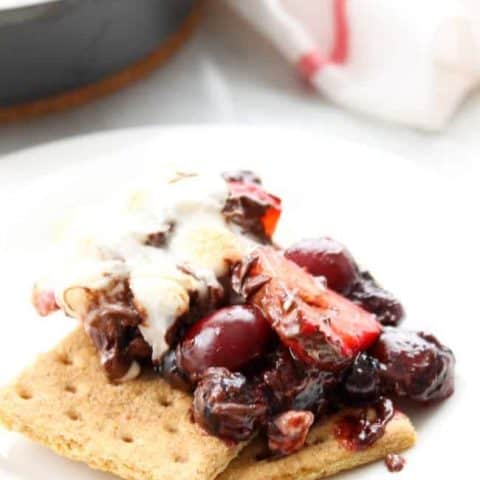 Mixed Berry Smores Skillet Dip
Ingredients
2 cups cherries, sliced
1 cup strawberries, sliced
1 cup blueberries
1 cup chocolate chips
1 1/4 cup mini marshmallows
Instructions
Preheat oven to 425 degrees F.
Using an 8 inch cast iron skillet add cherries, strawberries and blueberries.
Top with chocolate then marshmallows.
Bake for 10 minutes.
Turn on broiler and broil for 2 minutes or until marshmallows are golden brown.
Serve warm and ENJOY!
Notes
Watch carefully once you start to broil your marshmallows so you do not burn them!
WANT TO CONNECT MORE WITH THEBITTERSIDEOFSWEET? FOLLOW AT:
Facebook | Pinterest | Instagram | Twitter