This ooey, gooey Easy Pepperoni Pizza Dip will satisfy any afternoon craving! Once you try this it will be a family favorite!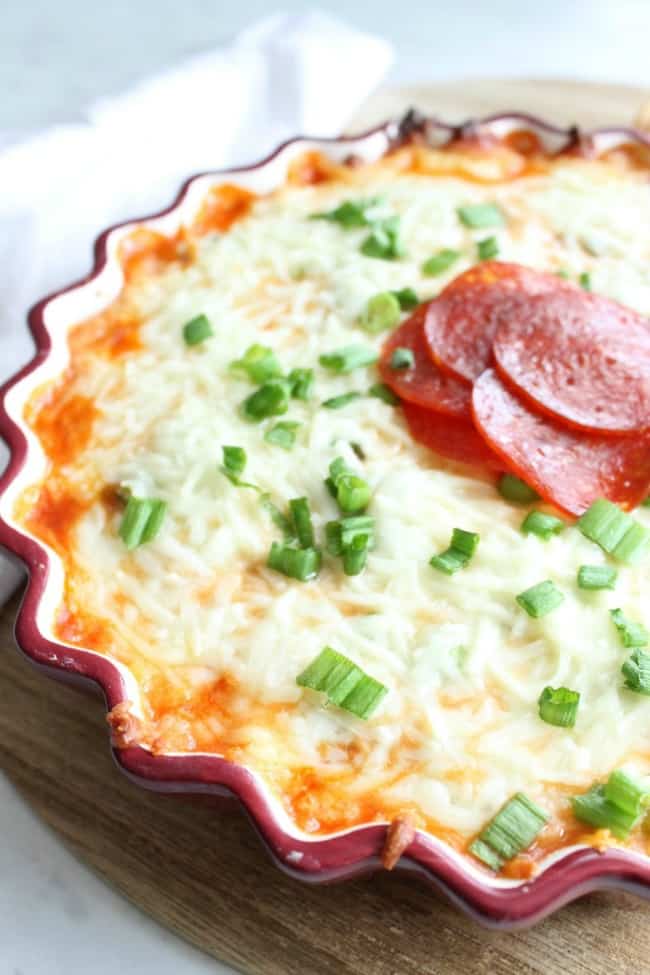 Can you believe most of us are headed back to school? I can not! Where did the summer go??? To me, it seems like every year the summer goes quicker and quicker. I think it is because our family stays so busy that we do not get the chance to just sit back and enjoy it as we would like!
Well now that it is back to school it is time to start thinking about how to feed those hungry kiddos. That can be an adventure in itself! I know my kids are always looking for something to satisfy them as soon as they come through the front door.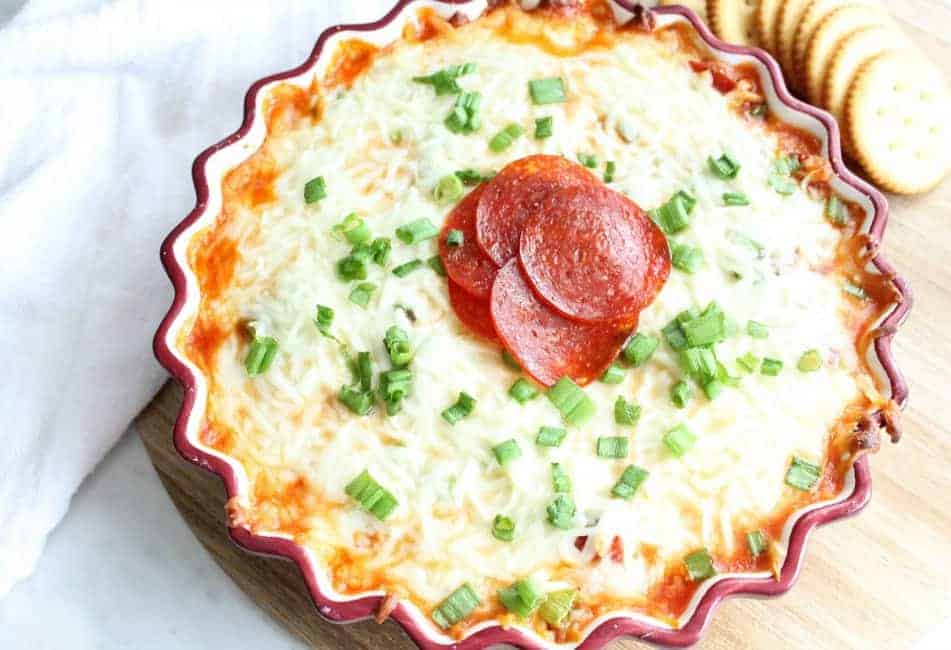 There are time where I am at a loss on what to feed them. This Easy Pepperoni Pizza Dip will definitely do the trick! When I made it for my kids it actually lasted about two days which was great, because on day 2 I didn't have to come up with what else to feed to them. I simply needed to reheat the dip and it was ready to go! How great is that? This dip will also be a hit for sleepovers, so if you've been looking for sleepover food ideas, definitely keep this easy recipe in mind!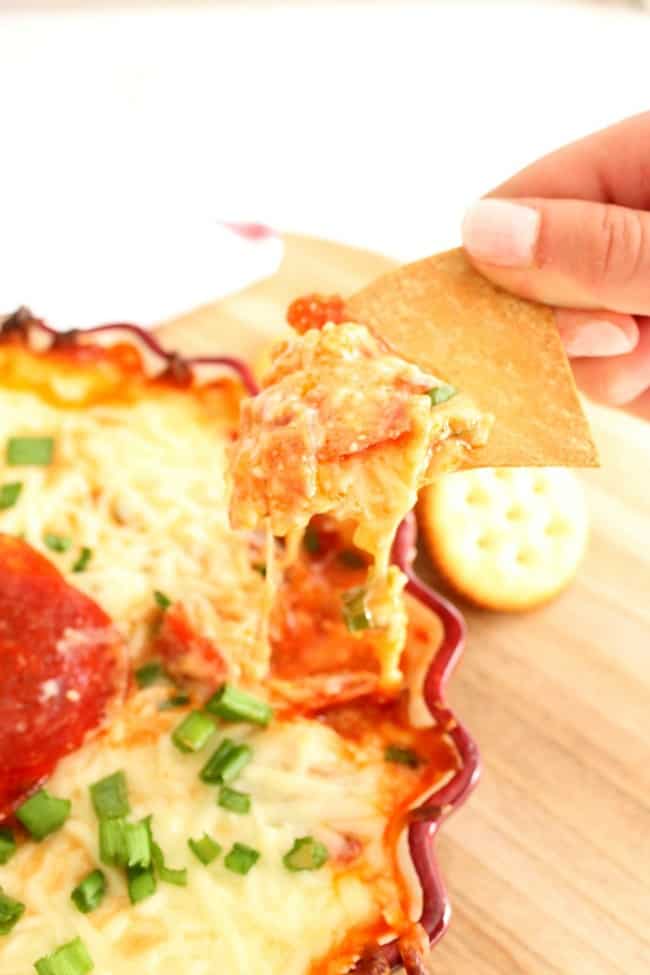 If you are not big on pepperoni pizza how about trying this cuban sandwich dip or hot crab dip for an easy after school snack idea! Both equally good and delicious!
When making this Easy Pepperoni Pizza Dip you only need a few ingredients! At first I thought my dish was too small for the ingredients. I was afraid I would have a mess in my oven when it was finished cooking but boy was I wrong!
Easy Pepperoni Pizza Dip Tips:
make sure your cream cheese is room temperature. It can be tricky spreading it over your dish if it is still cold.
make sure you have a full cup of chopped pepperoni. You really want to get the full flavor in each bite!
make sure you spread your tomato sauce evenly over your cream cheese.
you really can add as much green onion as you would like! I ended up just chopping up a lot more and topping it on the final product.
you can definitely serve this with anything you'd like. I used homemade tortillas chips, crackers and celery. (All equally good!)
Looking for more snacks: Head on over to check out these Pepperoni Pizza Pinwheels and for something sweet, Nutella Marshmallow Popcorn! ENJOY!
WANT TO CONNECT MORE WITH THEBITTERSIDEOFSWEET? FOLLOW AT:
Facebook | Pinterest | Instagram | Twitter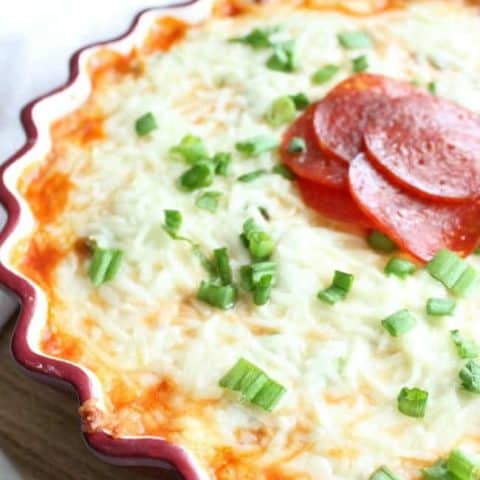 Easy Pepperoni Pizza Dip
Ingredients
8 oz package cream cheese
1 cup pepperoni, chopped
1 cup tomato sauce
4 green onions, chopped
8 oz shredded whole milk mozzarella cheese
Garnish with additional pepperoni and green onions
Instructions
Let cream cheese sit at room temperature for approximately an hour or until soft.
Set aside 5 whole pieces of pepperoni and a teaspoon of chopped green onions
Preheat oven to 350°.
Spread cream cheese evenly in a pie or quiche dish.
Sprinkle the pepperoni evenly over the cream cheese.
Pour the tomato sauce over the pepperoni and use spoon to make sure it is spread over the entire dish.
Sprinkle the green onions over the tomato sauce
Sprinkle the mozzarella cheese evenly over the top
Garnish with whole pepperoni and green onions if desired
Bake for approximately 30 minutes or until the cheese on top is bubbling and slightly brown.
Serve with crackers, tortilla chips or pita chips and Enjoy!
Notes
Recipe originally appeared on https://sundaysuppermovement.com/easy-pepperoni-pizza-dip/

This post was posted originally on Sunday Supper Movement where I am a contributor!