What a great way to start off the weekend with these Cotton Candy Funfetti Cupcakes!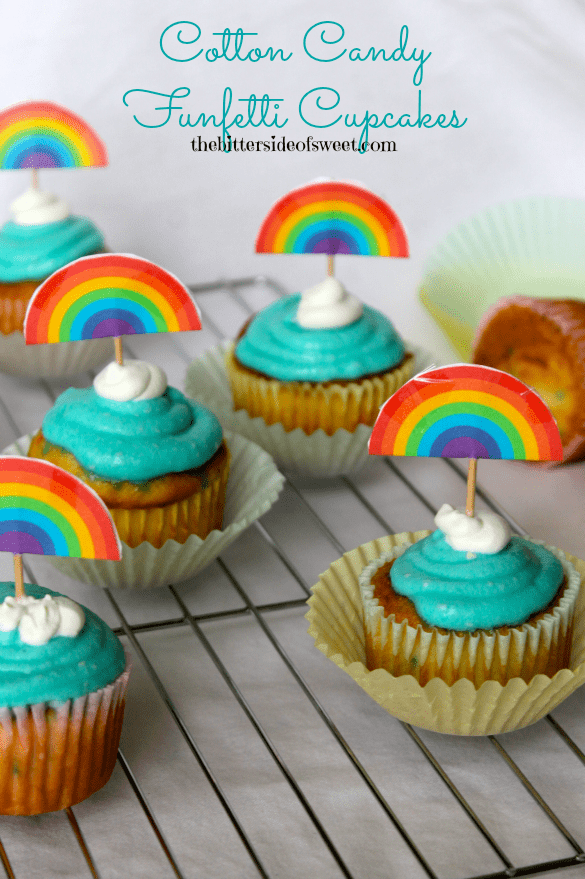 To finish off the week and because it is FRIDAY I wanted to share with you the star of my daughter's birthday last week. These cupcakes. I am pretty sure she had no idea that this was what I was going to be making for her. When she saw them she literally was speachless. And let me tell you that is no small feat.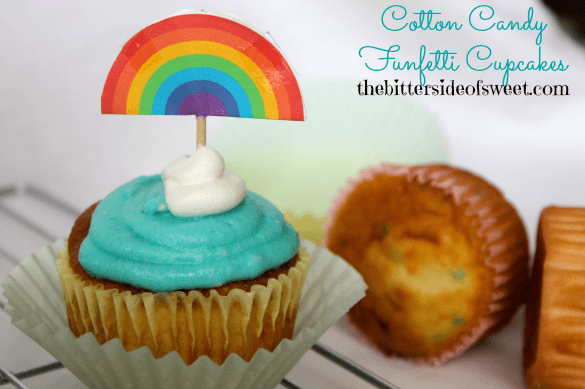 As I told you last Friday we like to have rainbow treats on Fridays to start the weekend off on a happy note. The kids look forward to coming home and seeing what I have made up for them. So when I realized my daughters birthday landed on a Friday I knew rainbows would be involved.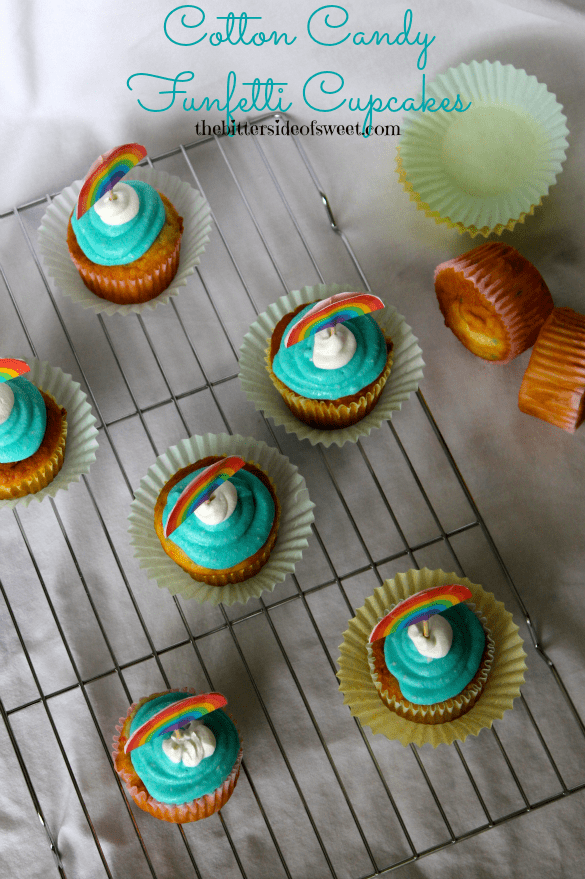 I made these pretty much how I normally do. Cake mix, some added ingredients, icing, flavoring. See easy peasy! What I will tell you is that I experimented with the Duncan Hines Frosting Creations Flavor Mixes for icing. Don't add  it to cool whip or homemade whipped topping. Trust me, it is not good.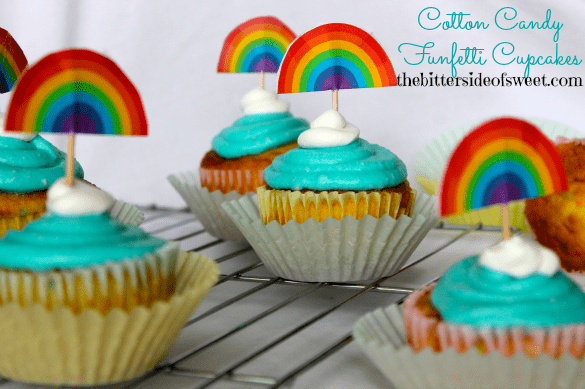 I wanted the icing to look like the sky. I wanted it too look puffy and light. Well adding the cotton candy flavor to cool whip and whipped icing made it taste bitter and just gross. Not what I was looking for when it comes to serving these for a kids party. So I pulled out my trusty icing recipe and went for it. Then I added a dollop (try explaining to kids what a dollop means, FUN FUN FUN) of cool whip to have a cloud on top before inserting the rainbow cupcake topper. The toppers are exactly what I did with the Soccer Cupcake Toppers but I just cut out rainbows from here instead of soccer balls. Folded in half. Taped it and inserted the tooth pick directly in the middle. I am so loving the homemade cupcake toppers!! ENJOY!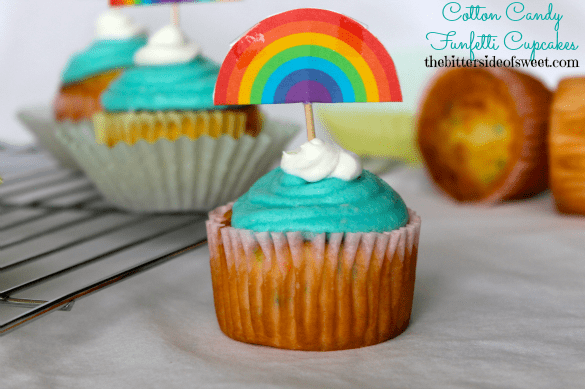 This recipe is linked at these sites!
Want to connect more with TheBitterSideofSweet? Follow at:
Facebook | Bloglovin | Pinterest | Instagram | Google+
Cotton Candy Funfetti Cupcakes
Ingredients
FOR THE CAKE:
1 funfetti cake mix
2 eggs
1 cup water
1/4 cup oil
1 cup greek yogurt plain, I use Chobani
FOR THE ICING:
6 oz. cream cheese, slightly chilled
2 tablespoons unsalted butter, room temperature
2 cups powdered sugar
1 Duncan Hines Frosting Creations Cotton Candy Flavor Mix
Instructions
FOR THE CAKE:
Preheat oven to 350. Prepare 2- 12 cup muffin tins by lining with cupcake liners.
In mixer add cake mix, eggs, water, oil and greek yogurt.
Mix till completely combined.
Fill liners 2/3 of the way full.
Bake for 18 minutes or until tooth pick inserted comes out clean.
Cool
FOR ICING:
Mix butter and cream cheese together.
Add powdered sugar and milk.
Mix in Cotton Candy Flavor Mix
Pipe onto cooled cupcakes.
ENJOY!!
Want more cupcakes? Here you go!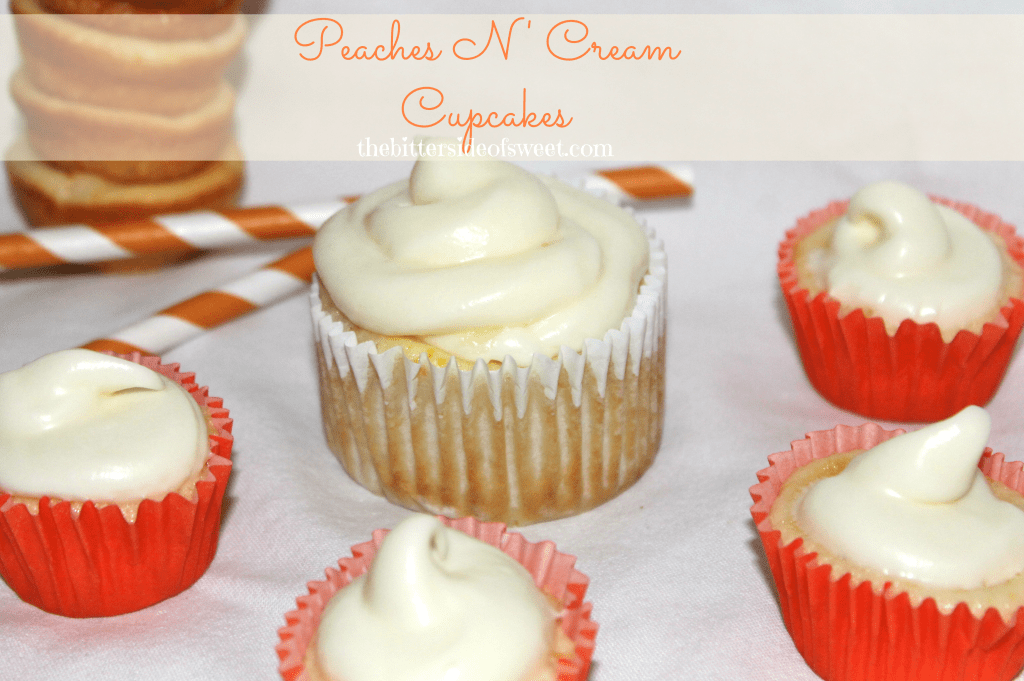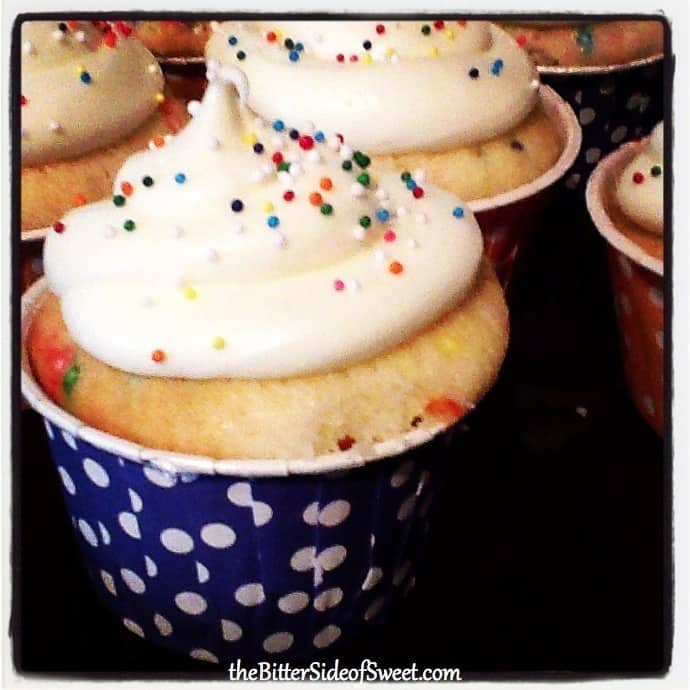 Strawberry Chocolate Malt Cupcakes