Chocolate Covered Cherry Thumbprint Cookies takes an old fashioned candy and combines with a simple cookie recipe! This makes for a fun delicious holiday treat!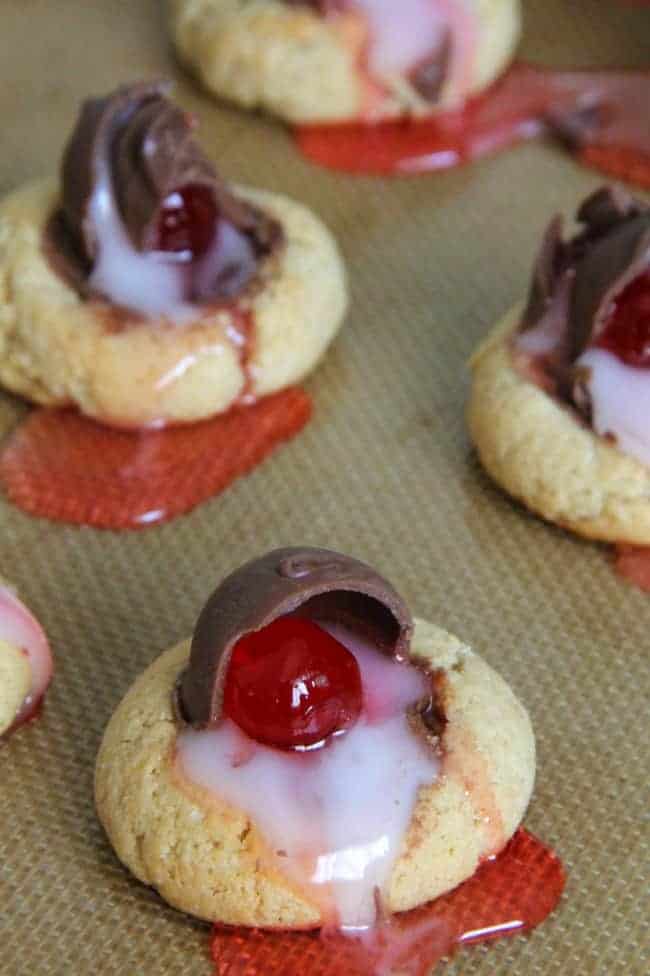 Click here to save this recipe on Pinterest!
I swear these cookies are not a hot mess! Really, they may look like it but they are in fact so delicious!!!
I don't know about you but I love chocolate covered cherries! My girls think they taste like cough medicine but I think they are just not fully able to capture the deliciousness of this candy!
What I didn't know was that you can find the candy either in milk chocolate or dark chocolate and so now I can't decided which one is my favorite?!!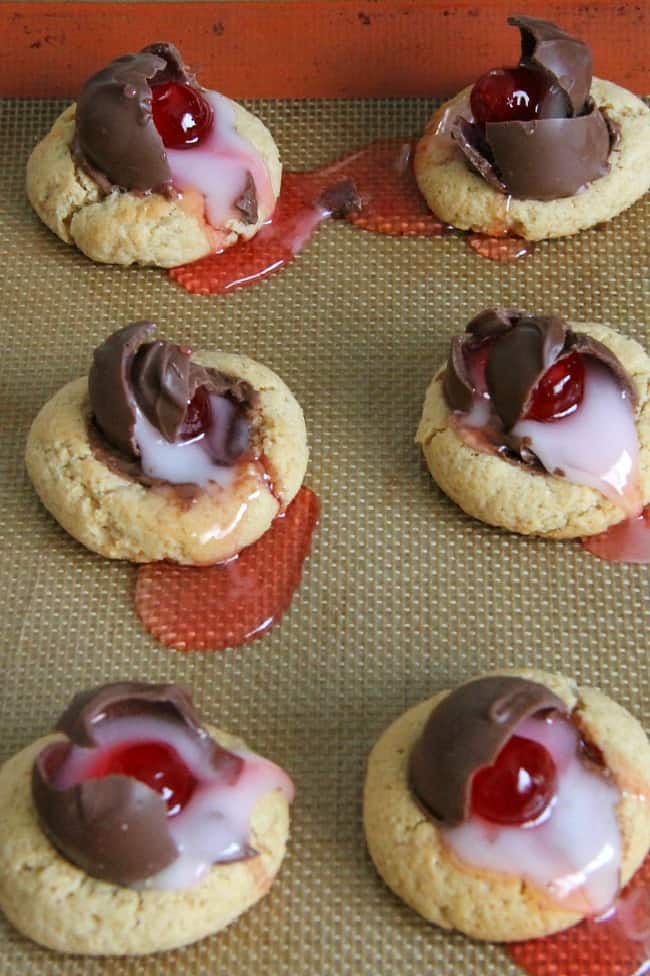 How to make these cookies:
So making these cookies are pretty simple. I cut my chocolate peppermint thumbprint cookie recipe in half to make a smaller batch but you could definitely double it!
I added greek yogurt to the cookie recipe but you could use regular yogurt or sour cream.
It was by accident that I broke the centers of these and I am so glad I did! They looked a little boring before I did it.
Allow the cookies to sit on your parchment paper until the filling stops to flow. They can be a little messy.
Make sure to space your cookies out far enough apart so the filling doesn't run into the other cookies
You can flash freeze the cookies to stop the centers from flowing.
You can use this recipe to make these raspberry chocolate thumbprint cookies!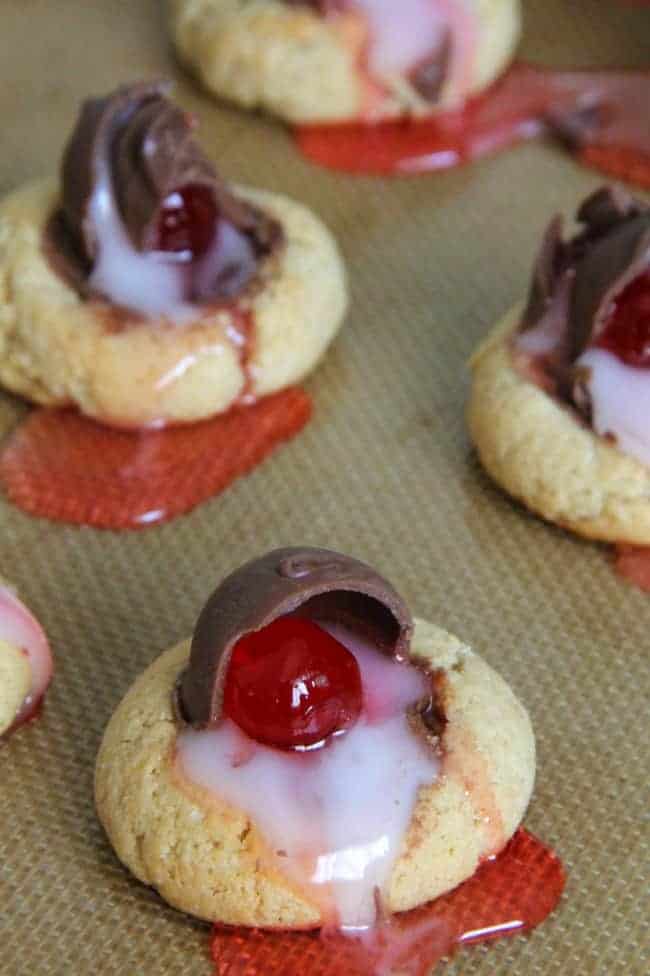 If you're on Facebook come check out this fun little group I've got going on. Instagram is a fun resource I'm using right now. If you make an recipes make sure to tag them #bittersideofsweetrecipes so I can see your creations!
Want to connect more with The Bitter Side of Sweet? Follow at:
Facebook | Pinterest | Instagram | Twitter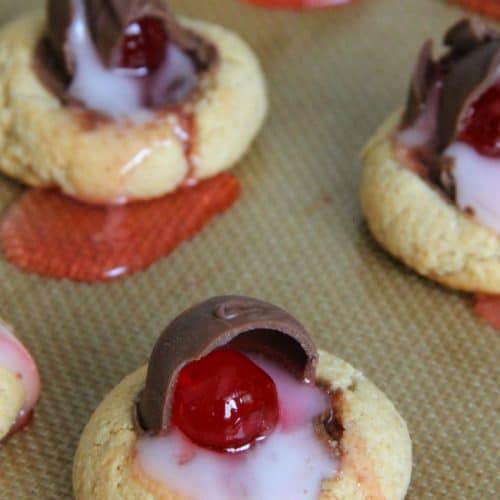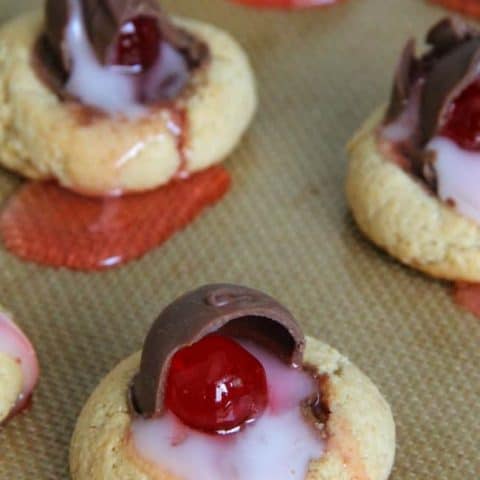 Chocolate Covered Cherry Thumbprint Cookies
Ingredients
1/2 stick butter , room temperature
1/4 cup greek yogurt
1/2 cup sugar
1 egg
1/2 tsp vanilla extract
1 2/3 cups white whole wheat flour
1/2 tsp baking powder
20 chocolate covered cherries
Instructions
Preheat oven to 375 ℉. Line baking sheet with parchment paper. Set aside
In large bowl add butter, sugar, yogurt and cookie butter. Mix until completely incorporated.
Add in egg and extra and continue to mix until incorporated.
Slowly mix in flour and baking powder until dough comes together
Using a 1 inch cookie scoop, scoop mixture out in balls and place on baking sheet. Roll each ball until smooth. Place a small thumbprint into the center of each ball.
Bake for 8-10 minutes or until golden brown
When done remove and wait 2 minutes. Press chocolate covered cherry into the center of each cookie.
Allow to cool for 5 minutes. Break the center of each chocolate covered cherry.
Serve and ENJOY!
Recommended Products
As an Amazon Associate and member of other affiliate programs, I earn from qualifying purchases.