Mint Chocolate Cinnamon Sticks are an easy sweet treat. The chocolate mint combo in buttery puff pastry is the perfect combination!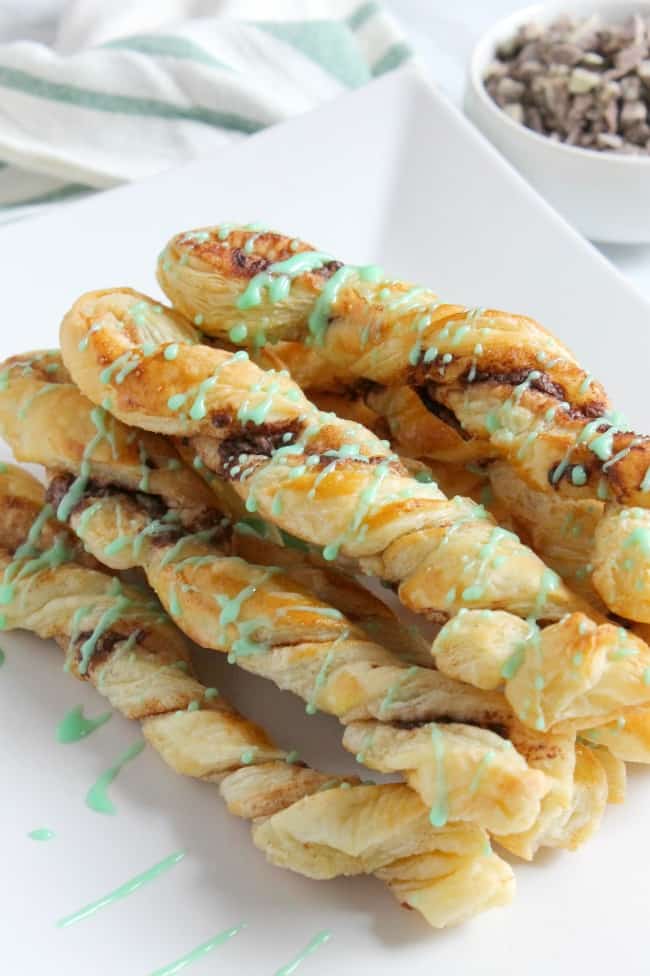 Do you ever have a day where you just want to eat chocolate and binge watch Netflix all day long? Well I had a week like that! These Mint Chocolate Cinnamon Sticks were a precursor to a bad week for me. Let me explain.
First, we had a massive snowfall so there was a lot of shoveling going on. I would not of mind a cup of this Pumpkin Cinnamon Hot Chocolate because I kind of threw out my back and it has just gotten worse as the week went on. I didn't really have time to stop and allow my back to heal which was not good.
Second, while I was taking pictures of this Broccoli and Pork Stir Fry my camera lens decided to malfunction which resulted in me having to buy a new lens. I have been without a camera for almost a week now and my stress level is beyond anything! Which leads me back to why my back can't heal!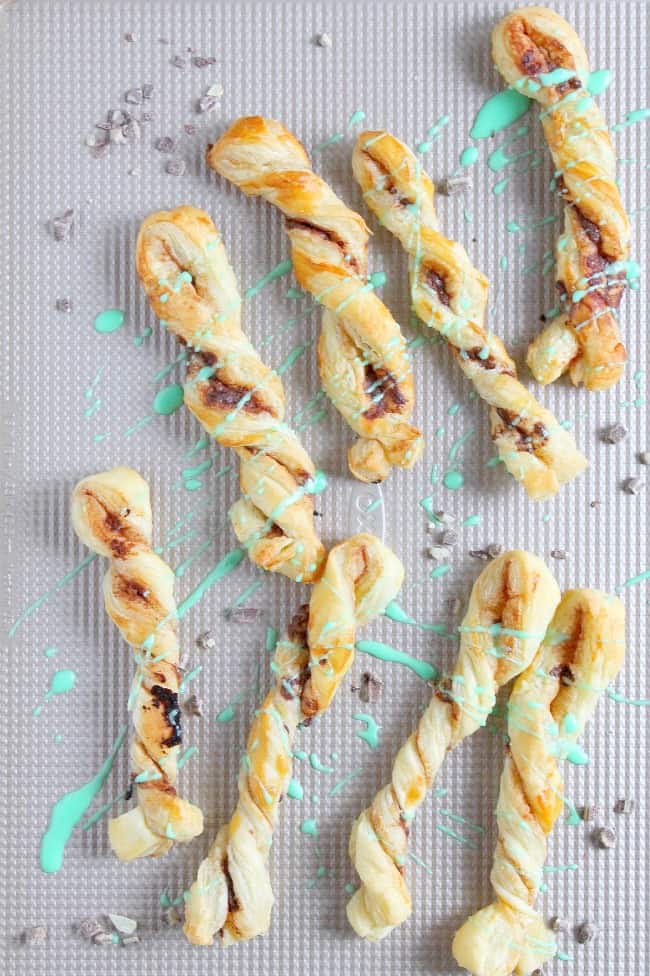 Third I made these about 4 times in 3 days because I was not convinced I had them right and perfect enough to share them with you!
The main problem I was having with these sticks was that the mint chocolate chips that I was using was burning on the bottom of my pan. The sticks weren't burnt but it was the chocolate that was melting out of the sticks that would burn.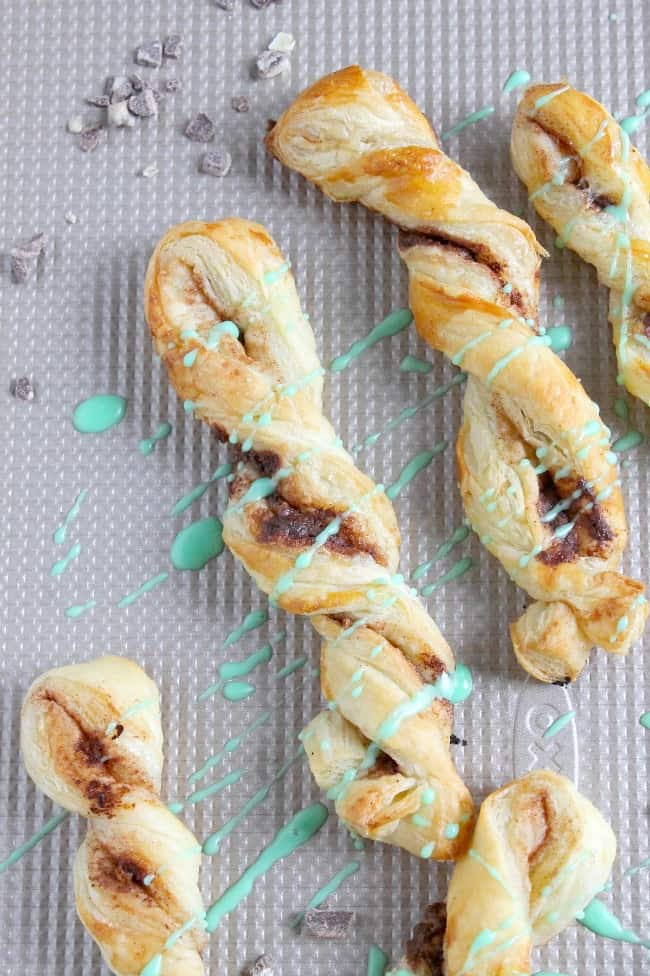 I really didn't like the way it looks on my sheet pan so I tried again and again. After the first time I made them I couldn't get my sticks to twist the way I wanted them too. I think that was because my pastry was too warm. Nevertheless I got them to work the way I wanted them too and I think you are going to LOVE! ENJOY!
WANT TO CONNECT MORE WITH THEBITTERSIDEOFSWEET? FOLLOW AT:
Facebook | Pinterest | Instagram | Twitter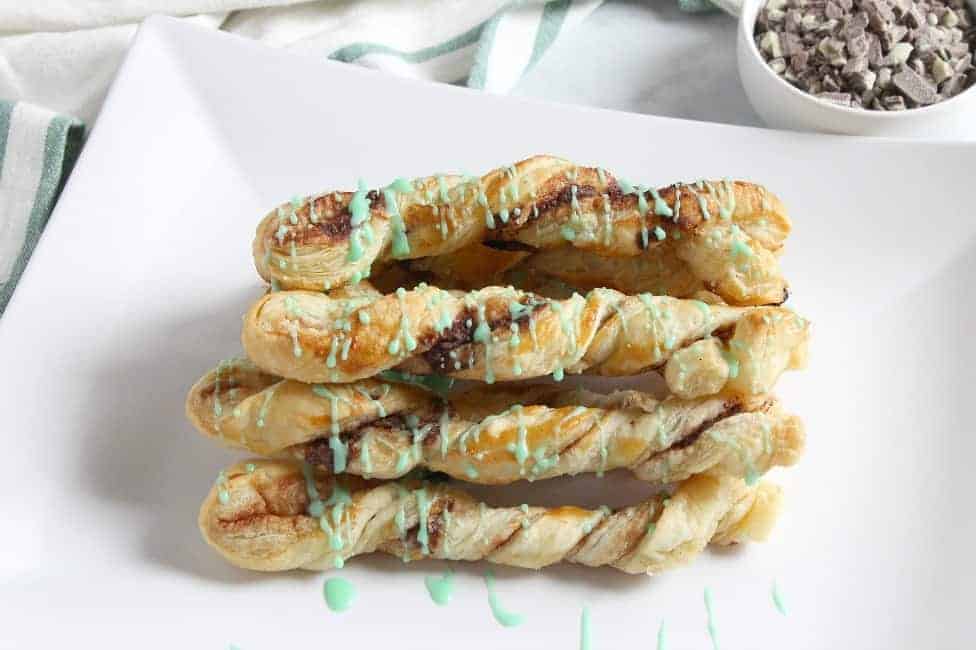 A few tips on getting these to come out correctly:
Make sure your dough has only defrosted for about 20 minutes. Any more than that it is too warm and you will end up with your twist come undone in the oven.
Make sure you press the mint chocolate chips into the pastry before you fold and twist. It helps keep it inside and not spilling out to melt onto your pan.
Don't skip the step of brushing them with the egg. This helps keep your twist in place and gives them a nice golden look to them.
Looking for more mint chocolate chip recipes? Try these Mint Chocolate Donut Holes!