Nothing screams the holidays then peppermint and chocolate. So let's all yell together on the count of 3. 1….2…..3…..Peppermint Oreo Chocolate Pudding! I know funny, haha but really that is how excited I am about sharing this with you today.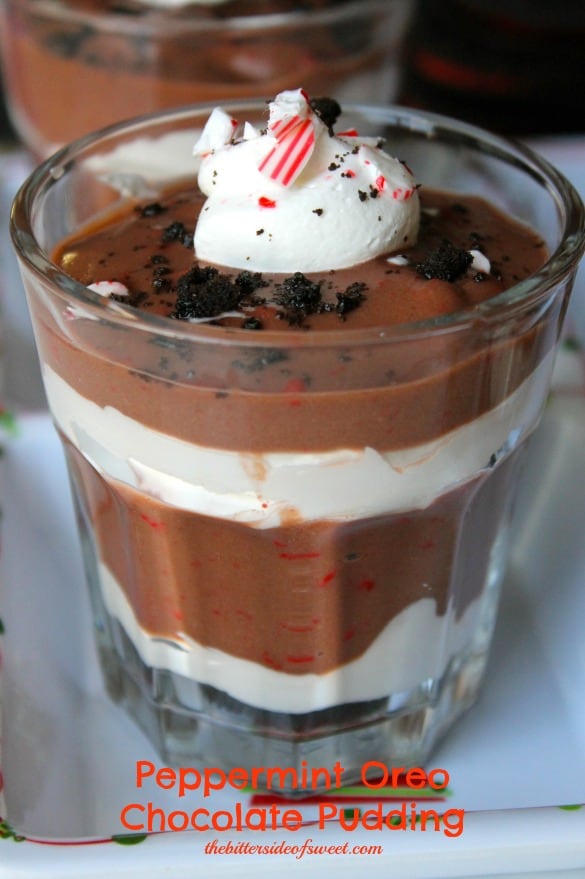 So back in June I made a similar version of this with the birthday cake oreos. I thought the pictures were okay. Didn't really think it was one of my best recipes but it was super easy to make. Well apparently other people have thought otherwise because it is my overall best pinned photo. If you haven't checked it out, you must. Seriously, go on, I'll wait for you to come back!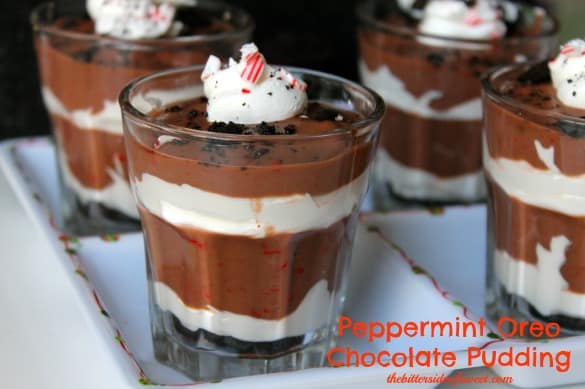 Okay now that you are back, let's talk peppermint and chocolate. I am obsessed. I know you are probably tired of hearing me say that but it is try. I will find  an ingredient or two and eat or bake with nothing else for like two weeks or longer and then move on to something else to be obsessed about. Well I am going on a month with these Oreos. They are a limited edition so I have to get them while I can! I just love how festive they are! And this pudding. Let me tell you it is super easy. All you need to do is make the pudding. Scrap the cream out of the oreos, whisk it into the pudding and there you go. Now I wanted to take it  a step further and try and make them look pretty, so I layered them into glasses with layers of cookies, whip cream and pudding. Of course that is optional but I say it is worth it! ENJOY!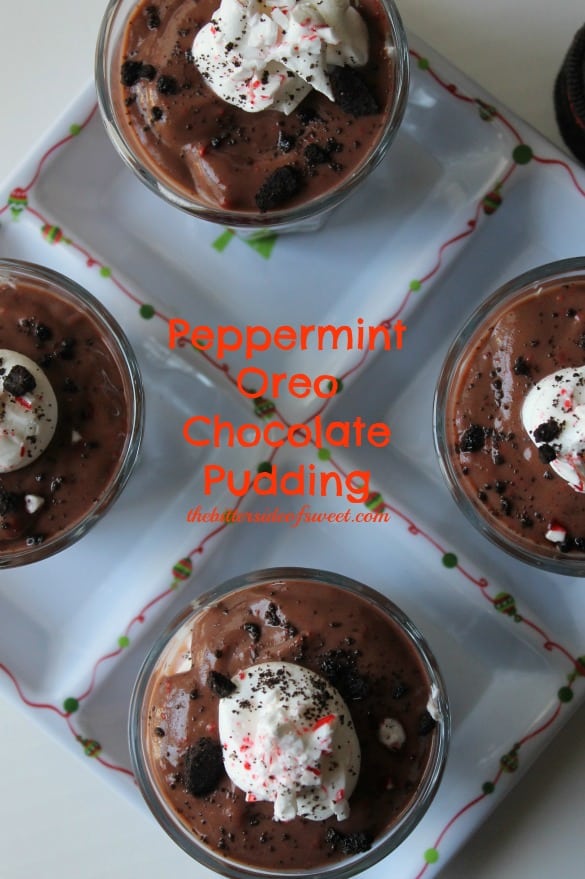 Want to connect more with TheBitterSideofSweet? Follow at:
Facebook | Bloglovin | Pinterest | Instagram | Google+ | Twitter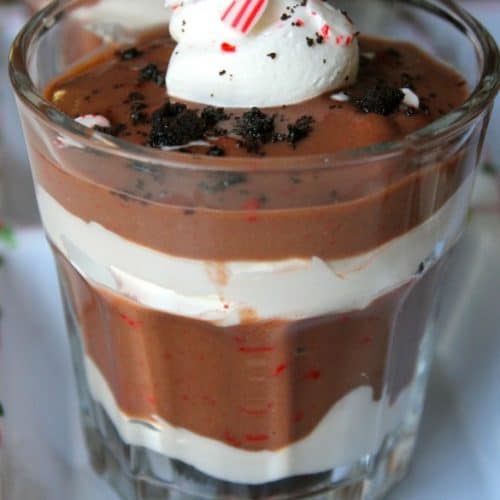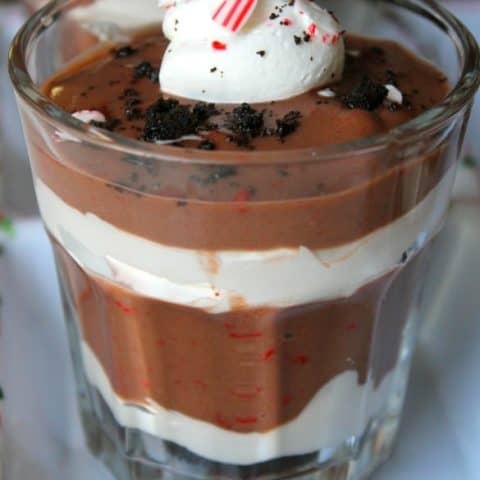 Peppermint Oreo Chocolate Pudding
Festive chocolate pudding with peppermint flavor.
Ingredients
1 3.5 oz box of instant chocolate pudding
3 cups milk
15 Peppermint Oreos
Instructions
Prepare 4- 1 cup serving dishes.
In a small bowl separate the cream from the Oreos by scraping the cream into the bowl. Set aside the cookies (there will be 30 single cookies left).
In a large bowl add the pudding and milk. Whisk together till there are no more lumps.
Combine the cream to the pudding mix and whisk till smooth.
Pour into serving dishes.
Rest in refrigerator for 10 minutes.
Serve and ENJOY!
Notes
If you want to make a layered dish, these are the directions. Place a single cookie in the bottom of your cup. Add 1 tablespoon of cool whip. 2 tablespoons of pudding. Repeat steps. Sprinkle with crushed candy canes and oreo cookies. Dollop with cool whip.
Want more pudding? Here you go!
Pumpkin Spice Pecan Pudding Cookies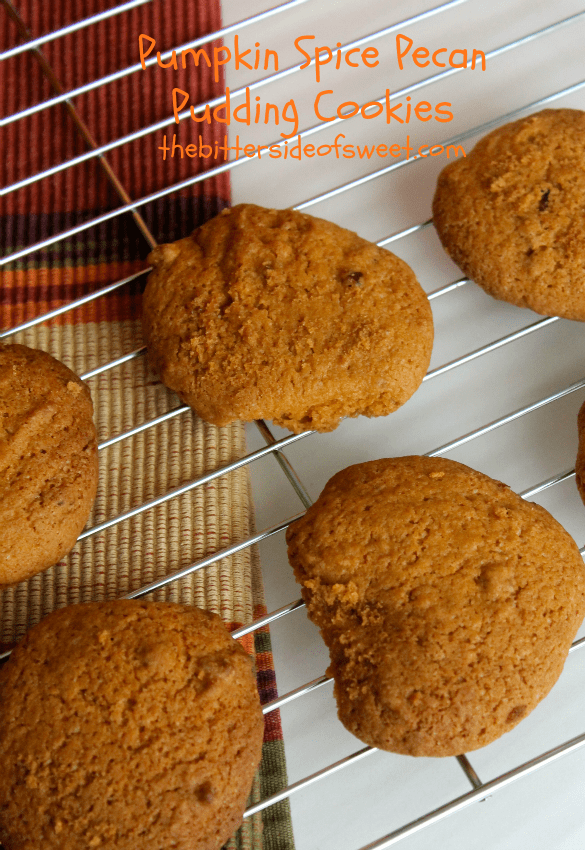 Birthday Cake Oreo Vanilla Pudding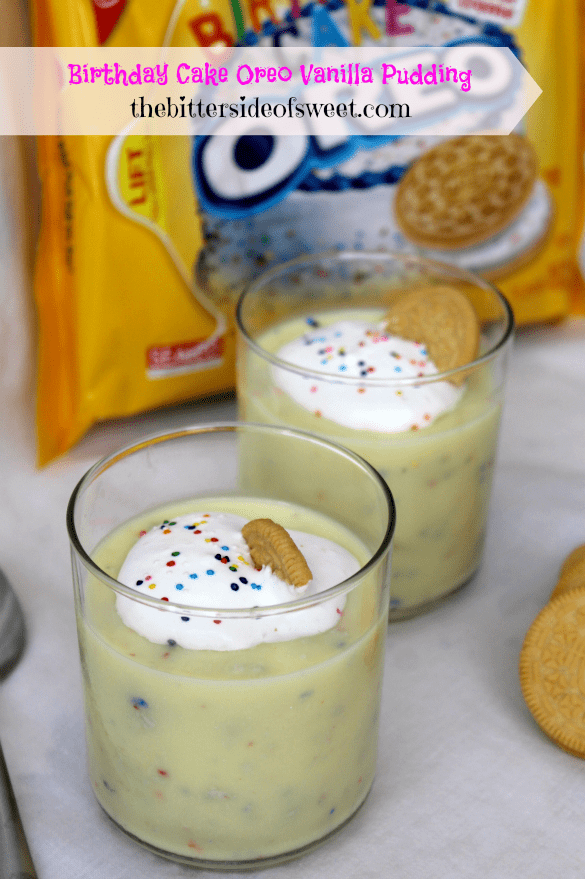 Butterscotch Chocolate Chip Cookies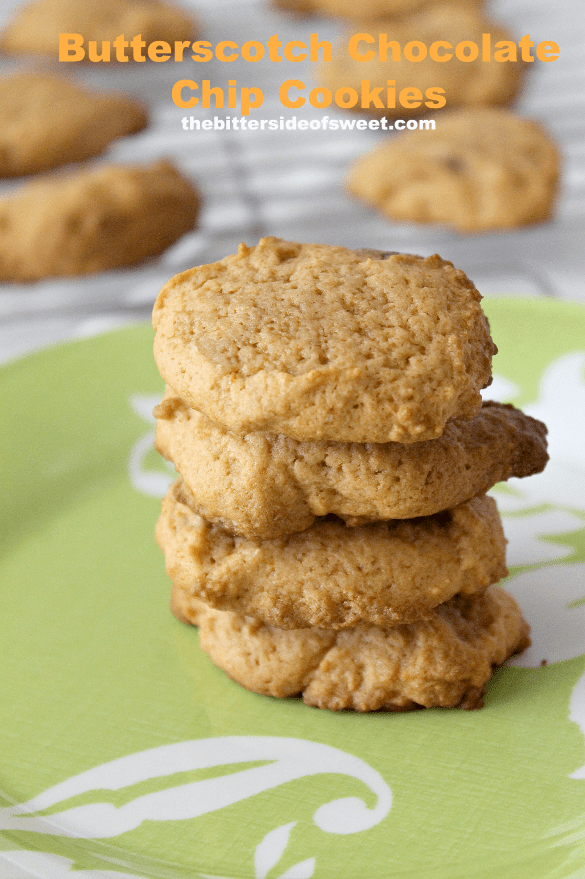 this recipe may be linked at these sites!