Mint Peach Tarts are ready in 15 minutes and you only need four ingredients to make them!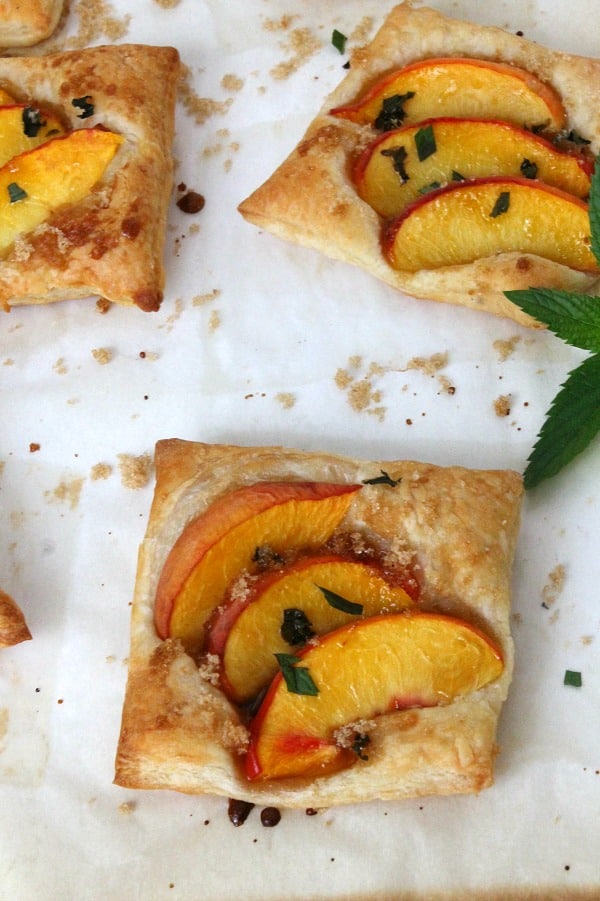 Do you subscribe to magazines? I have a few of them but sometimes they just pile up and I don't get the time to actually look through them.
Well when the new Southern Living came out for July I made some time to just sit down and look through it. Something in there sparked my eye immediately.
It was puff pastry tarts. Puff pastry fascinates me. Maybe it is because it is one of those ingredients that I rarely use because of the cost. Maybe because it has little layers upon layer of flakey goodness. Either way I know I am missing out.
So when I saw this recipe for their nectarine tarts, I knew I needed to make my own. But this summer there is only four in the house because everyone else is away so I knew I didn't want to use all of the pastry. So how could I make just a few tarts?
When you open the puff pastry is it is divided into three sections on each sheet. So I used 2/3rd of a sheet, which makes 6 tarts and in fact is more than enough for us 4.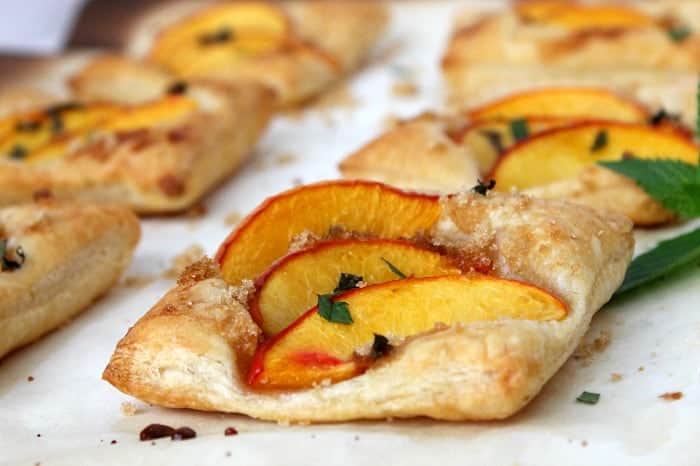 We had some local peaches that we had bought so I decided to use those. I also had some fresh mint in my garden that my neighbor had given me. I know, I know you usually see thyme paired with peaches but I wanted to use mint. I thought it would be fantastic with it, and it was! Add a little brown sugar and bingo, perfection! ENJOY!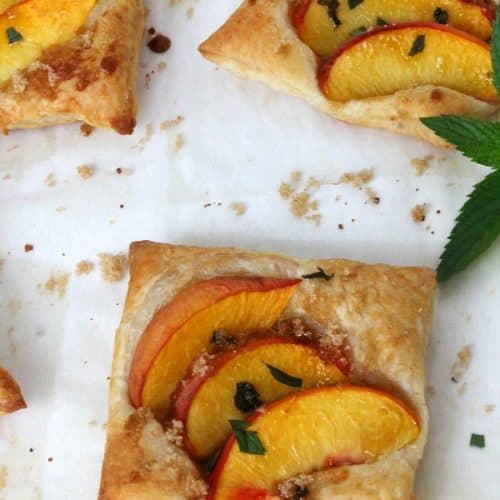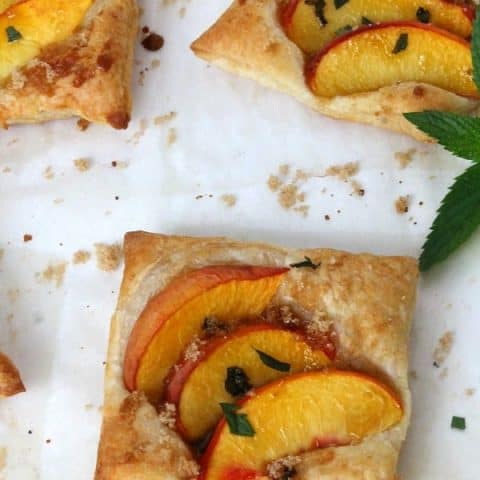 Mint Peach Tarts
Flakey sweet tarts oozing with peaches, brown sugar and mint. Baked in 15 minutes!
Ingredients
2/3 sheet of puff pastry
24 slices peaches, 2 to 3 peaches
1 ½ tablespoon brown sugar
2 teaspoons fresh mint, diced
Instructions
Preheat oven to 350 degrees.
Thaw puff pastry according to packaging. Lightly flour counter and roll out pastry with rolling pin.
Cut into 6 equal squares.
Top with 4 slices of peaches and 1 teaspoon of brown sugar on each.
Sprinkle with mint.
Cook at 350 degrees for 15 minutes. When done allow to cool for 5 minutes.
Serve and ENJOY!