Mint Chocolate Puff Pastry Tartlets are the perfect individual dessert for entertaining! The flavors of mint and chocolate pair well with a whipped cream frosting, to make this out of this world!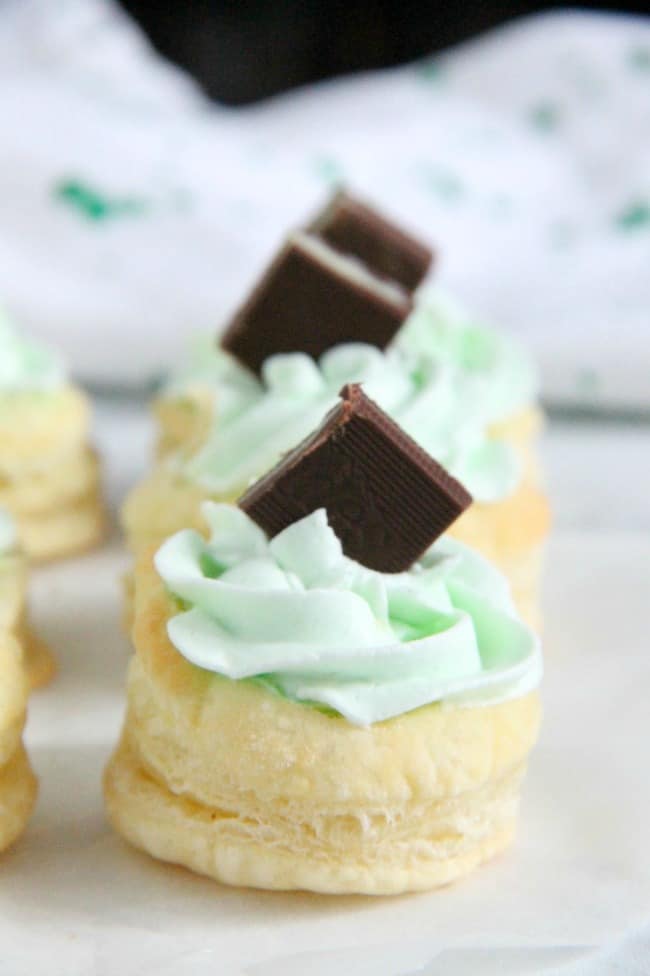 Click here to save this recipe on Pinterest!
I absolutely love making different homemade whipped cream frostings to put into or on top of my puff pastry desserts! Remember when I made these lemon raspberry cream horns or these Chocolate Amaretti Mousse Cups?
I used a basic recipe by just adding some flavor to the whipping cream. Well with these mint chocolate puff pastry tartlets I added cream cheese to the frosting and it made it so much better!
The cream cheese held the whipped cream together a lot better after I added the extract, sugar and food coloring. When I made the homemade whipped cream without the cream cheese, it didn't hold up at all. Piping it was a mess! So I needed to figure out a new plan!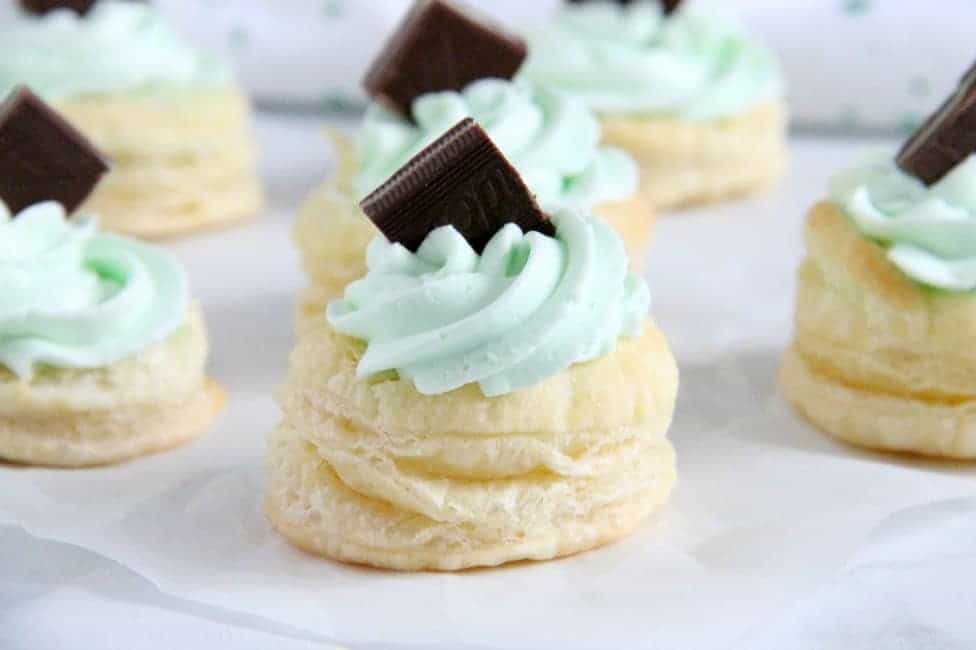 The best way to make the frosting! Make sure your mixing bowl is cold. I always add it to my refrigerator if I know I am going to try and whip up the cream. Add the beaters as well!
Make sure you add your flavoring and food coloring at the right time. If you don't it will be hard for you to get a stiff peak.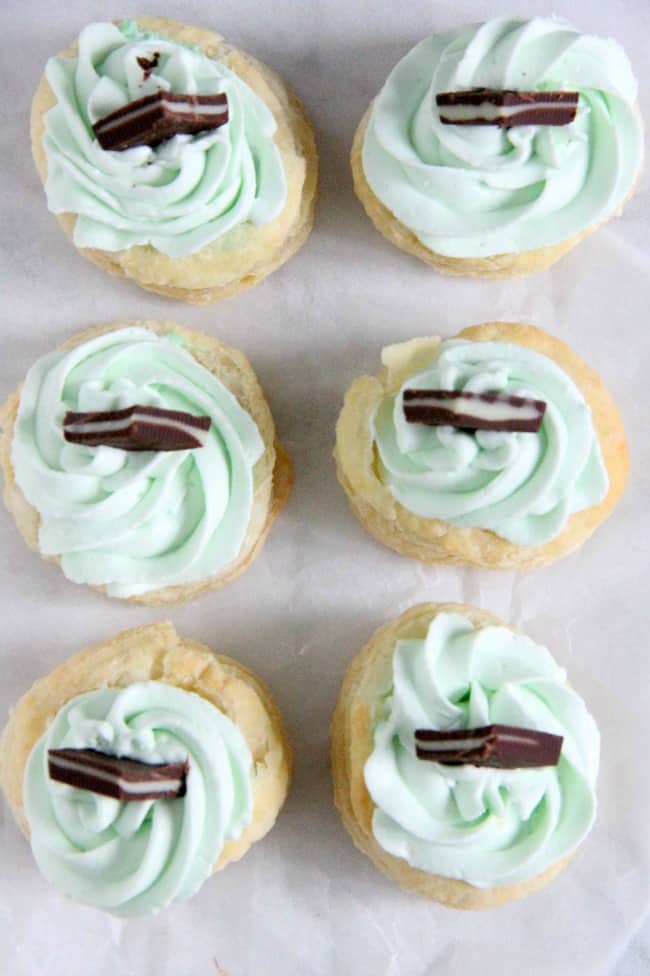 HOW TO MAKE THE TARTLETS!
How to make the tartlets? Use a 1 inch cookie cutter. This achieves you getting that individual serving. When scoring the edges make sure not to cut all of the way through the pastry. I did this once and my pastry came out of the oven in two parts instead of one.
You could buy the puff pastry cups to make this recipe but again I wanted a small dessert so I opted to make my own!
If you are looking for more puff pastry recipe that have whipped cream frostings in them I have a few to recommend! These pumpkin cream horns are super popular right now. You may also like these chocolate covered strawberry tarts. ENJOY!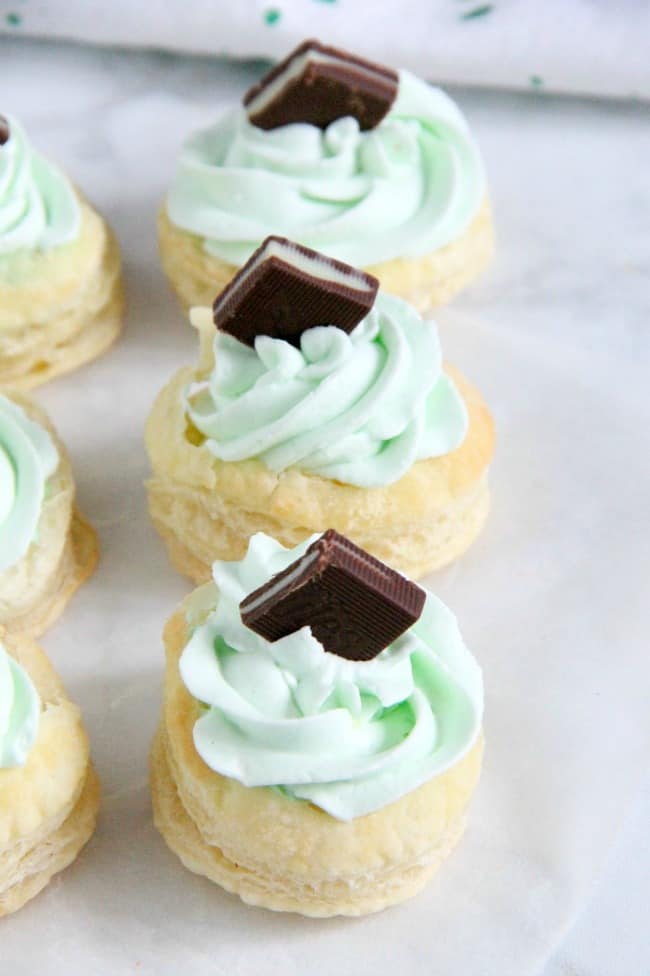 If you're on Facebook come check out this fun little group I've got going on. Instagram is a fun resource I'm using right now. If you make an recipes make sure to tag them #bittersideofsweetrecipes so I can see your creations!
Want to connect more with The Bitter Side of Sweet? Follow at:
Facebook | Pinterest | Instagram | Twitter