Dinner has never tasted so good especially when you are adding pineapple to it! Ham and Pineapple Pasta Bake will not disappoint.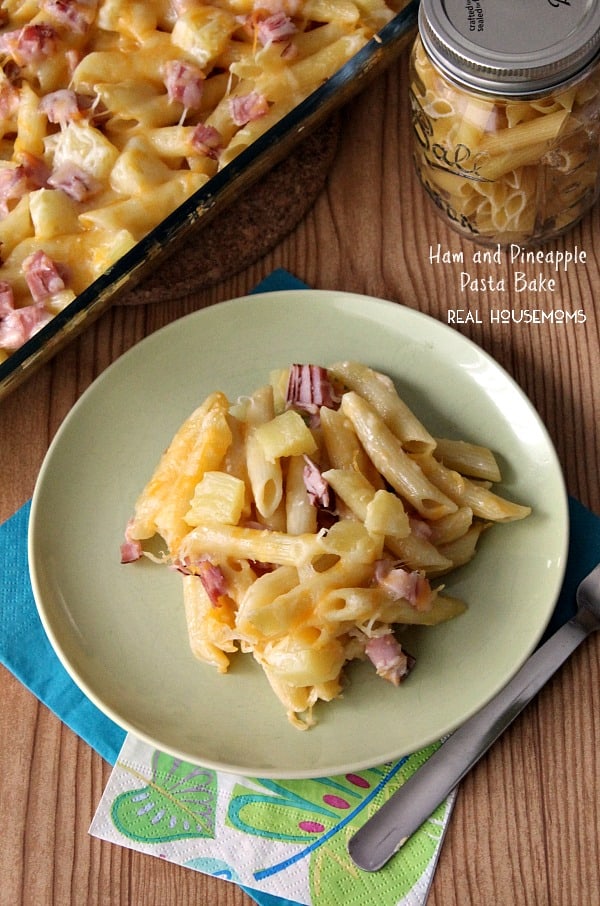 Tell me who here even know what a pasta bake is? Hands, do I see any hands? No okay, so let's talk about it. Basically you are doing all of the steps it takes to make pasta. You boil your pasta and you make your sauce, then you combined it.
The next step is add a bunch of cheese. Seriously, go all out. I always arrange mine as if it were a lasagna. Which is something I have not made in about 15 years but that is a different story for a different day.
Anyways, once you get it all together you are going to bake it. Now I know what you are thinking. Why on earth would I spend that much time cooking pasta and the sauce and then I bake it. Well the answer is I don't really know. BUT I think you would enjoy it.
I really do. No seriously I really do. For me it takes pasta that my family eats all the time like this kale pasta or this pasta and it turns it into a whole new dish. It keeps the family out of those dinner blues and it keeps me feeling like I have succeeded in making a fabulous dinner. See what I mean? Okay well then go ahead! Give it a try!
You can find the recipe for this Ham and Pineapple Pasta Bake over on Real Housemoms today! ENJOY!