Homemade Christmas Tree Cupcakes that are moist and fluffy! Topped with a festive buttercream frosting! Perfect for the holidays!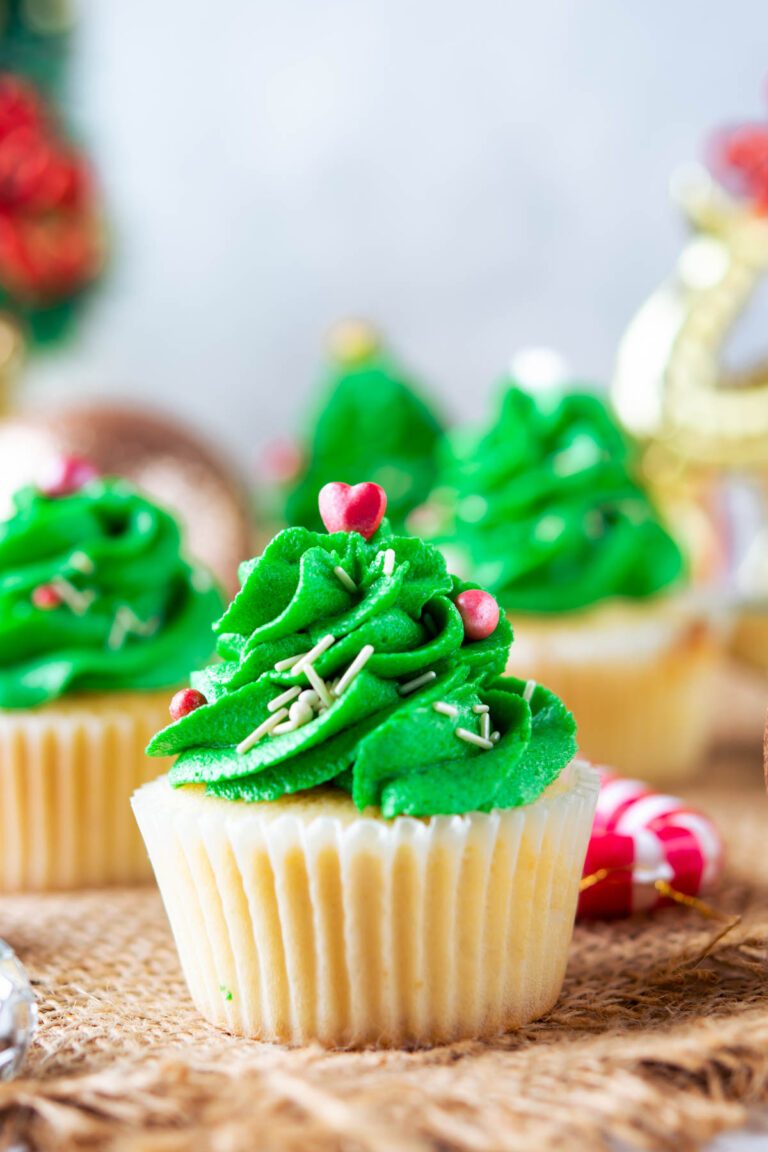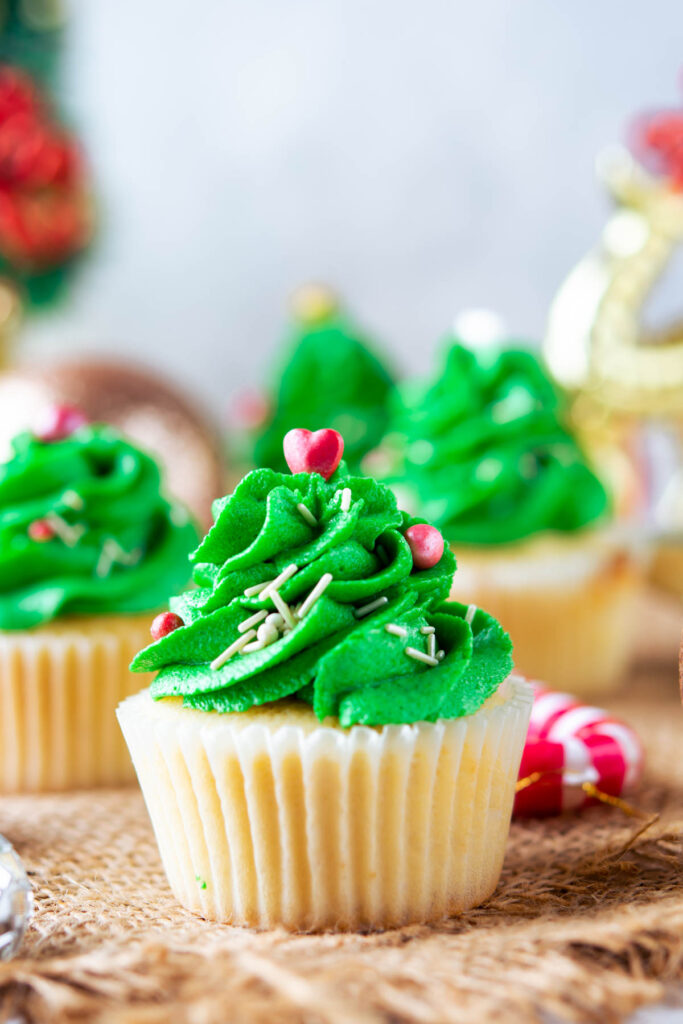 Click here to save this recipe on Pinterest!
These are perfect for a single-serve dessert for your holiday dessert table! We love these small, sweet baked goods topped with homemade frosting!
Some of my favorite cupcakes to make, normally in the Spring or Summer, are these lemon cupcakes and these strawberry lemon cupcakes! Making cupcakes from scratch is definitely one way to go. You can also used boxed cake mix, which I am not against!
Some more holiday treats that we love around here is this chocolate peanut butter fudge or a multitude of cookies!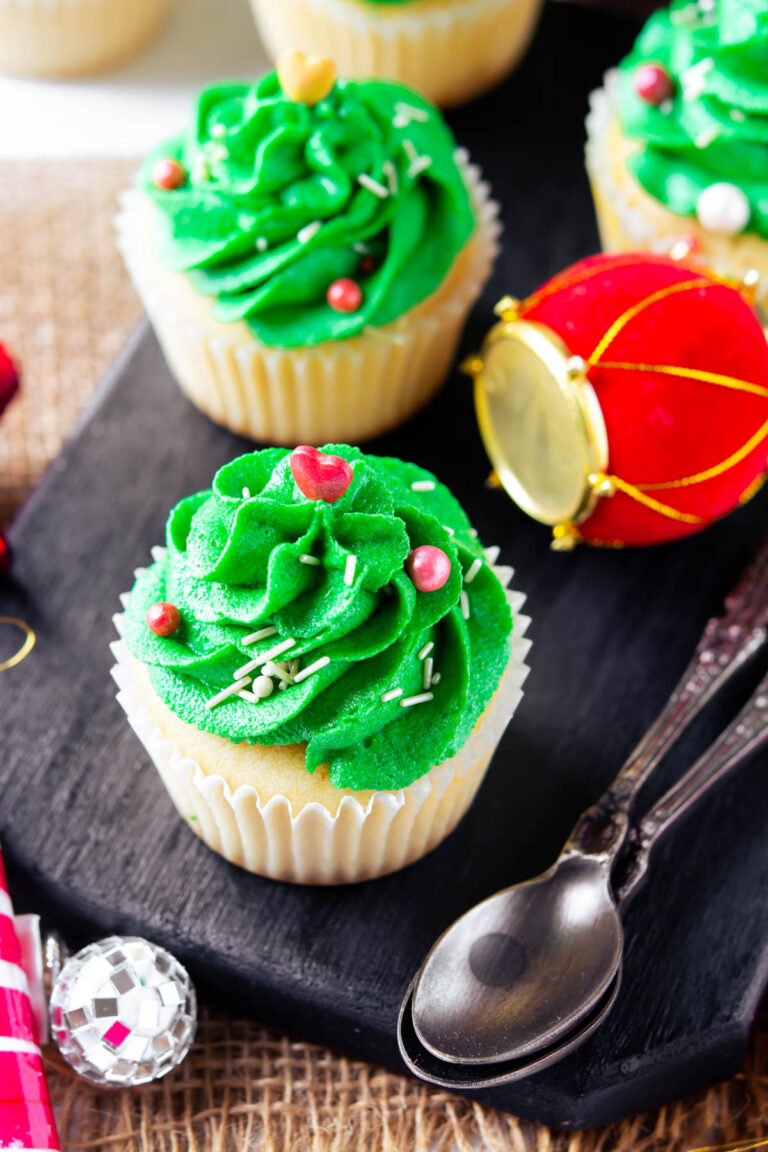 HOW TO MAKE CHRISTMAS TREE CUPCAKES:
Ingredients:
Butter: I use unsalted butter, but you can use salted in this recipe as well. You are using the butter in the cupcake and the frosting.
All-purpose flour: I've only tested this with all-purpose flour so I am unsure if you can use any other flour. Sometimes using Gluten Free 1:1 works well with replacing all-purpose flour.
Green Food Coloring Gel: Gel is highly recommended instead of liquid. It adds a vibrance color to your frosting. It's not liquidy and highly concentrated so a little goes a long way.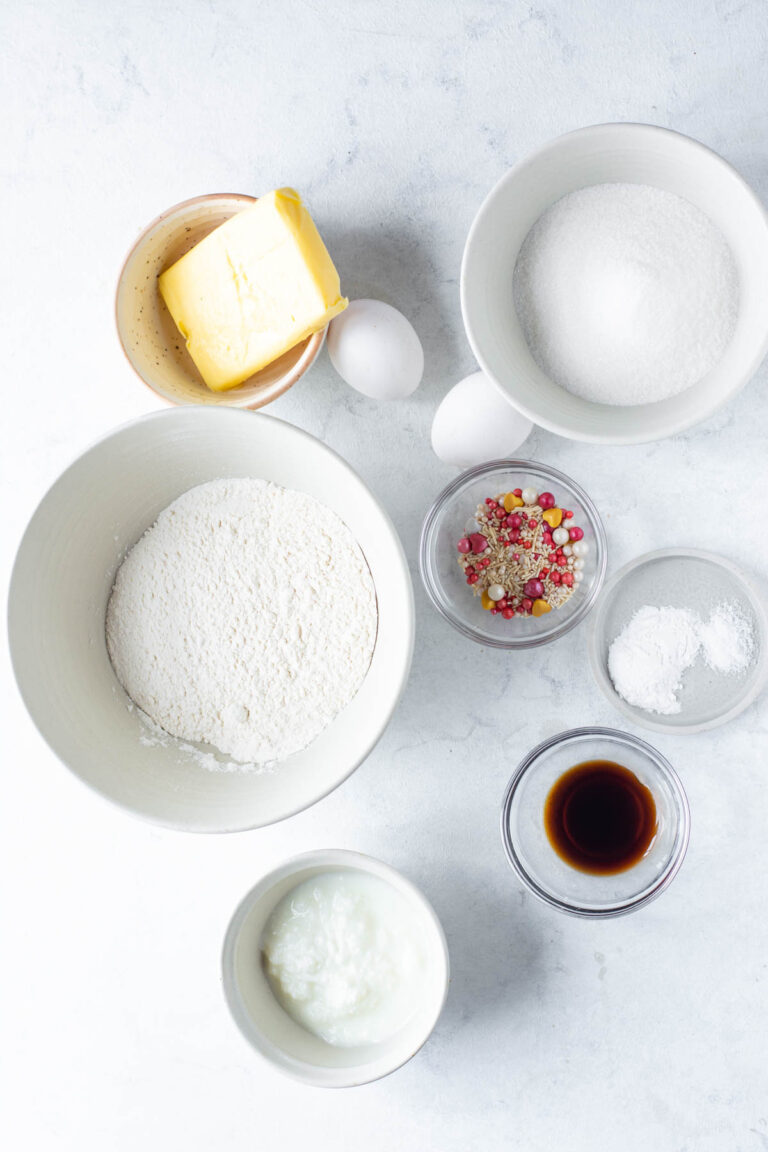 DIRECTIONS:
Preheat the oven to 350 F / 180 C and line your tray with cupcake liners.

In a bowl, sift the dry ingredients – flour, salt, and baking powder and keep aside.
Cream the butter and sugar together using a stand mixer (you can also use an electric beater for this), until properly mixed and creamy.
Add in the eggs one by one while mixing. Add in the yogurt and vanilla extract and beat until it's completely incorporated.
Now add in the flour mixture in batches and mix gently.
Using an ice cream scoop, scoop out the batter and fill your liners till 3/4 full.
Bake for 20-25 mins or until a toothpick inserted in the middle comes out clean.
Let it cool down completely.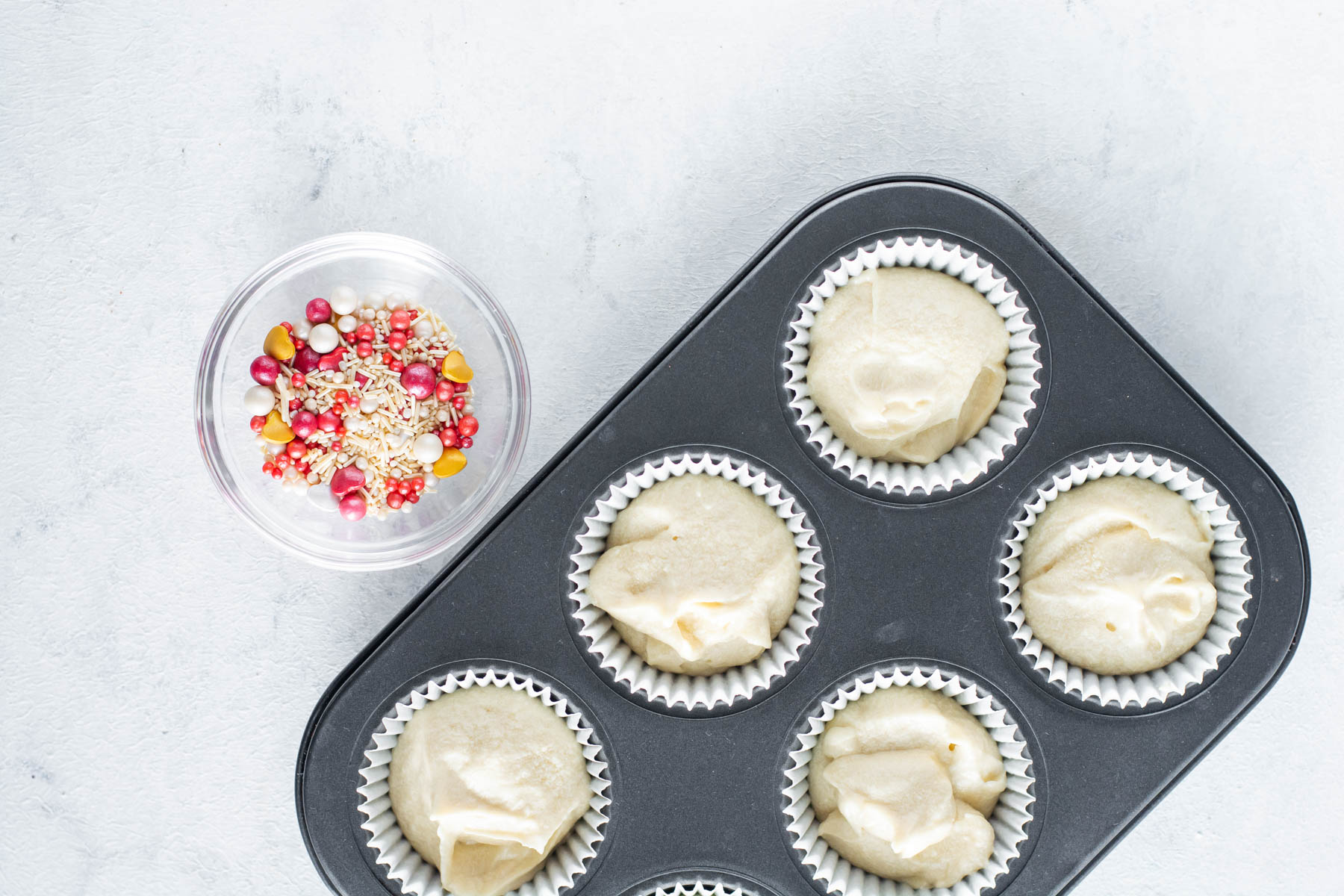 For frosting:
Cream the butter until it's smooth and creamy, add in the vanilla extract and sugar (in batches) and beat until it has a smooth consistency. Add in the gel food color and mix really well with a spatula, scraping down the sides of the bowl so that the color is mixed properly.

Fill the frosting in a piping bag (I am using an open star tip nozzle here) and frost your cupcakes. Make a tall frosting so that it resembles a tree!
Top it up with some decorative sugar sprinkles!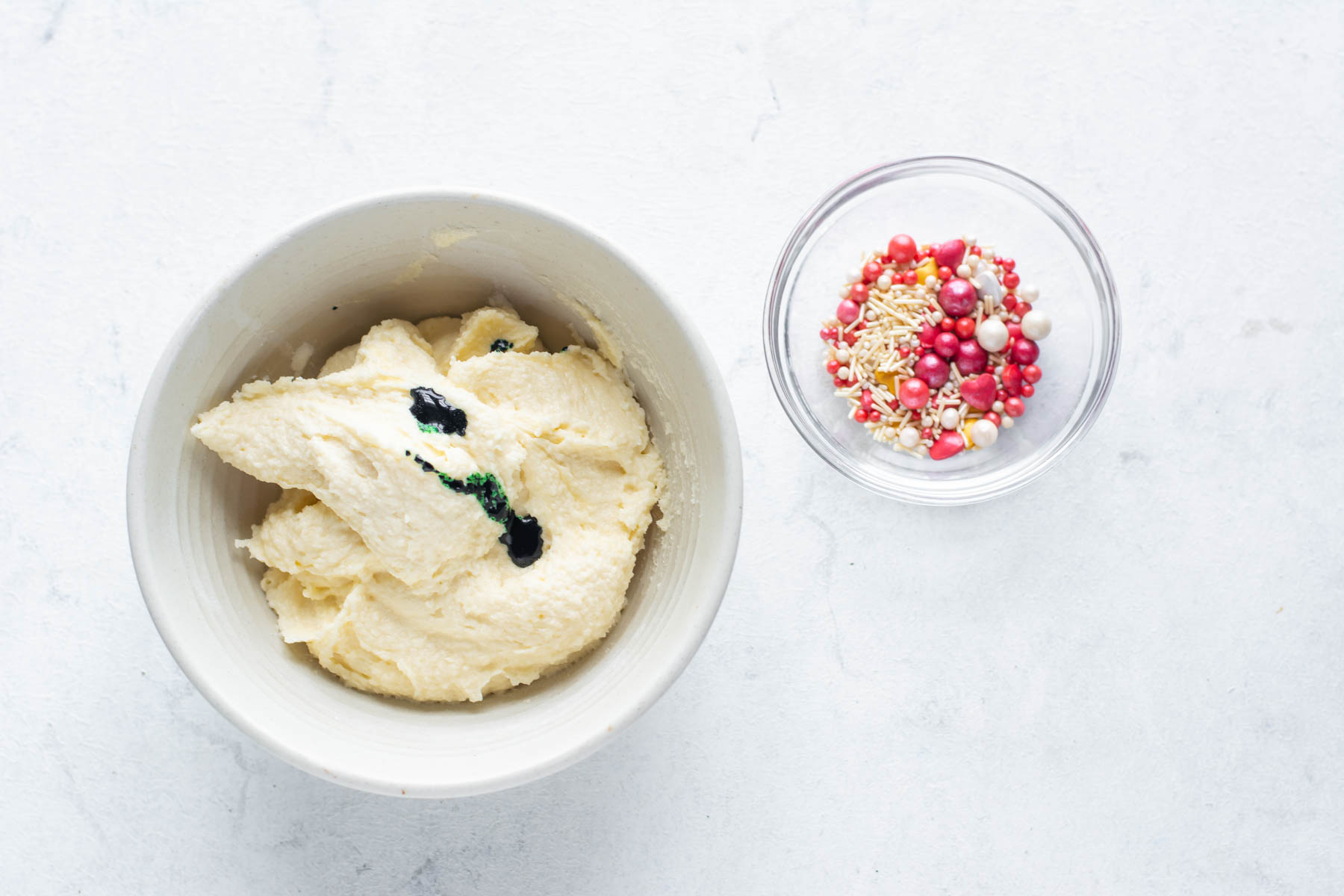 HOW TO PIPE FROSTING:
I love using the 1 M Opening Star Piping Tip when piping frosting onto cupcakes and cake! Really just anytime I make frosting. The best way to fill a frosting bag is to place it into a sturdy cup and fold it over the cup, then use a spatula to place your frosting into the bag.
Wilton has a great tutorial on how to frost beautiful swirls onto your cupcakes.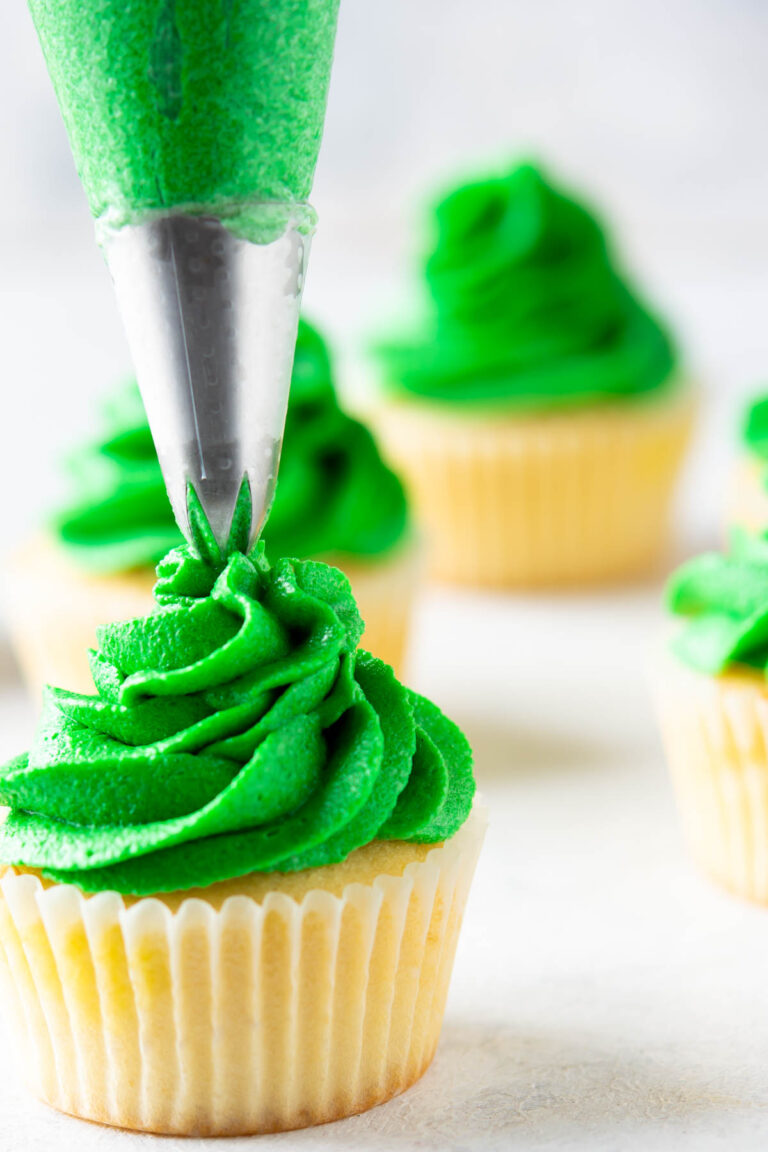 Want to follow along?
If you're on Facebook come check out this fun little group I've got going on. Instagram is a fun resource I'm using right now, too. If you make any recipes be sure to tag them with #bittersideofsweetrecipes so I can see your creations!
Want to connect more with The Bitter Side of Sweet? Follow at:
Facebook | Pinterest | Instagram | Twitter |
Disclosure:
**There may be affiliate links in this post! By clicking on them, or purchasing recommended items I may receive a small compensation. However, I only recommend products that I love! Thank you for supporting The Bitter Side of Sweet! See my disclosure policy for more info**
recipe code