Chocolate Cherry Tarts using fresh cherries, puff pastry and chocolate. Quick to prepare and baked in 15 minutes!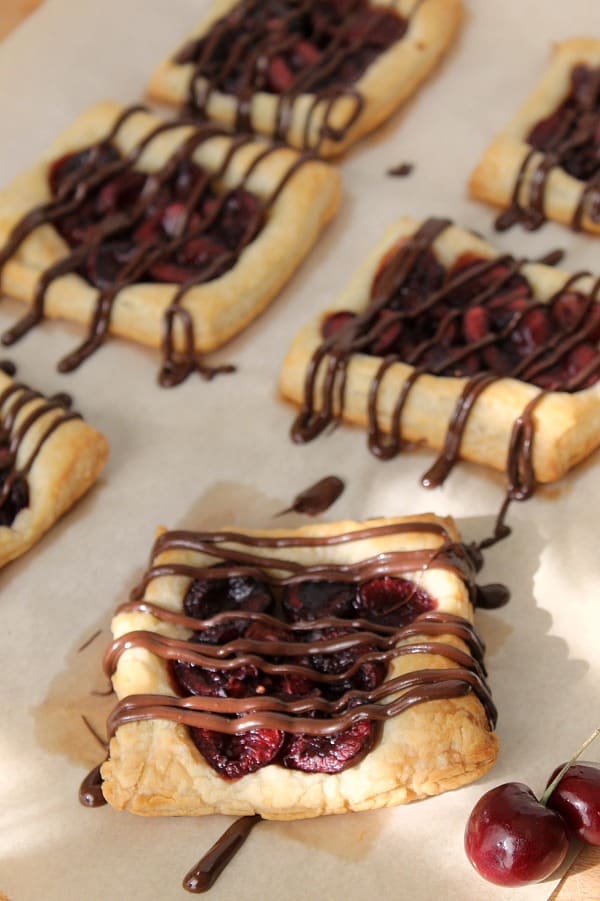 Happy Monday everyone! I am popping in here quickly today sharing with you these Chocolate Cherry Tarts. I made them about a month and a half ago for Joan at Chocolate, Chocolate and More.
If you do not know her site, I would highly recommend checking it out. It is about all things chocolate with so many great recipes!
I had a chance to meet Joan when I was in Florida in July! She is such an awesome lady and the guru of Facebook! Seriously I have learned so much from her and am very honored to call her a friend!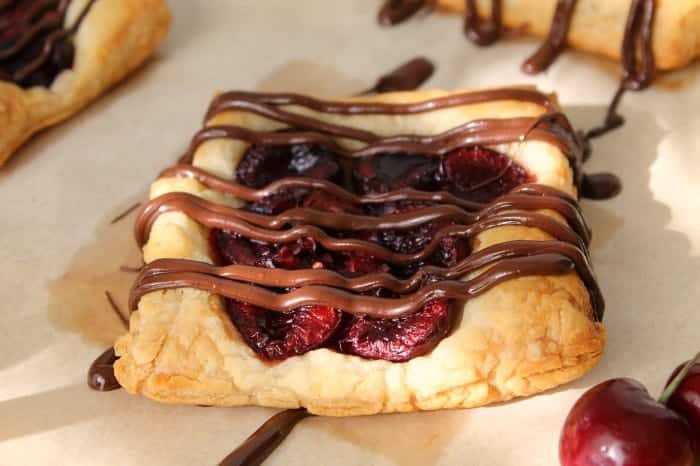 These pastries are another of a long line of quick desserts that I have been making lately. Between us moving over the summer and trying to get settled into a new environment I have been all about keeping things simple and easy.
But simple and easy doesn't have to mean you lose quality. It just means you get to produce a fabulous dessert and not stress to much about it!
With this particular pastry I just topped them with fresh cherries and drizzled with chocolate! It doesn't get much easier than that!
Remember you need to pit your cherries before you begin. No one likes a dessert that has cherry pits in them! ENJOY!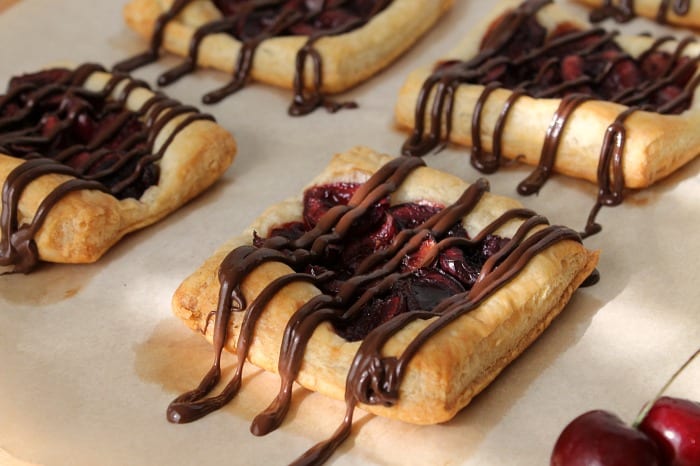 Want to connect more with TheBitterSideofSweet? Follow at:
Facebook | Bloglovin | Pinterest | Instagram | Google+ | Twitter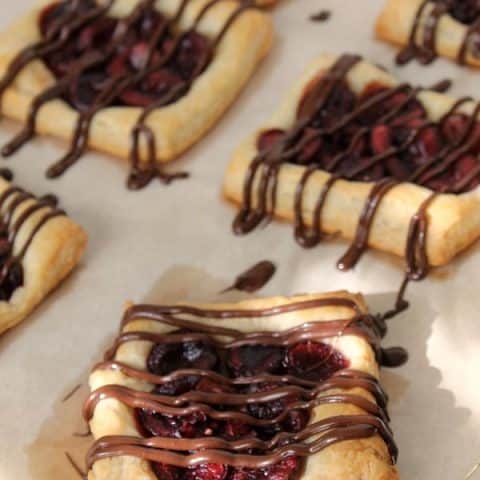 Chocolate Cherry Tarts
Ingredients
⅔ sheet of puff pastry
24 cherries, pitted and sliced
2/3 cup semi sweet chocolate chips
Instructions
Preheat oven to 350 degrees.
Thaw puff pastry according to packaging. Lightly flour counter and roll out pastry with rolling pin.
Cut into 6 equal squares.
Place 8 cherry halfs on each tart.
Cook at 350 degrees for 15 minutes. When done allow to cool for 5 minutes.
Melt chocolate in microwave for 1 minute and drizzle on tarts.
Serve and ENJOY!
Want more tarts?