Start your day with these quick and easy Bacon Egg and Cheese Spinach Cups!
This is a sponsored post written by me on behalf of Tyson Foods, Inc. All opinions are entirely my own.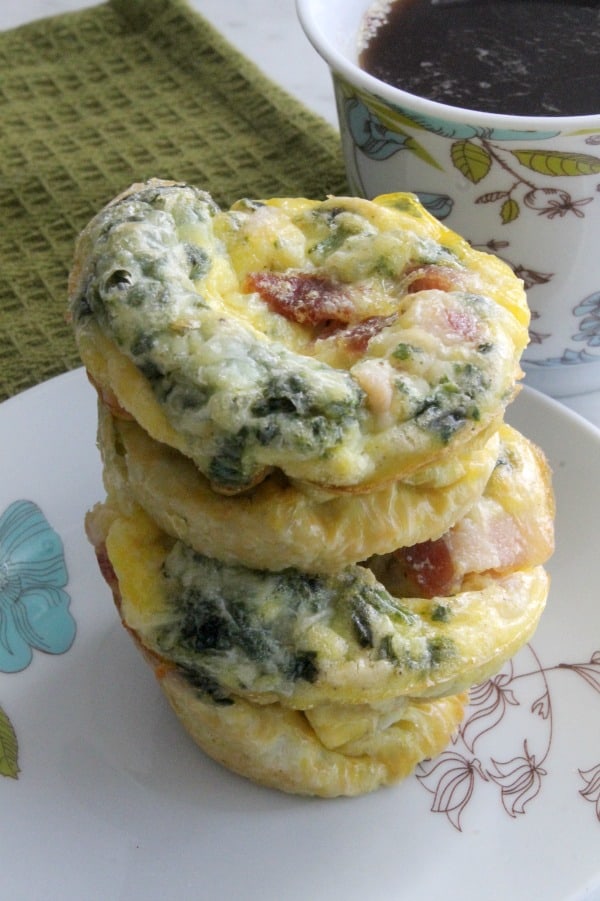 A friend of mine sent me some pictures about how she was preparing and freezing some breakfast items for her hubby. I thought this was an excellent idea! My kiddos get up at different times normally so some are eating breakfast before the others.
I can always hear them rummaging through the cabinets and hear them sigh about the fact that they have to eat cereal AGAIN.
Now don't get me wrong, they love that but sometimes they like variety.
Well kiddos, I hope you like this variety! 🙂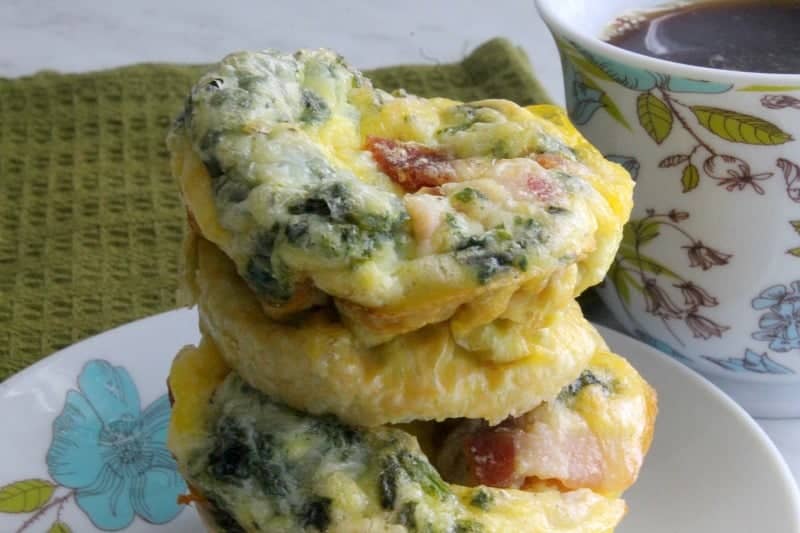 The first time I had made these I was somewhat disappointed. My egg cups stuck to the pan and they were quite difficult to remove, even though I sprayed the pan.
Second I liked the flavor but I thought it needed something more.
Third I was not too impressed with the bacon I used the first time around, so I decided to go with the high-quality, thick-sliced bacon.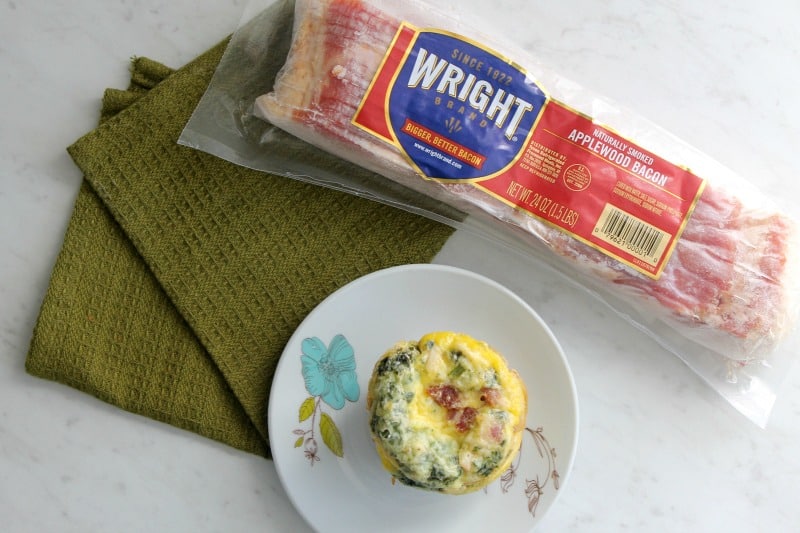 So while I was out dropping off my 7-year-old at ballet, I took a trip to Kroger to pick up a few items. I knew I would be baking these cups again so I grabbed some bacon. I went with Wright Brand Bacon because the quality looked amazing and the flavors they offered were exactly what I had in mind for this dish.
I one I chose from the refrigerator case was Applewood Smoked, but they also have Hickory Smoked, Smoked Brown Sugar Bacon (which I want to try!), Bourbon Barrel Smoked and Oak Barrel Smoked. I never knew you could find so many different varieties of bacon. I must have been living under a rock until now!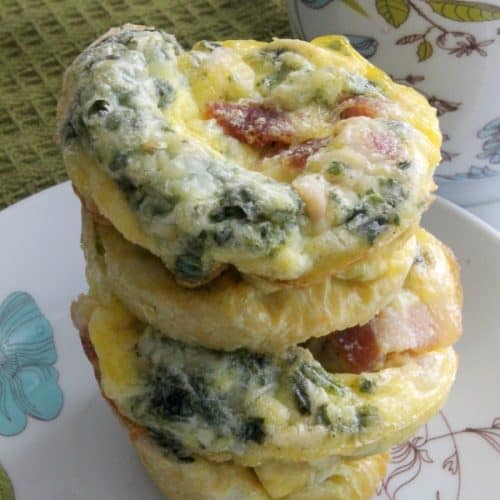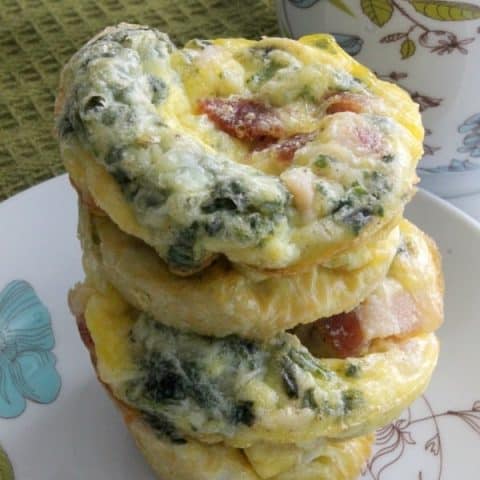 Bacon Egg and Cheese Spinach Cups
Ingredients
1 dozen extra large eggs
salt and cracked pepper for taste
3/4 cup frozen spinach, thawed
1 cup monterey jack cheese
4 slices Applewood Smoked Wright Brand Bacon, diced
Instructions
Preheat oven to 350°. Spray 12 cup muffin pan with nonstick cooking spray. Set aside.
In large bowl whisk together eggs, salt and cracked pepper.
Pour egg mixture evenly into muffin pan.
Evenly distribute spinach. Then cheese. Then bacon.
Place in oven and bake for 30 minutes.
When done allow to cool for five minutes.
Serve and ENJOY!
WANT TO CONNECT MORE WITH THEBITTERSIDEOFSWEET? FOLLOW AT:
Facebook | Pinterest | Instagram | Twitter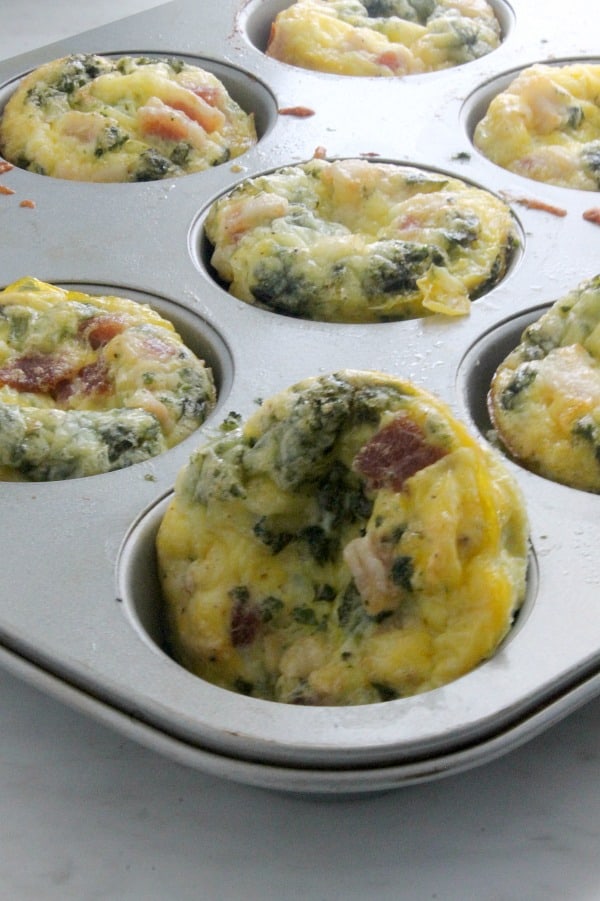 .
<