Cookies are always my go to snack or quick treat to make. These Apricot Almond Butterscotch Cookies combined by love for butterscotch and fruits and nuts all in one place!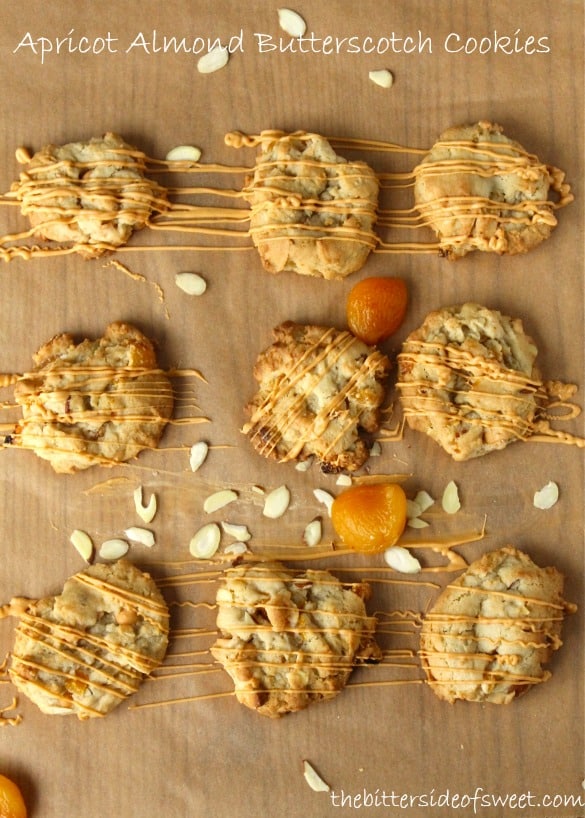 I remember the first time I tried an apricot. I was sitting in my mother-in laws kitchen in Italy and after lunch they always pull out fruit to eat. So she pulled these little golden orange colored fruits. I was intrigued because I had never had one before, or at least I didn't remember ever having one. They are soft on the outside and juicy on the inside very similar to the texture of a peach but the taste is quite different. They are slightly sweet and tangy.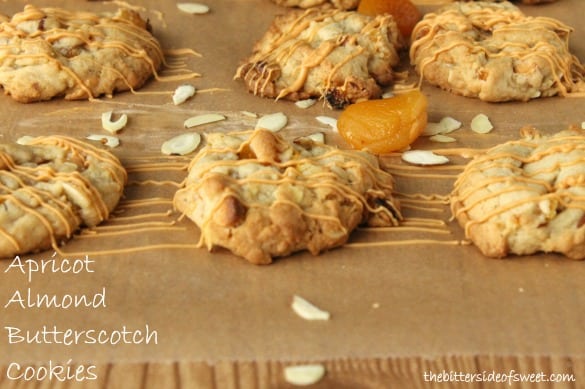 So last week I started craving apricots. There were two problems with this. First they are not in season and second I can never find them at my farmers market or grocery store when they are in season. So what was the next best thing to indulge my craving? Dried fruit. I don't buy it too often but last week I ended up getting two bags! And they are gone!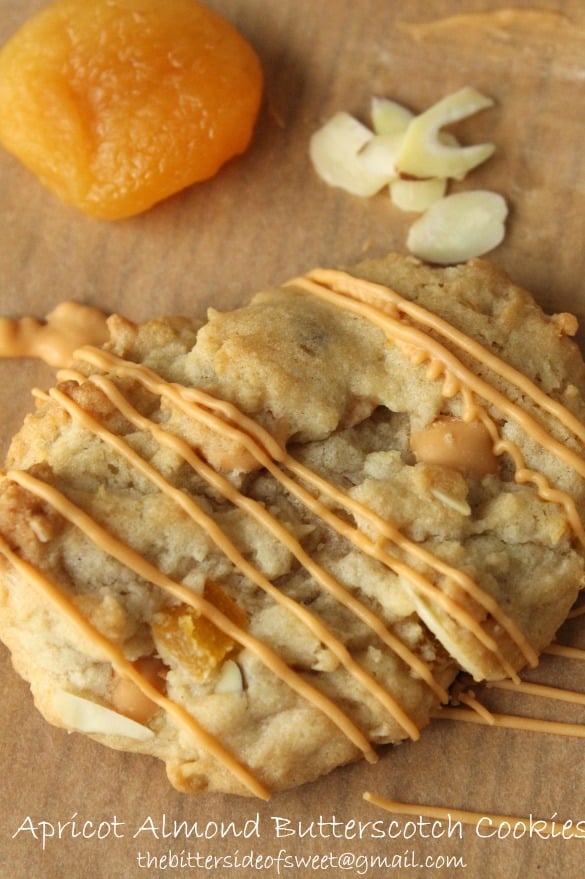 One reason for this is because I have been trying to add the dried apricots to granola bars. Failed twice but I am still working on it. I also decided to throw them in some cookies. I am so glad I did! The almonds, butterscotch, and apricots are a lot of flavors going on in these cookies but they match so well together!! I use my basic cookie recipe for this and just change up the flavors. The cookie recipe that I use only makes 2 dozen. I do this on purpose because seriously I can't have dozens and dozens of cookies laying around because I would just continue to pop them in my mouth every time I walk by them! So I make them 2 dozen for moderation purposes. You know the saying "everything in moderation!" ENJOY!!
Want to connect more with TheBitterSideofSweet? Follow at:
Facebook | Bloglovin | Pinterest | Instagram | Google+ | Twitter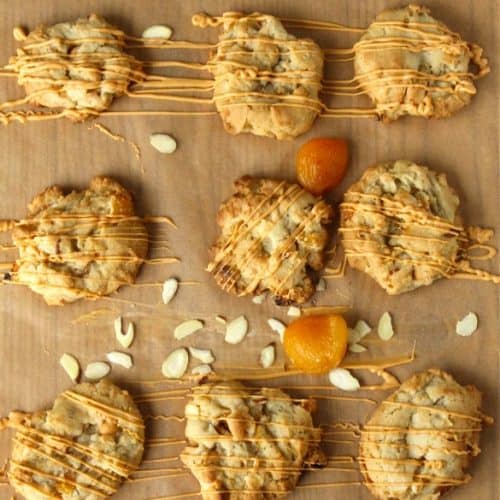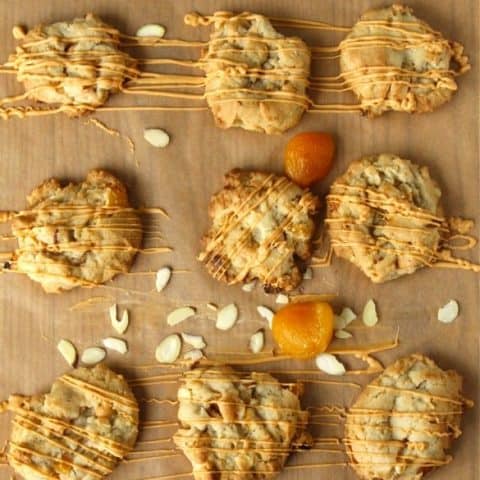 Apricot Almond Butterscotch Cookies
soft, chewy cookie pack with apricots, almonds and butterscotch
Ingredients
7 tablespoons unsalted butter
⅓ cup brown sugar
⅓ cup white sugar
½ teaspoon almond extract
1 egg
1½ cups all purpose flour
½ teaspoon baking soda
½ teaspoon salt
1 cup dried apricots, chopped
3/4 cups slivered almonds
1/2 cup butterscotch chips
Instructions
Preheat oven to 375 degrees. Prepare two cookie sheet pans with silpat or parchment paper.
In mixer add butter, brown sugar, and white sugar. Mix till creamy.
Add egg and mix till creamy. Add almond extract and continue to mix.
In separate bowl combine flour, baking soda and salt.
Add flour mixture to mixing bowl and continue to mix.
Stir in apricots, almonds and butterscotch chips.
Using two tablespoons scoop out mixture and drop onto cookie sheets.
Bake for 9 to 11 minutes or until golden brown. Cool and ENJOY!
this recipe may be linked at these sites