Apple Cranberry Oatmeal Smoothie Bowl makes for the perfect bowl of breakfast! Made quickly with instants oats, milk and fruit!
Click here to save this recipe on Pinterest!
It is no secret if you have read this blog long enough that I struggle with eating breakfast. I get up and get going and I do not slow down till mid morning! Take for example this morning.
I was up at 6am checking on my daughter who is showing signs of getting a cold.
Then I work on some social media and checked my site. It has been up and down for a few days so I was hoping to find it up and running!
Around 6:40 the little ones start stirring so I went into give them a kiss and say good morning! We quickly went downstairs and started on breakfast while I started packing their lunches.
And then it just keeps snowballing from there. I find myself at 8am with only a cup of coffee in me, hungry!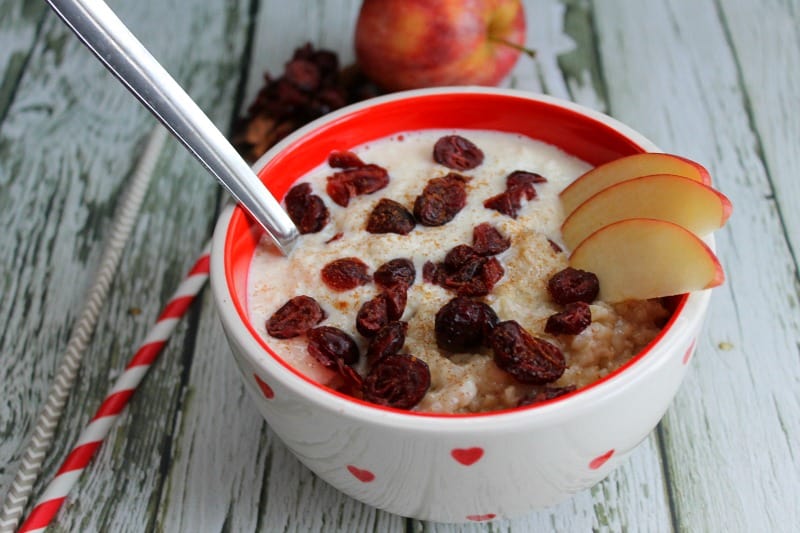 One of my go to quick breakfast items is oatmeal! I love to eat it and I love to add all kinds of yummy ingredients into it!
When I was at Target this weekend with the girls we bought some instant oats . There was this huge end cap full of ingredients, some I had not heard of such as goji berries. Those looked good!
What I decided to do with my bowl of oatmeal was make a smoothie bowl. I Simple added some greek yogurt and an apple together and blended it.
Then I made 2 packets of apple cranberry oatmeal and placed it in my bowl. I added the smoothie. Topped it with some dried cranberries and a sprinkle of cinnamon and it was ready! Making this was simple and easy and works perfect for my busy mornings! ENJOY!
If you're on Facebook come check out this fun little group I've got going on. Instagram is a fun resource I'm using right now. If you make an recipes make sure to tag them #bittersideofsweetrecipes so I can see your creations!
Want to connect more with The Bitter Side of Sweet? Follow at:
Facebook | Pinterest | Instagram |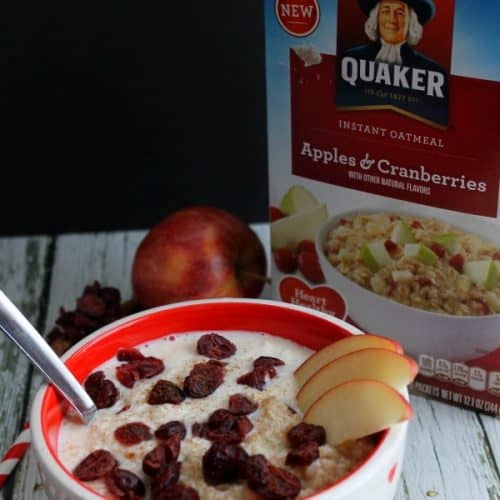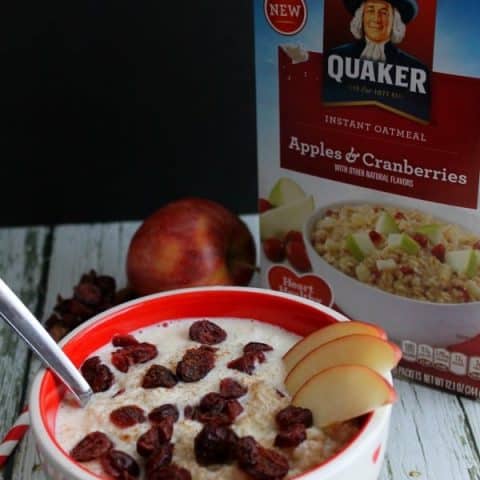 Apple Cranberry Oatmeal Smoothie Bowl
Ingredients
1/2 cup instant oats
1 cup milk
½ cup dried cranberries
1/8 teaspoon cinnamon
½ cup greek vanilla yogurt
1 apple, peeled and diced
Instructions
Microwave oatmeal and milk according to package.
Blend together yogurt and apple. Pour over oatmeal.
Top with dried cranberries.
Sprinkle with cinnamon.
ENJOY!
Recommended Products
As an Amazon Associate and member of other affiliate programs, I earn from qualifying purchases.


l Smoothie Bowl 1″ width="358″ height="1024″ />