This is a sponsored post by Lucky Leaf but all opinions are 100% mine!
Are you getting your meal plans together for Thanksgiving? How about adding a non-traditional pie to your list! Apple Cranberry Frozen Yogurt Pie with a graham cracker pecan crust!
This adds all of those tradition flavors into one dessert!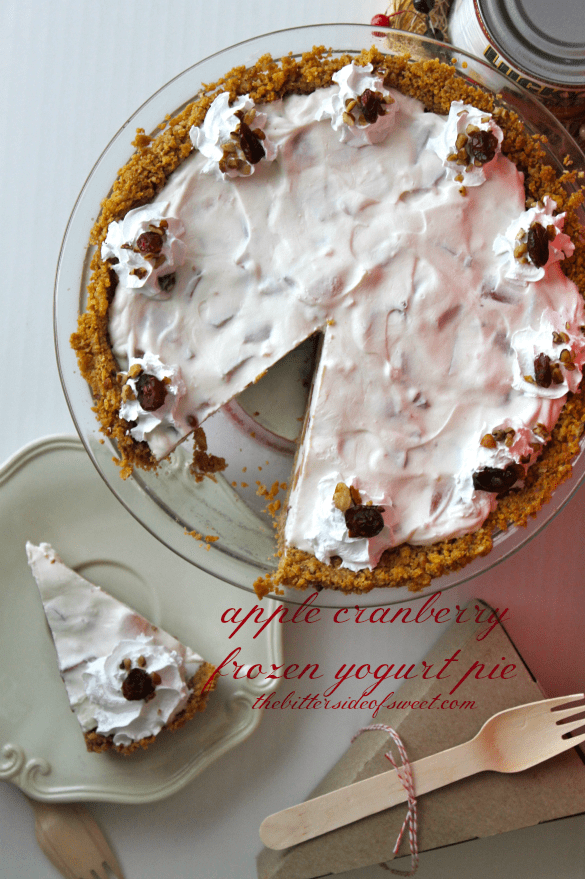 Every year for Thanksgiving I always try to add something nontraditional to our menu. Why do I do this? So I can experiment with other recipes and flavors that I probably would not normally go out and use or eat. This year, when I received some pie fillings from Lucky Leaf I decided to change up a frozen yogurt pie I make.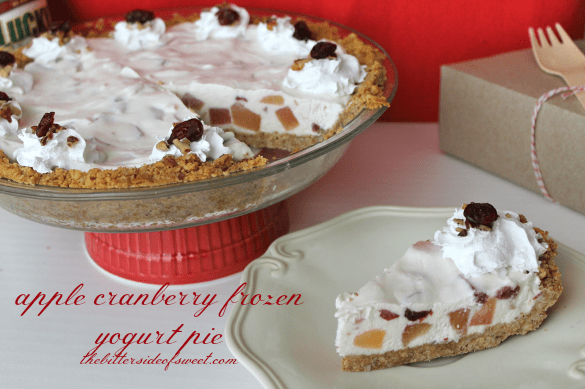 I made this amazing pie crust to go with the pie that includes pecans. Seriously best pie crust ever! With the pie I combined the yogurt, whipped topping, Lucky Leaf's apple cranberry pie filling and then froze it! This is definitely something that you can make ahead of time and takes some pressure off as we scream "how will I get everything done!"

Now GUESS WHAT! Lucky Leaf is having a contest and they want your best recipes using their pie fillings! And you know what, they are going to help you by allowing me to giveaway some pie filling to help you get started! Make sure you enter to win! ENJOY!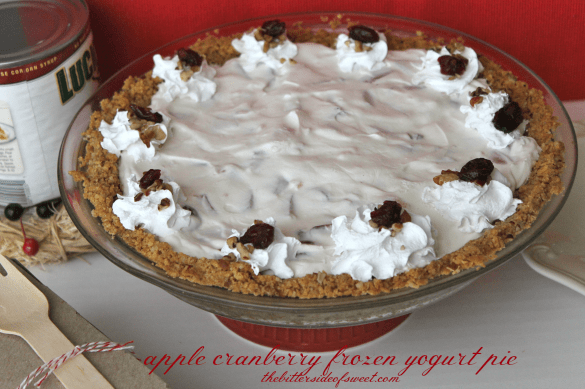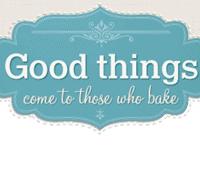 Apple Cranberry Frozen Yogurt Pie + a giveaway
Prep Time:
4 hours
10 minutes
Total Time:
4 hours
20 minutes
Traditions fall flavors of apple and cranberry pie filling made into a non-traditional pie!
Ingredients
FOR THE PIE CRUST:
10 graham crackers
8 oz butter, 1 stick melted
1/2 cup chopped pecans
2 tablespoons brown sugar
1 tablespoon sugar
FOR THE FILLING:
1 cup vanilla Greek yogurt
1 cup Lucky Leaf Apple Cranberry Pie filling
1/2 cup whipped topping
Instructions
Preheat oven to 350 F. Spray 9 inch pie pan with cooking spray.
In a small pot melt the butter. Set aside.
n a food processor or in a plastic baggie crush the graham crackers.
In a bowl add crumbs pecans and sugars. Pour in butter and mix with a fork.
Press into the bottom and sides of pie pan.
Bake for 10 minutes. Allow to completely cool.
FOR THE FILLING:
Meanwhile, in a large bowl combine the Greek yogurt, pie filling and whipped topping. Using a whisk, combine the two until incorporated and there are no lumps.
Pour into pie crust.
Freeze for 4 hours.
Take the pie out 30 minutes before you are ready to cut and serve. ENJOY!
Don't forget The Lucky 13 Recipe Contest started on November 6th. Enter your best original recipe using Lucky Leaf® Pie Filling for a chance to win one of 13 great prizes, including the $2,500 grand prize! Please submit your recipe between November 6th and December 2nd. Qualified recipes will be on display in the recipe gallery on the Lucky Leaf Facebook page starting on December 3rd. Make sure you also use #Lucky13 to show off your work on social media!!