It's been a while since I made cake. I was thinking for over a week that I wanted to make chocolate cake but was wondering how I would spruce it up. By adding walnuts and homemade butterscotch with a cream cheese frosting this Walnut Butterscotch Chocolate Cake would be a hit at any party!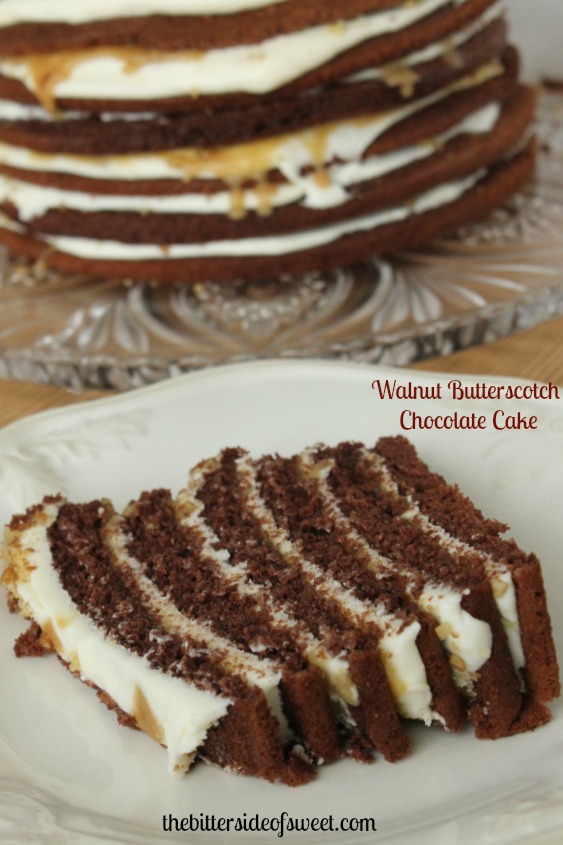 I wanted to give you guys a quick update on my progress in school. I have currently finished one of my classes for the semester with an A in the class! Yay! I have to finish a post exam in one of the other classes I am taking and I have this week and next week to finish my final class. They are going really well but I can't wait to be done! I am hoping to pick up a few courses over the summer but we will see how that goes. Thanks so much for all of the encouraging words and for you to continue to come back here and read my bog even through the weeks where I haven't been able to be too consistent. Thanks!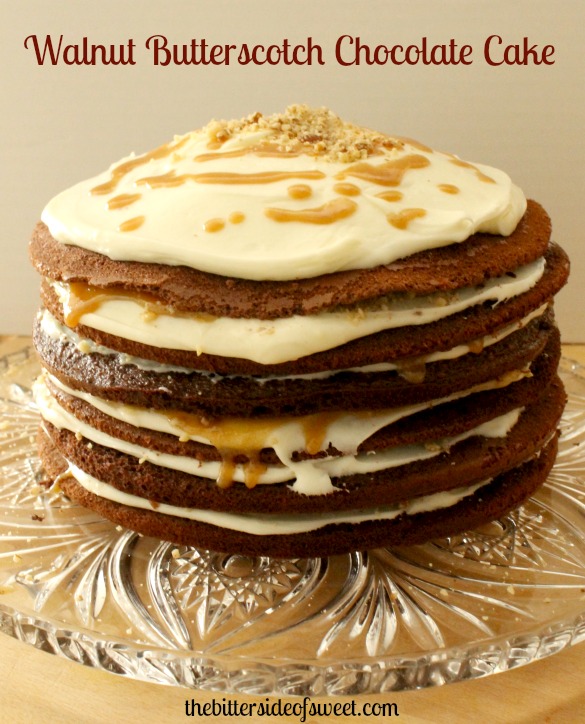 So this cake. I can't tell you guys how awesome it is! The layers of chocolate, cream cheese, butterscotch and a hint of walnut makes it out of this world! I actually made it over  the weekend for Easter but this is definitely a cake that could be made all year long. I went with a boxed cake mix for this just to make it go a little faster but I decide to make homemade butterscotch and icing as well! ENJOY!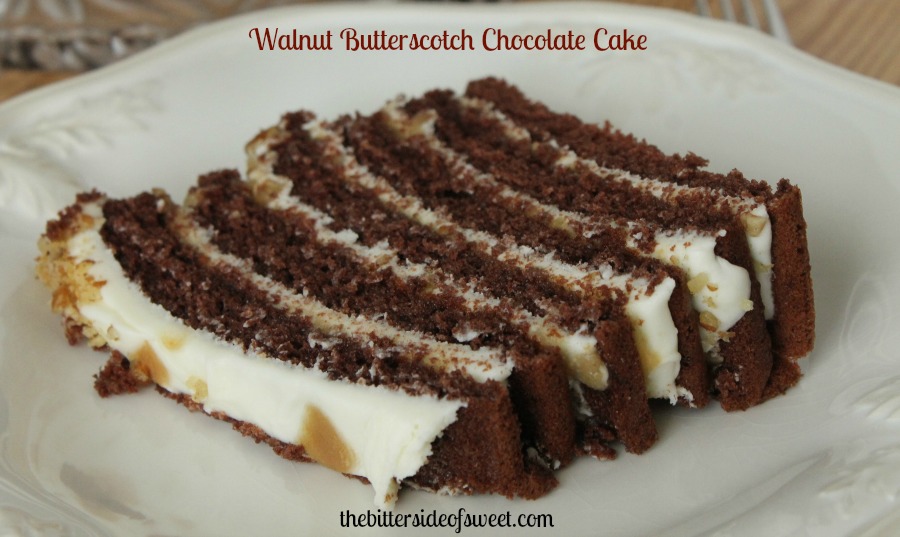 Want to connect more with TheBitterSideofSweet? Follow at:
Facebook | Bloglovin | Pinterest | Instagram | Google+ | Twitter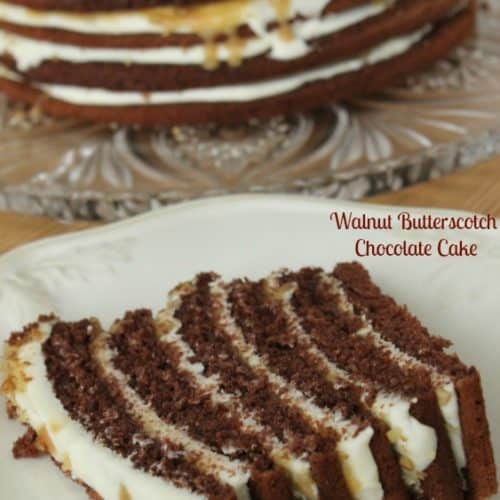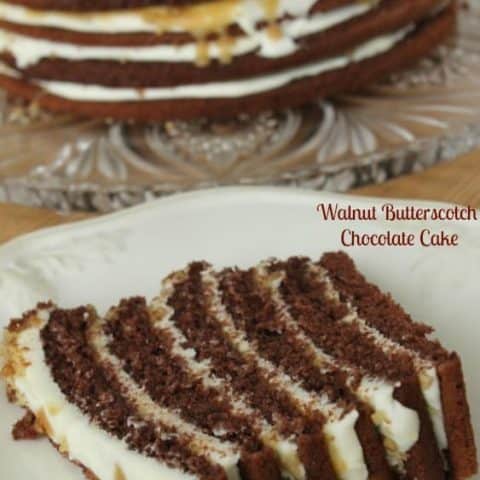 Walnut Butterscotch Chocolate Cake
Total Time:
1 hour
30 minutes
Heavenly chocolate cake with layers of cream cheese icing, walnuts and butterscotch
Ingredients
FOR THE CAKE:
1 box chocolate cake mix
3 eggs
1/3 cup oil
1/3 cup water
FOR THE ICING:
1 8 oz box cream cheese, softened
8 tablespoon butter, 1 stick, softened
3 2/3 cups powdered sugar
6 teaspoons half and half
1 cup butterscotch sauce
1 cup finely chopped walnuts
Instructions
Preheat oven to 350 F. Prepare two round 9 inch cake pans. Spray with non stick cooking spray and set aside.
Combine ingredients for cake into mixing bowl on low till moistened. Then turn mixer to medium and continue to mix for two minutes.
Pour evenly into cake pans and bake for 30 minutes or until tooth pick is inserted and comes out clean.
When done, allow to cool completely. Then cut each cake into 3 pieces with a total of 6 round cakes.
In the mean time, prepare the icing by mixing in mixer the butter and cream cheese.
Add the powdered sugar one cup at a time.
Then add 1 teaspoon half and half to icing, mixing in between each teaspoon. Set aside.
LAYER THE CAKE:
Place one round cake on your serving tray or cake stand.
Spread about a 1/4 cup of icing on the cake. Spread 2 tablespoons butterscotch on top of icing. Sprinkle 2 tablespoons of walnuts on top of butterscotch.
REPEAT for each layer!
Notes
Nancy's notes: I wanted to go light on the icing between each layer but if you want more then make a double batch of the icing.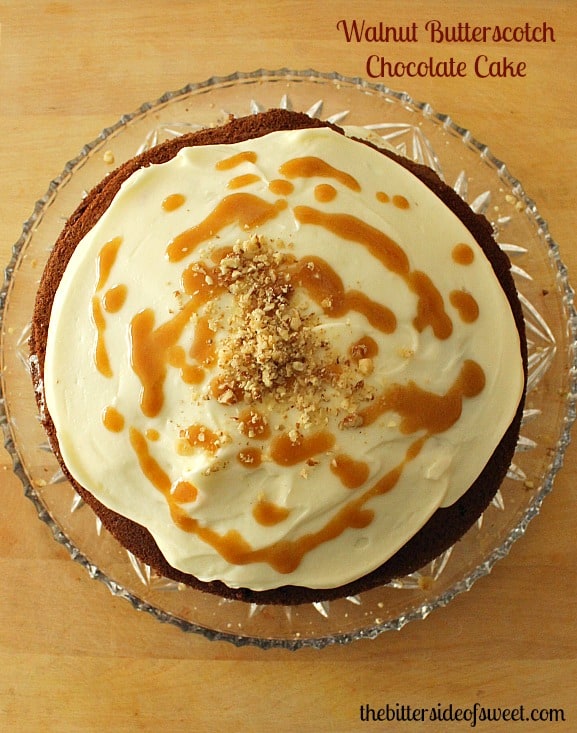 this recipe may be linked at these sites!