Unreal Lunch Lady Brownies made with just a few basic ingredients and Unreal Candy Coated Milk Chocolates.
I am honored to be a Stonyfield Clean Plate Club Member. This post is in partnership with Stonyfield and UnReal Candy. As always, all opinions are 100% my own. Thanks for supporting the brands that allow me to share quality content and recipes with you!

Hey all! I am popping in here really quickly today to share with you my newest version of Lunch Lady Brownies! I had so much fun making them the last time that I figured I would make them again with just a few changes.
I am in such a rush because guess what? I am so EXCITED! My mom, sister and niece are coming for a visit on Thursday! Yippee!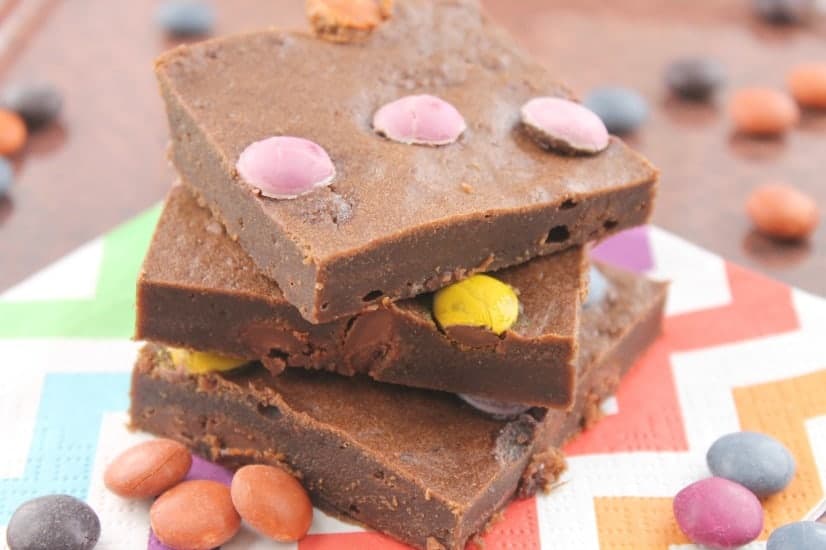 None of my family have been to visit since we moved over a year ago to Indiana! So you can imagine what I have been spending my time doing the last week or so.
Cleaning! That's right I have been doing spring, fall, holiday and vacation cleaning all in one.
Now when I say cleaning I mean all of those little spots in the house that I have kind of just let go or figured I would get around to it another day. Those are the places that I have been working on.
It's great though, I actually enjoy it even if it is daunting. I finally get all of our belongings in the right place where it should have been all along.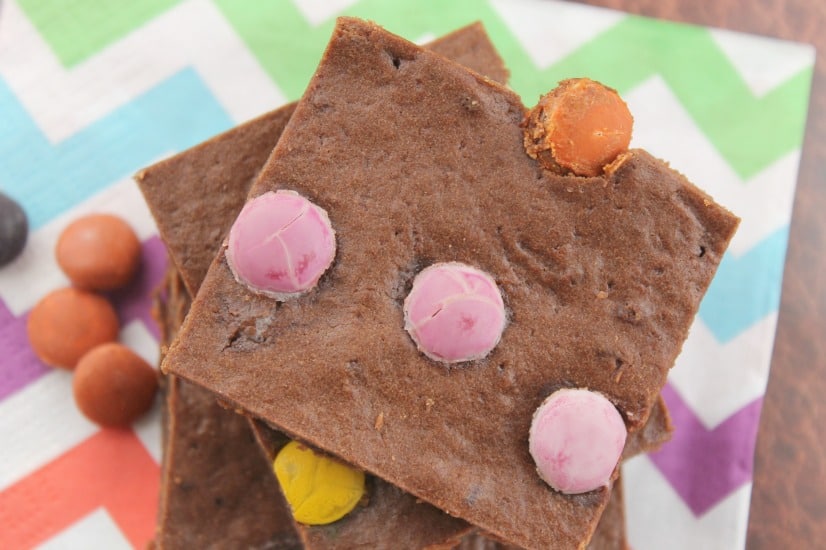 These brownies probably won't last long enough in my house for my family to try so I will share them with you!
The changes I made was substituted the pumpkin for Stoneyfield Smooth & Creamy French Vanilla Yogurt and reduced the sugar. I decided to leave off the frosting to make them a little lighter and less sweet. I also add Unreal Candies to them to make it fun for the kiddos! ENJOY!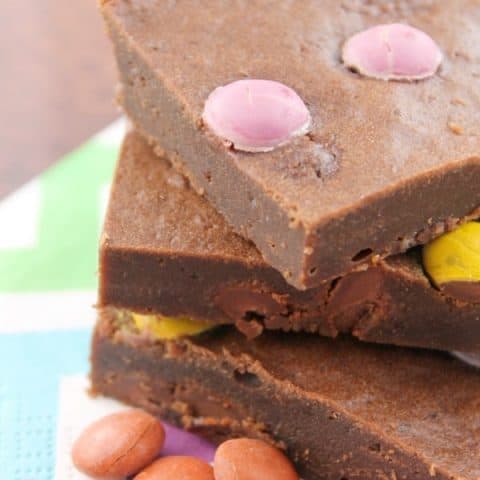 Unreal Lunch Lady Brownies
Ingredients
½ cup butter, melted
⅓ cup cocoa
1 teaspoon cinnamon
1/3 cup cane sugar
1 cup all purpose flour
2 eggs
3 tablespoons Stoneyfield Smooth and Creamy French Vanilla Yogurt
1/2 cup Unreal Coated Milk Chocolates
Instructions
Preheat oven to 350 degrees, spray 8x11 pan with nonstick cooking spray, set aside.
In a mixing bowl, combine butter, cocoa, cinnamon and sugar. Mix in flour and beat well. Add in eggs, and yogurt. Still in 1/4 cup milk chocolates.
Spread batter in prepared pan.
Top with remaining 1/4 cup milk chocolates.
Bake for 25-30 minutes or until toothpick inserted in center comes out clean.
When brownies are done, allow to cool completely.
Spread on frosting. Serve and ENJOY!