Tuna Quinoa Patties a dish your whole family would love!
Since the end of February our family has been observing Lent and abstaining from meat on Fridays.
I have been trying to think of recipes that include fish of some kind.

Well I have finally found my go to recipe.
I have told you how obsessed I have been with quinoa. This recipe combines quinoa and canned fish to make the perfect dish.
I have made a variation of this recipe twice so far. The kids actually really enjoy this as much as we do so it is a great family recipe as well.

Because I have quinoa in my refrigerator often I was able to whip this up pretty quickly.
Whenever I make quinoa I just follow the directions on the back of the package and add a vegetable bouillon cube to give it a little flavor.

Then I just grab whatever ingredients i have that go well with the type of canned fish I am using and whalla you are almost finished!
These patties are really good with just a side salad and sliced cheese, or peas and potatoes or as a sandwich. (Which by the way the sandwich is really really good, says my daughter!)
Want to connect more with TheBitterSideofSweet? Follow at:
Facebook | Bloglovin | Pinterest | Instagram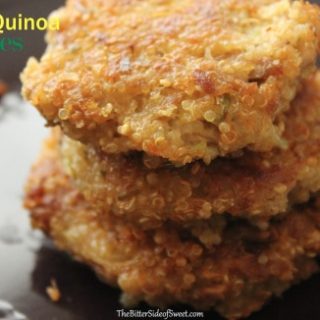 Tuna Quinoa Patties
Ingredients
1 5 oz can tuna, drained
1 1/2 cups quinoa, cooked and cooled
1 egg
1/2 cup plain bread
juice from half a lemon
2 green onions, chopped
1/2 tablespoon dried parsley
salt
pepper
olive oil
Instructions
Using a large skillet add enough olive oil to cover the bottom of pan and heat on medium.
In the meantime combine tuna, quinoa, egg, bread crumbs, lemon juice, onion, parsley, salt and pepper. Mix well.
Roll and flatten into patties.
Place patties in skillet and fry for 5 minutes on each side or until golden brown. (You may have to do this in two batches.
Cool and ENJOY!
recipe adapted from Quinoa Salmon Cakes