Baked Herbed Salmon perfect for fish Fridays or all year round!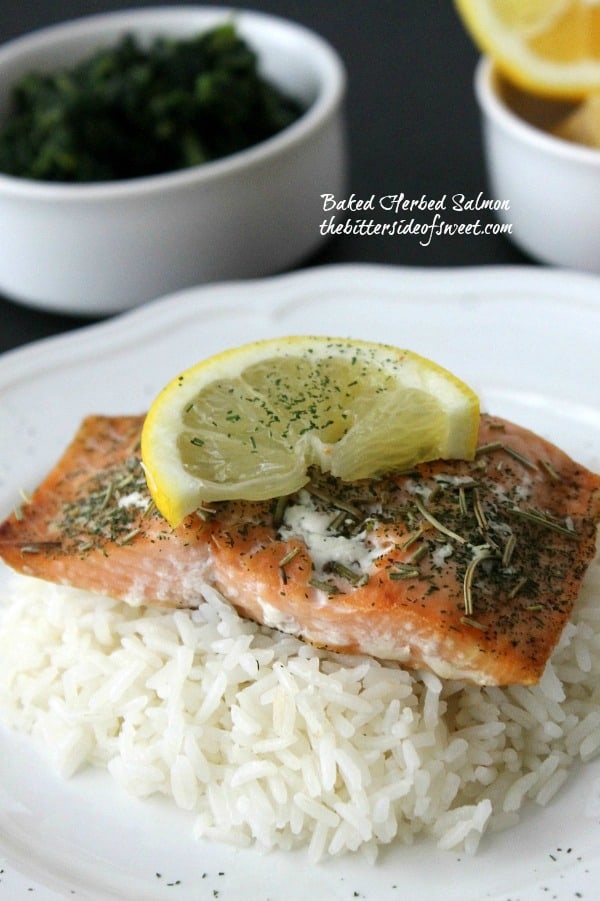 When I was a young teen I had a friend who loved The Beatles. I was like "who are they?" My parents were the type who played country music 24/7. I could sing every word to every song. When I finally figured out who The Beatles (Update: it's the Byrds who sing this song! My world has completely changed!) were one of my favorite songs from them is Turn! Turn! Turn!
It talks about a time for everything. "To everything – turn, turn, turn There is a season – turn, turn, turn And a time to every purpose under heaven."
When I became an adult and I really started walking my journey in faith I found out this is actually scripture that you can find in the Bible. Ecclesiastes 3:1-8.
Weather you are a believer or not, that is not the thought for today. The words are what is penetrating me as we finish Lent and our season of Fish Fridays.
Our family is entering a new season as Easter comes. A season of the unknown. We have grieved because we were not entirely ready for a new season in life but we find strength in knowing that there is a season of everything and we look forward to what this new season in life will bring for us.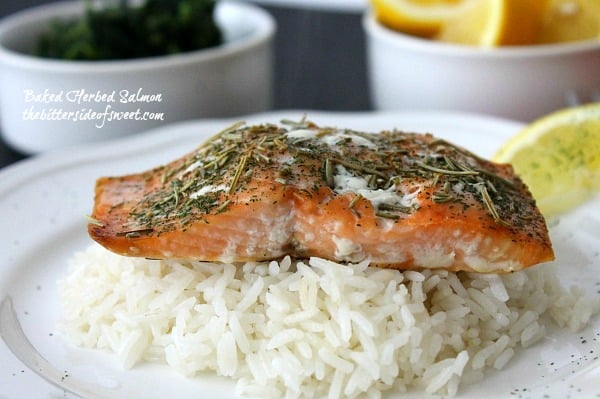 So what does this have to do with salmon? Well like I said Fish Fridays are about to end because the season of Lent is almost over and I have yet to share with you any fish recipes. Oh I have cooked a lot of fish for our family like these patties and this pasta but I have just not been able to share any.
This dish is super simple and basically there are only a few ingredients and steps to taking this from freezer to the dinner table. And fortunately because I used frozen salmon here you can really enjoy this all year round! ENJOY!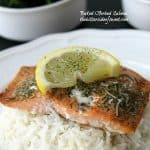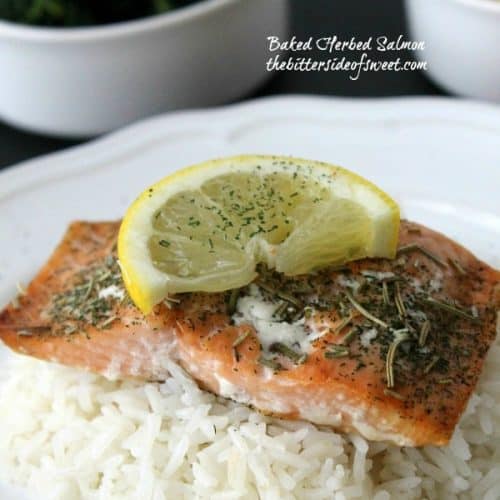 Baked Herbed Salmon
Easy salmon topped with a few herbs and baked to make a simple easy dinner.
Ingredients
4

salmon fillets

thawed according to packaging

1

teaspoon

dried dill weed

1

teaspoon

dried rosemary

1/2

teaspoon

dried parsley

1/2

teaspoon

salt

1/4

teaspoon

pepper

lemon
Instructions
Preheat oven to 400 degrees. Prepare cookie sheet by lining with parchment paper or aluminum foil.

Mix dill weed, rosemary, parsley, salt and pepper together in a little bowl.

Place salmon on cookie sheet.

Sprinkle each salmon with herbs.

Bake for 20 minutes or until internal temperature of the salmon reaches 145 degrees.

Top with lemon juice and serve with favorite sides! ENJOY!