Toasted Marshmallow Thumbprint Cookies are a delicious chocolatey cookie topped with whipped cream and toasted marshmallows!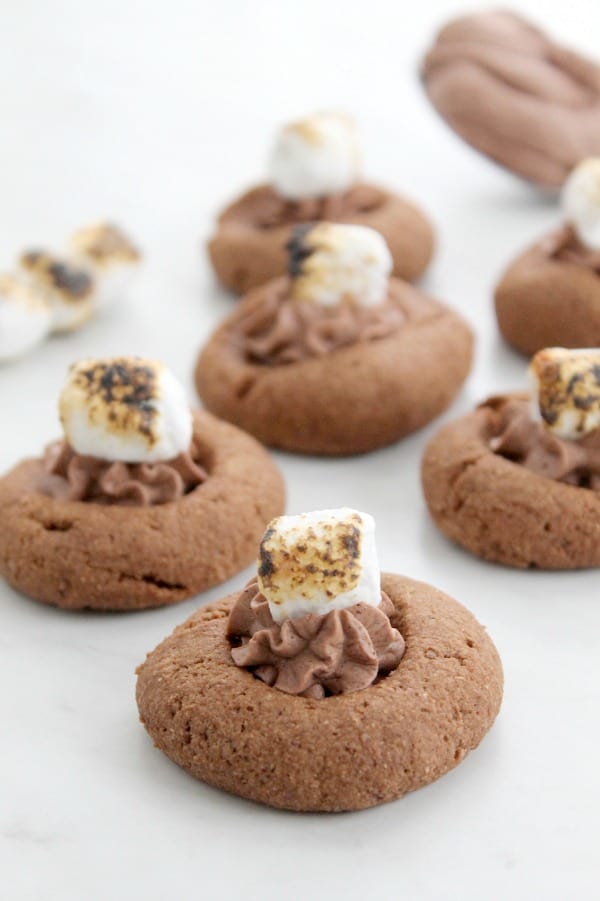 Click here to save this recipe on Pinterest!
My kids have been wondering why I have not been in the Christmas spirit yet? I told them it was because I have been busy and wanted to check everything off my list before I fully submerge into it.
They are excited, happy and full of enthusiasm. I am pretty "chill" as my daughter would say! 🙂
Don't get me wrong I am excited but I think I am just showing it in different ways.
One way is by giving back to others. That is my Christmas Spirit. It has nothing to do with presents or anything like that, it simple has to do with how I can be a blessing to others.
Thanks to Stonyfield, our family was able to bless two families this season.
WHAT DID WE GIVE AWAY?
The first family, the mother had a surgery and I was able to buy some treats for them, cook a meal and make a very stressful day less stressful.
The second family, they went through an unexpected kitchen remodel and do not have a stove. I was able to buy them some small items to help with cooking in a crockpot. I was also able to make these Toasted Marshmallow Thumbprint Cookies for them!
My family and I absolutely love baking and cooking for other people. This opportunities reminded me of the time when I lived in Charlotte, NC and I was the head of a food ministry. The ministry started out as me just wanting to give a meal to someone who had a baby. We ended up with 4 of us on the team that were able to provide over 20 meals in a 3 month period.
We would help families going through a rough time, families with newborns or families dealing with someone in the hospital or at home care.
It was something I enjoyed doing so much!
So find out what your Christmas spirt is and pay it forward!!
HOW TO MAKE THESE COOKIES:
To make these cookies all you need are a few simple ingredients! To make the filling you need hot chocolate powder and heavy cream! Super easy!
I found the recipe at Beyond Frosting and thought it would go great in the center of these cookies.
I originally wanted to do mint chocolate but all I could find was toasted marshmallow hot chocolate, which turned out to be an excellent choice!
The kids had fun helping get the marshmallows toasted for the garnish of these cookies! ENJOY!
If you're on Facebook come check out this fun little group I've got going on. Instagram is a fun resource I'm using right now. If you make an recipes make sure to tag them #bittersideofsweetrecipes so I can see your creations!
Want to connect more with The Bitter Side of Sweet? Follow at:
Facebook | Pinterest | Instagram | Twitter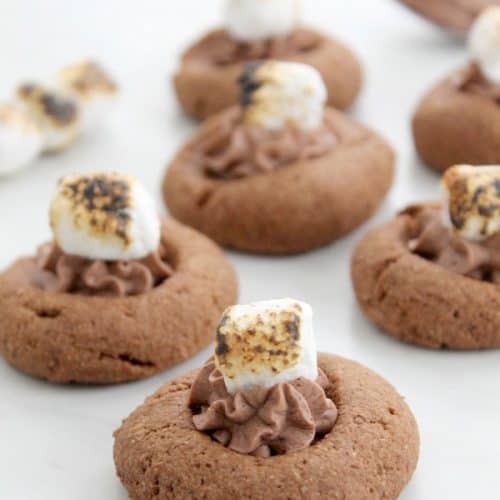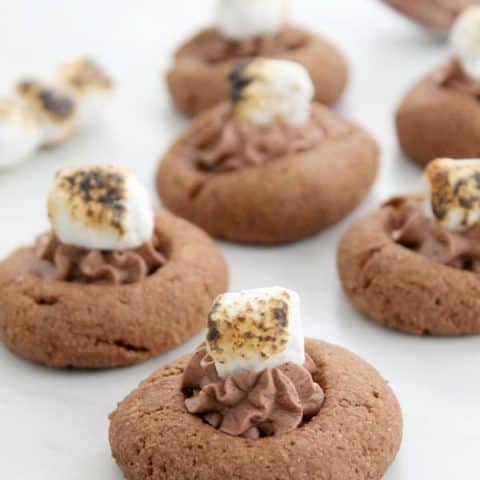 Toasted Marshmallow Thumbprint Cookies (Pay it Forward)
Ingredients
1 stick butter, room temperature
½ cup Stonyfield Vanilla Greek Yogurt
1 cup sugar
1 egg
1 teaspoon peppermint extract
2 cups all purpose flour
1/2 cup cocoa
1¼ teaspoon baking powder
1/2 cup toasted marshmallow hot chocolate mix
1 cup heavy whipping cream
Instructions
Preheat oven to 375 degrees F. Line cookie sheet with parchment paper.
In mixer add butter, yogurt and sugar. Mix till creamy and smooth.
Add egg. Continue to mix. Add vanilla.
Slowly add in flour, cocoa and baking powder.
Roll into 1 inch balls. Press thumb into center.
Bake for 10 minutes.
Allow to completely cool.
Place mixing bowl and whisk in freezer for 15 minutes.
Add heavy whipping cream and beat for 2 minutes.
Add hot chocolate mix and continue to beat until stiff peaks.
Pipe into cooled cookies.
Top with toasted marshmallows. Serve and ENJOY!
Notes
Hot Chocolate Whipped Cream recipe adapted from http://beyondfrosting.com/2012/12/06/hot-chocolate-whipped-cream/
Recommended Products
As an Amazon Associate and member of other affiliate programs, I earn from qualifying purchases.