Summer time means strawberries! Lots of strawberries! I put them to good use with this Strawberry Chocolate Ganache Cake!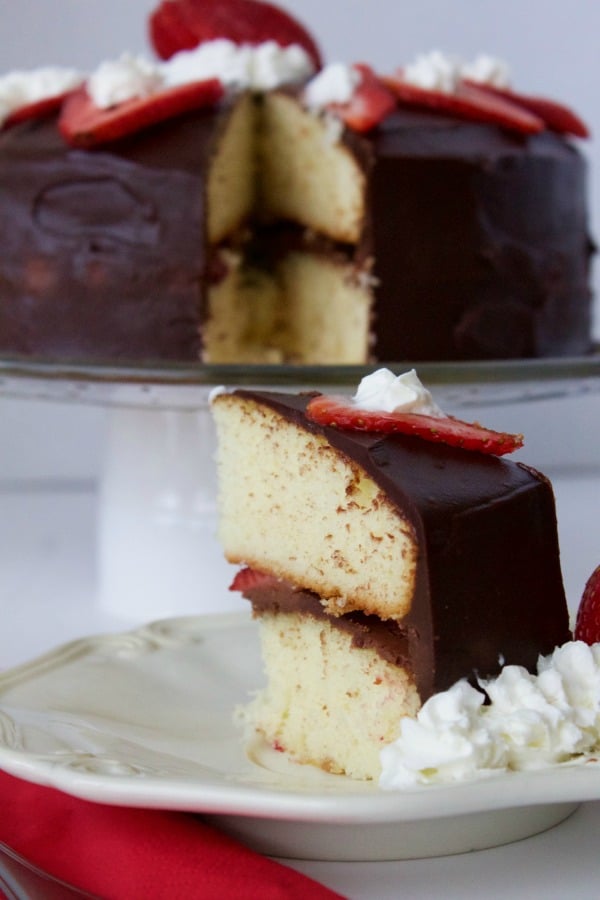 Last week I had a birthday. I am offically one year away from the big 4-0. My week kind of started with a big bang and ended that way as well.
What I really wanted to do was just eat cake. So I decided to make myself one. My hubby insisted on going and buying me one and I said no way!
I enjoy making cakes but I just do not do it too often because I really do not need cake lying around my house.
Well this year I jumped at the chance to make my own cake mainly because I wanted to share cake with you all! And so I could eat it. That's okay, right?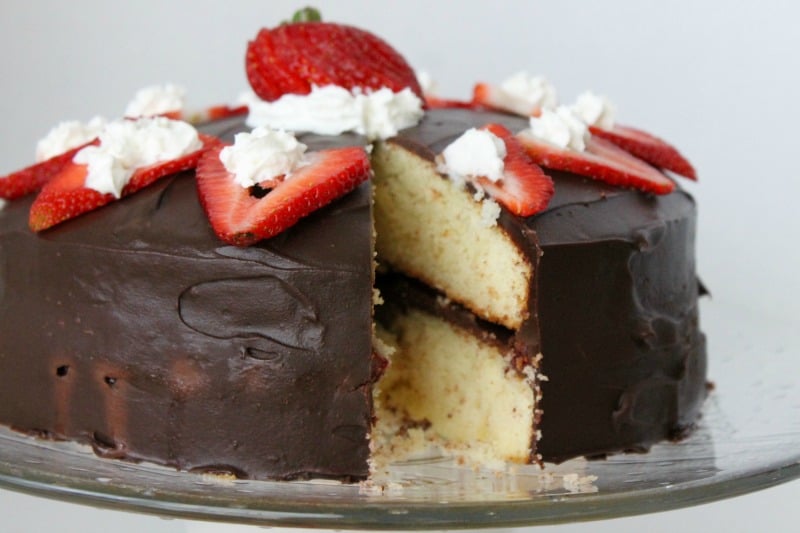 Anyways this cake is pretty basic and simple. I used a boxed cake mix, which I think I decided I am going to start trying to make my cake homemade. That's for next time though.
This time I used just what I had on hand. A white cake mix. Then I decided I wanted to add strawberries. They are my favorite fruit and I can not get enough of them. Besides I am kind of in love with putting them on top of desserts, like on these pound cake cups.
One thing I would recommend about this cake is not to use a cake mix that has pudding in the mix. It can make the cake crumble and you don't want that to happen!
I am completely in love with ganache right now! I love making it because it is so easy and the taste is out of this world! You are definitely going to want to try it!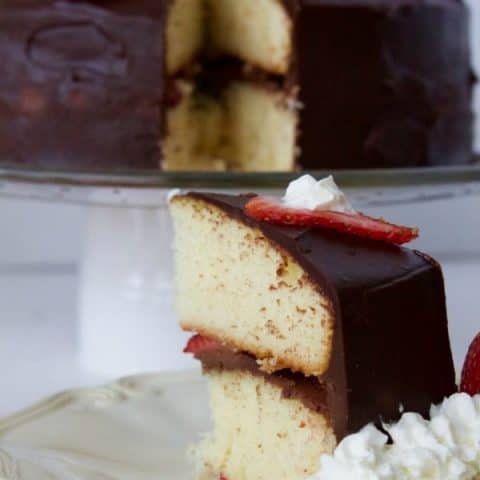 Strawberry Chocolate Ganache Cake
Total Time:
2 hours
25 minutes
Strawberry Chocolate Ganache Cake! Spruce up a cake mix by adding a fresh strawberry layer and chocolate ganache frosting!
Ingredients
For the cake:
1 18.25 ounce box white cake mix
3 eggs
1 1/4 cup water
1/3 cup oil
For the frosting:
1 cup heavy whipping cream
1 stick unsalted butter
12 ounce bag semi sweet chocolate morsels
1 cup sliced strawberries
Instructions
Preheat oven to 325 degrees.
Prepare two 8 inch round cake pans by spraying the bottom and sides with non stick cooking spray or grease with butter.
In mixer add cake mix, eggs, water and oil. Mix for two minutes.
Pour evenly into pans and bake for 22-28 mintues or until tooth pick inserted into cake comes out clean.
Allow to cool completely, then refrigerate until ganache is finished.
For the ganache:
Add butter and heavy cream to a small pot. Allow to come to a boil over medium heat.
Take off heat and stir in chocolate morsels until completely smooth.
Cool at room temperature for 1 hour.
To layer the cake:
Place one layer on plate. Pour ganache over the first layer. Smooth with spatula. Cover the sides with ganache.
Place strawberries in a circle on top of the first layer.
Add second layer. Pour ganache over the second layer. Smooth with spatula. Cover the sides with ganache.
Top with the remaining strawberries! ENJOY!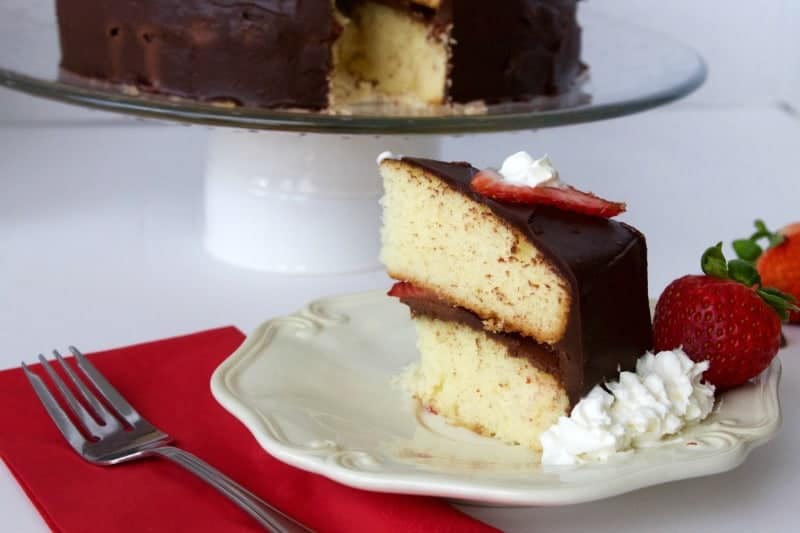 More cakes from around the web:
Banana Split Cake from Shugary Sweets
Cherry Upside Down Cake from Love Bakes Good Cakes
Vanilla and Fresh Berry Naked Cake from First Year Blog
Want more cake:
Black Cherry Chocolate Cake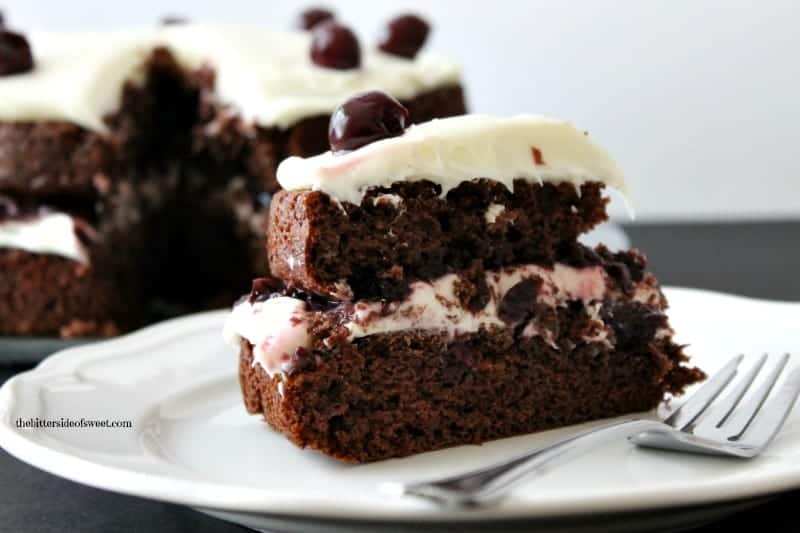 Walnut Butterscotch Chocolate Cake