Packed with strawberry yogurt on the inside and topped with bananas on the outside you will see how fast these Strawberry Banana Waffles will disappear!
I am honored to be a Stonyfield Clean Plate Club Member. This post is in partnership with Stonyfield and Simply Organic.  As always, all opinions are 100% my own. Thanks for supporting the brands that allow me to share quality content and recipes with you!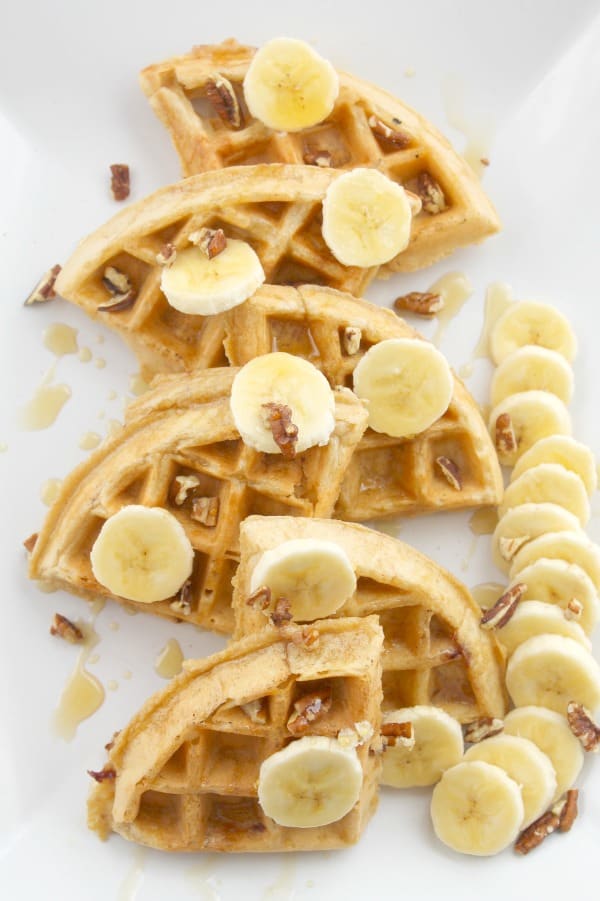 Guys I started out making these waffles to eat for breakfast the next day but my family couldn't resist them and ate them ALL. Every single one of them.
Needless to say my 5 year old was somewhat disappointed she didn't get to eat them for breakfast Monday morning but I promised I would make them again for her.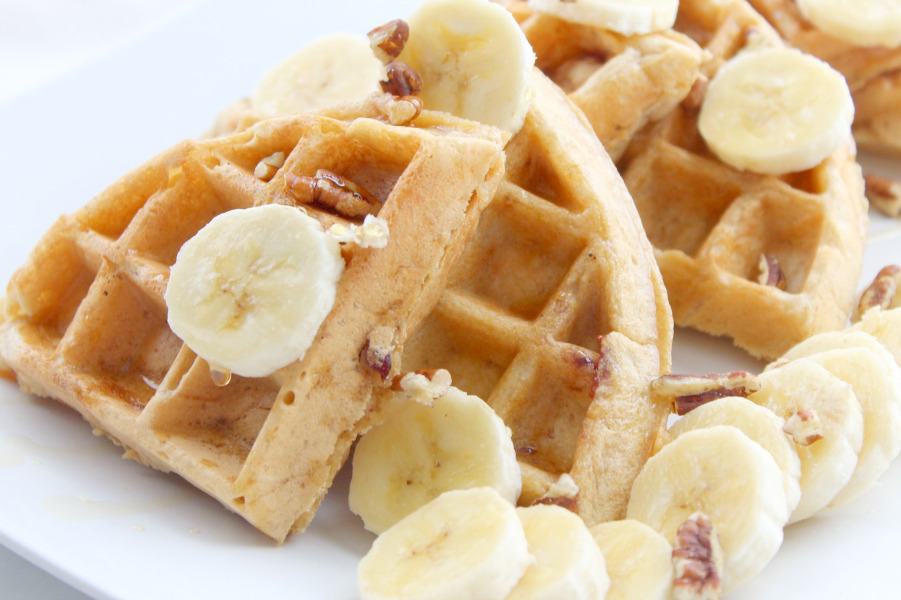 Today I am honored to celebrate with Stonyfield and join them in announcing their B Corp certification!
What is that exactly? Well I wasn't too sure myself when they announced to us but they have this wonderful link on their site that explains it all!
Basically, Certified B Corporations® are leaders of the global movement of People Using Business as a Force for Good™. Certified B Corporations® meet the highest standards of verified overall social and environmental performance, transparency, and accountability, and aspire to use the power of business to solve social and environmental problems.
Stonyfield has been on a mission to create food that is good for you, me and the environment and now they join thousands of companies who are doing the same!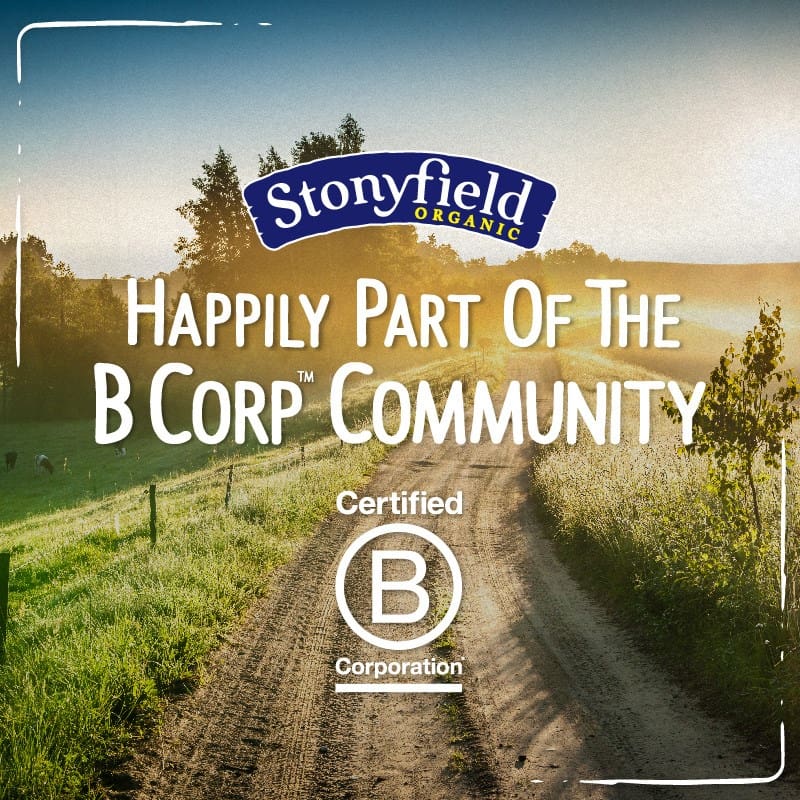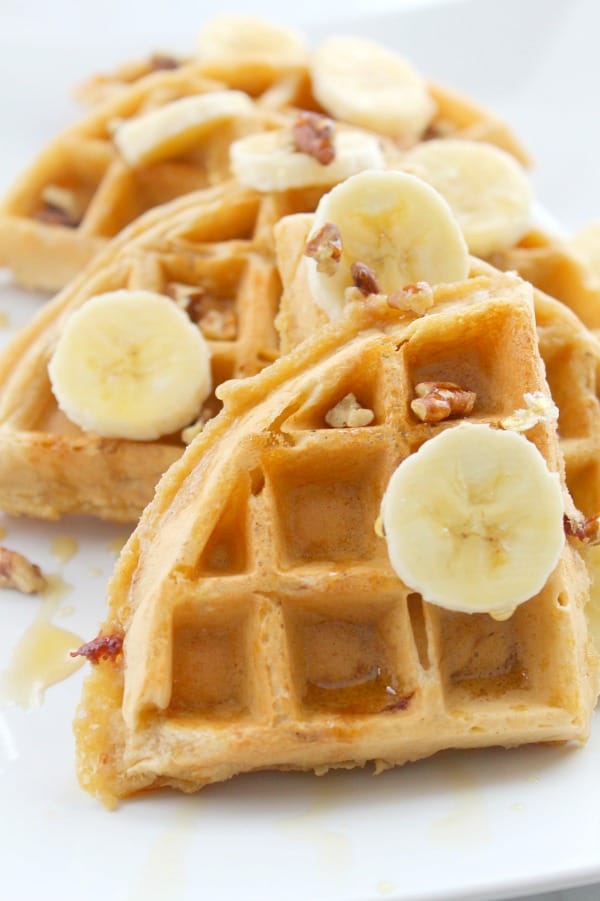 Some of the other companies that Stonyfield joins is
Preserve
Pukka
Purely Elizabeth
King Arthur
Method
Pete and Jerry's
I decided to make these Strawberry Banana Waffles with King Arthur's new Sprout Wheat Flour. Can I just tell you, we are obsessed. Adding the flour with the strawberry yogurt made these waffles so light and fluffy it had us craving more! ENJOY!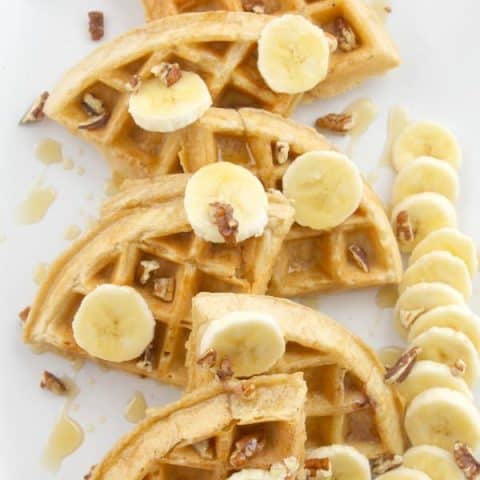 Strawberry Banana Waffles
Ingredients
1 1/2 cups sprouted wheat flour
2 teaspoons baking powder
1/2 teaspoon salt
1 tablespoon sugar
1 large egg
1 1/4 cups lukewarm milk
2 tablespoons oil
1 5.3 oz. cup Stonyfield Grassfed Strawberry Greek yogurt
2 bananas, sliced
Instructions
Preheat waffle iron according to directions.
Mix flour, baking powder, salt and sugar in mixing bowl. Set aside.
Mix egg, water and oil in small bowl.
Add to dry ingredients and stir.
Still in yogurt.
Spray the iron with non-stick cooking spray, then pour the amount of batter recommended by the manufacturer onto the center of the iron.
Close the lid of the iron and bake for 3-5 minutes or until the waffle is golden brown.
Top with banana, pecans and maple syrup.
Serve warm and ENJOY!
Recipe adapted from King Arthur's Sprouted Wheat Waffles.