Cool off this summer with this three ingredient, no churn Strawberry Banana Ice Cream.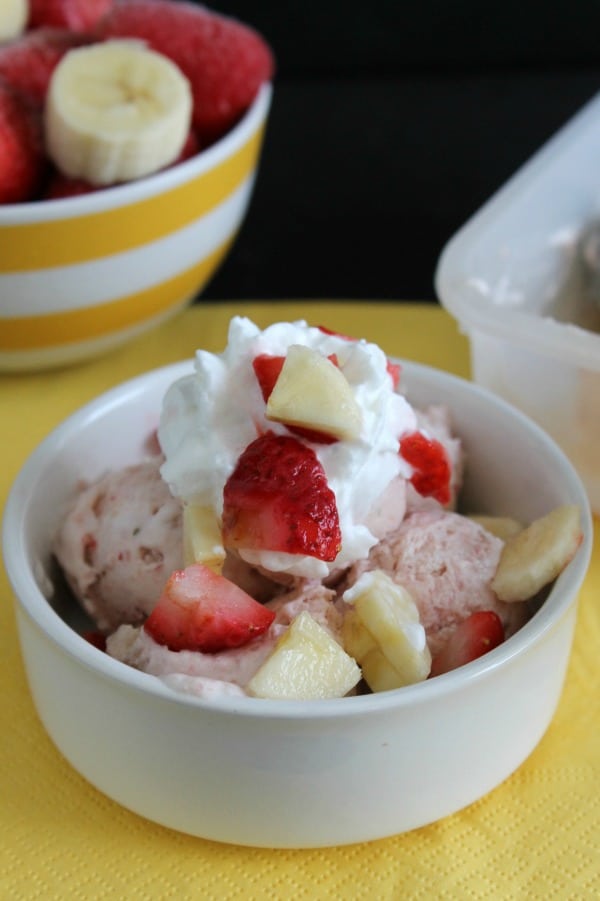 You guys!! Happy First Day of SUMMER! I just got back from vacation and I feel so rejuvenated! It feels good!!
I can't believe what one week of relaxing did for my body, soul and spirit. So if you need to destress, take my advice and go hang out by a pool for a week!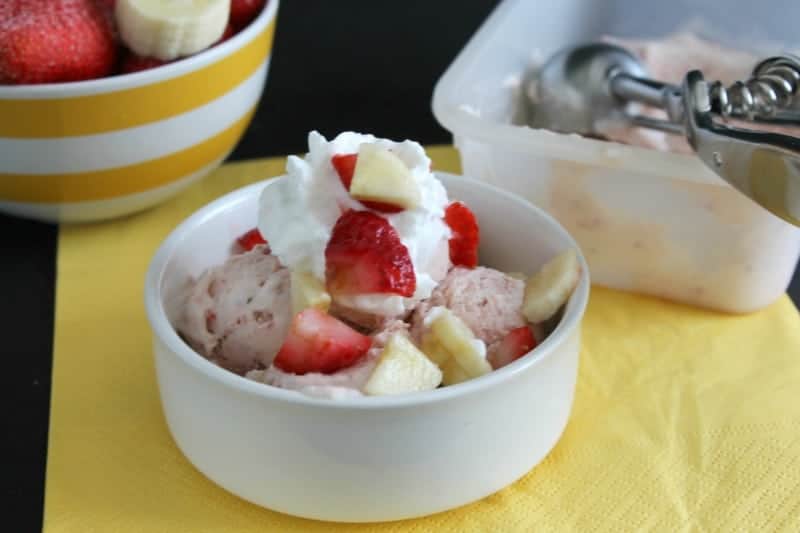 So about this "ice cream." I know, it is not your traditional custard type of ice cream. And it is something I just happened upon last summer. Yes I've been holding out on you since last summer!
Anyways, I was making a smoothie one day and threw in some bananas and frozen raspberries. It was so thick that I thought, wow this could be ice cream. I also saw how last year the big rage was making ice cream from just frozen bananas. And honestly I was kind of obsessed with that as well.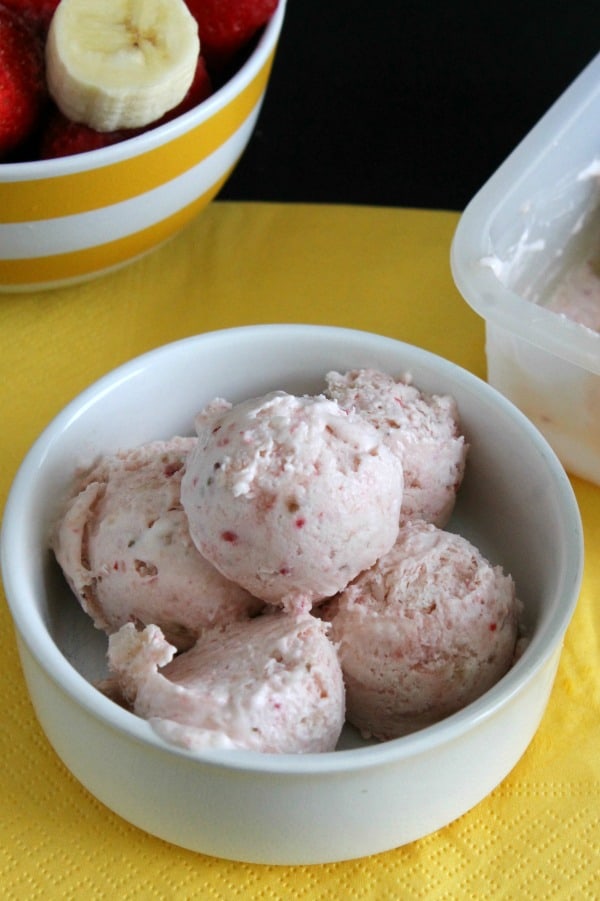 Now that it is all hot and humid again I thought it was time to start freezing bananas again. But what is kind of great about this, is that you can make it all year round! No need to wait for summer.
There are a few simple steps to making this:
Freeze 3 bananas for about an hour.
Slice up 1/2 pound strawberries, hulled and cleaned.
To boost up the creaminess of this, I also decided to whip up some heavy cream and add in a splash of Rodelle Organic Vanilla Extract.
Also to make the first day of Summer super special a group of bloggers and I are bringing you #icecreamweek. This included a fabulous giveaway that you can find below with some super sweet prizes! Don't forget to enter and check out all of the other amazing ice cream recipes! ENJOY!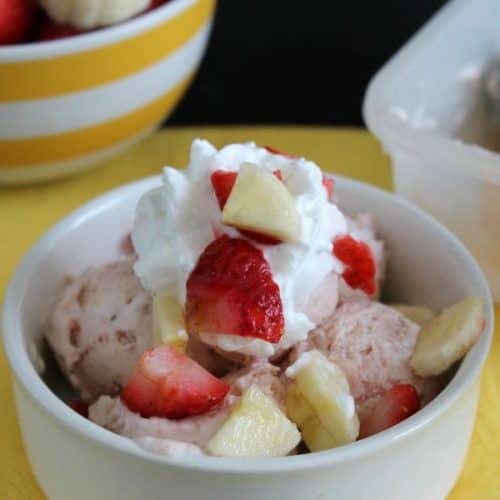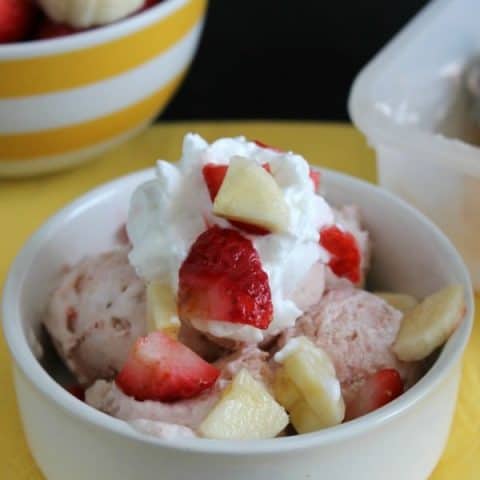 Strawberry Banana Ice Cream
Ingredients
3 bananas, sliced and frozen
1/2 pound strawberries, cleaned and hulled
1/2 cup whipping cream
2 tablespoons honey
2 teaspoons Rodelle Organic Vanilla Extract
Instructions
Add bananas and strawberries to food processor. Pulse a few times to break up the fruit.
Continue to pulse until creamy. (you may have to open up and scrape down sides)
Mix whipping cream, honey and vanilla in mixer until you have soft peaks.
Stir into banana mixture.
Spoon into freezing container and freeze for 4 hours or overnight.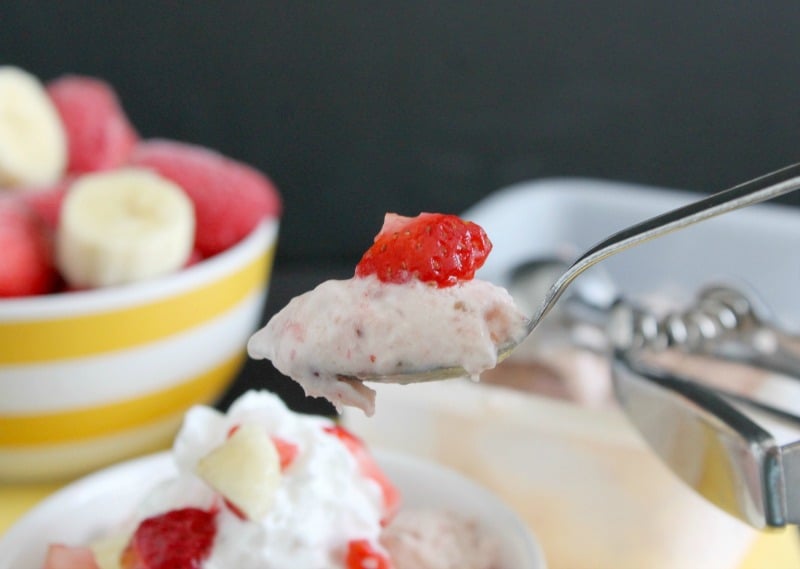 PRIZES FOR ICE CREAM WEEK:
Vanilla from Rodelle, a Fruit Scoop Dessert Maker from Cuisinart (it works for freezing fresh fruit into sorbet and making ice cream), an ice cream scoop from Zeroll, items from Tovolo including ice cream containers, ice pop molds, and an ice cream scoop. Also Sweet Cream and Sugar Cones Cookbook!

S'mores Ice Cream via A Cookie Named Desire
Coffee Chocolate Ripple Ice Cream via An Italian in my Kitchen
Unicorn Ice Cream via The Tip Toe Fairy
Tahini Ice Cream with Chocolate Chip Cookies via The Floating Kitchen
No Churn Honey Nut Ice Cream via Honey and Birch
Vegan Peanut Butter Chocolate Praline Crunch Ice Cream via Heart of a Baker
Peanut Butter Lovers Ice Cream via Cookie Dough and Oven Mitt
Cotton Candy Ice Cream via Homemade Hooplah
Butter Pecan Ice Cream via Zagleft
Bourbon Vanilla Bean Ice Cream via Vanilla and Bean
Mint Mojito Coffee Ice Cream via The Little Epicurean
Strawberry Banana Ice Cream via The Bitter Side of Sweet
Peanut Butter Ice Cream via Pretty Simple Sweet
Vanilla Rainbow Ice Cream via Go Go Go Gourmet
Lychee and Cherry Swirl Ice Cream via My Food Story
Brigadeiro Ice Cream via Olivia's Cuisine
Salted Pretzel Ice Cream with Chocolate and Peanut Butter via Cake Over Steak
Strawberry Black Sesame Ice Cream via Madeline Marie Blog
No Churn Caramel Chip Ice Cream via Fearless Dining