Have you ever made a mistake in the kitchen when baking and then realize it was the best mistake EVER! That is what happened when I made these Salted Caramel Meringue Cookies!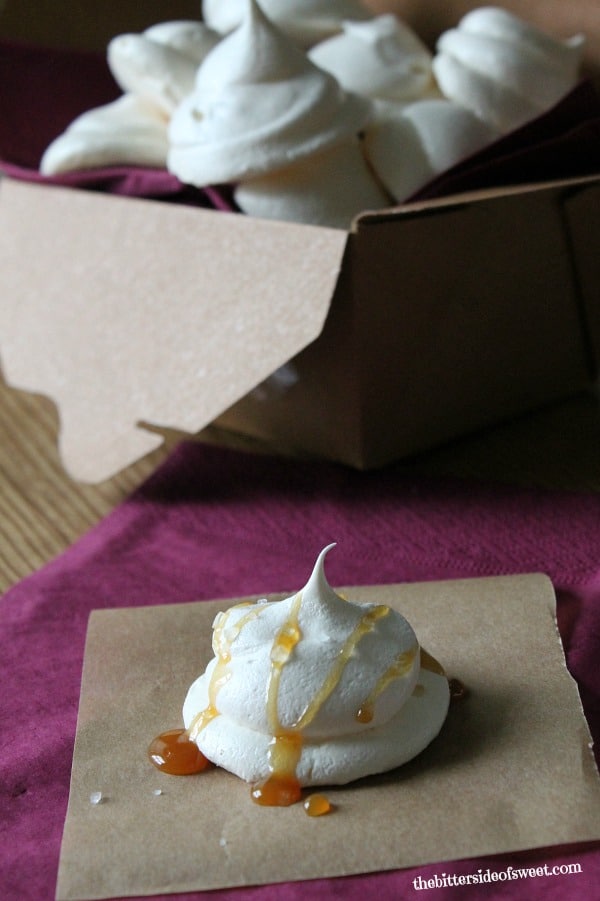 So I entered a baking contest over the weekend. I think I may have over shot with my entry because apparently small town people do not really know what meringue is unless it is topped onto a Lemon Meringue Pie. I did not win but I had so much fun creating my cookies. These are not the cookies I entered. These were special. I saved them all for you and for my belly but you understand what I mean, right?!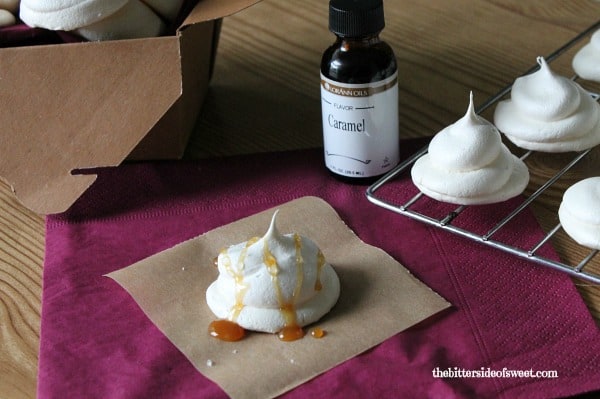 How did I make a mistake you might still be wondering. Well I read somewhere if you didn't have cream of tarter to make these you could use salt. So I added salt. Then I found the my cream of tarter tucked in a corner of my baking drawer. And because I was starting to get nervous that this might not actually work I threw the cream of tarter in at the very last minute. What happened was salted caramel heaven! The flavor from The LorAnn Caramel Flavoring and the salt made the absolute perfect combination!
If you have a counter top mixer you can have these meringue cookies completed and in the oven in 20 minutes. If you have to do it by hand, I am sorry ahead of time. I have been there, done that and it is not a pleasure. Set the heat at 200 and 2 1/2 hours later the meringue cookies are done. But WAIT! They need to get all dried and crunchy because that is like the best part of these, believe me, I know!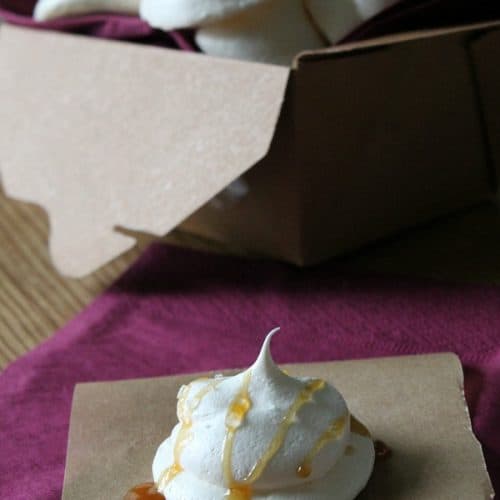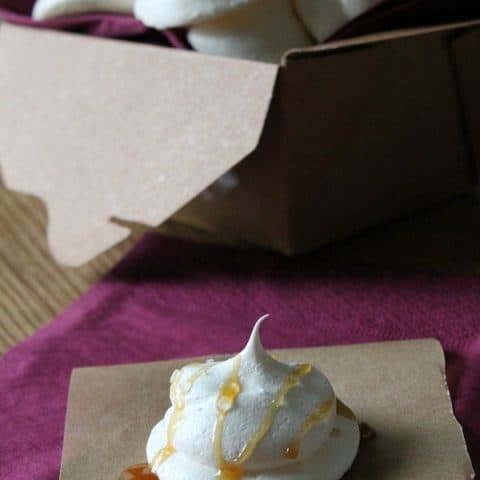 Salted Caramel Meringue Cookies
Cook Time:
2 hours
30 minutes
Total Time:
2 hours
50 minutes
Crunchy and melt in your mouth type cookie that leaves you with the flavors of caramel and salt!
Ingredients
3 large brown egg whites
1 teaspoon LorAnn Caramel Flavoring
3/4 cup white sugar
1 teaspoon cream of tarter
1 teaspoon salt
Instructions
Preheat over to 200 degrees. Line two cookie sheets with parchment paper.
Place egg whites into mixing bowl. Mix on low for 1 minutes or until the whites become frothy.
Add caramel flavoring.
Turn mixer to medium speed and add 1/4 cup sugar at a time really slowly until you have added all of the sugar. Beat for 2 minutes.
Add cream of tarter and salt.
Turn mixer to high and continue to beat until whites are stiff.
Spoon into a piping bag. Pipe onto cookie sheets.
Place in oven and cook for 2 1/2 hours.
Turn off oven and allow to completely cool before removing.
Serve immediately or store in a air tight container or cookie tin.
Garnish with caramel drizzle and salt is optional!
Notes
I piped mine with a gallon size plastic bag. I spooned in my egg whites into the bag. Cut the tip and piped onto the cookie sheets. This makes 24 large cookies but you can also get 80 small cookies out of it. Number will depend on the size you pipe.
Blogger Disclosure: I was given 3 LorAnn Oils to sample in exchange for this post!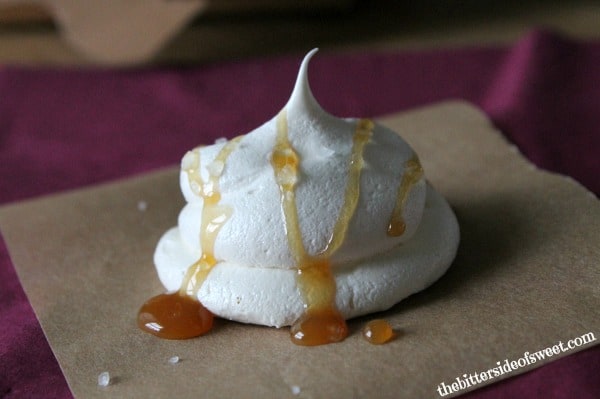 So what I have exciting for you today is that 40+ Blogging Buddies have come together to create recipes using LorAnn Oils. I hope you hop around and take a look at all of the amazing things you can make with these oils! ENJOY!
Strawberry Fudge from The Stylish Nest
Pumpkin Spice Latte French Macarons from Rickabamboo
Amaretto Cookies from The Blonde in the Apron
No Soda Root Beer Cupcakes and Frosting from Juggling Act Mama
Coffee Donuts from the First Year Blog
Pumpkin Spice Brownie Cookies from Flippin' Delicious
Pumpkin Spice Latte Cake from The Frugal Foodie Mama
Sink Freshening Tabs in a Snap from Christina, Plain and Simple
Marshmallow Cookies with Princess Cake Frosting from Mom's Busy Helper
White Chocolate Key Lime Shortbread from It Bakes Me Happy
Toasted Coconut Hot Chocolate from Delightful E Made
Pumpkin Spice Protein Smoothie from Nel's Nook
Cinnamon Spice Cake with Caramel Frosting from Hezzi-D's Book and Cooks
Almond Cake Cookies with Cinnamon Spice Glaze from Mom's Test Kitchen
Soft Pumpkin Spice Cookies from Love Bakes Good Cakes
Princess Sand Tarts from Diary of a Recipe Collector
Baked Pumpkin Donuts with Cinnamon Glaze from Deliciously Sprinkled
Pumpkin Cheesecake Mousse from Confessions of a Cooking Diva
Purple People Eater Popcorn Balls from Seven Alive
Green Apple High Hat Cupcakes from Pint Sized Baker
Pumpkin Pie Pudding Parfait from Fearlessly Creative Mamas
Mango Butter Cake from Clark's Condensed
‎Pistachio Lemon cake from Self Proclaimed Foodie
Apple Crumb Coffee Cake from Healthy Delicious
Chocolate Chip Horchata Zucchini Bread from Gate to Plate
Key Lime Cookies from Cooking with Curls
Key Lime Margarita Cookies from Lori's Culinary Adventures
Chocolate Irish Cream Bundt Cake from Lynsey Lou's
Earl Grey Shortbread Cookies from Never Skip Dessert
‎Maple Pumpkin Bread Pudding with Salted Maple Caramel Sauce from The Paisley Barn
Pumpkin Cinnamon Cream Puffs from That's my Home
Citrus Body Scrub from Melissa's Cuisine
Pumpkin Spiced Tres Leches Cake from Flavor Mosaic
Salted Caramel Meringue Cookies from The Bitter Side of Sweet
Pumpkin Toffee from Eazy Peazy Meals
Movie Theater Chocolate from KC Bakes
Lactose Free Bacarian Cream Pudding from Travel Parent
Red Velvert Muffins from I Love my Disorganized Life
Maple Bacon Fruit Dip from Renee's Kitchen Adventures
Maple Macadamia Nut Bread Pudding from Awesome on $20 a Day
Pumpkin Spice Caramel Corn Snacks from Grumpy's Honey Bunch
Cranberry Cheesecake Bites from Lady Behind the Curtain
Pumpkin French Macarons from Sweet and Savory by Shinee
Caramelized Apple Spice Cake from The Freshman Cook